Portland, Oregon, sits nestled by the snow-capped Mount Hood, and it is well known for its thriving art, theater and music scenes, as well as for its microbreweries and coffeehouses. While in Portland, most travelers will look forward to visiting the Oregon Zoo, Mount Hood or Pittock Mansion, all fantastic places of attraction in their own right. However, for travelers looking for a more off-the-beaten-path experience that is unique and fun in equal measure, the following are 10 of the best non-touristy things to do in Portland, Oregon, that you might want to check out before your next trip there. Whether you are looking for an artsy museum experience or an amazing gastronomic adventure, you will definitely find something in this list for you and your family.
1. Enjoy scintillating views from Mount Tabor
Mount Tabor is one of the biggest parks in Portland, and it doubles up not just as a hiking trail but also as a fantastic lookout point from which almost all of Portland can be seen. If you and your traveling buddies are looking for a great photo spot for the 'gram, this is the perfect stopover for you between activities and meals. This place is also lesser known to regular tourists, so it is usually less crowded than many of the other tourist attractions you might visit.
Mount Tabor

Website: Mount Tabor

Opening hours: Monday - Sunday: open all day

Price: free
2. Check out Columbia River Gorge
Columbia River Gorge is a scenic canyon of the Columbia River, perfect for nature lovers looking for an immersive and all-encompassing experience. You can spend an entire day at the gorge, exploring its many waterfalls and nature trails, with each waterfall bringing with it its own unique photo opportunity and a range of activities to do. The Latourell Falls is best known for being one of the most accessible waterfalls by nature trail, and it is therefore perfect for families with younger children or elderly parents looking for an easy and short trek. The Bridal Veil Falls is a great waterfall for white water rafting and a picnic by the banks.
Columbia River Gorge

Address: E Crown Point Hwy, Bridal Veil, OR 97010, USA

Website: Columbia River Gorge

Opening hours: Monday - Sunday: open all day

Price: free
3. Hike through Forest Park
Forest Park is a public park in the Tualatin Mountains, west of downtown Portland. The park is filled with beautiful flora and fauna, many of which are endemic to Oregon. Even for travelers less keen on horticulture, Forest Park presents an opportunity to escape the hustle and bustle of Portland. Visitors can have a leisurely stroll through one of the many nature trails in the park, or sit down to have a picnic with loved ones on the open grassland nearer the entrance to the park.
Hike through Forest Park

Address: Portland, OR 97231, USA

Website: Forest Park

Opening hours: Monday - Sunday: 5am - 10pm

Price: free
4. Visit Starks Vacuum Museum
For travelers looking for an eye-opening look into the history of vacuum cleaners, the world's one and only vacuum museum, the Starks Vacuum Museum is the place to be. Besides taking a look at the various vacuum models that were used throughout history, the museum also acts as a store, allowing its guests and shoppers to purchase Starks vacuum cleaners and other cleaning accessories.
Starks Vacuum Museum

Address: 107 NE Grand Ave, Portland, OR 97232, USA

Website: Starks Vacuum Museum

Opening hours: Monday - Saturday: 8am - 6pm; Sunday: 10am - 5pm

Price: free
5. Stroll in the Lan Su Chinese Garden
The Lan Su Chinese Garden features a wide range of plants found in native China, and it is modeled after a traditional Chinese garden, complete with a teahouse, a tranquil lake with water lilies and many authentic oriental marble statues. There's also a garden shop where you can buy some Chinese crafts as souvenirs, or even activity and poetry books.
Lan Su Chinese Garden

Address: 239 NW Everett St, Portland, OR 97209-3957

Website: Lan Su Chinese Garden

Opening hours: Monday - Sunday: 10am - 6pm

Price: free
6. Eat from food trucks at Portland Mercado
Portland Mercado is a vibrant open market offering up a wide range of Latin American foods and drinks at affordable prices. Highlights at the public market include a spicy veggie burrito at food cart Fernando's Algeria and the shrimp ceviche at the Colombian cart.
Portland Mercado

Address: 7238 SE Foster Rd, Portland, OR 97206, USA

Website: Portland Mercado

Opening hours: Monday - Sunday: 10am - 9pm

Price: free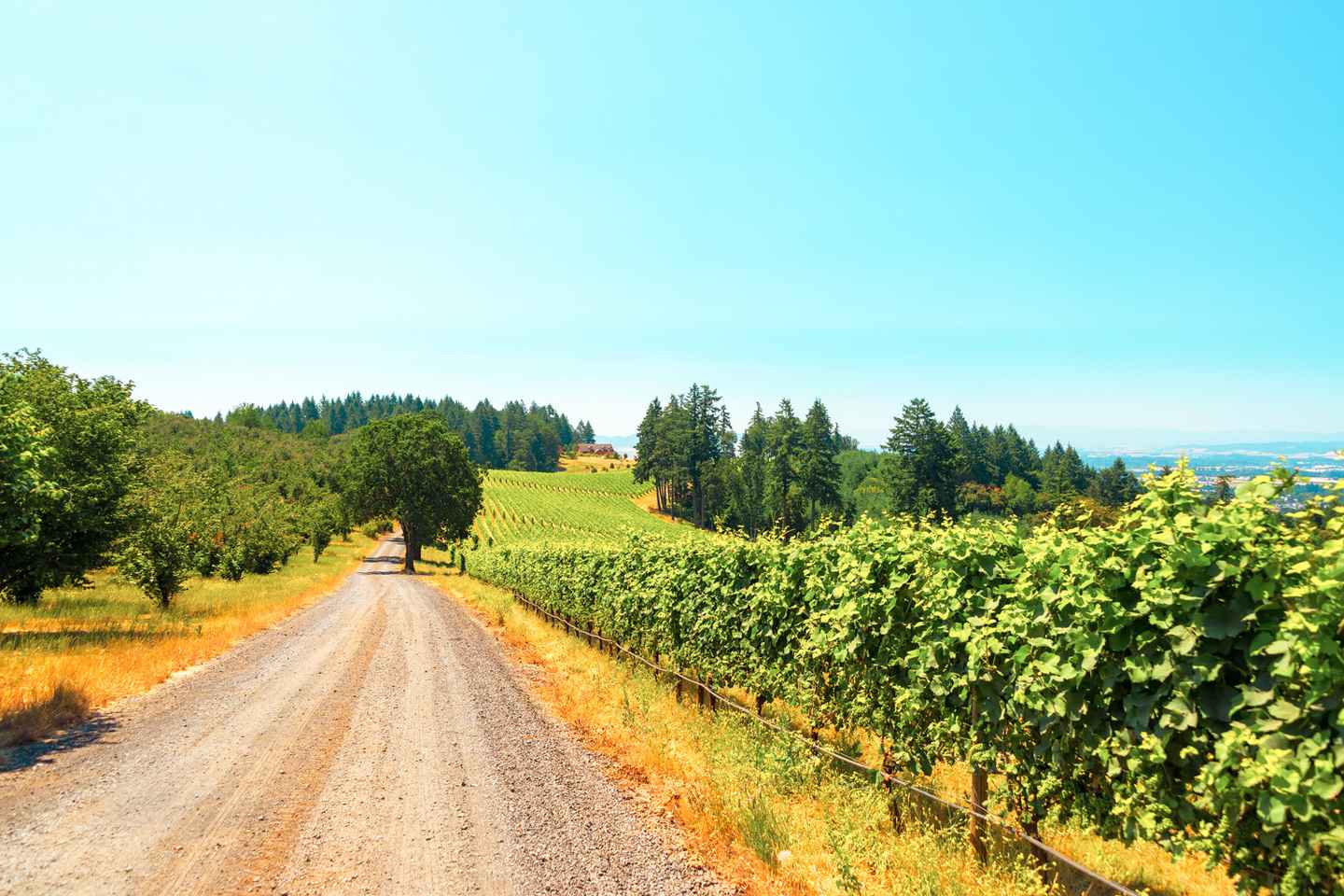 Oregon is home to some of the most beautiful vineyards in the world and its grapes are particularly well known to make a delicious Pinot Noir. On this tour, you will get to visit three Willamette Valley wineries and taste a wide variety of locally made and refined premium wines. Included in the package, also, are complimentary cheeses, crackers, and chocolate to complete your wine tasting experience. Free transportation to and from your downtown Portland hotel can also be arranged if necessary.
Portland: 5-Hour Willamette Valley Wine Tour with Tastings

Duration: 5.0 hour
8. Enjoy the scent of roses at Rose Test Garden
Roses bloom at the International Rose Test Garden from April through to October, with the peak season in June. Over 650 varieties of roses are cultivated in this garden. For a visual feast of roses in every color you can imagine, head down to the International Rose Test Garden. Portland's cool weather and close proximity to the mountains make it an ideal rose cultivation spot, and the Rose Test Garden attracts close to 700,000 visitors a year.
Rose Test Garden

Address: 400 SW Kingston Ave, Portland, OR 97205, USA

Website: Rose Test Garden

Opening hours: Monday - Sunday: 7.30am - 9pm

Price: free
9. Catch a roller derby bout game
Rose City Rollers is an all-women roller derby league. For fans of the sport, this non-touristy activity is the perfect thing to do with friends and family. The Rose City Rollers play matches multiple times a week against other teams in the city, region or country, so you do not have to be afraid of missing out on catching a game if you are in Portland only for a short period of time.
Rose City Rollers

Address: 7805 SE Oaks Park Way, Portland, OR 97202, USA

Website: Rose City Rollers

Opening hours: Stadium opens two hours before the game starts

Price: Price varies from game to game
Portland is well known for its sunny treks and bright, chic cafes, but have you ever thought of going underground for a totally different experience of Portland instead? On this two-hour tour, travelers will get to take a walk through Portland's subterranean past, uncovering the brutally honest truth about some of the vices and crime rings which used to run the city's underground.
Underground Portland 2-Hour Walking Tour

Duration: 2 hour
Many great choices of non-touristy activities
If you are looking for a fun and unique activity to do with your friends and family on your next trip to Portland, Oregon, you must check out the above 10 best non-touristy things to do in Portland before your next trip there.
Disclosure: Trip101 selects the listings in our articles independently. Some of the listings in this article contain affiliate links.
Get Trip101 in your inbox
Unsubscribe in one click. See our privacy policy for more information on how we use your data