Jamaica is a breathtaking Caribbean country that is famous for its paradise-like landscapes. This country is dominated by picturesque mountain ranges, lush rainforests, enchanting beaches, and rich wildlife. The charming city of Montego Bay is a luxurious hideaway destination, with upscale resorts and remarkable architectural landmarks. The town of Negril is the perfect spot for outdoorsy travelers who like beaches and exciting water sports. Additionally, Dunn's Water Falls is another must-visit natural wonder in Jamaica. The reggae music and festive parties are popular in this captivating country. Plan the perfect trip and book your accommodation at a resort or luxury villa, and if you are a social butterfly, check out this list of best party boats in Jamaica.
Experience an unforgettable and romantic private boat charter in Ocho Rios, Jamaica. Relax and unwind on the spacious decks of the catamaran, serenaded by the rhythmic beats of reggae music played by a talented onboard DJ. Indulge in a delightful selection of snacks and refreshing drinks from the open bar while witnessing the mesmerizing hues of a Caribbean sunset.
Revel in the luxurious comfort of the catamaran and let the live DJ transport you with an incredible selection of music on a state-of-the-art sound system. With convenient hotel transfers from Ocho Rios, your evening will be seamless and stress-free. The package includes an open bar, mouthwatering appetizers, fresh fruits, delectable pastries, the guidance of a knowledgeable tour guide, satisfying snacks, and a variety of alcoholic beverages.
Duration: 2 hours 30 minutes
Embark on a magnificent sunset trip on this party boat rental in Montego Bay, Jamaica. Indulge in tropical cocktails from the open bar, groove to the infectious beats of reggae music, and immerse yourself in the awe-inspiring vistas of the Caribbean sunset over the crystal-clear ocean. This exhilarating tour includes an exciting stop at the renowned Margaritaville Montego Bay, where you can partake in thrilling water sports.
Indulge in croissants, fresh fruits, mouthwatering appetizers, and an open bar serving refreshing alcoholic beverages and light snacks. Dance the night away to the electrifying beats of the lively DJ.
Duration: 3 hours
Nestled on the northern coast of Jamaica, Montego Bay is a charming city that is considered the capital of Saint James Parish. One of the things Jamaica is famous for is its beautiful beaches, and the area is known for its luxurious resorts and cruise ship port. If Montego Bay is your main destination for your Jamaican holiday, this catamaran cruise tour by Viator might pique your interest. For three hours, guests will be enjoying hours of dancing to reggae music and swimming in the breathtaking Caribbean sea. Plus, they will be taken to a pristine and well-maintained reef area, which is a paradise for snorkelers. Jamaican snacks and flavorful cocktails are served to guests on board.
Duration: 3 hours
People who are exploring the gorgeous town of Negril can take advantage of this fun-filled yacht ride in Jamaica. This fantastic once-in-a-lifetime experience takes place on the south coast of the country, and it boasts of a curated program for its guests. Lasting for five hours, adventure seekers will have the time of their life swimming in the Caribbean waters and chilling in a yacht bar with lovely music filling the atmosphere. This package includes hotel pick up and drop off for guests' convenience.
Duration: 5 hours
5. Choose from curated tour packages by Rapsody Tours, Cruises & Charters
If you want to make your Montego Bay holiday an unforgettable one, check out the offerings of Rapsody Tours, Cruises and Charters. It is an excellent tour operator that offers superb and exciting packages for tourists. Some of its offerings include Montego Bay sailing and snorkeling tour package, Montego Bay Eco-dreamer sail & snorkel in Bogue Lagoon adventure, Montego Bay sunset cruise, and Montego Bay cruise to Negril. For tourists in the town of Negril, Rapsody Tours, Cruises & Charters have special tours for you as well, including Negril sail & snorkel with Rick's Cafe and Negril sailing & snorkeling package.
Rapsody Tours, Cruises & Charters

Address: 2, Kent Ave, Montego Bay, Jamaica
Another exquisite tour package for tourists who want to see the marvelous Dunn's River Falls. Curated for tourists who are on a holiday in the charming town of Ocho Rios, this cruise will take you to the enchanting 183 m (600 ft) waterfalls, where you will surely be swimming in its freshest waters and snapping souvenir pictures with its picturesque facade. Aside from adventure, guests will be immersed in the Jamaican's party culture, with a live DJ spinning upbeat sounds, palatable light bites, and a hip bar that crafts excellent mix drinks.
Duration: 4 hours
7. Party on the Caribbean Sea with Loose Cannon Tours
Editor's Note: Photo taken from the establishment's official social account
If the quaint village of Port Royal is your main destination in Jamaica, you can make the most of your escapade by holding a yacht party in Jamaica. This fantastic tour company offers private yacht charters that you can enjoy with your family or friends, intimately. More so, it also has party cruises on a weekly schedule. Experience partying in the Caribbean sea on a luxurious yacht with Loose Cannon Tours. It covers various breathtaking destinations, including Maiden Cay and Kingston.
Loose Cannon Tours

Address: Port Royal Main Rd, Port Royal, Jamaica

Website: Loose Cannon Tours

Opening hours: Mon - Thu: 9am - 4pm; Fri: 8am - 11pm; Sun: 11am - 4pm (closed on Sat)
8. Book a cruise for your birthday celebration with Cool Runnings Catamarans
Cool Runnings Catamarans is one of the longest-running tour agencies in Jamaica. For 20 years now, it has been providing chartered cruises for tourists and locals who want to experience what the country has to offer - its breathtaking beaches, picturesque sights, and lively party scene. Tourists can choose from a number of tour packages that are elaborately curated by Cool Runnings Catamarans. It offers a river cruise in the Dunn's River Falls, a Caribbean dinner experience, a high-energy wet and wild cruise, and others. Most of these cruises feature a professional DJ to provide entertainment and a bar, where you can order alcoholic beverages and delicious bites. Plus, you can also book an intimate cruise with Cool Runnings Catamarans for your special occasions.
Cool Runnings Catamarans

Address: 1 Marvins Park St, Ocho Rios, Jamaica

Website: Cool Runnings Catamarans

Opening hours: 8am - 12am (daily)
Viator offers a sunset tour for tourists in Negril. This package is a well-planned trip that treats guests with a catamaran cruise and an exciting snorkeling adventure. Other than that, a sunset-viewing experience at Rick's Cafe is another thing to be excited about this tour package. The catamaran party experience will be held in Margaritaville and the snorkeling adventure will take place in a well-preserved reef in Negril's waters, where there is an abundance of marine life. This package is also convenient for tourists as pick up and drop-off is provided.
Duration: 3 hours 30 minutes
Located close to the town of Ocho Rios, Dunn's River Falls is one of the most enchanting natural wonders in Jamaica. Thousands of visitors visit this place every year. If you plan to check it out when you visit the country, take advantage of this snorkel cruise. In this three-and-a-half hour adventure trip, you'll explore the Dunn's River Falls and Park, take in the views of the countryside, swim along the coral reefs, as well as get to dance to some high-energy music. More so, the cruise ship has a bar, where guests can enjoy alcoholic beverages for a complete party experience. Aside from socializing, tourists will be treated to a beachside gastronomic feast, and they will be taken to various points in the area, where they can snorkel and play in the waters all day long. Being close to Ochos Rios means you'll be able to join in on the fun when Ocho Rios Jazz Festival, one of the most popular festivals in Jamaica, takes place in June. Enjoy the waters and then head back to the island for more fun!
Duration: 4 hours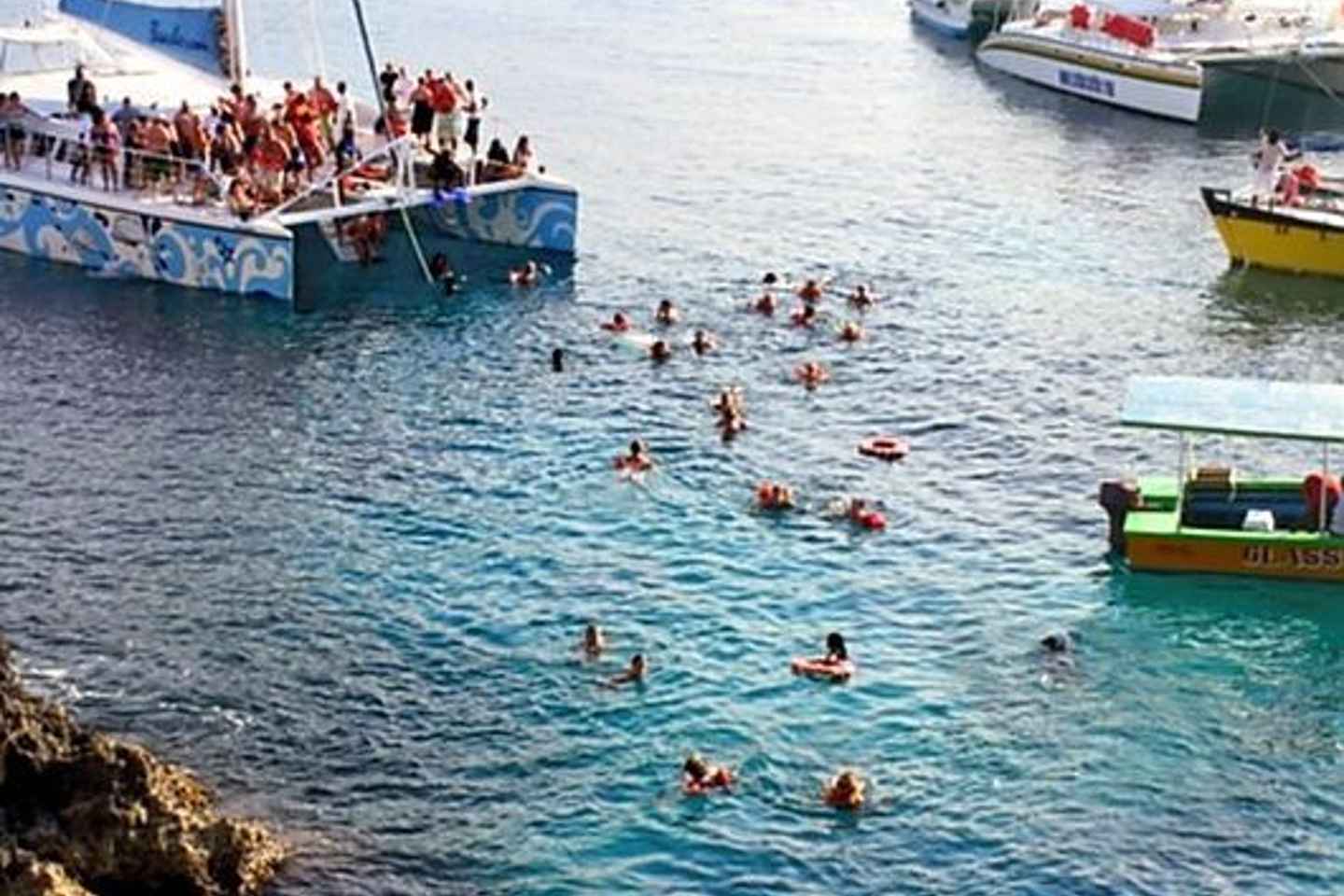 Another interesting tour package that is available for tourists in the lovely town of Negril is this exciting catamaran booze cruise, curated by GetYourGuide. While Negril is home to a popular theme park, it's also a great place to enjoy activities on the water. This half-day cruise adventure is perfect for party-goers and beach lovers. It starts at 1:30pm and lasts for three hours. Participants will get to enjoy unlimited drinks from an open bar as they groove to some high-energy music. More so, a stop at Rick's Cafe is included in the itinerary, where you will not only be having a few more drinks, but you will get to experience cliff diving in the area. On top of it, sunset-watching from this side of Jamaica is a magical experience that you will never forget.
Duration: 3 hour
Party like a local
Jamaica is a breathtaking Caribbean country that everyone should visit at least once in their life. It is known for its marvelous natural beauty, enchanting beaches, and vibrant culture. If you are a nature lover, an adventure seeker or a social butterfly, you should start planning your trip to Jamaica as early as possible. This is also a popular bachelor party destination, offering many exciting things to do. To best experience its remarkable culture and party scene, book one of our above listed party boats in Jamaica and create memories that will last forever.
Frequently asked questions about best party boats in Jamaica
1. Which party boats in Jamaica are suitable private events?
If you're searching for private event-friendly party boats in Jamaica, your quest concludes with our unparalleled selection of vessels tailored to meet your needs. Look no further than Negril & Ricks Cafe Sunset Catamaran Cruise.
2. What is the average rate for renting a party boat in Jamaica?
When considering renting a party boat in Jamaica, there's no need to fret about breaking the bank. With an average rate of a budget-friendly 116 USD, you can indulge in the ultimate experience without straining your wallet.
Disclosure: Trip101 selects the listings in our articles independently. Some of the listings in this article contain affiliate links.
Get Trip101 in your inbox
Unsubscribe in one click. See our Privacy Policy for more information on how we use your data