Ok, let's be honest here - if you're going to Penang, chances are, it's for food. And for good reason! After you've found a place to stay in Penang, may it be at one of the best backpacker hostels or the top staycation spots, it's now time to find somewhere to eat. Penang is home to a hodge-podge of ethnicities, cultures, and religions, and its food reflects these different elements. Here, you'll find the best of Malay, Chinese, and Indian street-food dishes. Forget the air-conditioned restaurants with slow service. Food in Penang is all about hot, crowded hawker centres and roadside stalls, with dirt-cheap dishes packed with flavour.
Eat till you drop!
We've prepared the ultimate guide to Penang food, from main courses to dessert. Here're 25 must-try dishes and places that you can't miss in the quest for the best food in Penang. Let the feasting begin!
Penang's Main Dishes
Here are the dishes that are commonly eaten for a hearty lunch or dinner in Penang. They range from plates of stir-fried noodles, rice drenched in rich curries, and crispy, starchy eggs. To share the calories and leave space for more delicious dishes, share them with your travelling companions or order a smaller portion. These must-eat dishes serve as the centerpiece for the best Penang food.
1. Sister's Char Kway Teow
Photo is only for illustrative purposes
Char kway teow is a national favourite. It's a dish of flat rice noodles stir fried with soy sauce, prawns, cockles, and brean sprouts. When you eat char kway teow, it's important to look out for the dish's wok hei – the 'essence' that the wok imparts during the stir-frying. It's a complex, almost smoky flavour that's enhanced by the sweetness of the soy sauce. Char kway teow has a bit of a reputation for being really unhealthy; it's traditionally stir-fried in pork fat. Thankfully, most stalls nowadays either mix or replace the pork fat with vegetable oil for a healthier option.
The Sister's Char Kway Teow stall is over 50 years old, and is one of the most popular char kway teow stalls in Penang. It's operated by a pair of sisters who are well into their 70s now. Their stall is a bit out of the way, it requires a five-minute taxi ride out of Georgetown, but it's well worth it. They take their time to serve you, but that means that each dish is given the amount of care that it needs. The noodles are properly charred and have absorbed the flavours of the other ingredients well. Crab meat is also sprinkled on top, which is an unusual but delightful twist.
Sister's Char Kway Teow

Address: Lam Heng Cafe, 185, Macalister Road

Opening Hours: 8.30 am - 12.30 pm, 1.30 pm - 4.30 pm

Price: 4 MYR (1 USD) / per plate
2. Padang Brown's seafood popiah
Photo is only for illustrative purposes
Popiah is a kind of fresh spring roll, think of a soft, crepe-like skin wrapped around juicy, stewed radish, fresh vegetables, and a sweet, viscous sauce. Popiah ingredients vary from place to place, some put egg, others have prawns, while some put Chinese sausage inside. What's different about this popiah, however, is that it has real crab meat. That's something that no other stall does!
The stall is found at Gerai Gerai Padang Brown, along Jalan Perak in Georgetown. Do note you'll probably have to take a cab here, as not many buses reach this area. The stall has been around for over 60 years, and it's wildly popular. Come before 5.30 pm to avoid disappointment!
Padang Brown Seafood Popiah

Address: Gerai Gerai Padang Brown (Stall 17)

Opening Hours: Open between 1 to 2 pm until 7 pm (Closed on Thursdays)

Price: 2.80 MYR (0.68 USD) for 2 pieces (minimum)
3. Air Itam's asam laksa
Photo is only for illustrative purposes
Asam laksa is a spicy-sour, fish-based soup served with thick, white noodles. In Penang, asam laksa get its tangy and fishy flavour from tamarind and mackerel. It's full of flavours; prawn paste is added, as well as an assortment of herbs and spices.This store in Air Itam (Black Water) Market is one of the most popular stalls. The recipe for this asam laksa was first made in 1955. Since then, the stall has passed the recipe from mother to child, and it's still very popular.
The Air Itam Market is near to the popular Kek Lok Si Temple, so get ready for crowds. The store usually opens around 10 – 11 am, but go early so you won't have to waste time standing in line. You can expect thick, richly-flavoured soup and spoonfuls of noodles coated in shredded mackerel and prawn paste.
Pasar Air Itam Laksa

Address: 1 Jalan Pasar, 11500 Ayer Itam

Opening Hours: 11 am - 8 pm

Price: 4.00 MYR (0.96 USD) per bowl
4. Line Clear's nasi kandar
Photo is only for illustrative purposes
Nasi kandar is a meal of biryani (flavoured) rice that is served with curries and side dishes. It's a Malay meal, and it originated in Penang. Line Clear offers some of the cheapest nasi kandar in town. You can get a meal of biryani, chicken, egg, vegetables, and a mix of gravies all for 6.50 MYR (1.50 USD). They also have daily specials, such as fish curry and beef gravy.
Some dishes that you should definitely try while eating nasi kandar are the classic fried chicken, ayam ros (rose chicken), mutton curry, and grilled squid.
A lot of the time, nasi kandar places aren't exactly the cleanest, but it's all part of the experience ☺
Line Clear Nasi Kandar

Address: 177 Penang Road, Penang

Opening Hours: Open 24 hours

Price: 6.50 MYR (1.57 USD) - Prices will vary according to what you order
5. Pitt Street kway teow th'ng (kway teow soup)
Photo is only for illustrative purposes
Amid the plates of flavour-packed noodles and spicy curries, kway teow soup might seem like a rather underwhelming choice. It's made of flat rice noodles in a clear, tasty broth, usually topped off with pork, fish balls, fish cake, and occasionally meat balls. Kway teow soup's beauty is in its simplicity, though. It's comfort food for a lot Penangites. If you've been feeling all the oil and lard from other street food options, a bowl of kway teow th'ng is a good way to rest your stomach.
What's special about the Pitt Street kway teow th'ng is that their fish balls are made from eel meat! This makes fish balls that have a pleasant bite and flavour, and is a welcome change from the usual kway teow soup. Another unique thing about this stall is their chilli. Usually, stalls provide a little dish of birds eye chillies mixed in soya sauce. You can dip the fish balls and meat in it for an extra kick. Pitt Street takes things up a notch further by mixing garlic and lime juice into their chilli.
You have to go early, especially on weekends.
Pitt Street Kway Teow Th'ng

Address: 183 Carnavon Street, 10100, Georgetown, Penang

Opening Hours: 8 am to 4 pm (Tuesday to Sunday); 8 am to 1 pm on Sunday. Closed on every Monday

Price: 3.40 MYR (0.8 USD) for a small bowl
6. G.P. Soon Penang rojak
Photo is only for illustrative purposes
Rojak means 'mixture' in Malay. That's exactly what rojak is – a mess of fried dough, bean curd, cuttlefish, and fruits covered in a thick, syrupy sauce and sprinkled with peanuts. It looks unappealing, but the dish is an appetising mix of sweet, sour, and spicy.
Stall number 39 at Gurney Drive Hawker Centre drenches its rojak in a sauce that perfectly balances the flavours. Best of all, it's one of the few stalls that is open past midnight. If you have a late-night craving, this is for you.
G.P. Soon Penang Rojak

Address: Gurney Drive Hawker Centre: 172, Solok Gurney 1, Georgetown, 10250 Jelutong

Opening Hours: 9 pm to 2 am daily (closed Thursdays)

Price: Prices range from 4 MYR (0.9 USD) to 7 MYR (1.7 USD)
7. Kim Leng lor mee
Photo is only for illustrative purposes
Lor mee is a dish of yellow noodles and / or bee hoon (rice vermicelli) drenched in a thick, dark gravy. The gravy is packed with flavour – it's cooked with pork rib stock and spices. Typically, you can find egg, slices of barbecued pork, and bean sprouts added in. It's a hearty meal, and despite the fact that it isn't fried, it still packs a punch because of the gravy.
What sets Kim Leng's lor mee stall apart is that they also add chicken feet! It's a popular stall, and service is prompt.
Kim Leng Lor Mee

Address: 336-G1 Lintang Slim, off Jalan Perak

Opening Hours: Opening Hours: 7 am - 4 pm. Closed on Thursdays.

Price: 3 MYR (0.7 USD) - 5 MYR (1.68 USD)
8. Bangkok Lane's mee goreng
Photo is only for illustrative purposes
If you love noodles, then you can't leave Penang without trying the local mee goreng. Mee goreng is a stir-fried noodle dish. Thin yellow noodles are fried with garlic, onion, and shallots. Other ingredients, such as chicken or prawns, are added. The noodles are dry but they usually have a strong wok hei as well. They can also be fried with chilli.
Bangkok Lane's mee goreng stall will literally twirl up a plate of mee goreng for you. The stall owner twirls the huge wok as he cooks, ensuring that everything is well-mixed. Besides that, fried squid is also added. Finally, a thick, spicy red gravy is added to the noodles, adding a special edge of spiciness to the noodles.
Bangkok Lane Mee Goreng

Address: 280, Jalan Burma, George Town, 10350 George Town

Opening Hours: 8 am - 6.30 pm

Price: 4 - 7 MYR (0.96 - 1.69 USD)
9. Kah Kah oyster omelette
Otherwise known as oh chien, this dish is made up of eggs, oyster, and tapioca flour. It's a savoury, greasy mess that doesn't look too appetizing, but it tastes so good. Shallots and garlic pack the mixture full of flavour, and the best oh chien's have plenty of wok hei as well. Oh chien also has a mix of different textures; the tapioca flour is mixed with egg before it's fried, creating crisp edges and a thick, sticky middle.
You can also add sweet chilli to the mix. The best oyster omelettes use fresh oysters, but if you have a weak stomach it might be better to avoid this.
Kah Kah Fried Oyster along Lebuh Keng Kwee serves up a fragrant, fluffy omelette packed with fresh oysters. It's right opposite the famous Penang Cendul Stall.
Opening hours and prices aren't stated, but a dish shouldn't be more than 4 - 5 MYR (0.9 - 1.2 USD).
Kah Kah Fried Oyster

Address: Lebuh Keng Kwee
10. Kimberly Restaurant duck kway chap
Photo is only for illustrative purposes
Kimberly Street is well-known in Penang for being a food haven. There are plenty of stalls lining the street, and the food here has a strong Chinese influence. Kimberly Street's kway chap attracts long queues, and for good reason.
Kway Chap is a Teochew noodle soup, with wide, flat rice noodles served in a clear, meaty broth. It's commonly cooked with pork, and the pork innards are served along in the soup.
What's different about the Kimberly Street Kway Chap though, is that it's served with duck, which lends a different flavour to the broth. Each bowl is packed with duck meat, and innards (duck tongue, pig organs, blood pudding etc – you have the option to ask for these to be left out). The broth is left to cook with the meat for hours, so it's packed full of flavour and the meat is soft and tender.
Kimberly Restaurant Duck Kway Chap

Address: 137 Lebuh Kimberley, George Town, 10100, Pulau Pinang.

Opening Hours: 6.30 pm - 11.30 pm (Closed on Thursdays)

Price: 7.50 MYR (1.80 USD) / bowl
Penang's pastries, snacks and dim sum
It's not just enough to eat your regular three meals in Penang. You have to eat in between them as well. To beat the heat, you can grab some icy and refreshing desserts. Otherwise, you can pile on even more fried foods - you can eat healthy again when you're home.
11. Penang Road Famous Teochew Cendol
The 'famous' in this stall's name isn't just there for show – everyone who goes to Penang with cendol in mind goes to this store. The stall operates from a humble pushcart just off Penang Street. Thankfully, there is now a store with air-conditioning that you can enjoy the cendol in.
Cendol is a bowl of shaved ice with cendol (pandan-flavoured 'noodles'), gulau melaka, and coconut milk. Occasionally, it has toppings like kidney beans. It's a sweet, icy dessert that's a great way to beat the heat.
Since the stall gained fame, the owner's sons have helped him to expand maintain his business. You can now buy other foods such as asam laksa, rojak, and curry.
Penang Road Famous Teochew Chendul

Address: 27 & 29 Lebuh Keng Kwee, 10100 Georgetown, Penang, Malaysia

Opening Hours: Mon - Fri 10.30 am - 7 pm / Sat & Sun 10 am - 7.30 pm

Website: http://www.chendul.my/

Price: One serving of cendol is 2.10 MYR (0.50 USD)
Penang Food Tour (Small Group)

Duration: 3 Hrs Duration
12. Kheng Pin Cafe's lor bak
Photo is only for illustrative purposes
Lor bak is a platter of fried meat, fish cake and tofu. The main component of lor bak is strips of pork that have been flavoured with five spices, and then wrapped in beancurd skin and fried. The fish cakes and tofu are usually also fried. You can dip the ingredients in braised sauce or in chilli. It's a great mid-afternoon or supper snack.
The lor bak at Kheng Pin Café comes well recommended because the food is prepared only to order, so you can be sure that it's freshly cooked.
Kheng Pin Cafe's Lor Bak

Address: Kheng Pin Café, 80 Penang Road

Opening Hours: 7 am - 3 pm. Closed on Mondays.

Price: One platter (serves 3) is 12 MYR (2.89 USD)
13. Kheng's nonya kueh
Photo is only for illustrative purposes
Kueh are bite-sized pastries and desserts. If you have a sweet tooth, then you can't miss out on trying nonya kueh. Southeast Asian kueh is dominated by the flavours of coconut, pandan, and gulua melaka. Unlike Western pastries, kueh is usually dense, with a soft, almost pudding-like texture
Penang's best nonya kueh hails from Kheng's Nonya Kueh stall. It's found in the Batu Lanchang food court. You'll see trays of colourful kueh laid out, and a long line of people waiting. It sells out fast, so go early!
Some favourites that you have got to try are ang koo kueh, a red coloured pastry with a sticky, glutinous rice skin, wrapped around a sweet bean filling, and onde onde, which are small round balls made from glutinous rice flour with a filling of palm sugar syrup.
Kheng's Nonya Kueh

Address: Batu Lanchang Market Food Complex, Lebuhraya Batu Lancang, 11600 Penang, Malaysia

Opening Hours: Lunch time until early evening
14. Sweet-I Dessert House's hot and cold desserts
Photo is only for illustrative purposes
If you feel like you desperately need a healthy option after all the fried, oily food you've been eating, Sweet-I Dessert House will have everything you need. They serve homemade dessert soups and pastes that have less sugar and are cooling in nature. Chinese traditional medicine believes that fried food are heated foods. To balance out the fried food, you should eat something cooling. So in addition to eating a delicious dessert, you also get to 'cool' your body down.
Sweet-I Dessert House adds a special twist to classics such as red bean or mung bean soup. They add ingredients like kelp or barley, which helps boost the medicinal properties of the desserts.
Be sure to try out dishes such as cheng teng, a clear, refreshing soup flavoured with longan and red dates, or their pastes, which have sesame and peanut.
Do note that the shop is actually in a residential house. You might have to take a cab to get here.
Sweet-I Dessert House

Address: No. 41, Jalan Nipah, Taman Lip Sin, Penang

Opening Hours: 5 pm to 10:30 pm, daily
15. Ming Xiang Tai pastry shop
Photo is only for illustrative purposes
There are a wide variety of Chinese pastries that you can find in Penang. For the kind of pastry that you can bring back as souvenirs, look out for pastries that are baked with a flaky, almost biscuit-like crust. The fillings inside vary from roasted pork to sweet and savoury beans.
One place where you know you'll find good quality pastries is in the Ming Xiang Tai pastry shop. Despite its popularity, it places a strong emphasis on quality over quantity. You'll find a wide variety of pastries that range from sweet to savoury. Some examples include chicken floss pastry, kaya puffs, and salted egg pastry. Their flagship product though, is the trishaw egg tart. They're so named because the founder wanted to honour his parents for their years of hard work, when they sold pastries from a push cart. The egg tart recipe has been in the family for three generations.
Ming Xiang Tai Pastry Shop

Address: 133 Jalan Burma, George Town, Penang

Opening Hours: 8 am - 11 pm
16. Sticks and Spoon [CLOSED]
Photo is only for illustrative purposes
This is a more modern dim sum restaurant, but it's still cheap enough that the prices won't burn a hole in your pocket. If you're tired of sitting in cramped coffeshops or at tables by the road (all part of the Penang experience though!), you can stop by Sticks and Spoon and while away an evening with hot, steamy dim sum.
It might seem a bit weird to be eating dim sum in Penang as compared to say, Hong Kong, but Penang has a reputation as a foodie town so you can be assured of the quality of the dishes. In addition to classics, such as siu mai and liu sha bao, you can also find dishes with a special twist, such as braised beef brisket and and homemade beef balls.
Sticks and Spoon

Address: 1-1-3A, Elit Avenue, Jalan Mayang Pasir 3, 11950, Bayan Baru, Penang

Opening Hours: 11 am to 2:30 pm, 5:30 pm to 10 pm on weekdays; 8 am to 2:30 pm, 5:30 pm to 10 pm on weekends and Public Holidays
17. Penang Tanjung Bungah goreng pisang
Goreng pisang is a treat that is well-loved by Malaysians. It means fried banana – the snack is a banana that's been dipped into batter, and then deep fried till the batter forms a light, golden exterior. The sweet and soft banana complements the crispy batter beautifully.
This stall in Tanjung Bungah operates out of the back of a van, and it's been around for over 30 years. In the past, it operated out of a trishaw. Today, the business has been taken over by the owner's son. Besides bananas, you can also find other deep fried treats such as tapioca, sweet potato, and yam.
The van can usually be found at the junction between Jalan Tanjung Bungah and Jalan Chan Siew Teong. It's a bit out of the way, but if you're headed to Batu Ferringhi and are craving something sweet, stop here!
Penang Tanjung Bungah Goreng Pisang

Address: The junction between Jalan Tanjung Bungah and Jalan Chan Siew Teong

Price: 1 - 1.50 MYR (0.24 - 0.36 USD)
Penang's Cafes
Amidst all the street food and hawker centres, you can start to feel a little tired. Maybe you need somewhere to hide from the heat? If this is the case, Georgetown's cafes offer a delightful range of cakes, coffees, and tarts. Just be prepared that cafe food will definitely be more expensive than street food!
18. The Safe Room
Photo is only for illustrative purposes
The Safe Room ups the ice-cream-making game in Penang by offering liquid nitrogen ice cream. It has an open-concept kitchen, so guests can watch as liquid nitrogen is extracted from a tank, their chosen fruits are blended, and then the mixture is turned into a smooth and creamy sorbet. Their signature dish is Coconut Nitro Ice Cream. It's a great way to beat the heat, and the sheer novelty of the ice cream is a huge plus too.
Aside from the ice cream, The Safe Room also serves usual café fare such as cakes, coffee, and sandwiches.
The Safe Room

Address: 42 Campbell Street, 10100, Georgetown, Penang

Opening Hours: 12 noon - 11 pm Tuesdays - Thursdays, 12 noon - 12 midnight Fridays to Sundays. Closed on Mondays.
19. Love A Loaf bakery café
Photo is only for illustrative purposes
Love A Loaf's outlet in The One is a very popular café with factory workers nearby. If you go later than 3 pm, most of the things will be sold out. The best time to go is between 12 noon and 2 pm.
What makes Love A Loaf so different is that they serve artisan breads that have creative twists to them. Their Japanese matcha mochi combines matcha and red bean in a soft bun that's sheathed in a layer of sweet, chewy mochi. Other favourites include their soft baguette, as well as their selection of French pastries.
The café has a calming and relaxing atmosphere, and it's a nice place to chill in the air-conditioning while enjoying some bread and a cup of coffee.
Love A Loaf Bakery Café

Address: The One Terrace Plus, 1-1-16, Tingkat Mahsuri, Bayan Lepas

Opening Hours: 10 am - 10 pm daily
20. Dolce Dessert Café
Photo is only for illustrative purposes
Dolce Dessert Café is perfect for cake lovers. Located within the Kek Chuan Terraces, this is a great place to stop for a break while exploring the heritage of Georgetown. They sell a wide range of desserts; you can get various kinds of cake, fruit tarts, macarons, and panna cotta. One of their best-sellers is the passion fruit cheesecake, as well as their mango fruit tart.
In addition to the sweet treats on display, the walls are also cutely decorated with doodles and cartoons. On cool nights, you can opt to sit outside on the prettily decorated patio.
Dolce Dessert Café

Address: 18, Jalan Kek Chuan, 10400 Georgetown, Penang

Opening Hours: 11 am - 11.30 pm.
Penang's Hawker centers
A hawker centre is a beautiful place. Sure, they're hot, sometimes not very clean, and typically packed full of people, but that's the beauty of it. That's the hawker centre experience. It's a one-stop place for nearly all the types of food that Penang has to offer.
A hawker centre is basically an open-air complex that houses a variety of different stalls in one place. If you're in Penang and you haven't got enough time to go trawling the streets for food, then stop by a hawker centre. You might not get to eat the most famous version of a certain dish, but you will find a delicious one no matter what. Besides, many famous stalls can be found in hawker centres too.
21. Joo Hooi Café
Photo is only for illustrative purposes
Conveniently located along Jalan Penang, Joo Hooi Café is where you'll find nearly all the foods that make Penang so famous. It's a tiny shophouse with traditional wooden furniture and plastic chairs. Despite it's size though, Joo Hooi Café offers char kway teow, asam laksa, rojak and lor bak.
The Penang Road Famous Teochew Cendol is located next to Joo Hooi.
Joo Hooi Café

Address: 475, Jalan Penang, George Town, 10450 George Town

Opening Hours: 11 am - 5.30 pm
22. Padang Brown Food Court
Photo is only for illustrative purposes
Padang Brown is one of the oldest food courts in Penang. The famous seafood popiah can be found here (see #2). In addition to that though, you can also get a great bowl of yong tau foo (clear soup where you can pick the ingredients you want), char tway keow, ice kacang (a sweet, colourful mountain of ice, condensed milk, syrup and toppings like red beans), and wanton mee.
There aren't buses nearby, so you'll probably have to take a cab.
Padang Brown Food Court

Address: Jalan Pantai, Chinatown, George Town, Penang Island 10400, Malaysia

Opening Hours: 12.30 pm - 6 pm
23. Gurney Drive Hawker Centre
Gurney Drive is synonymous with Penang's hawker food. It's located right next to Gurney Plaza. It's hugely popular with tourists, and, because of that, some people say that the prices might be slightly marked up. However, it's still a good place to find a huge range of local hawker food. We've already mentioned the rojak from Stall 39, but you can find all the foods that make Penang famous like asam laksa, char kway teow, and wanton mee.
Gurney Drive Hawker Centre

Address: 5 Persiaran Gurney, George Town, 10250 George Town, Pulau Pinang, Malaysia

Opening Hours: 6 pm - 12 midnight
4-Hour Georgetown By Night Including Ferry Ride

Duration: 4 hours
24. Pulled pork at Kimpo Famous Roasted
Photo is only for illustrative purposes
Kimpo Famous Roasted stall is located in the Red Garden hawker center. If you're looking for hearty Penang food, they serve delicious pulled pork and scrumptious duck. The place comes highly recommended by locals and tourists alike. There are also noodles and soups to order, and all items are reasonably priced. Service is fast and friendly as well. The portions may look small, but the food is rich in flavors and will most definitely fill you up. If not, there are other nearby stalls that offer a variety of other local delights. You can choose to get takeout or sit-and-dine.
Kimpo Famous Roasted

Address: No. 20 Leith Street, George Town, Penang Island 10000, Malaysia
25. Awesome Canteen at Sekeping Victoria
Photo is only for illustrative purposes
After reading all the items above and you still don't know what to eat in Penang, try the Awesome Canteen at Sekeping Victoria for everything from coffee and cakes through to dinner delights. It's open from 10 AM until 3 PM for coffee. Dinner service starts at 6 PM. Make a reservation to avoid disappointment. They provide street parking and high chairs. Plus, there is alcohol on the menu. With free WiFi, outdoor seating and friendly waitstaff, you know they look after your comforts. The coffee selection is worth tasting for they have a variety of beans to choose from. Consider pairing a col brew with the Red Wine Chocolate Cake. If you are not a fan of coffee, there is also a range of cheesecakes to choose from. The chicken salad comes highly recommended. The old warehouse has an ambiance that's cool, with high ceilings and trees. The paelio organic menu encourages healthy eating.
Awesome Canteen

Address: 164 Lebuh Victoria | Sekeping Victoria, George Town, Penang Island 10300, Malaysia

Telephone: +60 4-261 3707

Website: Awesome Canteen
A city of heritage, culture, and of course, food
You'll never go hungry in Penang. It's a foodie town, and it is fiercely proud of that reputation. There are delicious things to be found around every corner. If you don't try at least some of the local dishes, you will seriously be missing out. So shelve the diet for now, enjoy your trip, and feast on Penang's famous foods!
Disclosure: Trip101 selects the listings in our articles independently. Some of the listings in this article contain affiliate links.
Get Trip101 in your inbox
Unsubscribe in one click. See our privacy policy for more information on how we use your data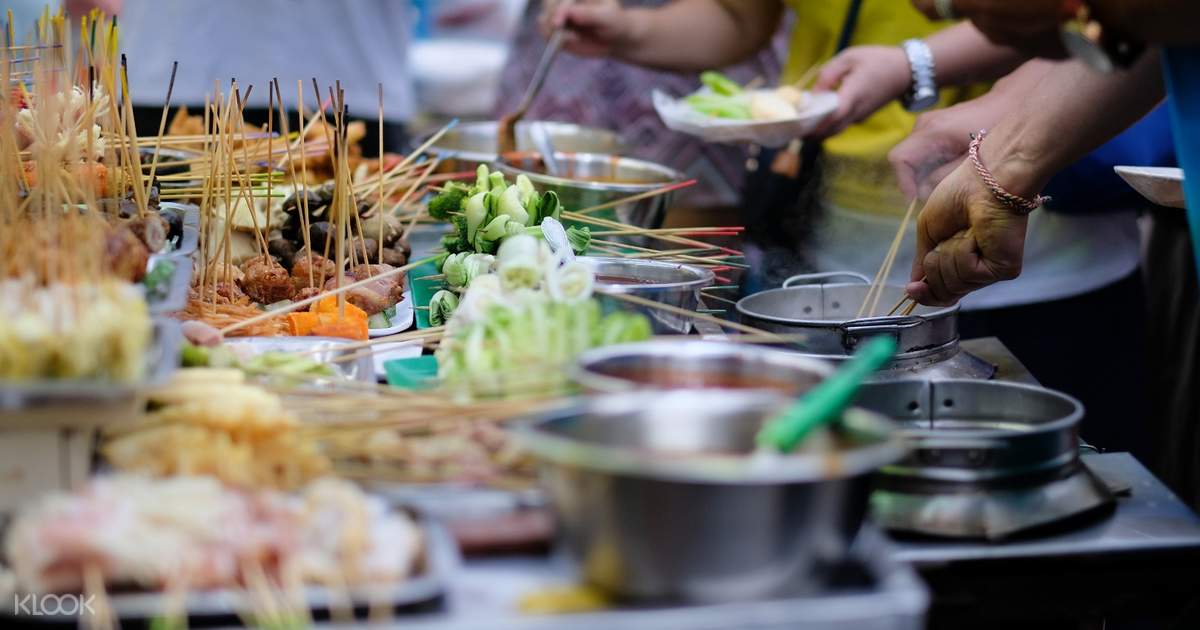 Still Need Travel Insurance?
You can buy and claim online, even after you've left home. Travel insurance from WorldNomads.com is available to people from 140 countries. It's designed for adventurous travellers with cover for overseas medical, evacuation, baggage and a range of adventure sports and activities.
*5% off when you book with our promo code: TRIP101
*For our Canadian and US travellers, unfortunately due to financial services laws, we cannot provide a discount. This promotional code cannot be used with any other discount offer, including World Nomads Members' discount for travel insurance policy holders.