Popular for its Roman baths, Bath is a must-visit destination for those seeking comfort and relaxation. The party life never stops here with night clubs, restaurants, and hotels working 24 hours in order to provide you with exceptional hospitality. Bath Abbey is one place you should visit with your spouse for a unique sightseeing adventure. The buildings take you into a world of ancient art and design. In Bath, you'll also find charming holiday homes, as well as cozy hotels with a spa. Check out below for more information on the best romantic things to do in Bath, the UK.
1. Enjoy punting with Cherwell Boathouse Punts
You better believe it, punting is one of the best things to do in Bath for couples. Make way to Cherwell Boathouse Punts for a tremendous ambiance and great drinks. The pub is located at the bank of a beautiful river passing through the magnificent landscape. The place is a perfect spot for you to come with your partner for relaxation with spectacular sights of the environment. The establishment has an ancient setting with a fireplace and en-suite bedrooms where you can have a goodnight's sleep after touring the scenic region. The pub offers a good atmosphere for you to host corporate events, parties, and lots more.
Cherwell Boathouse Punts

Address: Bardwell Rd, Oxford OX2 6ST, United Kingdom

Website: Cherwell Boathouse Punts
2. Chill out at Thermae Bath Spa
Get the beauty of both modern and traditional design baths at Thermae Spa. The point of focus goes to the New Royal Bath which offers a spectacular facility for chilling out with your spouse. The indoor pool is another great spot for relaxation and unwinding as it provides an awesome setting with a calming ambiance. From the rooftop pool, you can enjoy the glimpse of Bath's skyline with your special companion.
Thermae Spa

Address: The Hetling Pump Room, Hot Bath St, Bath BA1 1SJ, United Kingdom

Website: Thermae Spa

Opening hours: Tue: 9am - 9:30pm (closed from Wed - Mon)
3. Appreciate the delightful services at Royal Crescent Hotel
Visit Royal Crescent Hotel for outstanding hospitality and breathtaking views of the landscape. The establishment sits on a large piece of land featuring a charming garden where you can have romantic evening strolls. The spa is one place that you should visit for an escape from reality to a world of beauty and comfort. The bedrooms also offer you utter comfort after a long day of touring new places. Surely, the spot is the best for taking your spouse and spending some quality time together.
Royal Crescent Hotel

Address: 16 Royal Cres, Bath BA1 2LS, United Kingdom

Website: Royal Crescent Hotel

Opening hours: 24 hours (daily)
4. Admire the scenery at Bath Botanic Gardens
Bath Botanic Gardens is perhaps the most colorful and romantic outing. The scenic landscape provides you with a wide array of flowers and plant species. The tranquility that it offers makes way for some personal time together amid the greens. It is a 19th-century garden that offers 9-acres (3.8 hectares) of limestone plants and scented walks with small rose shrubs greeting you now and then.
Bath Botanic Gardens

Address: Park Ln, Bath BA1 2XQ, United Kingdom

Website: Bath Botanic Gardens

Opening hours: 24 hours (daily)
5. Indulge in a lavish dinner at Ponte Vecchio
Get the best dining experience as you munch on delicious Italian fare at Ponte Vecchio. The place gives you the option of either enjoying the beauty of the elegant interior décor or the exquisite outdoor setting. This romantic restaurant in Bath is located in a scenic region with views of the Avon river and Pulteney Bridge that you will enjoy. The menu features a wide range of delicacies such as pollo supreme, bistecca di agnello, filetto di salmone, sautéed mushrooms with chili and garlic, irresistible salads, and many more.
Ponte Vecchio

Address: Spring Gardens Rd, Bath BA2 6PW, United Kingdom

Website: Ponte Vecchio

Opening hours: Mon - Fri: 12pm - 3pm, 6pm - 10pm; Sat - Sun: 12pm - 10pm
We're sure you're no stranger to tours in Bath, but what about tours with a challenge? This Airbnb Experience lets you paddle through the canals of the centre of Bath. You can simply kneel on your stand up paddleboard, or make it an intense exercise and do it standing! You'll be cruising down Avon and Kennet canals, passing through merchant warehouses and the iconic Georgian Sydney Gardens, and eventually coming through the 19th-century canal tunnels. This surely is one of the unique activities you can do in Bath as a couple!
Duration: 2 hours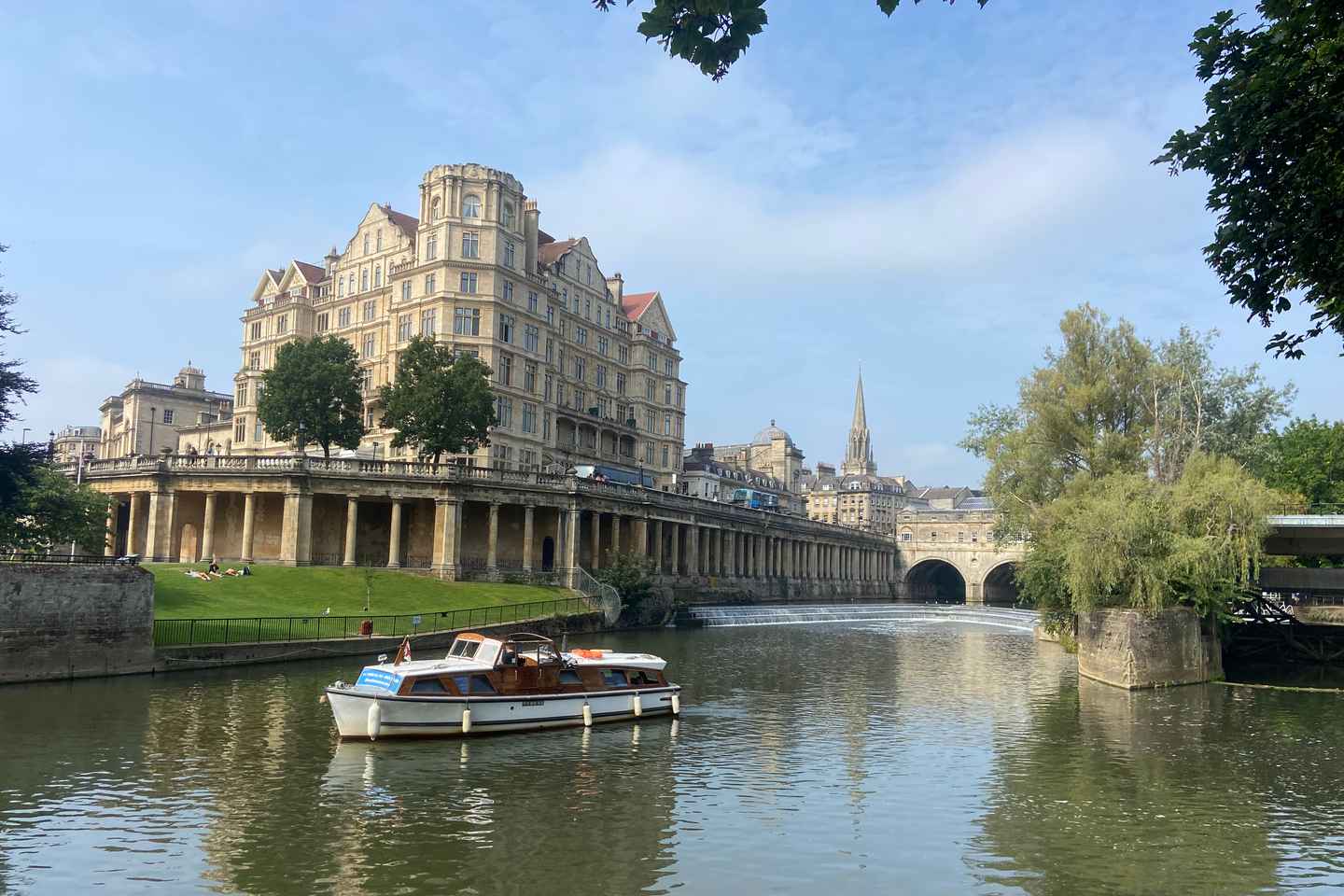 Sail along River Avon as you enjoy spectacular views of the beautiful city structures. The trip takes you close to some of the best landmarks available for a delightful sightseeing adventure. Moving along the calm water gives you the perfect environment to revitalize during your holiday expedition. The tour begins at Bath Quays Waterside and goes for approximately half an hour before coming to an end at a scenic spot. Explore the city on this wonderful boat trip.
Duration: 30 minute
Go for an exciting sightseeing adventure with your better half around the famous Roman Baths that were built several centuries ago. A tour across the area will take you to various points of attraction across the site. The bubbles you will see coming from the baths are generated by hot springs below the earth's surface. Aside from that, the architectural structures seen around the region represents what you can describe as a design masterpiece. Drop by at the unique spot for a lovely time strolling the region with your spouse.
Duration: 4 hours
Explore the beauty of Bath as you go for an exciting hot air balloon ride with your romantic spouse. At the top, you will be able to take in the magnificent bird's-eye view of Bath. A sunset or sunrise tour across the area will also make way for a romantic time. The aerial view will open up great sights of different landmarks such as Roman baths, Bath Abbey, and many more. This is surely an awesome way of spending time with your significant other.
Duration: 4 hours
Reserve your spot for a tour that enables a glimpse of the Bath skyline with your spouse. The region is packed with lots of attractions that you will find quite attractive. It is the place to be if you are looking for adventure and fun while touring the various spots. As you tour the area, you'll get a panoramic view of the ancient city. You can marvel at Bath Abbey, Bath Rugby Club, Sydney Gardens, and many more. Take pleasure in the beauty of nature with your loved one by your side.
Duration: 120 to 180 minutes
Discover the hidden beauty of Bath
Bath is a region blessed with scenic natural beauty and spectacular landmarks that you should have a glimpse at. Come tour the region for an exciting experience. Found the most romantic place to stay in Bath already? Now it's time to go around town and check out these amazing activities for your romantic outing.
Any must-sees we missed? Tell us about them in the comments section or write a post
here
to help out fellow travelers!
Disclosure: Trip101 selects the listings in our articles independently. Some of the listings in this article contain affiliate links.
Get Trip101 in your inbox
Unsubscribe in one click. See our Privacy Policy for more information on how we use your data