The United States is home to several beautiful and culturally rich western landscapes and right on top of the list of those places is the city of Colorado. Lying to the south of Denver, Colorado Springs is an exciting place to be with its majestic peaks and endless options of enjoyable outdoor activities. It is the perfect place for an adventurous vacation alone, with friends or for a romantic bonding vacation with that special someone in your life. And if you're wondering where to stay in Colorado Springs, there are many amazing options available here - from luxury Airbnbs to top famous hotels in Colorado Springs. There are numerous activities that one can indulge in and enjoy here. For those interested in getting to spend time with their partners, here is a list of the top romantic things to do in Colorado Springs, Colorado.
For a unique experience, enjoy a scenic zipline tour at Seven Falls. This half-day activity allows you to take in stunning views of lush trees and the gorgeous landscape of Colorado. During this trip, you can also go rappelling all the way to the canyon floor.
For your safety, note that you will have to wear closed-toe shoes. Your kids can also enjoy this adventurous activity as long as they meet the weight requirement.
Fins Course Scenic Zipline Tour

Duration: 3 hours 15 minutes
2. Explore history at Colorado Springs Pioneers Museum
If you wish to know more about the history of Pikes Peak, then Colorado Springs Pioneers Museum is a great place to visit. This museum features permanent as well as temporary exhibits, showcasing the rich past and culture of American Indians and African Americans. If you plan to take your kids with you, there are several events and experiences created just for your little ones.
Colorado Springs Pioneers Museum

Address: 215 S Tejon St, Colorado Springs, CO 80903, United States

Website: Colorado Springs Pioneers Museum

Opening hours: Tue - Sat: 10am - 5pm (closed from Sun - Mon)
3. Stay at The Broadmoor
If you are interested in spending quality time indoors with your partner and still have the best time of your lives? Then The Broadmoor is where you should go. This five-star hotel resort has absolutely everything you may need, from captivating grand accommodations, world-class bars, luxurious spas and lounges to exquisite restaurants where they serve the tastiest western and intercontinental dishes, a lush golf course and even top stores to cater for your shopping needs. This first-rate resort also offers romantic outdoor activities like horseback riding, fly fishing and beautiful waterfall treks promising a most romantic experience.
Outdoor lovers? Why not visit this new national park with breathtaking views and spectacular red and orange-hued rock formations. Take a hike; enjoy a romantic drive with a picturesque view of the landscape, have a lover's picnic under the canopy of some great monuments, and you can even steal a kiss and capture the moment at the famous 'Kissing Camels' rock formation. Enjoy a very exotic experience at the Garden of the Gods.
Private Rock Climbing at Garden of the Gods, Colorado Springs

Duration: 4 hours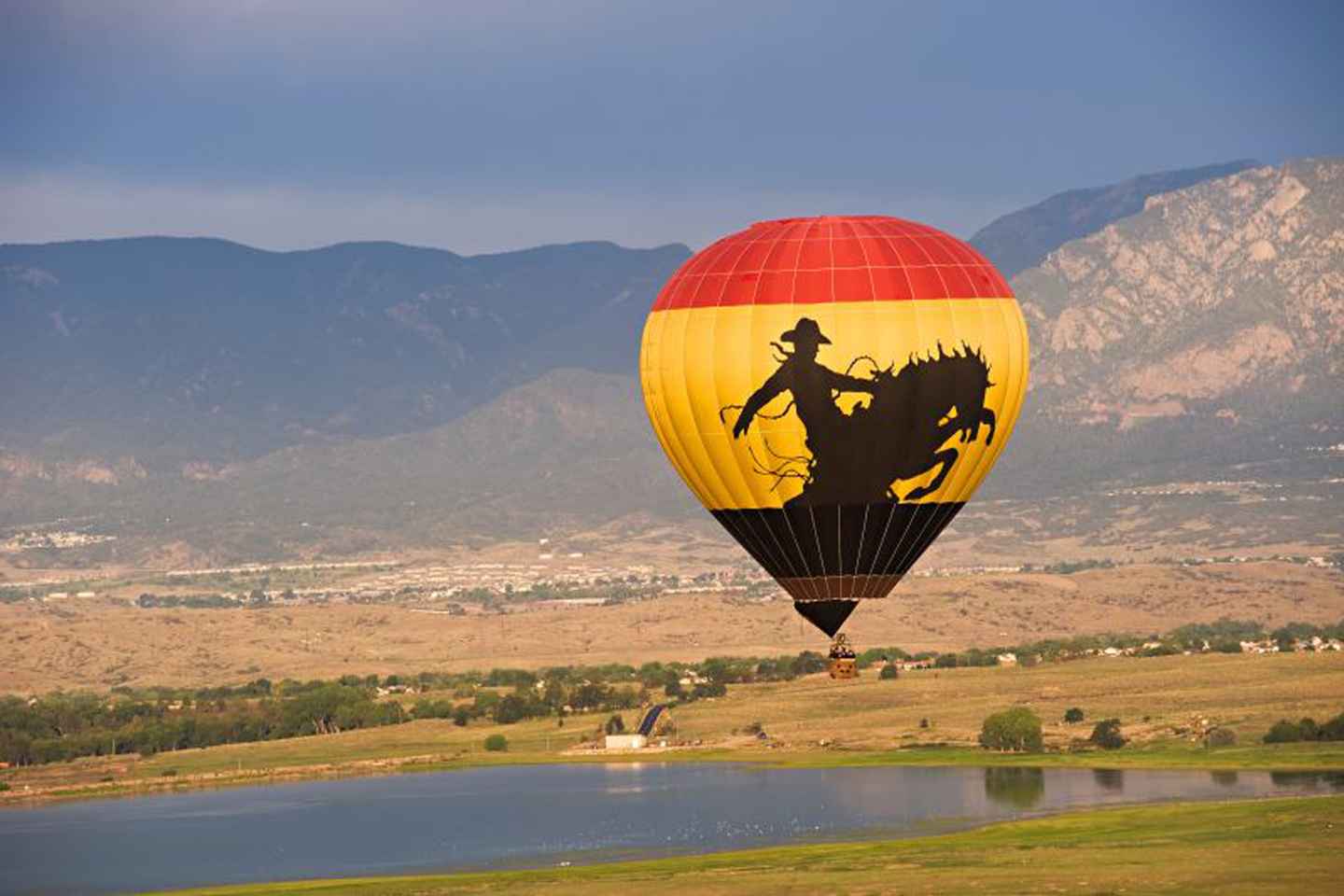 Couples looking for Colorado Springs romantic stuff to do will find no activity better than a hot air balloon ride. There is no better way to enjoy a romantic time at the Colorado Springs than to behold the panoramic views of the whole countryside from the seats of a hot air balloon while sipping champagne of course. On the ride, you and your significant other get a first-class view of the beautiful cascading plains and enthralling mountain peaks that the city has to offer. No doubt one of the top romantic things for lovebirds in Colorado Springs.
Colorado Springs: Sunrise Hot Air Balloon Flight

Duration: 3 hour
6. Share a kiss at the Royal Gorge Bridge
Share a kiss, throw your head back and laugh in the wind, live in the thrills of the awesome beauty of the Grand Canyon. Enjoy the incredible experience on the Royal Gorge Bridge. The highest suspension bridge in the U.S. - this wonderful place has been voted the best place to steal a kiss in Colorado. So visit this unique masterpiece, experience its awesomeness, walk in the clouds and do not hesitate to steal a kiss too.
7. Groove at the Motif Jazz Café
Editor's Note: Photo taken from the establishment's official social account
What is romance without some good jazz music! Set a date and treat you and your romantic double to cool live jazz music at Colorado's leading jazz club, the Motif Jazz Cafe. Enjoy their excellent cocktails, a variety of delicious food and fancy wines in an atmosphere sure to leave you feeling very romantic. You can't have a complete romantic getaway in Colorado Springs to-do list without adding a visit to this jazz café.
Motif Jazz Café

Address: 182 E Cheyenne Mountain Blvd, Colorado Springs, CO 80906, USA

Website: Motif Jazz Café

Opening hours: Monday-Wednesday: closed, Thursday-Saturday: 5 PM-12 AM, Sunday: 10 AM-2 PM

Average price for two persons: 30 USD and under
Adventurous couples will find ascending Cheyenne Mountain to be one of the most fun things to do in Colorado Springs on a date, especially if you and your partner love animals. Right on this breathtaking highland is America's only mountain zoo with one of the largest reticulated giraffe herds in the world. The Cheyenne mountain zoo gives you and your romantic double the chance to fully experience nature in its raw beauty, bringing you closer to the several awesome creations of its home. You even have the option of taking a Mountaineer Sky Ride and appreciate the mountainside view.



Cheyenne Mountain Resort, a Dolce by Wyndham

Address: 3225 Broadmoor Valley Road
Accommodates: 5


Parking Restaurant Pets allowed Room service Meeting/banquet facilities Bar 24-hour front desk Tennis court
9. Movie night at Kimball's Theater
Fancy seeing a beautiful romantic movie with your partner while sipping a glass of some fine wine after a pleasurable day? Colorado Springs has somewhere perfect for you to do that. Only take a stroll downtown to Kimball's Peak Three Theater and enjoy the night with movies and an array of wine, beer or any different liquor cocktails of your choice. A romantic getaway with no movie night is just a getaway!
Kimball's Peak Three Theatre

Address: Colorado Springs, CO 80947, USA

Website: Kimball's Peak Three Theatre

Opening hours: Monday-Sunday: 2 PM-8 PM

Price: 7.50 USD and above
10. Get a good laugh at Loonees Comedy Corner
Editor's Note: Photo taken from the establishment's official social account
Everyone loves a good laugh and one of the most fun date ideas in Colorado Springs is to visit a comedy club. Take a break from all the hikes and the activities and spend valuable time with your partner enjoying the hilarious satires and jokes from stand-up comedians at the highest-rated comedy club in all of Colorado. With live comic shows, inexpensive drinks, and a fresh, lively atmosphere, you and your significant other are sure to enjoy every single minute you spend in this place.
Loonees Comedy Corner

Address: 1305 N Academy Blvd, Colorado Springs, CO 80909, USA

Website: Loonees Comedy Corner

Opening hours: Thursday: 6:15 PM-10:30 PM, Friday - Saturday: 6:15 PM-1 AM

Price: from 12 USD
11. Soak in the serene SunWater Spa
Editor's Note: Photo taken from the establishment's official social account
One of the most romantic things for couples to do in Colorado Springs is to enjoy a relaxing soak in a hot spring. The SunWater Spa offers hot springs bubbling with refreshing mineral water in open air cedar tubs. You can't miss the chance to take a dip in their beautiful tubs with your partner while gazing at the sparkling star with those enthralling mountain peaks in the background. This pristine Spa will surely leave you and your partner with a dreamy feeling. So waste no time, spend a day at the SunWater Spa in Colorado Springs and encounter romance.
SunWater Spa

Address: 514 El Paso Blvd, Manitou Springs, CO 80829, USA

Website: SunWater Spa

Opening hours: Tuesday-Thursday: 8 AM-9 PM, Friday - Saturday: 8 AM-11 PM, Sunday: 8 AM-8 PM

Price: from 35 USD
12. Enjoy yummy chocolate delights at Mona Lisa Fondue
Editor's Note: Photo taken from the establishment's official social account
Your romance story cannot be complete without chocolate! And the best way to enjoy chocolate is in its molten state, with an exquisite wine to top it. You get that and much more at the Mona Lisa Fondue Restaurant in Colorado. Spoil your partner by indulging with them in the delightful and savoury taste of cheese fondue, salad entrees, and the yummy goodness chocolate dessert fondue served at this award-winning restaurant. Indeed your romantic experience in the city won't be complete without a visit to the chocolate restaurant.
Mona Lisa Fondue

Address: 733 Manitou Ave, Manitou Springs, CO 80829, USA

Website: Mona Lisa Fondue

Opening hours: Monday-Sunday: 5 PM-8:30 PM

Price: 31-60 USD
Experience romance in Colorado
Are you planning on taking a trip to Colorado with your partner to spend some good quality time in each other's company? Do you want to tap into the romantic vibe of the city fully? Then do not hesitate in trying out some of our suggested romantic activity options in Colorado Springs, Colorado. Take your time, explore and let the ambience of romance envelope you and your partner during your stay.
Disclosure: Trip101 selects the listings in our articles independently. Some of the listings in this article contain affiliate links.
Get Trip101 in your inbox
Unsubscribe in one click. See our privacy policy for more information on how we use your data