Incredible Bali is breathtaking and verdant around every corner. Nusa Penida, Bali's southern-most island, is no exception to this rule. With incredible turquoise waters, stunning rock cliffs, and white sand beaches, Nusa Penida is a wonderful addition to anyone's itinerary when visiting Bali. Check out the island's highlights which include a visits to Billabong Beach, snorkeling opportunities at Manta Ray Point, or by renting a bicycle and seeing the island by way of pedal. Boats to Nusa Penida leave daily from the main island of Bali's Sanur. From ferries to private boats, heading to Nusa Penida is a matter of choice in how one likes to travel. With these choices of fast boats to Nusa Penida, you'll be on your paradise island in no time. Read on to discover the best options for traveling from Sanur to Nusa Penida by fast boats and head out on your adventure today!
Fast boats are easily rented from the main port of Sanur. Sanur is a coastal stretch of beach on the southeastern part of Bali, which has grown in popularity over the past years. With a locally-owned vibe, unlike other resort areas of Bali, restaurants and shops are quaint with friendly owners in Sanur.
Fast boats to Nusa Penida are in abundance at Sanur, and can be found at Sanur Port. Some key fast boat companies to look for when heading to Sanur Port include: Marlin, Crown, Sugriwa, and S'gening. A one-way ticket for an adult comes in at about 29.26 USD (400,000 RP), a round-trip ticket closer to 43 USD (600,000 RP). You will certainly save money if you decide to buy a round-trip ticket.
Most boat companies leave Sanur two-three times a day, reversely picking up in Nusa Penida two-three times a day. Generally, the boats leave earlier in the day, so do not wait until the sunset to return to your destination. All of these companies ensure the highest safety possible, and many offer packages for when you arrive at Nusa Penida, such as snorkeling.
The duration of the ride itself lasts for about 30 minutes, depending on the tide and weather conditions. It is best to travel lightly when heading to Nusa Penida, as you will have to trek through the water to get to your boat, and this may make carrying large luggage cumbersome. Companies such as Klook (see link below) offer a seamless way to set up your Nusa Penida transport ahead of time, ensuring all details are well-thought out.
For times and prices of each mentioned operator see below, although it is highly advised not to rely solely on online schedules as they may not be up to date.
Marlin
Round trip of 47.63 USD (650,000 RP)
Leaves daily for Nusa Penida at: 8:00am, 10:00am, 1:00pm, 4:00pm
Crown
Round trip of 29.26 USD (400,000 RP)
Leaves daily for Nusa Penida at: 8:30am, 11:15am, 3:15pm
Sugriwa
Round trip 43.89 USD (600,000 RP)
Leaves daily for Nusa Penida at 7:15am, 11:15am
S'genging
Round trip price of 42 USD
Leaves daily at 8am, 5:30pm
[SALE] Fast Boat Ticket between Sanur and Nusa Penida by The Angkal

Duration: 30 Min Duration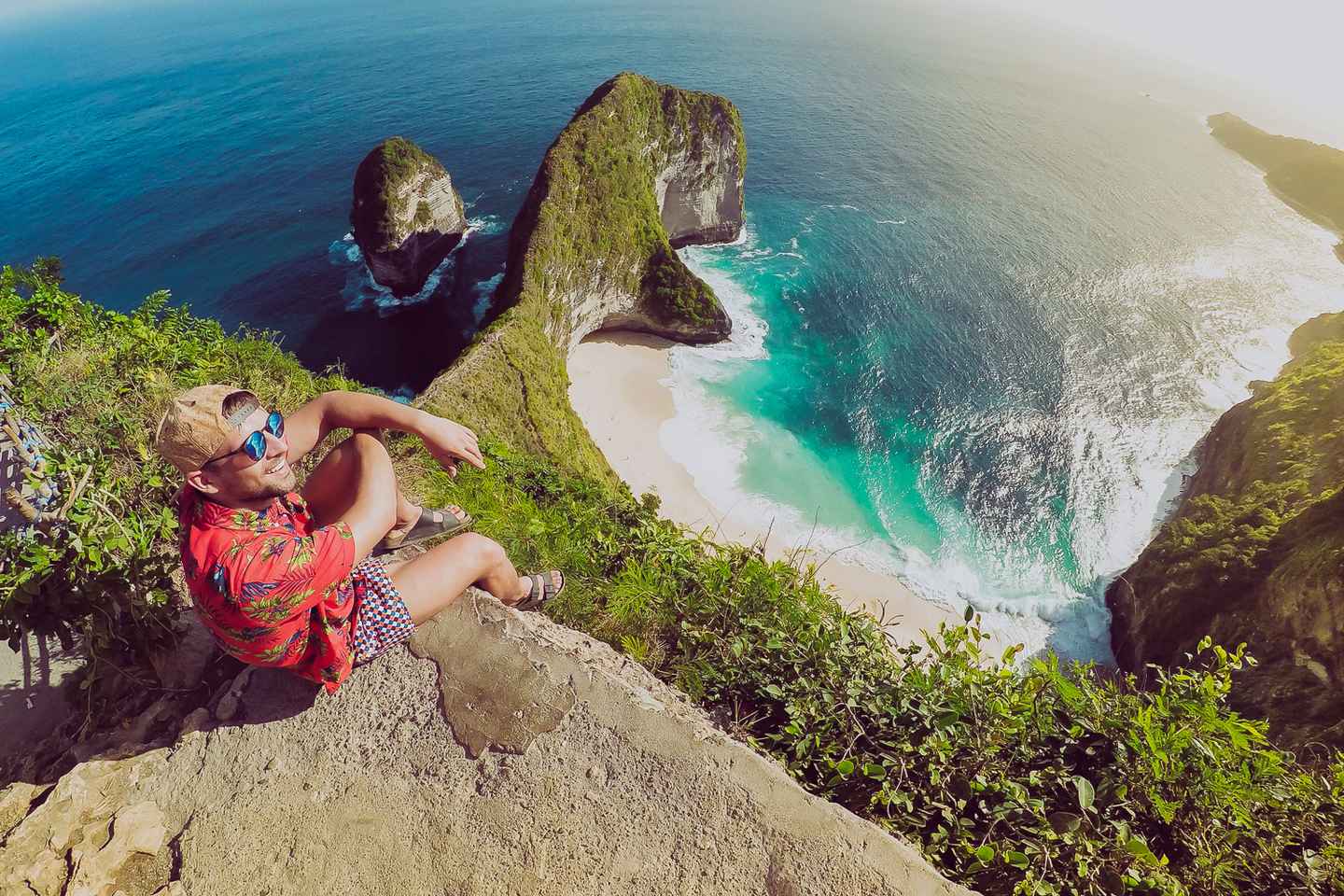 A more intimate option, speed boat tours are a wonderful choice for those who want to be in an immersive experience with 15 or less people. Great for avoiding larger groups, and generally part of a package tour, speed boat tours offer a way to get off the beaten path. Very small groups, such as five or less, can also be arranged through companies such as GetYourGuide (see below).
Hit up all the beach highlights (there's more than just one on Nusa Penida), take a swim or a snorkel, and relax in the good hands of your local guide. Speed boat tours generally are a long day; plan for a ten-hour excursion. For this reason, those who are handicapped or pregnant are not advised to take these private tours as the company cannot always accommodate those with physical limitations.
The price of a private tour is generally around 65 USD (888585.10 RP), and does not include lunch or add-ons such as snorkeling.
From Bali: Nusa Penida Small Group Tour by Speed Boat

Duration: 10 hour
Sanur in and of itself is a great place to explore. Because boats often leave bright and early, it is advisable to stay overnight in Sanur and maximize your experience there. Additionally, if you need to store heavy luggage while traveling to Nusa Penida, your hotel in Sanur can store luggage.
A peaceful oasis from the often-times hectic party scene of Bali, Sanur has excellent Airbnb accommodations as well. From about 38 USD (519480.52 RP) and up, treat yourself to a lovely Javense house. For more expensive Airbnbs it is possible to get a private pool, but if you're just looking for a private room, Sanur has those too.
Some highlights while visiting Sanur include: visiting the Blanjong Pillar, the oldest historical artifact in Bali, walking along the promenade, and shopping along Jalan Danau Tamblingan. Of course, sampling delicious Bali food, from renowned restaurants such as Warung Krishna, is always a good idea.
Additionally tours such as the Seawalker Tour in Sanur through Viator, where you can literally go underwater for 30 minutes in the Seawalker suit, are worth every penny and add to great memories of Bali.
Seawalker Tour in Sanur Bali

Duration: 2 hours
Other nearby harbors to consider
Going from Sanur to Nusa Penida isn't the only way to go. There are a few additional harbors that you can depart from heading in the direction of Nusa Penida. Kusamba & Padang Bai Port are two alternatives to the most popular harbor of Sanur. They each have some positives and some negatives. Kusamba is a small village that isn't on most people's list to see when coming to Bali.
Though it offers the shortest route to Nusa Penida, the options for traveling to Nusa Penida are more limited. Additionally, a large wooden boat leaves daily to Nusa Penida, however this journey can be quite risky and is not advised.
Additionally, Padang Bai Port has a public car ferry, making it an attractive option for those traveling with their car. It's slow and sometimes breaks down, so do prepare for an alternate way of getting to Nusa Penida. Additionally, small theft is quite common on the ferry. Also, the schedule for this ferry is quite erratic; it is best to check the schedule in-person or book through a travel agent to be ensured a happy journey.
The trip from Padang Bai Port should take about an hour to get to Nusa Penida, costing approximately 2.27 USD (31,000 RP) for an adult (one-way), and about 21.62 USD (295,000 RP) for a car (one-way).
Okay, now you've finally made your journey and have arrived at beautiful Nusa Penida. What to do next?
First of all, nature is the main reason to come to Nusa Penida. Pristine beaches, azure waters, and verdant hills are all trademarks of the island. Some of the most beloved beaches on Nusa Penida include Atuh Beach, a white sand beach protected by rock formations; Crystal Bay, a favorite among divers; and Pasih Ugg Beach, a remote beach accessed only by foot or bicycle.
Angel's Bilabong is home to a variety of small fish, and has stunning crystal clear waters in which to view the ocean life. Peguyangan Waterfalls offer yet another incredible natural wonder. An old stairway leads you to the bottom of the hill where you can view the waterfalls.
Along the way, sacred sites dot the landscape. The Pura Goa Giri Putri Cave is a longstanding sacred site among locals who gather at the cave to pray. It is important to dress respectfully while visiting the cave, and a sarong is the chosen attire.
If you prefer a tour to help you take in all this wonder, Klook (see below), has a private car charter that allows one to customize their own itinerary.
Nusa Penida Private Car Charter

Duration: 10 Hrs Duration
Fast boat your way to Nusa Penida
Going to the remote island of Nusa Penida in Bali is a traveler's dream come true. Untouched beaches, holy sites, and jagged rock formations make this spectacular island worth the journey. Truly a visit to Bali is not as complete without a visit to the calm oasis Nusa Penida provides.
Fast boats are a great way to make a swift and safe journey from the mainland to the island of Nusa Penida. Affordable and efficient, jumping on a fast boat should alleviate any worries you have about traveling through the water, and get you to your discoveries on unforgettable Nusa Penida.
Disclosure: Trip101 selects the listings in our articles independently. Some of the listings in this article contain affiliate links.
Get Trip101 in your inbox
Unsubscribe in one click. See our privacy policy for more information on how we use your data