Taiwan is popularly known for its night markets showcasing an array of sumptuous delicacies. The night markets are bustling with some of the tastiest treats and tons of activities which will keep you longing for more! Salt, sweet, and spicy are the major flavors of Taiwanese night markets, and all the delicacies are a must try! These night markets add to the city's vivacious and vibrant character and the food tours conducted here are an absolute value for money. Take a look at some of the most famous street food tours conducted in Taiwan which will not only showcase the Taiwanese culture but will also tantalize your taste buds!
The city of Tapei is popularly known for its mouth-watering delicacies, and taking a food tour here is an absolute must! Eat the yummiest of Taiwanese dishes, prepared freshly in front of your eyes. Your taste buds are in for a treat with a selection of ten lip-smacking tastings. From tasting the heart-warming scallion pancakes to the tastiest of sushi, there is tons to explore here. Visit Zhongzheng District and tour Dongmen Market to sample a wide selection of Taiwanese dishes, with your local guide.
The 10 Tastings of Taipei With Locals: Private Street Food Tour

Duration: 3 hours
Get set to explore the Shilin Night Market like never before. Accessories, clothing, drinks, food, shoes, souvenirs, you name it, you will find it all here. It is open from 5 pm- 2 am so that you can fulfill all your shopping and gastronomical fantasies. The bountiful offering of cheap eats coupled with exquisite stores will leave you longing for more. There is a range of delicacies prepared here such as mango ice-desert, oyster omelet, sticky tofu, chicken sausage, fish ball, bubble milk tea, fried chicken ribs, fried milk, herbal pork-rib soup, grilled-octopus, cheese potato, Ai-Yu lemon dessert, sticky noodles, twin cakes, and pineapple cake. Hungry already? We don't blame you!
[Private Tour] Shilin Night Market Walking Tour With a Private Tour Guide (2-hr)

Duration: 2 hours
Taiwan is popularly known as the foodies' paradise, and this food tour will show you how! The experience starts off at a historical market where you get to sample various traditional Chinese delicacies before heading over to Yongkang Street. Once you have tasted the popular delicacies here, you will set out for a feast at the world famous Ningxia Night Market. You will truly not regret gaining those extra calories by the end of this tour. It is a fulfilling experience as you get to sample a dozen of the most popular Taiwanese dishes.
Taipei Culinary Experience

Duration: 3 hours 30 minutes
This four-hour long tour will not only educate you about the Taiwanese culture, but it will also help you imbibe in delectable delicacies Taste some of Taiwan's favorite foods and visit important cultural sites such as Chiang Kai-shek Memorial Hall, Yong Kang District, and the Huashan 1914 Creative Park. Delicacies such as the beef noodle soup and the mango snowflake ice cream are sure to brighten your day. Book this food tour for an enthralling and fun-filled cultural experience.
Ho Ja Taipei: Beef Noodles Tasting Tour

Duration: 4 hours
Sea-food lovers, this food tour is a must-try for you! Besides learning the art of fishing, you also get to barbeque hand-picked shrimp. Discover some yummy food stalls at the renowned Shilin Night Market. There are a variety of options to pick for dinner including oyster omelet, Taiwanese sausage with sticky rice, chicken fillet, and bubble tea. This four-hour long food tour guarantees a phenomenal experience for all the food lovers out there. Explore various other shops and sink into the aroma of freshly prepared delicacies, before you return to your hotel.
Taipei Private Food Tour Including Shilin Night Market Visit

Duration: 4 hours
Tapei's Yongkang District is a hub of some amazing eateries and shops. There are a lot of adventures in store during this full day walking tour. You will visit renowned places such as Daan Forest Park, sample popular Vietnamese dishes, learn about the culture and, not to forget, enjoy great shopping. You can customize the itinerary as per your liking and pick activities which interest you the most. Plan a fun-filled day ahead as you visit the streets of Taiwan.
Taipei Yongkang Private Full-Day Walking and Food Tour, Lunch

Duration: 7 hours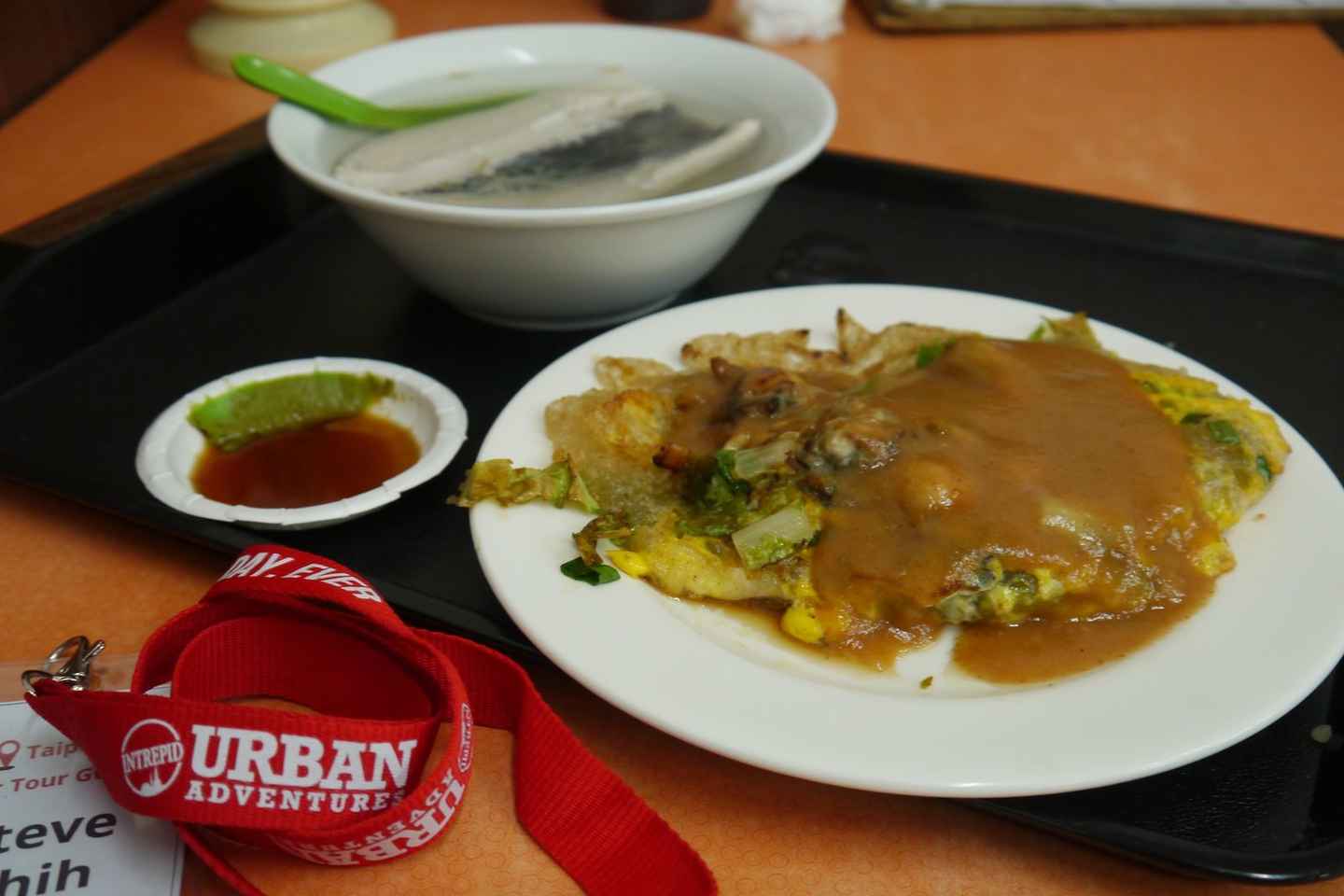 The Taipei food tour in Ningxia Night Market gives you access to some of the most sumptuous Taiwanese delicacies. The fragrance of freshly cooked pork leg rice and the exquisite aromas of some oyster pancakes are sure to tantalize your taste buds. There are plenty of savories to choose from as you make your way into this food market. Besides tasting these fabulous dishes, you also get a sneak peek into the Taiwanese culture. Enjoy the various food challenges and fill your stomach with the yummiest of dishes at a pocket-friendly rate.
Taipei: Night Ningxia Market Food Tour

Duration: 2 hour
Brighten up your evenings with this fantastic food tour in Tapei. Stroll around Ningxia Night Market as you explore the finest and tastiest of Taiwanese dishes. Try delicacies such as fried taro cake and sweet peanut soup only at this spectacular night market. This three-hour long food tour is worth every penny, and you won't be able to resist the aromas of the freshly cooked dishes. Situated in one of Taipei's oldest sections, Ningxia Night Market offers a Taiwanese experience of a lifetime.
Private Food and Market Evening Tour in Taipei

Duration: 3 hours
Taipei's Yansan Night Market is popularly known for its authentic street food. This food tour is limited to a group of four people, and it is priced at a pocket-friendly rate. Learn about the Taiwanese culture and taste some of the finest Taiwanese treats. You will get a chance to sample six to eight delicacies and will surely be craving for much more. From piping hot beef noodle soup to the old school smoked shark – loosen that belt and get ready to feast!
Small Group Night Market Tour including Street Food Tasting

Duration: 2 hours
Get set for a gastronomical experience of a lifetime at Tapei! Kickstart your food tour with some traditional Taiwanese breakfast followed by visiting the renowned Chiang Kai-shek Memorial Hall. After this, tantalize your taste buds with some sumptuous Chin Feng Braised Pork Rice. Besides getting to taste some world-famous Taiwanese food, you also get a chance to discover some of the best places in Tapei. Those with big appetites are sure to rejoice throughout this tour.
Private Taipei Food Tour

Duration: 8 hours
Sumptuous delicacies
Taiwan is popularly visited by people across the globe for its mouth-watering delicacies. The street food here is super delicious and we are sure you will go home happily with those extra calories!
Disclosure: Trip101 selects the listings in our articles independently. Some of the listings in this article contain affiliate links.
Get Trip101 in your inbox
Unsubscribe in one click. See our privacy policy for more information on how we use your data