Tucked away in the northwest part of Europe, Denmark is a Nordic country that is made up of the Jutland Peninsula and a host of other beautiful islands. Once known as the home of Vikings, today the country is one of the most peaceful, gorgeous lands in the Scandinavian region, boasting an endless list of amazing attractions. From the magnificent cities of Copenhagen and Aarhus to Zealand, Helsingør, the ever-colorful Nyhavn harbor, and the most spectacular theme parks, it is a tourists' paradise indeed. To enjoy the most thrilling experience, read on to know more about the top theme parks and amusement parks in Denmark.
1. BonBon-Land
If your kids are candy lovers and you would love to take them out for fun, well, one of the exciting things about spending time in Denmark is you've got many fun places for kids and families—like BonBon-Land. This is a mesmeric amusement park tucked away in a picturesque neighborhood in Holmegaard. Regarded as one of the largest amusement parks in the world and occupying a landmass of 34 acres (13.76 ha), it originally functioned as a candy factory. The venue comes with thrilling features such as eateries, picnic areas, rollercoasters, family-friendly rides, rafting, and other intriguing water sports and activities for all ages.
BonBon-Land

Address: Gartnervej 2, 4684 Holmegaard

Website: BonBon-Land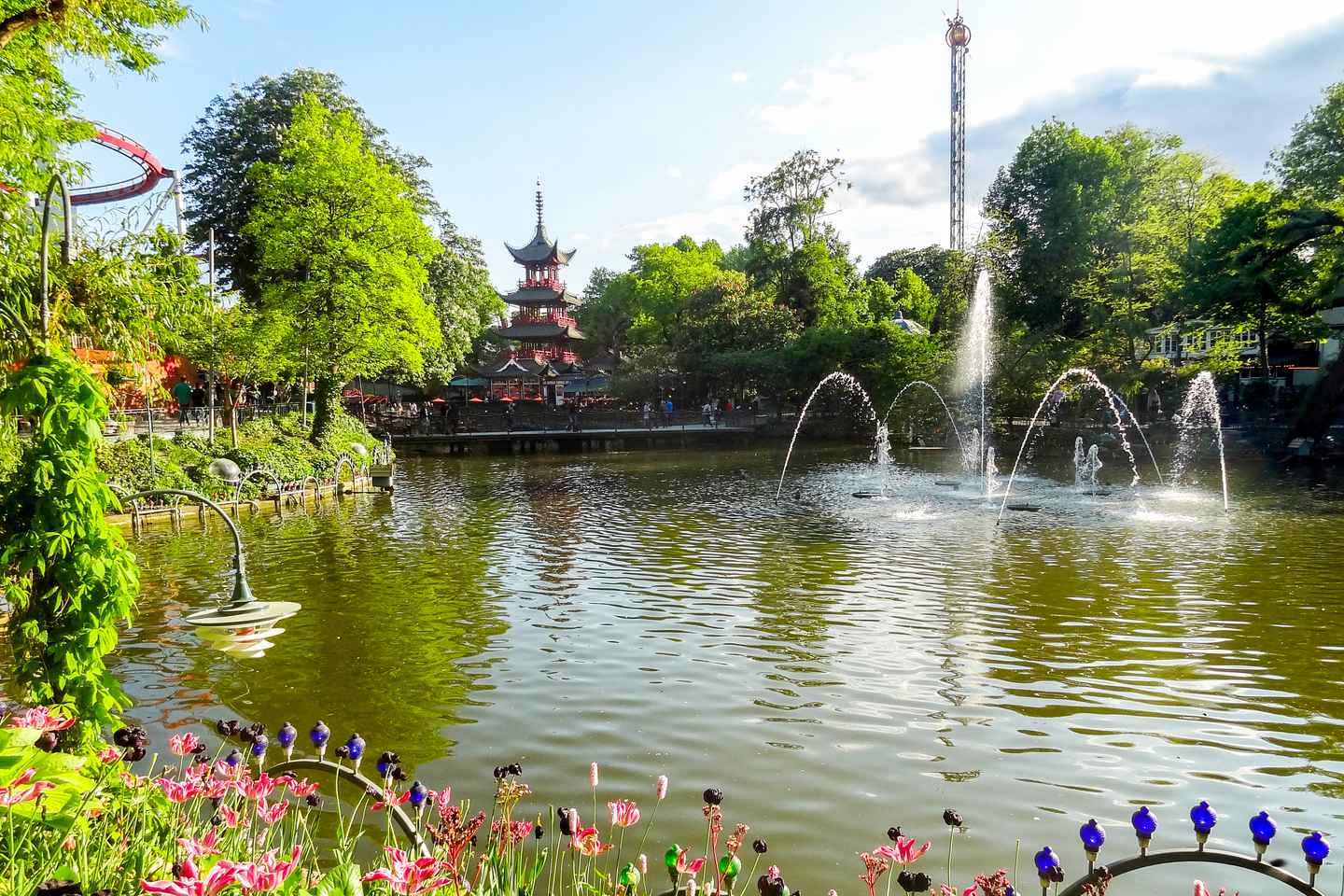 Copenhagen is a vibrant, attractive city perched on the coastal islands of Zealand and Amager, boasting a romantic vibe and a plethora of awe-inspiring attractions. One of the major highlights in this lovely city is Tivoli Gardens, which is the second-oldest operating amusement park around the globe. The park is always buzzing with families, honeymooners, and fun-seekers coming to have some excitement. There are different activities for all, including an antique rollercoaster, live music performances that keep the crowd on its feet, concerts, ballet, and games for all age-groups. Grab a bite in one of the amazing food joints here.
Tivoli Gardens

Address: Vesterbrogade 3, 1630 København V

Website: Tivoli Gardens

Opening hours: Sun - Thu: 11am - 11pm; Fri - Sat: 11am - 12am
Copenhagen: Tivoli Gardens Admission Ticket
3. Djurs Sommerland
Popularly known as Scandinavia's largest summerland, Djurs Sommerland is a world-class amusement park offering the best entertainment therapy to families in Djursland. Since 1981, this park has been attracting tourists from Europe and other parts of the world, making Denmark a tourist hub during the summer. Enthusiasts of water sports and activities come here to experience thrilling moments in the water park, while kids get to soar on the breathtaking rides. The park features Denmark's biggest gyro swing—Tigeren—which is an experience not to miss. If you're not mingling with other thrill-seekers, you can stop by a nearby eatery and satisfy your hunger.
Djurs Sommerland

Address: Randersvej 17, 8581 Nimtofte

Website: Djurs Sommerland
4. Bakken
Nestled in a picturesque lush, green environment in Klampenborg, Dyrehavsbakken—or popularly known as Bakken—is a one-of-a-kind amusement park located about 10 km (6.21 mi) north of the capital city, Copenhagen. One of the major highlights of this park is that it's the world's oldest operating amusement park, so it comes with nostalgic experiences aside from thrilling fun. This park has a special charm that will leave both kids and adults with unforgettable memories of Denmark. The park comes with amazing features, including an 82-year-old wooden rollercoaster, rides, gaming arcades, shooting stalls, and a lot more—just what any thrill-seeker would love.
Bakken

Address: Dyrehavevej 62, 2930 Klampenborg

Website: Bakken
5. Tivoli Friheden
Hidden in a wooded area about 2 km (1.24 mi) to the south of Aarhus City is Tivoli Friheden, a mystically themed amusement park that is dedicated to providing only the best to adventure-seekers in Denmark. For families exploring what the country has to offer, this should be on top of your to-do list. With features such as rollercoasters, rides, games, and playgrounds, this place will definitely have kids enjoying an unforgettable experience. As the little ones are having fun, you can relax in one of the beautiful restaurants and grab something to treat your tastebuds. You can also choose to set up a picnic for your family.
Tivoli Friheden

Address: Skovbrynet 5, 8000 Aarhus

Website: Tivoli Friheden
6. Legoland
Strategically situated just a walking distance from the original Lego factory and Billund Airport, Legoland is an amazing amusement park in Billund that comes with a miniature world made from Legos. Experience exciting thrills from all the intriguing fun, speed, and amazing action generated around this wonderful place. As for kids' fun and entertainment, there are breathtaking rollercoasters, trains for family rides, movie rooms, fairytale rooms, and the magical Miniland featuring iconic structures and buildings across the whole of Denmark. You can also have fun in other sections like Ninjago World, Pirate Land, and Adventure Land, among others.
Legoland

Address: Nordmarksvej 9, 7190 Billund

Website: Legoland
7. Fårup Sommerland
Enjoy all-under-one-roof fun and entertainment at Scandinavia's most thrilling amusement park, tucked away somewhere in Nordjylland and featuring the largest heated aqua park in Denmark—Fårup Sommerland. Whether you're looking to crack your ribs with laughter or planning to indulge in exciting water activities with your family, then you won't find a better place to enjoy some summer love than this park. From crazy rollercoasters to wild family rides, as well as with horse rides, you'll get to experience Denmark's intoxicating love to the maximum. Spoil your tastebuds with some mouthwatering delicacies from any of the excellent food joints in the park.
Fårup Sommerland

Address: Pirupvejen 147, 9492 Blokhus

Website: Fårup Sommerland
8. Universe
Are you a lover of science and technology and wondering what fun activities Denmark has in store for you? Well, wonder no more because there's a special surprise for you here. Discover one of the hidden gems in the country perched on Als, a gorgeous island sitting southeast of Jutland—Universe. As the name might suggest, this is a spectacular amusement park that lays its emphasis on entertainment through natural science, technology, and entrepreneurship. What makes this park unique from other parks are features such as Virtual Reality Coaster, a ParadropVR, a film studio where you can try acting, and a ball factory.
Universe

Address: Mads Patent Vej 1, 6430 Nordborg

Website: Universe
9. Sommerland Sjælland
Are you looking for an exciting outdoor activity to spice up your summer vacation in Denmark? Get your family and head toward Nørre Asmindrup, where you will find one of the most exciting and popular amusement parks in the country. If you're planning to enjoy a family picnic, there are romantic cabins that you can book. Some attractive features that will get your heart pumping include amazing large pools, thrilling water slides and canoeing, karting, and exceptional fairground rides. Make sure to explore the petting zoo and admire the different kinds of animals there.
Sommerland Sjælland

Address: Gl Nykøbingvej 169, 4572 Nørre Asmindrup

Website: Sommerland Sjælland
10. Camp Adventure
Nestled in a lush, green neighborhood in the humble town of Rønnede, this is a hidden gem and one of the major tourist attractions in Denmark. Apart from being among the most attractive theme parks in the country, it's also one of the world's most innovative and trendsetting spots thanks to its unique features. Visitors from all around the world come here to enjoy breathtaking views from the magnificent spiraling walkway that is linked to a 148-foot-high (45.11 m) observation tower—Forest Tower. You'll get to enjoy a 360-degree view of the whole of Zealand. Don't forget to preserve these amazing memories with some photos.
Camp Adventure

Address: Skovtårnsvej 1, 4683 Rønnede

Website: Camp Adventure

Opening hours: 10am - 3pm (daily)
Let Denmark enthrall you and your family
Apart from being home to a host of eye-catching royal palaces and iconic landmarks, such as the spellbinding Nyhavn harbor, Denmark is also a famous tourist destination for families seeking adventure and fun—thanks to its myriad of amusement parks and theme parks. For sure the above venues will offer you an enthralling experience during your holiday.
Disclosure: Trip101 selects the listings in our articles independently. Some of the listings in this article contain affiliate links.
Get Trip101 in your inbox
Unsubscribe in one click. See our Privacy Policy for more information on how we use your data