Being the largest city and capital of Poland, Warsaw is a fast-growing economy in Europe. It is considered as one of the most beautiful cities prior to World War 2, having a lot of history and interesting stories to tell. In its core sits the Old Town, which was designated as a UNESCO World Heritage Site. The Old Town is a busy business area in Warsaw where visitors can enjoy many of its tourist attractions and business establishments. As busy as Old Town may be, looking from a distance, the place gives off a stunning panorama view of the city. Other popular attractions are the Royal Lazienki Museum, Palace of Culture and Science, Museum of King Jan III's Place at Winlanow, and Vistula Boulevards. It is recommended that guests at least take at least three days to discover Warsaw and appreciate all of its beauty. The number of activities Warsaw has got to offer can be overwhelming for those who are first-time visitors and even those visiting by themselves. Continue reading below for a list of the best things to do alone in Warsaw, Poland.
Are you interested in learning how to shoot firearms in a safe and controlled environment? If the answer is yes, then you should try visiting this professional shooting course that allows you to shoot firearms of different calibers. They allow their guests to shoot five different types of weapons, starting from short weapons up to machine guns. If you are a beginner, the range also has a well-experienced instructor that will help you in making sure you fire safely and correctly. Some of the inclusions are a pick-up and drop-off at your hotel, an experienced instructor, shooting shields, headphones, 10 shots for pistols, 10 shots for an AK-47, and 2 shots from a shotgun.
Professional shooting course - option - Standard /inc. Pick-up/

Duration: 2 hours
2. Visit St. John's Archcathedral
The St. John's Archcathedral, also known as Catedral de San Juan de Varsovia, is one of the many cathedrals you can find in Warsaw. It is one of Poland's national pantheons and is listed as a place of cultural significance by UNESCO. Everyone is welcome to join and visit the cathedral which takes no fees for admission. If you love history and architecture, the St. John's Archcathedral is a place you should visit, as the building was built during the 14th century in Masovian Gothic style and towers at 80-meters (262 feet) in height. The cathedral was not only a place of worship but also a historical site having witnessed many struggles during World War II.
St. John's Archcathedral

Address: St. John's Archcathedral, Old Town, Warsaw, Poland

Opening hours: 24 hours (daily)
3. Admire the Royal Castle
Visit the Royal Castle and explore the history of Warsaw through the castle's many exhibits. It is divided into several part–each with their own story to tell with unique pieces for visitors to enjoy viewing. Enter the Oval Gallery that was once used as a passageway to St. John's Collegiate Church and view the wonderful tapestries and portraits of Polish monarchs that date back from the seventeenth century. Serving as the first antechamber for low-ranking courtiers, the Great Antechamber is a spacious area that was once used for the king to entertain audiences. Another room visitors should explore would be the Marble Room which once functioned as the second vestibule in the state apartment. Now, guests will be able to view twenty-two portraits of Polish kings, Marcello Baccirelli's ceiling paintings, and Andre Le Brun's Justice and Peace statue here.
The Royal Castle

Address: plac Zamkowy 4, 00-277 Warszawa, Poland

Website: The Royal Castle

Opening hours: Tue - Sat: 10am - 6pm; Sun: 11am - 6pm (closed on Mon)

Price: 2.64 - 7.91 USD
You might be interested in these Airbnbs!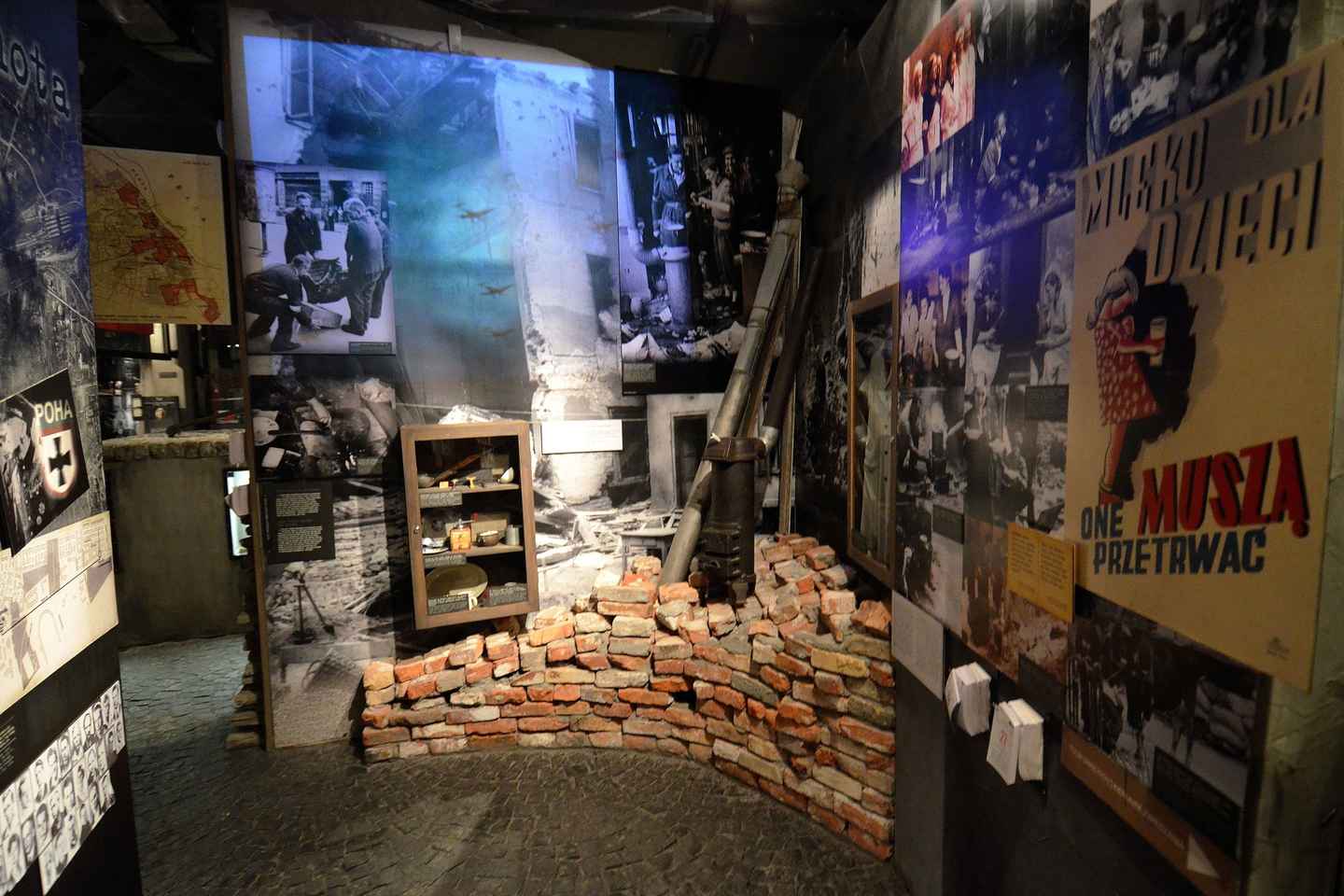 Established on the 60th anniversary of the outbreak of the war, the Warsaw Rising Museum is a place that was built to commemorate the brave people of Warsaw who stood and fought against any foreign invaders planning to take over the lands of Poland. The museum offers a plethora of exhibitions that depicts how the people have fought and lived during the occupational terror. The exhibits not only show the event during the war but also events that happened just before and after the war ended. Guests will be able to view and learn more about the story through roughly 1,500 photographs, films, and sound recordings that were taken during and after the war. Visitors will also be able to view many replicas of machines and arms used for war, making it easier for the people to have an idea of what kind of technology the Polish had during the war.
Warsaw Uprising Museum Audio Guided Tour

Duration: 2.5 hour
5. Unwind at Lazienki Park
The Lazienki Park is a park in Warsaw famous for being summer residence park of King Stanislaw August. The park is naturally surrounded by different kinds of trees and it also features beautifully arranged gardens. Peaceful, tranquil, airy, and overall having a well-kept environment, the park is a great place to unwind and enjoy the fresh air that the trees and plants provide. The park also hosts many special events that all visitors are welcome to partake in.
Lazienki Park

Address: 01-999 Warsaw, Poland

Website: Lazienki Park

Opening hours: 24 hours (daily)
6. Tour the exotic animals at City Zoo
Having been an essential part of Warsaw for over 90 years already, the City Zoo has been housing many animals for their protection as well as serving as a great venue for people to enjoy and be educated about animals. It is located at the center of Warsaw and it covers 40 hectares (98.84 acres) of land. The zoo has over 3,500 animals, not including the fishes which are over 10,000 in population. Visitors can even view about 40 endangered animal species that are currently covered by the Energy and Environmental Protection (EEP).
Warsaw City Zoo

Address: Ratuszowa 1/3, 03-461 Warszawa, Poland

Website: Warsaw City Zoo

Opening hours: Mon - Fri: 9am - 6pm; Sat & Sun: 9am - 7pm

Price: 3.97- 26.45 USD
7. Shop at Bazar Olimpia
If you are into shopping, then the Bazar Olimpia is a great place to visit. The bazaar sells just about anything, from clothes to toys and even mechanical parts. This place is great if you have exhausted most of your budget on your explorations on Warsaw as sellers would tend to sell items on bargain prices. You can even practice your haggling skills and see how much you and the seller can negotiate on the price of an item you really want. Enjoy not only the awesome feeling of shopping but also the community that makes the bazaar possible.
Bazar Olimpia

Address: Górczewska 56/60, 01-401 Warszawa, Poland

Website: Bazar Olimpia

Opening hours: Sun: 8am - 3pm (closed on Mon - Sat)
Experience Warsaw
Warsaw is a place that offers tons of fun activities, sceneries, and stories that people can enjoy even when touring by themselves. If you would like to fully experience this majestic place, in just a couple of days, then you should try out some of the best things to do alone in Warsaw, Poland enumerated above. The listed activities encompass the best places that you can experience in order for you to get to know more about Warsaw.
Disclosure: Trip101 selects the listings in our articles independently. Some of the listings in this article contain affiliate links.
Get Trip101 in your inbox
Unsubscribe in one click. See our privacy policy for more information on how we use your data