Boasting a smashing nightlife, several party beach resorts, many an adventure sport options, and a vibrant food scene is Cabarete, a beach town in Dominican Republic's Puerto Plata province on the Hispaniola island. Once a fishing and farming hamlet, Cabarete is now a supremely famous vacation destination with upscale hotels and markets packed with plenty. Bustling with tourists speaking different languages, days in Cabarete will fall short but activities won't. Enjoy the entire spectrum of things this Caribbean town offers and use our list of things to do in Cabarete, Dominican Republic. We guarantee you won't be disappointed with the place and these activities, just read on.
1. Explore the Caves of Cabarete
Also hidden within the lushness of the Choco National Park is this fantastical cave system called Caves of Cabarete. Head there to stun yourselves, marvelling at the see-through stalactites, stalagmites, and other rock art. The tour guides are very helpful and friendly here so book yourself one. However, do note that it can be quite a challenging walk so prepare yourselves accordingly and wear your most comfortable shoes. To add to that, it's not just a usual walking tour, you can also jump into the underwater lagoon for a refreshing dip!
Caves of Cabarete

Address: 5 16, Cabarete 57000, Dominican Republic

Website: Caves of Cabarete

Price: 25 USD - 35 USD per tour (exclusive of other charges)
2. Kick in the adrenaline at the Monkey Jungle & Zip Line Adventures
Adrenaline junkies and nature lovers, drop everything and make your way to the Monkey Jungle & Zip Line Adventures that sets aside three venues, combining thrill with exploration all within its premises. You can go in for their zip lining adventures, play with friendly squirrel monkeys at the Monkey Jungle Experience, or try your hand at shooting at their seven-station Gun Range. You can only tour the Monkey Jungle with tour guides so remember to book yourself one. This one's a specially fun experience for kids so remember to keep it on your list of things to do in Cabarete, Dominican Republic
Monkey Jungle & Zip Line Adventures

Address: Carretera El Choco 9km, 57000, Dominican Republic

Website: Monkey Jungle & Zip Line Adventures

Opening hours: 9am - 4pm (daily)

Price: 20 USD - 55 USD
3. Sunbathe at Kite Beach
While most head to this beach for a fun time kiteboarding, we tilt towards sunbathing. Laying stretched out on warm sand and letting you skin soak in the beautiful sunshine and the air–ah! Nothing quite like it! Although it is one of the most popular beaches in the town, Kite Beach is relatively lesser crowded than the other beaches, making it a perfect spot to luxuriate underneath the Dominican skies.
Kite Beach

Address: Cabarete 57000, Dominican Republic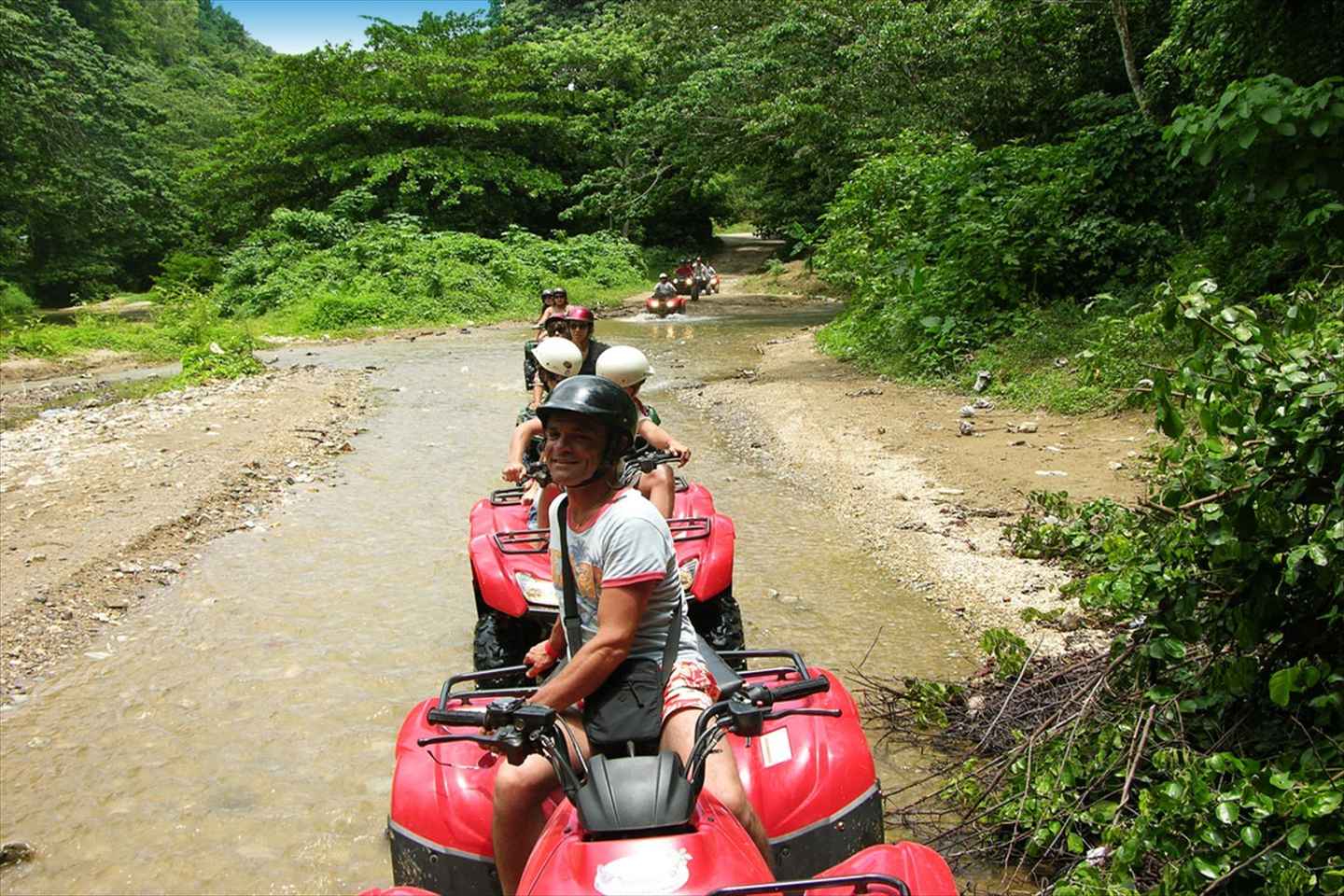 Hitch this tour and set yourself to discover stunning beaches, muddy paths, and lush foliage along Cabarete's rich countryside. The starting point of this tour is about a half-hour's drive from Cabarete and the entire tour takes about half a day's time. Plan this activity when you have that kind of time to enjoy the best of the experience. Also, remember to wear clothes that you'll not regret dirtying. Sunglasses would also be a helpful accessory to carry.
4 Wheel Adventure

Duration: 4 hour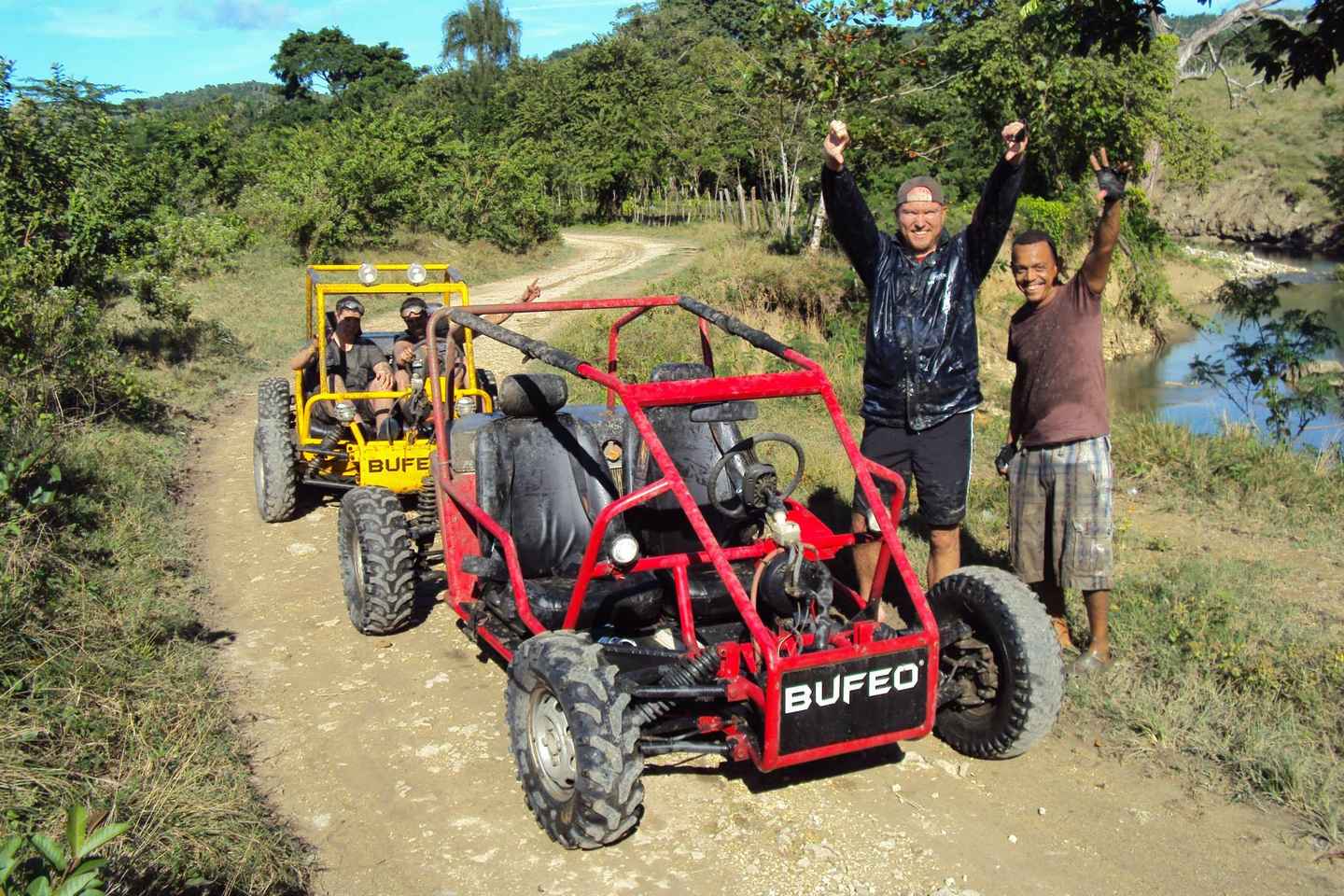 Book yourself a Dune buggy and drive your way through sprawling sugarcane fields in Cabarete. These guided tours include charges for the gear and provide professional instructors to guide you along the routes. Even beginners can try their hand! Again, clothes will get dirty, so dress accordingly. It's quite an entertaining experience, this one, so don't forget to add it to your list.
Cabarete: 2-Person Dominican Countryside Buggy Tour

Duration: 4.5 hour
What's a trip to Cabarete without surfing? You have got to try it. Don't worry if you're a newbie or don't know at all. These surfing classes and facilities will give you all the confidence you need to negotiate the waves while you have yourself a gala time in the water.
Dominican Republic Surf Lessons in Cabarete

Duration: 2 hours
7. Try windsurfing on the Cabarete Beach
Tried surfing? Now it's time you tried some windsurfing. Head to the Cabarete Beach and participate in this famous water sports activity there. One of the most bustling beaches, Cabarete Beach sees many passionate windsurfers find their way to engage in this thrilling activity here. Since the winds and waters are agreeable here, it less dangerous and more exciting. There are many stores at and around the beach that rent out the gear.
Cabarete Beach

Address: Cabarete 57000, Dominican Republic
Here's a step-by-step scuba diving tutorial that readies you to take the plunge and explore the magical life underwater. Ideal for non-divers, this lesson devotes three full hours teaching the essentials, the breathing techniques, and basic swimming strokes. The scuba diving spots they choose are usually easy to navigate, ensuring that you can make the best of your experience. So try scuba diving and take back a bagful of memories from Cabarete.
Discover Scuba Diving

Duration: 3 hours
Take out some four to six hours from your itinerary and go canoeing along the beautiful Dominican countryside, exploring thick waterfalls and sprawling greenery in peaceful quietude. Even if you're not confident with canoeing, here's a professionally guided tour that'll equip you to manage a canoe entirely. Once you're confident, it'll make for quite an experience, we guarantee. Do note that there's some cliff jumping, rappelling, and hiking required to get to the canoe spot so be prepared for the exercise.
Canyoning - The Magic Mushroom

Duration: 5 hours
10. Give yourself a gastronomical treat at The Honey Company
One of the most-loved restaurants in Cabarete, The Honey Company is a sure-fire hit with all those who make a planned or perchance visit there. This place serve some superb dishes and organic honey-based products and regulars are fans of all their products and food items. Not just the stuff here are popular, even the owners are a delight to interact with. They're friendly, warm, and go to lengths to make it a pleasant experience for their diners. Among several other items, the homemade yoghurt, Chia pudding, kombucha, fresh juices, and smoothies served here are divine. Try them and come back to thank us later!
The Honey Company

Address: Calle Los Pinos #2, Cabarete, Cabarete, Dominican Republic

Website: The Honey Company

Opening hours: Fri - Mon: 10am - 2pm (closed on Tue, Wed, & Thur)
11. Eat, drink, and party away at Onno's Bar
You may be looking to party like an animal or go someplace for a romantic date with your partner, Onno's Bar is the place to be. One of Dominican Republic's most famous restaurant chains, Onno's Bar is all about amazing food, heady cocktails, a killer location, and an exciting vibe. Each day is a different theme here so check out their website and head to experience the best of Cabarete's food and party scene. Add to that, it's open 24 hours so there's no restriction on what time or how long you can be there.
Onno's Bar

Address: Calle Principal, Sosúa , Cabarete 57000

Website: Onno's Bar

Opening hours: 24 hours (daily)
12. Let nature engulf you at the Choco National Park
Nature, adventure, fun, or relaxation, you may be any one of these enthusiasts, Choco National Park is the place for you to head. A 15-minute's drive from the heart of Cabarete, there's hiking, biking, swimming, boating, birdwatching, and much more that you can do at this natural reserve park. All guides there are bilingual so leave it to them to add to an already interesting trip to this abyss to your itinerary. We don't recommend venturing without one as the paths can get quite confusing for first-timers.
Choco National Park

Address: 5 16, Cabarete 57000, Dominican Republic

Website: Choco National Park

Price: 25 USD - 35 USD per tour (exclusive of other charges)
River tubing is another famous activity you can do in Cabarete. Sit yourself on a large tube and you'll be left to float around on the waters of the Yasica River for about four hours. Play with the crystal-clear water, marvel at the natural beauty around, or just soak in the air. The tour also makes a pitstop at a small beach, La Hoja. Also, guess what, you're also served beverages (alcoholic/non-alcoholic) while you're on your tour! Tubes are equipped with cup holders so as long as you don't disturb the tube's balance, you're in for a fun time!
Cabarete Private Yasica River Tubing

Duration: 4 hours
We said you'd find kiteboarders at the Kite Beach. If you're envious that you can't do it yourself, don't worry, here's an all-inclusive professional kiteboarding lesson that you can enroll yourself in. Skilled instructors provide all the gear and take you through the basics of kiteboarding before taking you in for a practical lesson. You don't need to worry about a thing and just let yourself go!
Cabarete Kiteboarding Discover

Duration: 1 hour
A Caribbean affair
Fondly known as a beach village, Cabarete has all the makings of a top-notch getaway destination. Food, fun, and frills–the town has it all. This list of things to do in Cabarete, Dominican Republic doesn't leave out anything that you'll regret missing about the place so go and make your bookings already!
Disclosure: Trip101 selects the listings in our articles independently. Some of the listings in this article contain affiliate links.
Get Trip101 in your inbox
Unsubscribe in one click. See our privacy policy for more information on how we use your data