La Romana is a coastal city on the Caribbean coast of the Dominican Republic. This fascinating tourist getaway features beach resorts, the best Airbnbs, and the spectacular Chavon River. You must be wondering what La Romana is known for. Get to know some of the city's highlights while experiencing its top activities. When here, you must visit the 16th-century Altos de Chavón Mediterranean village, the wrecked ship of pirate William Kidd, artist workshops, a painted obelisk, Catalina Island, beaches, and the coral reefs. You can also enjoy the nearby Cotubanamá National Park and Saona Island.
Make your visit more pleasing by choosing the perfect place to stay. From lavish apartments to cozy ones, the Airbnb Vacation Rentals In La Romana cater to everyone's needs. If you want more luxury, the all-inclusive resorts near La Romana would be absolutely perfect for you. To get your vacation plans going, fill your itinerary with this rundown of the best things to do in La Romana, Dominican Republic.
Explore the enchanting world below the sea in La Romana through this three-day PADI Open Water Diver Course, where experienced instructors will guide you as you take on an exciting journey. This complete immersion program will equip you with the skills you need to dive with confidence. After finishing this program, you will become a PADI-certified open-water diver, which opens up a whole world of adventure under the sea.
All educational materials, equipment, and certification fees are included, so all you need to do is concentrate on developing your diving technique. In addition to the excellent service, the transfer from/to your hotel allows you to enjoy a stress-free diving experience with your tribe.
Duration: 3 days
Let loose and set out on a full day of excitement with this zipline adventure from La Romana. The cables are set up alongside each other, so you can opt to traverse through the dense green treetops with your partner.
While you cruise through the lush forest, take in the magnificent mountains and amazing plants and animals. A professional zipline expert with ample experience will be there to guide you so that you can enjoy this adventure without worries. Transportation, water, and safety equipment are all part of the package.
Duration: 6 hours
3. Rio Chavon
On the way to Catalina Island, stop by Rio Chavon, a river located in an area called farmhouse. This river is popular for its beauty and crowded with celebrity houses and yachts. In fact, the movie Rambo was also shot in one of the jungles of La Romana. You can also take an exclusive boat ride; you'll be surprised by the on board Dominican music and food. The cuisine on board includes bruschetta, shrimps, chicken, rice, veggies, cold beer and wine.
Rio Chavon

Address: Rio Chavon, La Romana, Dominician Republic

Website: Rio Chavon
4. Altos de Chavon Regional Museum of Archaeology
Editor's Note: There's no photo available at the time of writing
Those wondering what to do in La Romana can visit Altos de Chavon Regional Museum of Archaeology. It is the best place in La Romana to learn about the initial inhabitants of La Hispaniola. This well-preserved museum features historical pieces and well-done counts of events. In addition, this museum traces the life of the Tainos, along with their disappearance story. Either way, the quality of the artefacts and interpretations will make you want to stay and observe each exhibit.
Altos de Chavon Regional Museum of Archaeology

Address: Apartado Postal 140 | Altos de Chavón, La Romana 22000, Dominican Republic
5. Ryanna Sun
Tour the island of Saona, and explore the stunning Ryanna Sun. The owners of this place, Mimi and Spongebob, make sure that all their visitors have a wonderful time. You will have the pleasure of experiencing the great boat ride en route to the island. This island is a step away from the sandbar coast where you can dive or take pictures. Once you arrive at the island explore the beach and relish an excellent BBQ lunch that includes delicious lobster dishes.
Ryanna Sun

Address: Calle Jose Brito, Carr. a Bayahibe, 23000, Dominican Republic

Website: Ryanna Sun
6. Teeth of the Dog Golf Course
Teeth of the Dog Golf Course has a reputation that's well earned. This Pete Dye Classic is the number 1 course in the Caribbean and attracts the top professional golfers in the world. This masterpiece was built with sledgehammers, pickaxes and chisels and features signature Dye obstacles and the devilish dog legs. The golf course flaunts 18 jaw-droppingly beautiful holes along the ocean. Believe you me, the satisfaction of playing at one of the best courses in the world is unmeasurable.
Teeth of the Dog Golf Course

Address: Carretera de Chavon, La Romana, Dominican Republic

Website: Teeth of the Dog Golf Course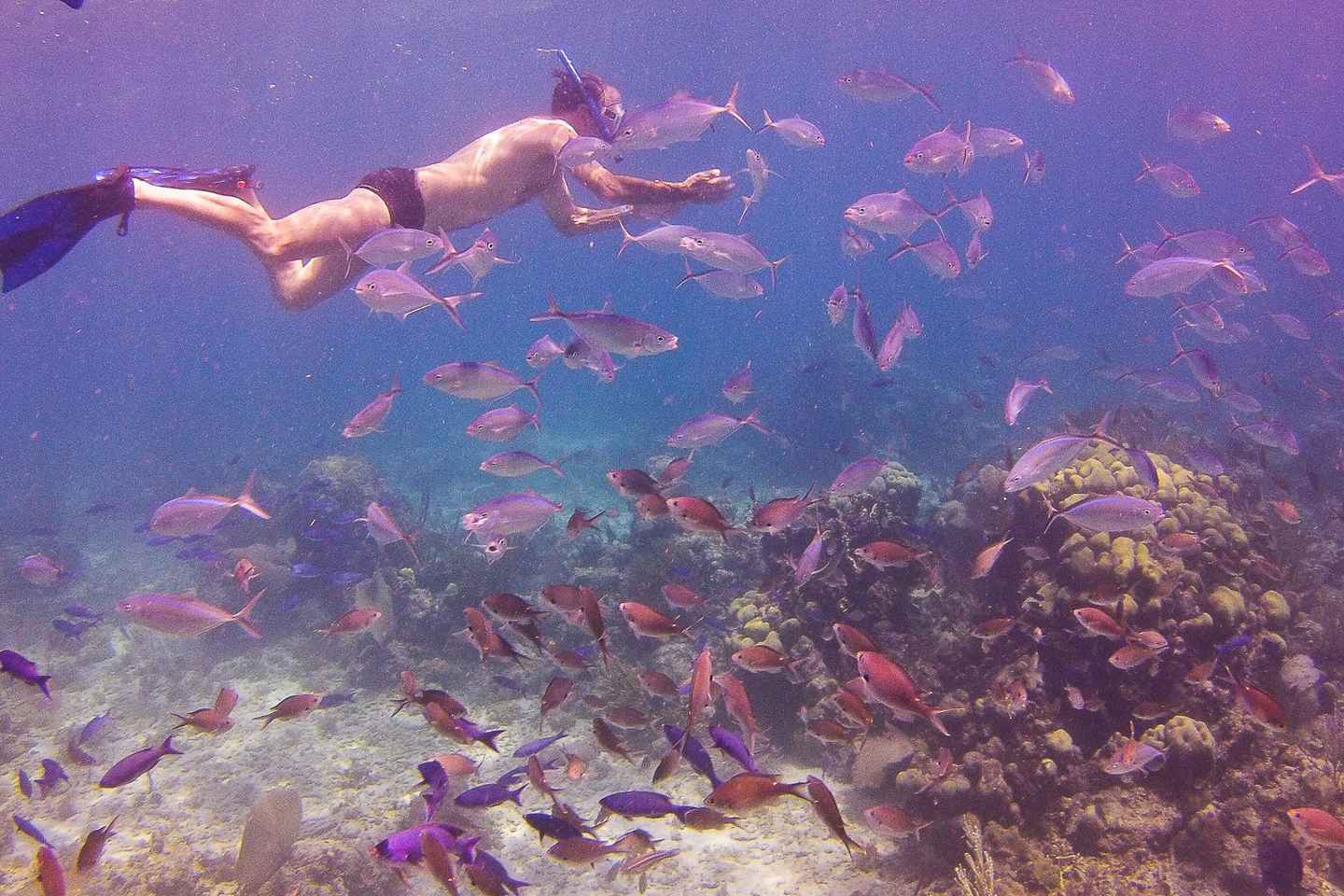 Snorkeling and scuba diving are some of the most popular La Romana activities. Passion Paradise Adventures is a Premier scuba diving & snorkeling excursion operator in Catalina Island of the Dominican Republic. Passion Paradise offers a candid taste of paradise relaxation, with numerous aquatic activities and food options. Book a full day snorkelling on Catalina Island. You will be picked from the resort and taken to La Romana port. The boat stops at "The Wall," for a quick photo stop. Here you can enjoy one-hour of snorkeling before you head to the island for a swim and delicious lunch. Late afternoon, you will get back to the port, then on the bus and back to the resort.
Duration: 9.0 hour
8. Cueva de Las Maravillas
The Cueva de Las Maravillas is one of the best places to visit in La Romana, Dominican Republic. Set on the Caribbean island of Hispaniola, this nature reserve has a rich history that your guide will walk you through with lights on. The caves showcase old drawings of the indigenous tribes that once lived on the islands.
Please note that you if pay in Dominican pesos, you will save a great deal on the total cost of the tickets. Put on good sneakers since the pathways could get slippery. You can take pictures if you tip the tour guide.
Cueva de Las Maravillas

Address: Carretera La Romana - San Pedro de Macoris - KM 16, Autovía del Este, Dominican Republic

Facebook: Cueva de Las Maravillas
9. Parque Central Duarte
Parque Central Duarte, another great tourist attraction in La Romana, features numerous baseball player statues, benches, restaurants, souvenir stores and Padre de la Patria. You should visit this park to have a good time with your family and friends. Begin by taking the trolley from the cruise terminal. When you arrive at the square, you will notice many street vendors trying to sell their hand crafted products. You can also buy aphrodisiacs and herbal drinks here that contain turtle organs. In the end, visit the beautiful church on the north side of the park that exhibits giant fans.
Duarte Central Park

Address: Calle Duarte, La Romana 22000, Dominican Republic

Website: Duarte Central Park
10. Minitas Beach
Playa Minitas is a beautiful beach, easily accessible by golf carts. Not only do you get to play golf at an 18-hole course, but you also get to enjoy the beach, with innovative cocktails and lounge chairs. This absolutely peaceful and relaxing beach of Playa Minitas is located in Casa de Campo of La Romana.
Playa Minitas

Address: La Romana 22000, Dominican Republic

Website: Playa Minitas
11. Playa Bayahibe
One of the most popular beaches in the city, Playa Bayahibe is a beautiful white sandy beach. Playa Bayahibe has turquoise waters that are ideal for swimming and snorkeling. Its long beach is perfect for sunbathing and relaxing. Experiencing the public part of its shoreline is absolutely the best thing to do in La Romana for free.
Kids and adults will enjoy spending their time soaking up the sun in this amazing coastal paradise. A few metres from the shore, a variety of marine life can be viewed, so don't forget to carry your snorkeling gear.
Playa Bayahibe

Address: Bayahibe, Dominican Republic
If you're looking for adventurous activities in La Romana, then consider going on a dune buggy trip. Crazy Wheels will be the best 4 hours of your entire trip. Ride the dune buggies, observe spectacular landscapes, experience the culture and history, chew on a sugar cane, and meet some cool instructors. Yes, it gets a little muddy, however, you will enjoy the ride and have lots of fun. It is a short drive from Bahia Principe, where you choose between buggies or a quad bike and drive through the back streets and fields of the Dominican. A guy films the riding experience, and you can purchase the disc if you want to. You may swap to quads to have the experience of riding both. Wear in-expensive clothes, closed-toe shoes, and a bandana.
Duration: 4 hours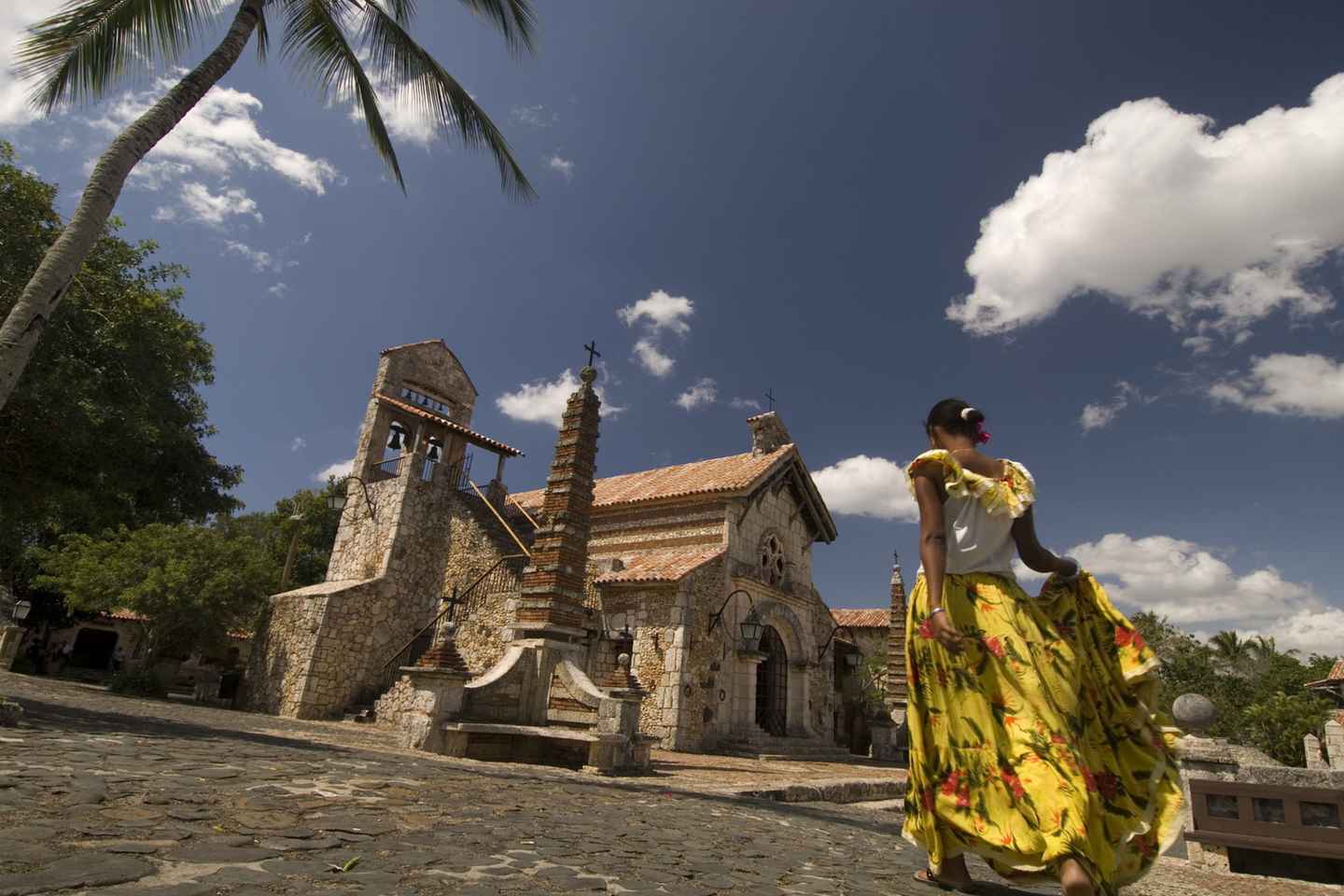 Altos de Chavon is an extraordinary 16th-century Mediterranean village, in the center of the Dominican countryside, and one of the most famous La Romana attractions. Chavon was meticulously designed by Jose Antonio Caro, an Italian cinematographer and designer, however, local artisans hand crafted detailed designs. This village is a cultural centre for working artists who learn pottery, weaving, silk screening, and then showcase their unique creations at the street boutiques. Additionally, Altos de Chavon exhibits noted work from Dominican artists, to foster cultural exchange.
Duration: 5.0 hour
Places that make La Romana interesting
This city is an ideal destination for divers, honeymooners, families, and golfers. Furthermore, La Romana also flaunts renowned golf courses, Casa de Campo resort, and world-class marinas. While you are staying here, explore the picturesque beaches of the Bayahibe area where you will find chic accommodations, various attractions, and splendid eco-tourism.
Frequently asked questions about the best things to do in La Romana, Dominican Republic
1. What are the top attractions in La Romana?
There are many attractions worth visiting in La Romana. However, some truly standout. Every tourist must go to the Cueva de Las Maravillas, visit Ryanna Sun island, and also spend time at the pristine Minitas Beach.
2. What exciting outdoor activities await adventurers in La Romana?
If you like being outside, you're lucky because La Romana has much to offer in that department. You could go snorkelling at Passion Paradise Adventures, enjoy a zipline adventure, and practice your swing at Teeth of the Dog Golf Course.
Any must-sees we missed? Tell us about them in the comments section or write a post
here
to help out fellow travelers!
Disclosure: Trip101 selects the listings in our articles independently. Some of the listings in this article contain affiliate links.
Get Trip101 in your inbox
Unsubscribe in one click. See our Privacy Policy for more information on how we use your data