Gordes is among the loveliest villages in the Vaucluse department of France. This hilltop village built on the slopes Monts de Vaucluse is famous for its white stone buildings and houses that are perched on the mountainsides. The narrow streets made of cobblestone called "calades" create a maze-like path thru the village that stands as a sentinel town overlooking the Luberon and Calavon valleys. Its strategic location provided refuge for its residents during the Middle Ages and Second World War. It was bombed in 1944 for being an active resistance center. The surviving 10th-century castles were remodeled during the Renaissance era and exist today as famous tourist attractions. Visit the magnificent chateau housing the Pol Mara Museum that was also the residence of a modern Flemish artist. Planning a trip to this gorgeous hilltop village? Check out our list of things to do in Gordes, France for an amazing visit.
1. Visit the abbey of Our Lady of Senanque
Abbaye Notre-Dame de Sénanque is at the base of a tiny valley and is the residence of the Cistercian Monks. It is the iconic symbol of Provence known for its perfect Romanesque architecture that remained unchanged in the past 900 years and the vast lavander garden outside its walls. From the 12th to 13th century, the abbey was built to provide for all the needs of the brotherhood so they don't need to go outside. The tour of this heritage site allows you access to the church, cloister, dormitory, chapter room, and heater room. A small fee is charged to visitors which goes to the upkeep of the abbey and the monks.
Abbaye Notre-Dame de Sénanque

Address: 84220 Gordes, France

Website: Abbaye Notre-Dame de Sénanque

Opening hours: Mon - Sat: 10:30am, 1:30am, 2:30am, 3:30am, 4:30am; Sun: 2:30pm, 3:30pm, 4:30pm

Price: From 4 USD
2. Be enthralled by the limestone structures of Village of Bories
Another unique Gordes attraction is Village des Bories (formerly called Les Cabanes) located 270 miles (434.52km) above the sea and 2.48 miles (4 km) from Gordes. You'll wonder how these cluster of huts called Borie was made from stacks of limestones. These were built during the 17th to 18th century when people relied on farming to alleviate their families from poverty. The peasants rushed to the hills to till the land and build their communities. Using the dry stone masonry technique, these irregularly shaped limestones are dug up from the ground and put together without using cement, earth, or lime to create their dwelling place, cattle stalls, and farmhouses. This area is now a most visited open-air museum in Vaucluse where visitors have a glimpse of how people lived during the Renaissance period.
Le Village des Bories

Address: Village des Bories - Les Savournins - 84220 Gordes

Website: Le Village des Bories

Opening hours: 9am - sunset (daily)

Price: 7 USD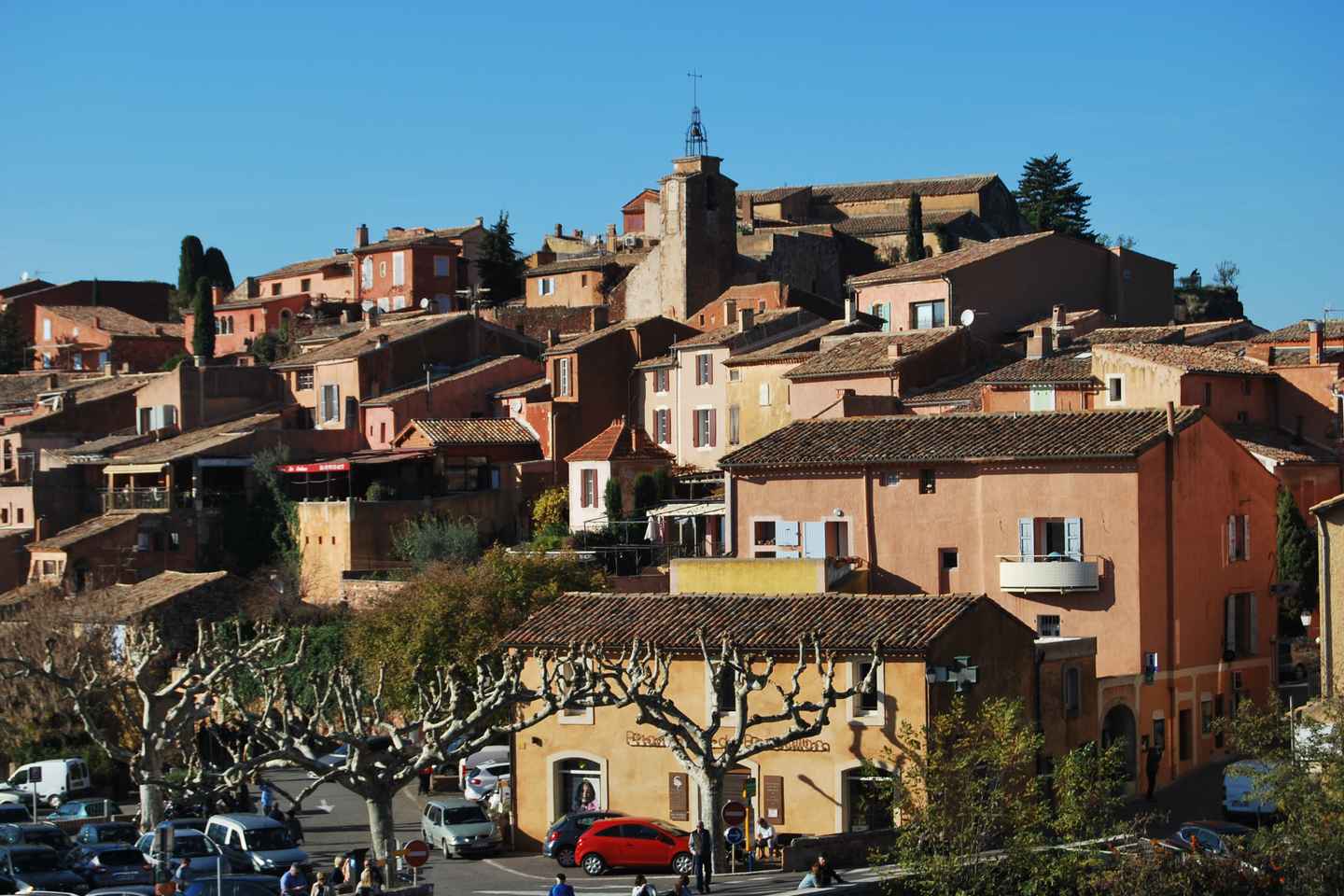 50 kilometers (31.06 miles) to Avignon's east and in the center of Gordes village lies Chateau de Gordes, the castle of the first and most powerful feudal family in Luberon. The castle has survived several wars and different ownerships from among the royals since its construction in 1031. It was rebuilt during 1525 to 1541 with a north and south side in Renaissance style with two round towers on each side. The towers served as a lookout and strategic location for placing artillery. In 1789, the castle was seized by revolutionaries and later became a historical monument along with its towers.
Duration: 5.5 hour
4. Enjoy breathtaking views of Gordes
Drive over to the Town View Point and see the breathtaking view of Gordes village from a different angle. To get there, you can drive your car up to Provence-Alpes-Côte d'Azur, France Highway D15. From a hill on the opposite side of the village, you can see the entire Gordes from top to bottom. It's a picturesque scene that is worthy of an Instagram post. The viewpoint is accessible by any vehicle. It has lots of parking space (which is a rarity in the village proper). Open 24 hours a day, anyone can visit the viewpoint to take lots of pictures or watch the sunrise or sunset over this gorgeous village while having a mini picnic in your car with your loved ones.
Town View Point Gordes

Address: 13 Route de Cavaillon, 84220 Gordes, France

Opening hours: 24 hours (daily)

Price: Free
5. Wine and dine at La Trinquette
This small-town bar and restaurant serves authentic French, Mediterranean, and European cuisine for lunch and dinner. They also serve late-night entertainment with a live band and a wide selection of fine wines. Their covered balcony with bistro table settings is perfect for dining alfresco with a plate of their finest tapas paired with a bottle of Cotes du Rhone. Watch the golden sunset over the dry stone castle and buildings as the perfect ending to your day.
La Trinquette

Address: Rue des Tracapelles Gordes 84220

Website: La Trinquette

Opening hours: Thu - Mon: 12pm – 10pm; Tue: 7pm - 10pm (closed on Wed)
6. Delve deep into the cellars of Palais Saint-Firmin
Book a tour of Saint Firmin Palace and explore a network of underground caves built during medieval times. These caves represent the Gordes citizens' troglodyte lifestyle and contain oil mills, pipes, and cisterns they used for crafts and industrial purposes. The caves were also hiding places during wars or attacks. You will be provided a 3D video and MP3 device translated in 10 languages to guide you through the 50 cellars spread over seven levels. These are connected together by alleyways and stairs. The tour ends in a tiny museum with an exhibit of artifacts that were found in the cellars.
Les Caves du Palais Saint-Firmin

Address: Belvedere Street, 84220 Gordes, France

Website: Les Caves du Palais Saint-Firmin

Opening hours: 10:30am - 1pm, 2:30pm - 6pm (daily)

Price: 7 USD
7. See amazing stained glass art
The Museum of Glass and Stained Glass (Musée du Verre et du Vitrail) is located in the center of Luberon's Regional Natural Park. You'll be amazed at how the artist interpreted the use of glass over seven centuries, from the ancient Egyptian times to NASA's scientific research. It's one of three museums built on the vast property of Frederique Duran who is a world-famous artist and glassmaker. The museums showcase most of the artworks of Duran in various mediums - duralinox, canvas, paper, and glass. Visit the museum in the months of April to October where it is open for public viewing except on Tuesdays. Explore the museum by joining a day tour for 20 people riding a bus or a guided bike tour for 12 people.
Musée du Verre et du Vitrail

Address: D 148-road of Saint Pantaleon – 84 220 Gordes

Website: Musée du Verre et du Vitrail

Opening hours: Wed - Mon: 10am - 12pm, 2pm – 6pm (closed on Tue, from Apr - Oct only)

Price: 6 USD
8. Indulge in the finest French wines and Italian dishes
Editor's Note: There's no photo available at the time of writing
Drink and dine with a bottle of one of the finest French wines paired with classic Italian and Burgundy cuisine including pizzas. Book a table and bring your date or the entire family for an unforgettable gastronomic experience. The traditional French rustic interiors are updated with a fresh coat of paint and furnished with comfy dining areas. Dine in style while you are being serenaded by the live bands that perform nightly. Enjoy alfresco dining out on the terrace with a view of the amazing cityscape. If you haven't had enough, you can order their signature pizza for takeout.
Casa Rosario

Address: Route de Murs, 84220 Gordes, France

Website: Casa Rosario

Opening hours: Sat - Sun: 11:30am - 10pm; Mon - Fri: 11:30am - 3pm, 6:30pm – 10pm
9. Shop for lovely jewelry at Le Parfum Des Pierres
If you are looking for a lovely keepsake to bring home as a memento of your trip or as a souvenir to give away to your loved ones, then come over to Le Parfum Des Pierres (translated as "the perfume of stones"). Each piece of jewelry they sell is painstakingly handcrafted by the jeweler Elie Lallemand. The precious stones are created into breathtaking necklaces, bracelets, rings, and earring using techniques like embroidery braiding and spiral interlacing. Treat yourself to one-of-a-kind custom jewelry though pricey is worth every penny.
Le Parfum Des Pierres

Address: Route Neuve, 84220 Gordes, France

Website: Le Parfum Des Pierres

Opening hours: Thu - Tue: 11am - 1:15pm, 2:30pm - 6:30pm (closed on Wed)
10. Walk the trails of Gorges de Veroncle
Bring your best outdoor shoes and embark on a walking tour of the Gorges de Veroncle. Some tours may start from the road to the entrance of the valley. After following a winding track and climbing a slope, you can follow the trail alongside a riverbed and follow waymarks until you reach the ruins of a mill at the bottom of the gorge. Follow the trail of the riverbed and you'll pass mills, cairns, cauldrons, sinkholes, an old castle, and finally end at the lovely village of Murs. The scenery you pass along the way is both picturesque and challenging that's worthy of a thousand pictures.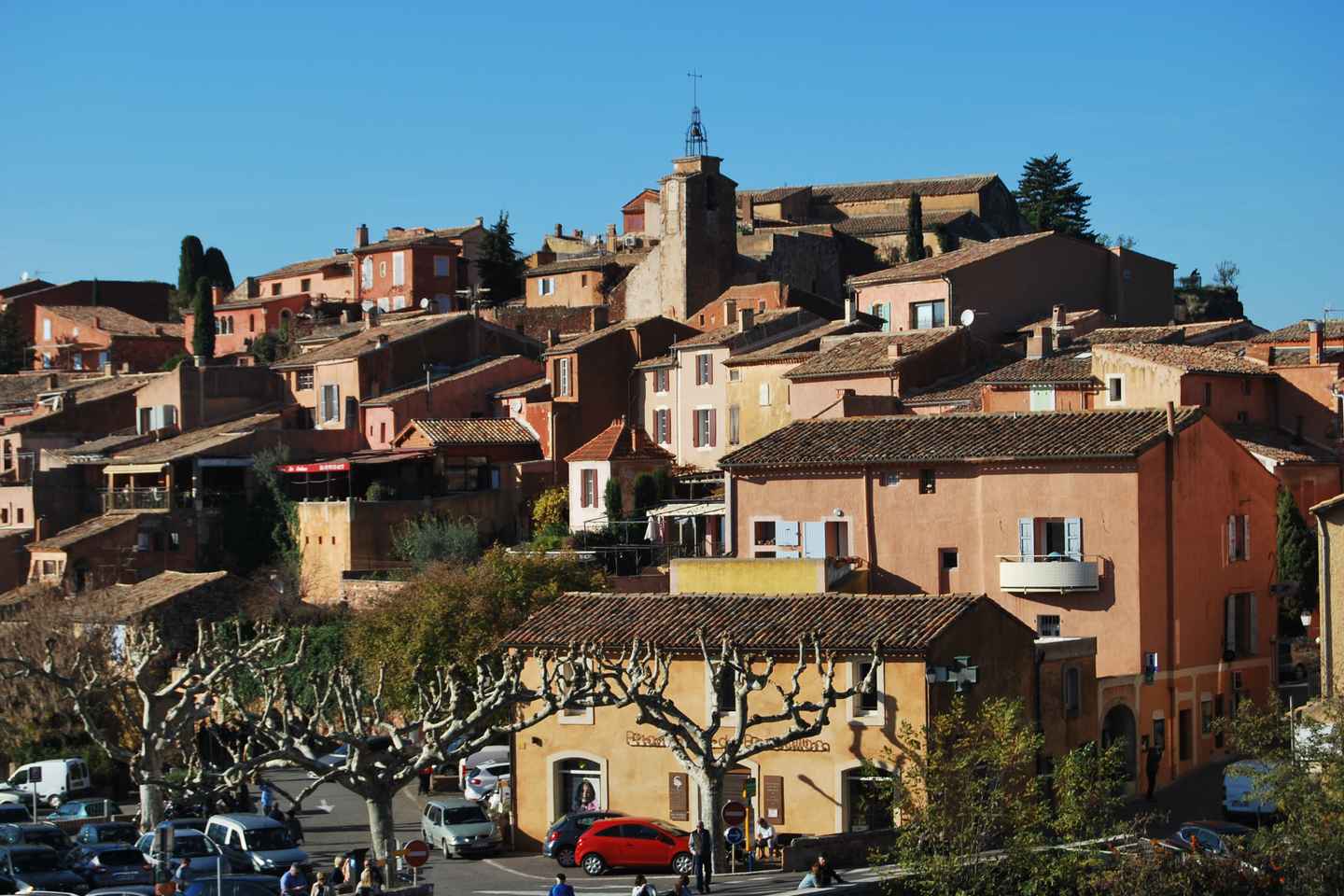 One of the agendas of any Gordes village tour is a visit to their famous market. It's open only on Tuesdays from 8am to 1pm for the entire year so you may want to go there early to avoid getting caught in traffic and competing with the crowd. You'll find the best local and fresh produce, cheese, herbs and spices, olive oils, handicrafts, soaps from Marseille, olives, foie gras, charcuterie, dried chilies, nougat, Provencal linen, and many more. Be sure to bring a lot of cash–for sure you will be buying a lot of souvenirs and goodies for yourself and loved ones!
Duration: 5.5 hour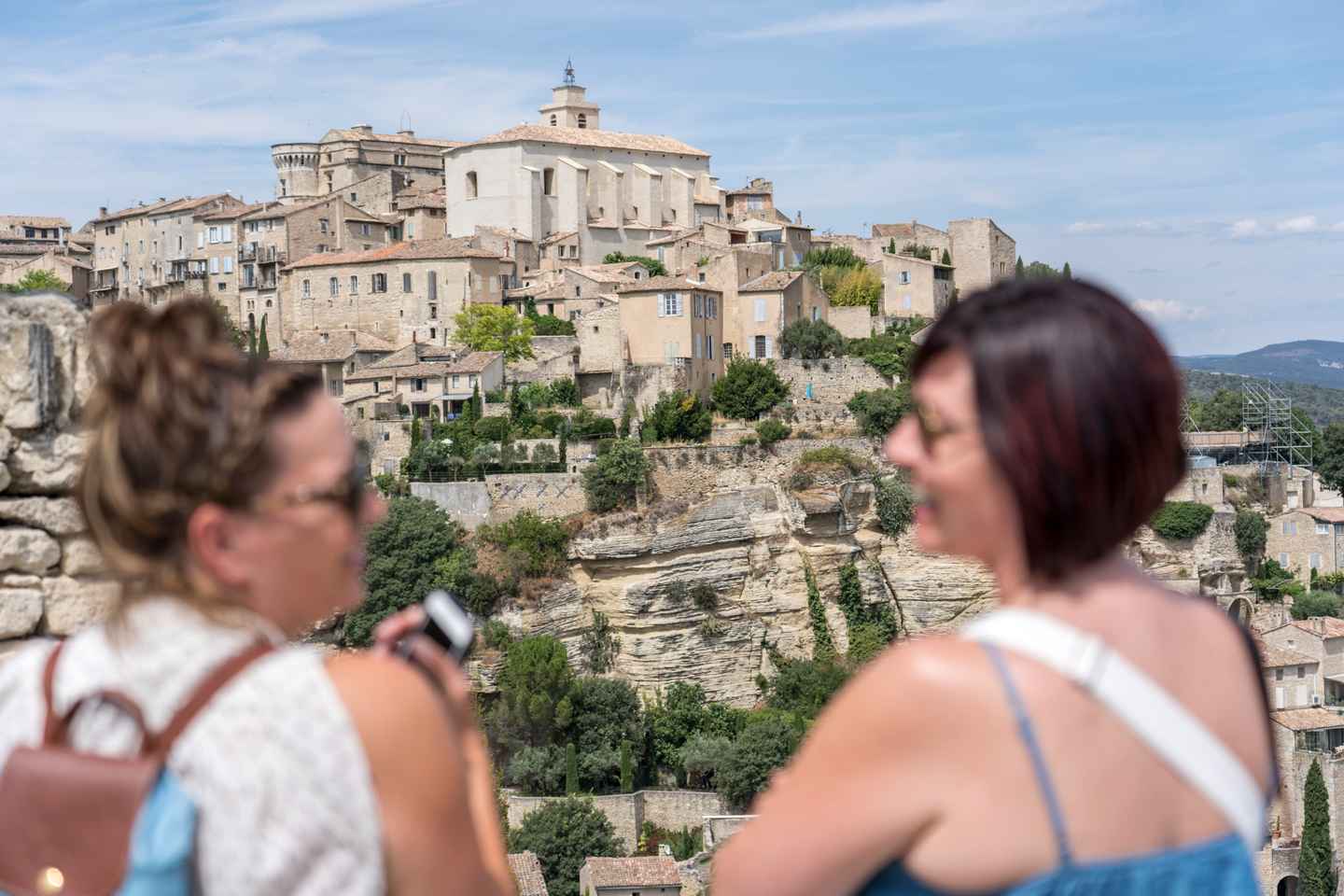 Though the church of Saint-Michel (Eglise Saint-Michel) has dominated the hill in Roussillon since the 11th century, the choir portion collapsed in 1858. Its façade and interiors were restored in the 17th century to the church that you see today. It's a quaint church purely made of stone with an ochre façade replacing the old wooden chapel. The grand baptismal font features ornate pillars and steps, and a Bas-relief image of the baptism of Jesus. The altar is small but simply elegant with gold embellishments on an all-white background, with a painting of the coronation of Jesus on top and the statue of St. Michael on the sidewall. Drop by the church your way to the outlook. It's a quiet place to disconnect from the chaos of the city and reconnect with God.
Duration: 6.0 hour
13. Spend the night at Beaumes Tower
La Tour Des Beaumes is a lovely 19th-century tower on a hill overlooking the Luberon Valley. The tower is surrounded with 2,500 square meters (0.025 hectares) of landscaped gardens enclosed by traditional Gordes stone walls. The ground floor of the tower has a bedroom with a queen-sized bed built for two, two toilets, a bath, and a tiny kitchen. There are lots of shaded areas, terraces, an old box-type tree garden, a pool house, an outdoor swimming pool, and many more facets that made this location fascinating for poets, painters, and artists of Provence. It's perfect for an intimate holiday with your loved one or a great honeymoon place in Gordes!
Tour Des Beaumes

Address: Chemin de Granan, 84220 Gordes, France
14. Visit the iconic Le Cercle Républicain
Le Cercle is not just a humble restaurant at the top of the hill, it is one of Gordes' iconic establishments. It is a local bar which was once one of thousand little bars all over the country. These Cercles Republicains used to be the meeting place of workers who wanted to talk about their day and for the members of the resistance, the place where the French Republic's principles were upheld. Le Cercle in Gordes is just one of the few remaining bars. The food and drinks they serve may cost you a few dollars but the view from its suspended balcony is priceless!
Le Cercle Républicain

Address: 115, place du Chateau 84220 Gordes

Opening hours: 7:30am - 8pm (daily)
15. Learn how olive oil is made
Visit the olive oil mill in Gordes and witness how they produce the delicious oils you put in your food and use on your body. The olives are harvested from and around the areas of Gordes. Like all the charming stone buildings in Gordes, the workshop exudes tradition and charm. They still use the traditional stone wheel to mash the olives into oils. It also has a shop that sells a huge selection of their products like beauty products made of olive oil, bottles of olive oil, essential and massage oils, colognes, recipe books, local wines, tapenade, decorative items, pottery, and more.
Clos du Moulin of Jeannons

Address: Le Haut Tourteron, 84220 Gordes, France

Website: Clos du Moulin of Jeannons

Opening hours: Mon - Sat: 9:30am - 7pm (closed on Sun)

Price: Free
France's crowning glory on a hilltop
For a place that was literally made from the ground up, you will never run out of amazing things to do in this little village. The sights to see and things to do are big on thrill and excitement. No wonder it's one of France's most beautiful villages – a crowning glory on a hilltop! Remember to drop by and include our list of things to do in Gordes on your next trip to France.
Any must-sees we missed? Tell us about them in the comments section or write a post
here
to help out fellow travelers!
Disclosure: Trip101 selects the listings in our articles independently. Some of the listings in this article contain affiliate links.
Get Trip101 in your inbox
Unsubscribe in one click. See our Privacy Policy for more information on how we use your data