Sweden is the epitome of royalty and wonderfully rich culture. It is also the home of rich tales of wins and fateful losses. Its richness of culture and historic past are represented by its many museums and enormous palaces. With thousands of tourists visiting the country every year, Sweden has proved its grandeur through the ages. With so many historic and awe-inspiring places to visit, we listed the best activities and places you can experience that will give you not only visual delights but also meaningful opportunities to learn. Check out our list of the best things to do in Sweden!
1. Marvel at Stockholm Palace
Admire the architectural genius of the artisans and royals of 1697. Stockholm Palace or The Royal Palace houses over 600 rooms, all beautifully adorned to fit the ambiance. While visiting, do not miss the chance to see the silver throne made for Queen Kristine during her reign. The Ordenssalarna ( Halls of the Orders of Chivalry) is also a sight to behold. Some of the highlights are Gustav III's Museum of Antiques, the treasury, and Tre Konor Museum. The changing of the guards is also a scenic event that most tourists wait for.
Stockholm Palace

Address: Slottsbacken 1, 111 30 Stockholm, Sweden

Website: Stockholm Palace
2. Solve the mystery of the gigantic boulders at Ales stenar
About 1,400 years ago, something or someone arranged these boulders, seemingly forming a pattern amongst each other. Tourists seek to solve the mystery of this wonder and visit in the quest for beauty. The stones seem to be etched out of a painter's most scenic memories, with Österlen's hilly landscape and a view of the Baltic Sea complementing its existence. The mystery of it all seems to be bigger than the monuments themselves and tour guides help to explain the potential reasons why and how these structures were built and placed in such order.
Ales stenar

Address: 271 78 Löderup, Sweden

Website: Ales stenar

Opening hours: 24 hours (daily)
3. Witness sanctity behind the doors of Storkyrkan
The humble cathedral walls of Storkyrkan have witnessed glorification from royals, and priesthood and silent prayers from the locals. It stood as a solemn witness to the wedding of Crown Princess Victoria and Prince Daniel in 2010. This medieval-style cathedral, built in the year 1279, witnesses the reign of many kings and monarchs. Among the sights to behold here include Saint George and the Dragon (1489), Vädersoltavlan (1535), and Lena Lervik's sculpture, "Joseph and Mary" (2002). Truly, Storkyrkan not only tells tales of the country's historical architecture but of its artistic beauty as well.
Storkyrkan

Address: Trångsund 1, 111 29 Stockholm, Sweden

Website: Storkyrkan
4. Walk Sweden's last abbey, Riddarholmen
Riddarholmen is the resting ground for the royals, Gustav II Adolf, Karl XII, Gustav V, and their consorts. Currently, it is open for tourists as a museum and houses many of the monarch's artistic paintings and artifacts. The abbey was a generous donation by King Magnus III of Sweden. It first served its purpose as a monastery for monks. After the Great Reformation, it served as a hospital, then a theological school. To this day, Riddarholmen stands with all its greatness, bearing a rich history and housing striking art.
Riddarholmen

Address: Stockholm, Sweden

Website: Riddarholmen

Opening hours: Sat & Sun: 10am - 5pm (closed on Mon - Fri)
5. Spend a day in the extravagance at Drottningholm Palace
Take a boat ride to experience the grandeur of Drottningholm Palace, from its Chinese Pavilion and court theater to the surrounding park. The palace is a UNESCO World Heritage Site and was built in the 1600s as the summer residence of the Swedish royal court, who used it up until most of the 1800s. After the rise and fall of many Swedish kings, Drottningholm Palace stands as proof of the richness and the lavishness of Swedish royalty. Tourists visit the palace to learn more about the country's history and art.
Drottningholm Palace

Address: 178 93 Drottningholm, Sweden

Website: Drottningholm Palace
6. Take in the sights of Nordiska Museet
Popularly termed Nordic Museum, Nordiska Museet is famous for its wide array of historical artifacts, from textiles and furniture to china and glassware. The museum is also known for being the largest Swedish museum with displays of clothing worn by the royals and their day to day garments and trinkets. The museum is the go-to place for history buffs and also offers a gift shop and a restaurant that serves hearty and delicious classic Swedish meals.
Nordiska Museet

Address: Djurgårdsvägen 6-16, 115 93 Stockholm, Sweden

Website: Nordiska Museet

Opening hours: 10am - 5pm (daily)

Price: 17 USD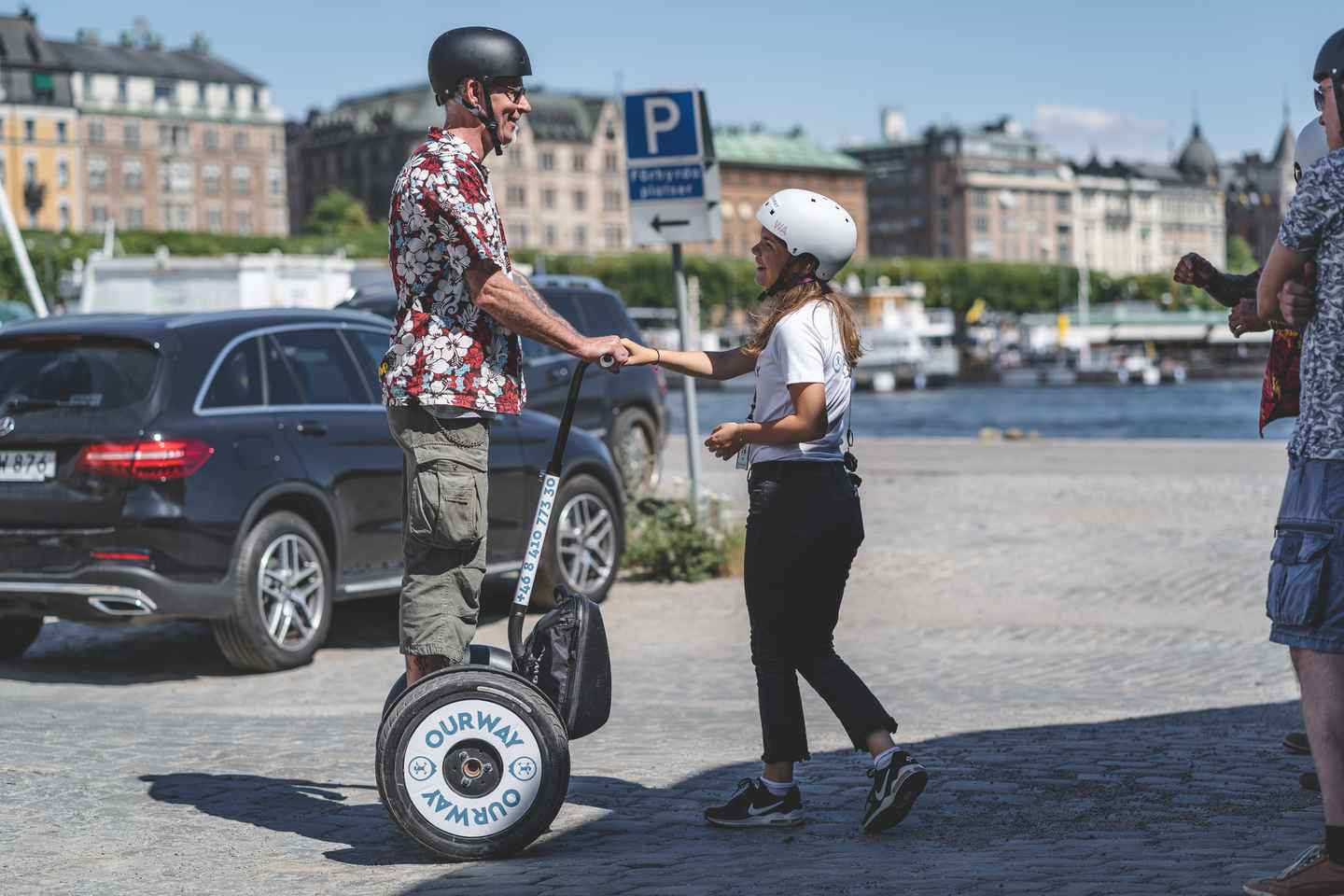 Tourists flock to Djurgården to check out the historical sites on the island. Famous for Vasa Museum, Gröna Lund, Abba Museum, and Skansen, the island is full of attractions as well as opportunities for tourists who prefer a lazy stroll in the summer. The island was a game park for King John III in 1579. Now, it is an island for tourists who seek enjoyment and an escape from the busy bustling city. Djurgården is somewhat like a fantasyland, filled with excitement and fun-filled activities.
Stockholm: Djurgården Segway Tour

Duration: 2.5 hour
Home to Aurora Sky Station and Abisko Mountain Station, Abisko National Park is known for being the spot where you can take in the heavenly sight of the Aurora Borealis. The national park is one of the sought after places for tourists and adventure seekers from all over the world. Upon visiting, make sure you camp out and take in the views of polar lights and the night sky. There are also many other attractions in the park, which adults and kids will surely enjoy.
Abisko National Park Nightly Aurora Photo Tour

Duration: 3 Hrs 30 Min Duration
9. Relive the hype at ABBA The Museum
Agnetha Fältskog, Björn Ulvaeus, Benny Andersson, and Anni-Frid Lyngstad formed the pop supergroup ABBA, which became famous not only in Sweden but also globally. The museum is home to plenty of memorabilia, with original costumes and copies of their albums. The Gold Room contains a well-preserved array of concert costumes and the museum also has interactive areas, where families and groups may indulge in ABBA-themed games. ABBA, during their time, influenced Sweden's fashion and culture.
ABBA The Museum

Address: Djurgårdsvägen 68, 115 21 Stockholm, Sweden

Website: ABBA The Museum
10. Be inspired at Nobel Prize Museum
Nobel Prize Museum is a must-visit when in Sweden, as it emphasizes the importance of ideas and how these ideas can make the world a better place for humankind. Here, visitors can witness the creative works of several writers, scientists, filmmakers, and even firefighters, and the result of their courage, persistence, and dedication to their crafts. This museum showcases a unique combination of different fields, ranging from literature, the arts, natural sciences, lectures, dialogues, and much more! You will surely be amazed by how such amazing people have contributed so much to the benefit of mankind. Show your appreciation for their works by visiting the museum and commemorating their contributions to the world.
Nobel Prize Museum

Address: Stortorget 2, 103 16 Stockholm, Sweden

Website: Nobel Prize Museum

Opening hours: Tue - Thu: 11am - 5pm; Friday: 11am - 8pm; Sat - Sun: 10am - 6pm (closed on Mon)

Price: 16 USD onwards
Be amazed by Sweden's best tourist destinations
Among its many chapels, palaces, parks, and museums, Sweden is far more than just a country with a busy city and hectic workload schedule. It holds so much adventure and mystery for everyone to explore. So, consider visiting Sweden on your next trip and experience all of its glory!
Disclosure: Trip101 selects the listings in our articles independently. Some of the listings in this article contain affiliate links.
Get Trip101 in your inbox
Unsubscribe in one click. See our privacy policy for more information on how we use your data