Varadero is a resort town on a thin peninsula in Cuba, called Hicacos, and positioned only two-hour drive from the capital city of Havana. This slender landmass is about 20 kilometers (12 miles) long and is referred to the true Caribbean paradise for its white sandy beaches and turquoise waters all along the length. Varadero is obviously a popular beach town to have some water fun, but people often overlook its other sides. The tourism of this city features caves and rain forests, cocoa farms and breweries, and a lot more. If you are thinking to visit this heavenly land, we will help you to act out the plan by delivering you many reasons. Stay on our page and read along to know about the best things to do in Varadero, Cuba.
1. Spend lovely days out on Varadero Beach
This is one of the best beaches in Cuba, featuring irresistible white sandy shores and crystal clear turquoise waters. It is full of tourists but you won't ever feel like you're being jammed–the reason behind this fact is that it's not a single beach but a stretch of over 25 kilometers (more than 15 miles). Explore this range as long as you can and you can locate zones for different types of activities. Some shores are superb for swimming, others are best for snorkeling. Additionally, jet skiing and sailing is accessible, and the marketplace at the back of this beach is a totally bustling place to visit. Never miss the opportunity to visit Varadero Beach, if the weather permits.
2. Enjoy the fresh water in Canimar River Tourist Park
This beautiful spot is situated only a few kilometers from the city of Matanzas, and River Canimar flows here between two hills. Canimar River Tourist Park is the perfect location to enjoy freshwater swimming when the water is tranquil. If it's not, you can always have fun on powerboats; there are plenty of them available here on cheap fare. This park also has souvenir shops and some restaurants where you could easily spot locals doing the tribal dance in evenings. Together with all that, you could also see exotic bird species.
Canímar River Tourist Park

Address: KM 15 Carbonera, Varadero, Cuba

Opening hours: 8am - 7pm (daily)

Price: Free
3. Go shopping at Plaza America Convention Center
Plaza America is one of the finest malls in this region where you can enjoy both upscale and affordable shopping. Cigar stores, liquor shops, boutiques, restaurants, and souvenir shops are the notable features of this mall. One added advantage of this mall for the tourists is that it is situated right next to the beach. So whenever a need arises, you wouldn't have to rush to the market. It's one-stop solution to most of your needs.
Plaza America Convention Center

Address: Autopista Sur km. 11, Varadero 42200, Cuba

Website: Plaza America Convention Center

Opening hours: 24 hours (daily)
4. Visit Josone Park and have some leisure time
Editor's Note: There's no photo available at the time of writing
This quiet and casual recreation park is the right venue for every age group. Josone Park features an artificial lake where couples usually rent paddle boats and hang out together. They have different play areas for children and grownups as well, like mini train, bowling alley, mini golf course, etc. Ask yourself if you're interested in doing any of such activities. And if you're thinking of coming here just for relaxation, visit any of their three gastro pubs. Order some food over piña colada, sit at the deck, and delight in the views.
Josone Park

Address: Avenida 4ta, Varadero, Cuba

Opening hours: 9am - 12am (daily)

Price: Varies
5. Learn real moves from ABC Dance Academy
Editor's Note: There's no photo available at the time of writing
ABC Dance Academy is for everyone who's interested in taking lessons on Cuban dance, as well as percussion. Join their program, not because you're on this island, but because the authentic moves learned from here should come useful later in life. They teach all the six main Cuban dance forms, namely - danzon, salsa, rumba, cha-cha-cha, son, and mambo. Additionally, this academy hosts a notable salsa festival in this city that comes every July.
ABC Dance Academy

Address: Avenida 1 and Calle 34, Varadero

Website: ABC Dance Academy

Opening hours: 8am - 8pm (daily)

Price: From 15 USD
6. Be amazed by the views at Varahicacos Ecological Reserve
Editor's Note: There's no photo available at the time of writing
Prioritize your trip to Varahicacos Ecological Reserve when the weather is still fine because a rain shower on the other day could totally ruin the experience. It's a wonderful nature reserve that comprises forest, hike trail, lagoon, fossil, limestone caves, and more of flora-fauna. Several ancient pictographs and one 500-year-old giant cactus tree are the notable attraction. You would require at least two hours for this excursion to explore the park deeper. Take our suggestion–carry extra water bottles and bug spray when you go there as you would surely be needing them.
Varahicacos Ecological Reserve

Address: Varahicacos Reserve, Hicacos Peninsula, Varadero 42200, Cuba.

Website: Varahicacos Ecological Reserve

Opening hours: 9am - 4:30pm (daily)

Price: 2 - 5 USD
7. Swim with the dolphins at Delfinario
Editor's Note: Photo taken from the establishment's official social account
If you have ever wished to swim with dolphins, Delfinario provides this opportunity at reasonable rates. This place is a dolphinarium; they have 13 dolphins at the facility, and they host a couple of shows per day. But unlike other dolphin parks, you can do more here. Watching a show is common, but upon paying some extra fee, you can also take selfies with these sea mammals. Moreover, if you're up to spend more money; you can literally swim with the friendly dolphins. Please avoid applying body lotion and loose jewelry if you plan to swim with them.
Delfinario

Address: Carretera Las Morlas, Parque Natural Punta Hicacos, Varadero 42200, Cuba

Website: Delfinario

Opening hours: 9am - 5pm (daily)

Price: 15 - 65 USD
8. Taste authentic Cuban rum at La Casa del Ron
Editor's Note: There's no photo available at the time of writing
If you like liquor, especially rum, then you will like this place. La Casa del Ron - which literally translates 'the house of rum' really lives up to its name. We can't promise that you wouldn't get a better deal on price anywhere else than this rum house, but you surely wouldn't find such a huge collection of Cuban and Caribbean rum in the city. Along with it, you will also see iconic Cuban cigars and other regional finds. Many rums are available and free to taste, plus they have a little exhibition of rum brewing.
La Casa del Ron

Address: Avenida 1ra, Varadero, Cuba

Opening hours: 9am - 7pm (daily)
9. Have the best views of the sea from Xanadú Mansion
Xanadú Mansion is one palace-like hotel on the shoreline that was originally a golf course clubhouse in the 1930s. This three-storey villa has a restaurant on the ground and a panoramic bar on its top floor. The accommodation part is set on the second floor with six suite options. Xanadú Mansion also has a wine cellar and they have several aged bottles from many countries. Xanadú Mansion delivers excellent views on the shore, and their tariff isn't even expensive. So if you haven't already reserved the rooms, consider it.
Xanadú Mansion

Address: Carretera Las Americas km. 8. 5, Varadero 42200, Cuba

Price: from 150 USD per suit per night
10. Get authentic Cuban cigars from La Casa del Habano
Editor's Note: There's no photo available at the time of writing
If you're a smoker, consider that you've found cigar heaven. La Casa del Habano is an entire villa filled to its capacity with cigar and cigarettes. This place is not a tourist trap and they do not charge you extra money. In addition to that, they have an immense collection. Individual cigars can be purchased here with as low as a dollar each so try until you find the best Cuban tobacco. Visit them once–you probably haven't seen such a cigar house anywhere.
La Casa del Habano

Address: Crn 1 & Calle 63,Varadero 42200, Cuba

Website: La Casa del Habano

Opening hours: Mon - Sat: 9am - 7pm; Sun: 9am - 9pm

Price: From 1 USD
11. Taste chocolate in every meal at Casa del Chocolate
Editor's Note: There's no photo available at the time of writing
Casa del Chocolate is the only restaurant in the entire of Cuba that is entirely into chocolate. Try their seafood, all types of meat, and even drinks–every item has chocolates. In fact, they never use cooking oil and condiments for food preparation; instead, you will see cocoa butter and coffee sauce. The chocolate that they use here is made from 100 percent Cuban cocoa. Do make sure to visit and taste the difference. The chocolateria also sells chocolate boxes and other chocolate-y treats so you can take them with you as a souvenir.
Casa del Chocolate

Address: Avenida 1ra, Varadero 42200, Cuba

Opening hours: 11am - 8pm (daily)
12. Shop for antiques from Varadero Street Market
Editor's Note: There's no photo available at the time of writing
There is no exact address for the street market but that's all right, because everywhere you go in the downtown area you will see a stretch. The souvenir products are mostly similar selling items such as leather bags, shoes, and Che Guevara shirts, but you could also find unique collectibles. Have a walk along these bazaars for an hour or so and you will definitely find something to take back home. The vendors are friendly but never agree on their first offer, bargain to get the best deal.
Varadero Street Market

Address: Downtown Veradero

Website: Varadero Street Market
13. Check out The Beatles Bar of Varadero
Located next to Josone Park, this casual bar is a live tribute to the English rock band 'The Beatles'. As you can see, they are highly influenced by this rock band. You will see their sculpture on the outside and numerous posters on the inside walls. Along with the Beatles, they play other classic hits from the time but expect no new piece. Every night after 10pm they hold live music performances as well. If you would like to check that out, get there early to get the best seats. The food is delicious, the beer is very cheap, and there are no cover charges.
The Beatles Bar

Address: 59, Varadero 42200, Cuba

Website: The Beatles Bar

Opening hours: 1pm - 3am (daily)
14. Experience how the locals shop at Centro Comercial Hicacos
It's a simple commercial center in downtown but unlike the regular souvenir market, here you will see stores for the local people. Centro Comercial Hicacos has a variety of shops including a grocery and a pharmacy, and the complex is partially underground. A visit to this commercial center should educate you about the residents and their community. Moreover, you are going to be at advantage if you spare some minutes to go there. The area also a lot of ATM and money exchange establishments which offer a better deal than most hotel desks.
Centro Comercial Hicacos

Address: Avenida 1ra, Varadero 42200, Cuba

Opening hours: 9am - 9pm (daily)
15. Enjoy cabaret like pirates in Cabaret Cueva del Pirata
Editor's Note: There's no photo available at the time of writing
Cabaret Cueva del Pirata is a totally exceptional cabaret, a type that is too rare. This place is set inside a natural cave, which happened to be a true pirate den. The local folklore says that Caribbean pirates used this hole as a refuge in the past. It's a nightclub today, however, the ambiance is still corsair; even the waiters are dressed like pirates. The club begins with a dance performance and later transforms into a discotheque. If you like parties, you will love this club. Admission is really cheap, and the drinks are affordable. Check out this place and experience a unique way to cap off your night.
Cabaret Cueva del Pirata

Address: Km 12, Carretera Las Morlas, Varadero 42200, Cuba

Opening hours: 11pm - 3am (daily)
16. Learn about the history of Varadero at Museo Municipal Varadero
Editor's Note: There's no photo available at the time of writing
If you're interested in knowing the history of Varadero, visit this little museum. It's set within a Colonial-style beach house that was built in the 1920s. You will see photographs, paintings, and equipment from the era which show us the simple life of the past. The house itself is a historical monument now, thus if not for the museum, visit this corner to see this lovely looking house. Photography is permitted.
Museo Municipal Varadero

Address: Calle 57 corner of Avenida Playa, Varadero 42200, Cuba

Opening hours: 10am - 7pm (daily)

Price: 1 USD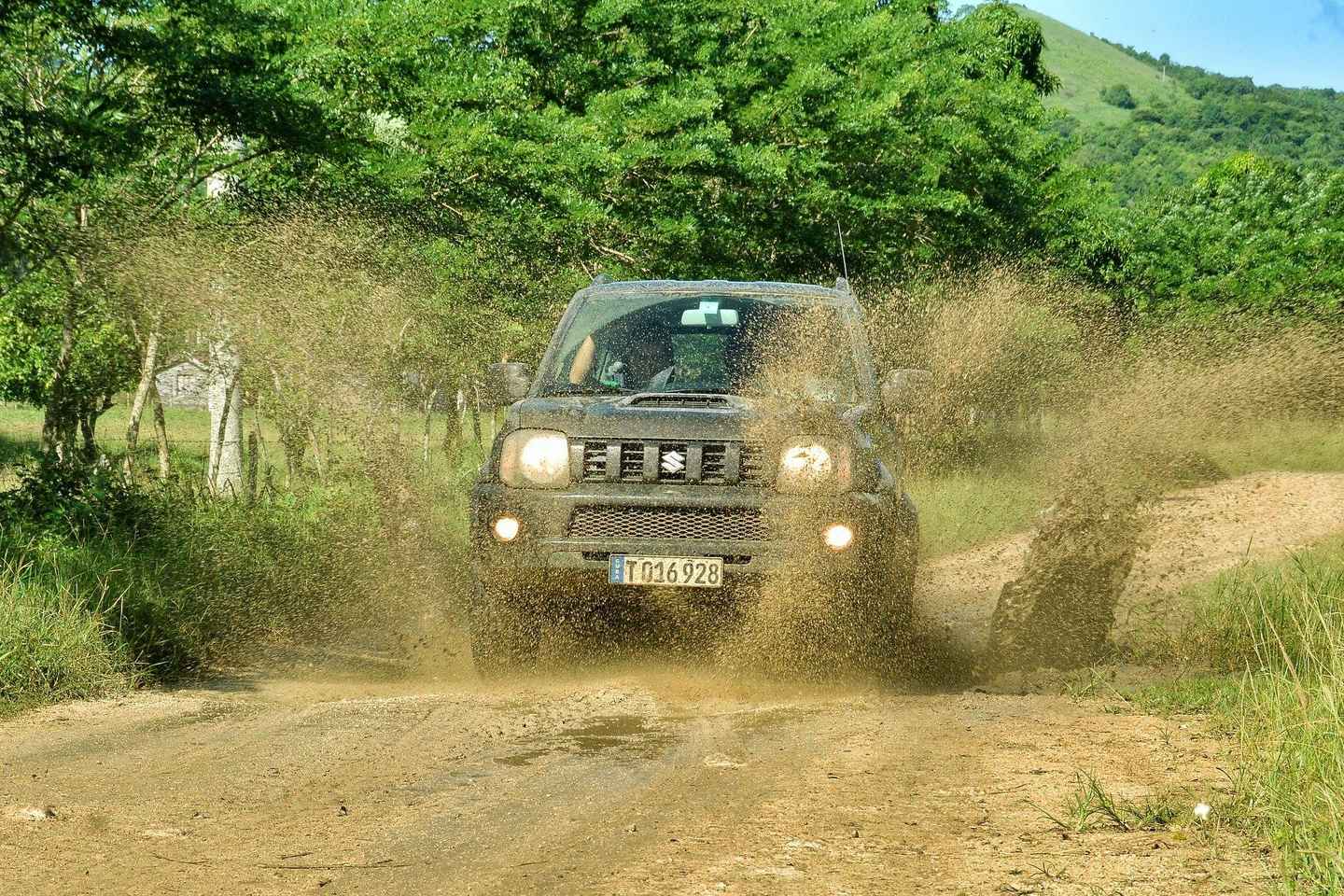 You probably have seen cave swimming videos on travel channels, if you do not know how the experience goes–it is a mixed emotion between excitement and anxiety. Saturno Cave in Cuba gives you this experience at a reasonable price, the mineral-rich water is excellent for bathing and swimming. It features crystal clear water that is quite cold, with shallow and bottomless depth. The cave has proper lights and the water is almost see-through so snorkeling gear and the underwater cameras are recommended. Avoid this activity if you have claustrophobia.
From Varadero: Yumurí Valley Jeep Safari

Duration: 11 hour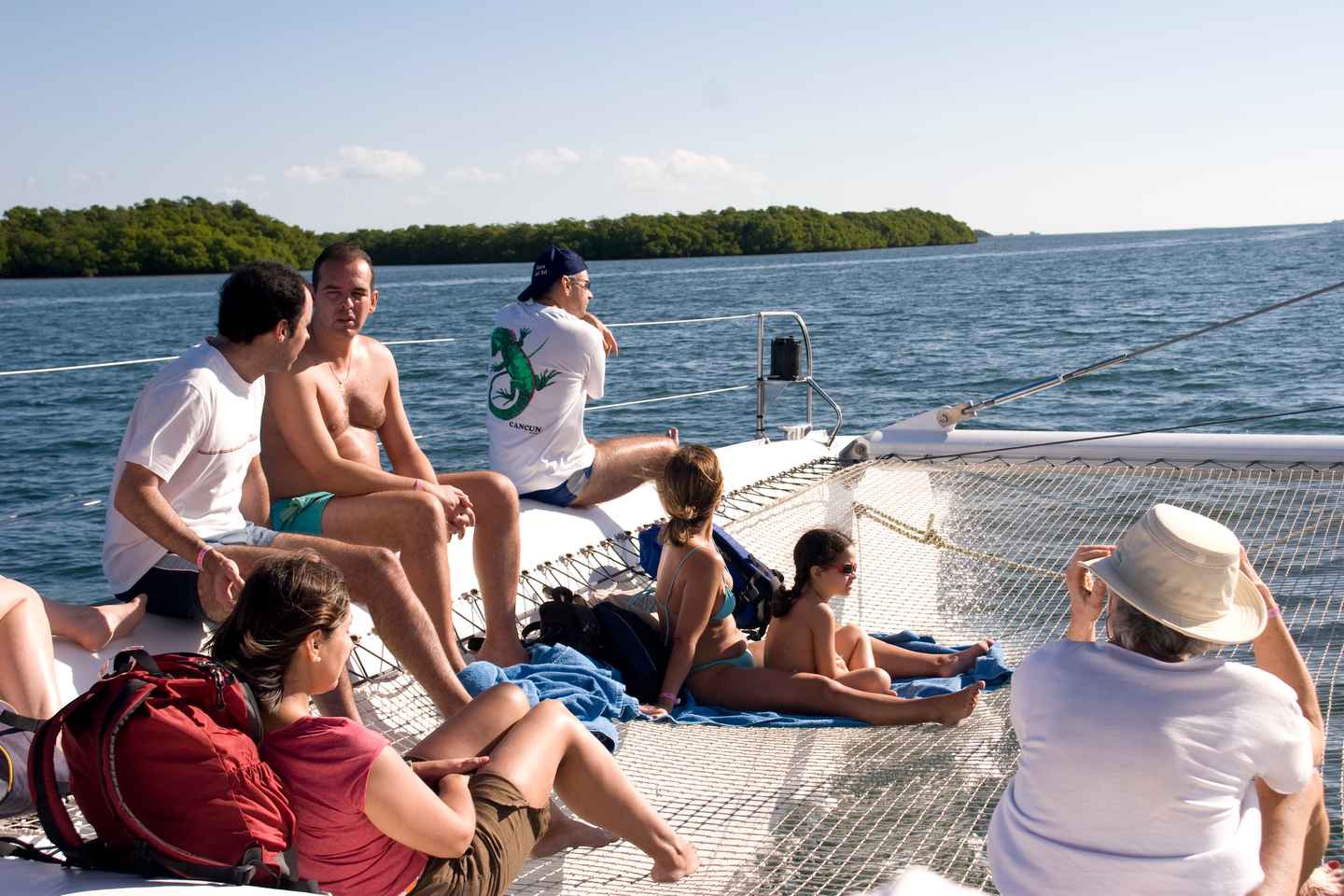 Cayos Blancos is the next island from the city of Varadero and the distance is not more than 10 kilometers (6 miles). The best way to reach that pristine location is by a catamaran ride and many day tours are available for affordable prices. Bring your snorkel gear on this excursion, because the entire route is shallow and the water is crystal clear. Surely there will be moments when you would like to dive underwater. On the island, have a meal of freshly caught lobster or fishes, which is this island's specialty.
Catamaran Cruise Tour to Cayo Blanco with Dolphins

Duration: 10 hour
Explore this tropical paradise to the fullest
Although we have listed you all the major fun activities of this peninsula, it is the little places that sometimes deliver more fun. Hence, never stop exploring this beach town and discover new opportunities. Lastly, you must take tours of the neighboring small islands like Cayo Piedras del Norte and Cayo Romero, or else you will regret later.
Disclosure: Trip101 selects the listings in our articles independently. Some of the listings in this article contain affiliate links.
Get Trip101 in your inbox
Unsubscribe in one click. See our privacy policy for more information on how we use your data