Walvis Bay is small cute town by Namibia's coast that is an interesting place with a lot of history. Nowadays, Walvis Bay is mostly known throughout Namibia for its many fisheries. Apart from the fact that it's a good fishing spot, it's also the biggest port in Namibia. And accommodation in Walvis Bay is easy to find - from hotels to Airbnb vacation rentals. Back in the 90s, Walvis Bay was mostly known for its protests; it only became part of Namibia four years after the country got its independence. South Africa wanted to keep it because of the fisheries and the port. Still obvious to this day, racial segregation has loosely split the town into three main parts, each of them with their own city center and mostly independent community. Check out these best things to do in Walvis Bay, Namibia.
1. Climb on top of the famous Dune 7
Apart from the fish, the port, and the protests back in the 90s, Walvis Bay is also famous for Dune 7. This is the tallest dune in the coastal area, and one of the top Walvis Bay attractions. This is usually the first destination for all tourists, no matter if they're Namibians or not. And once you get there, you just have to make sure you climb all the way up. The best way hike up is barefoot. Be aware, though, that if you make the mistake of arriving in the afternoon on a sunny day, the sand might be very hot. Climbing up Dune 7 is great exercise and the view on top is wonderful — large, long hills of sand all around for you to enjoy.
Dune 7

Address: Off the C14, Walvis Bay, Namibia

Price: Free

Opening Hours: No closing hours; navigation may be harder after the sun sets

Duration: 3.7 miles/6 km by car
2. Go for a run at the lagoon
The lagoon is in town, next to the ocean and a must-see attraction on your Walvis Bay sightseeing trip. It's a great area for an evening run, as it passes the shore of the ocean. It gets cool in the evening and the breeze coming from the ocean makes it the perfect place for a run or just a walk if you don't fancy jogging. A bonus to your trip to the lagoon will be to see how big and fat the pelicans are. I'm still surprised by how such non-aerodynamic looking birds could fly. There are also plenty of flamingos in the area. If the tide is low, you can even chase flamingos around, make them fly and take pictures of them. While walking in this area, you will also notice the quite luxurious houses around, still mostly populated by Afrikaans-speaking people even in present days.
3. Spoil yourself by having dinner with a view at the Raft Restaurant
While you're at the lagoon, you can spoil yourself with a fancy dinner (or just a drink if your budget doesn't allow for dinner) at the Raft, one of the fanciest restaurants in town. It's built over the water, which makes it the perfect spot for enjoying the sunset. The menu offers a wide range of mostly Western food, from pizzas and hamburgers, to sushi and seafood. The setup of the restaurant makes it a relatively social place; people are open to discussion, and many interactions often take place across different tables. The service is also good, with friendly and helpful staff.
The Raft Restaurant

Address: The Esplanade | The Lagoon, Walvis Bay

Price: from 10 USD / 130 NAD

Access: Walk at the lagoon or a maximum of a 10 minute drive from anywhere in town

Contact: +26464204877

Website: The Raft Restaurant
4. Enjoy the sun at Owambo Beach
Located close to Kuseibmund (this location can be considered a separate neighbourhood), Owambo Beach is the best place to go for a swim and spend a lazy afternoon. This beach is also equipped with small rock tables where you can grill food for lunch. Just make sure you have some wood or coal, a small grill and some meat and veggies, and you're all set. Since most locals consider the water too cold to swim, you might have the entire beach to yourself. It's also a good place to enjoy a lazy afternoon, read, listen to the ocean, or just relax. It's very easy to get to Owambo Beach; just follow New Western St., passing Walwis Bay Cemetery, and you will see it on your left.
5. Enjoy Kapana in Kuseibmund
There are not many options for street food in Namibia, perhaps because the government has strong regulations against it. The most you can usually find consists of fat cakes (a type of doughnuts), kapana (steak grilled on coal), and boiled corn. Namibians really like their beef and it's always fresh because they raise a lot of cattle. Once the beef is grilled, they will usually cut it into small pieces for you and put it on a newspaper. You can then add some special spices and eat it with an onion and chili salad. Locals usually eat kapana while standing around a small booth, sometimes also drinking beer and socializing with their peers. The most famous kapana place in town is AfroKapana. It's located close to the supermarket named Shop4, along with many other booths that also prepare it.
Kuseib Shop4 Supermarket

Address: Nathaniel Maxuilili Ave cross with Agaat St.

Price: from 2 USD / 26 NAD

Access: by car or taxi
The following content is contributed by Trip101 writer, Barry
6. Learn about local history at Walvis Bay Museum
Editor's Note: There's no photo available at the time of writing
Delve deeper into the culture and history of Namibia, more specifically, the city of Walvis Bay, at this museum. Here, you'll get to learn more about Namib Desert while taking a look at the area's maritime history. Walvis Bay Museum also boasts a wealth of knowledge in the form of 19th-century exhibits that include native textiles, war memorabilia as well as traditional homeware. You can even travel farther back to prehistoric times as you marvel at the museum's collection of fossils. Although this is a small museum housed in the local library, it has a lot to offer to those eager to learn. It's also a great place to bring your kids.
Walvis Bay Museum

Address: 12th Rd, Walvis Bay, Namibia

Website: Walvis Bay Museum

Opening hours: Mon - Fri: 9am - 5pm (closed on Sat & Sun)
Take part in an unforgettable cruise from Walvis Bay, a tour that's perfect for adventure seekers. This cruise's mission is to reveal the area's dolphin and seal population, but along the way, you might also get to see some whales (if you visit between July and November) as well as a bunch of leatherback turtles. The scenic trip will take you from Walvis Bay Waterfront, past several oil rigs, en route to Pelican Point's iconic lighthouse. As you sail along, you'll enjoy a sizeable helping of oysters downed with wine. If you prefer, you can have a hot drink like coffee or tea, or enjoy some beer too. The entire cruise lasts for about three hours.
Dolphin and Seal Sailing Cruise

Duration: 3 hours 30 minutes
Immerse yourself in the local culture by taking a tour of Mondesa Township, led by a local guide. This is one of the best ways to interact with locals and understand their culture and traditions. You'll get to learn about Damara and Herero communities who call the Swakopmund area their home. Locals are always more than happy to teach visitors their local language, most fascinating of which is Damara Nama clicking language. The guide will also lead you to a local family's home where you'll be welcomed with a serving of native Oshiwambo food. This experience should open your eyes to local traditions, allowing you to get a deeper understanding of the people.
Local Guided Walvisbay & Swakopmund Township Experience Day Tour

Duration: 4 hours
9. Go shopping in Dunes Mall
Editor's Note: Photo taken from the establishment's official social account
Dunes Mall is an ultra-modern shopping complex in Walvis Bay, home to over 80 stores. This is a popular retail destination in the city and it's probably where you should come to do some last-minute shopping before leaving Walvis Bay. Located midway between the airport and the city center, its location makes it easy to access whether you're on your way to or from the airport. When you're finished exploring the different stores, you can enjoy a meal at one of the eateries located inside Dunes Mall. This is a wonderful place to splurge if you're looking to buy some souvenirs.
Dunes Mall

Address: Walvis Bay, Namibia

Website: Dunes Mall

Opening hours: 9am - 7pm (daily)
10. Wander around Walvis Bay Waterfront
Walvis Bay Waterfront boasts a stunning, uninterrupted view of the sea. This spot is one of the most beautiful areas in the city, marked by a breathtaking view of the azure waters contrasting with the golden sands of the shore. There's plenty to do here, besides admiring the scenery. You can stroll along the waterfront and explore the array of eateries there. One popular restaurant is Anchors @ the Jetty Restaurant, known for its fresh calamari. You can also embark on a boat tour from Walvis Bay Waterfront or join a dolphin cruise. This spot is a great place to enjoy a day out and a must-visit when in Walvis Bay.
Walvis Bay Waterfront

Address: Walvis Bay, Namibia
11. Admire the birdlife at Walvis Bay Bird Paradise
Walvis Bay is home to a diverse birdlife and the best place to admire beautiful birds is at Walvis Bay Bird Paradise. This nature sanctuary is a serene location that has pools which attract flocks of flamingoes. Explore Walvis Bay Bird Paradise on a nature walk and head up to the observation tower where you'll get an awesome view of the landscape. This is also a great vantage point for viewing the rich birdlife.
Walvis Bay Bird Paradise

Address: Swakopmund, Walvis Bay, Namibia

Website: Walvis Bay Bird Paradise
12. Enjoy a snack at Mugg & Bean
Editor's Note: Photo taken from the establishment's official social account
Located conveniently close to Walvis Bay Harbour, Mugg & Bean is a modern restaurant that serves great dishes, including some popular vegan options. You'll find this eatery in Dunes Mall, so you can drop by after your day of shopping. The ambiance is simple and unassuming and their focus is on great service and even better food. Great things are said about their wine and their coffee has also got rave reviews from past customers. The best part is that their prices are quite affordable, both for drinks and meals. If you need a place to eat when in Walvis Bay, consider trying out Mugg & Bean.
Mugg & Bean

Address: Shop 115, Dunes Mall, Walvis Bay, Namibia

Website: Mugg & Bean

Opening hours: Mon - Fri: 8:30am - 7pm; Sat: 8am - 7pm; Sun: 8am - 6pm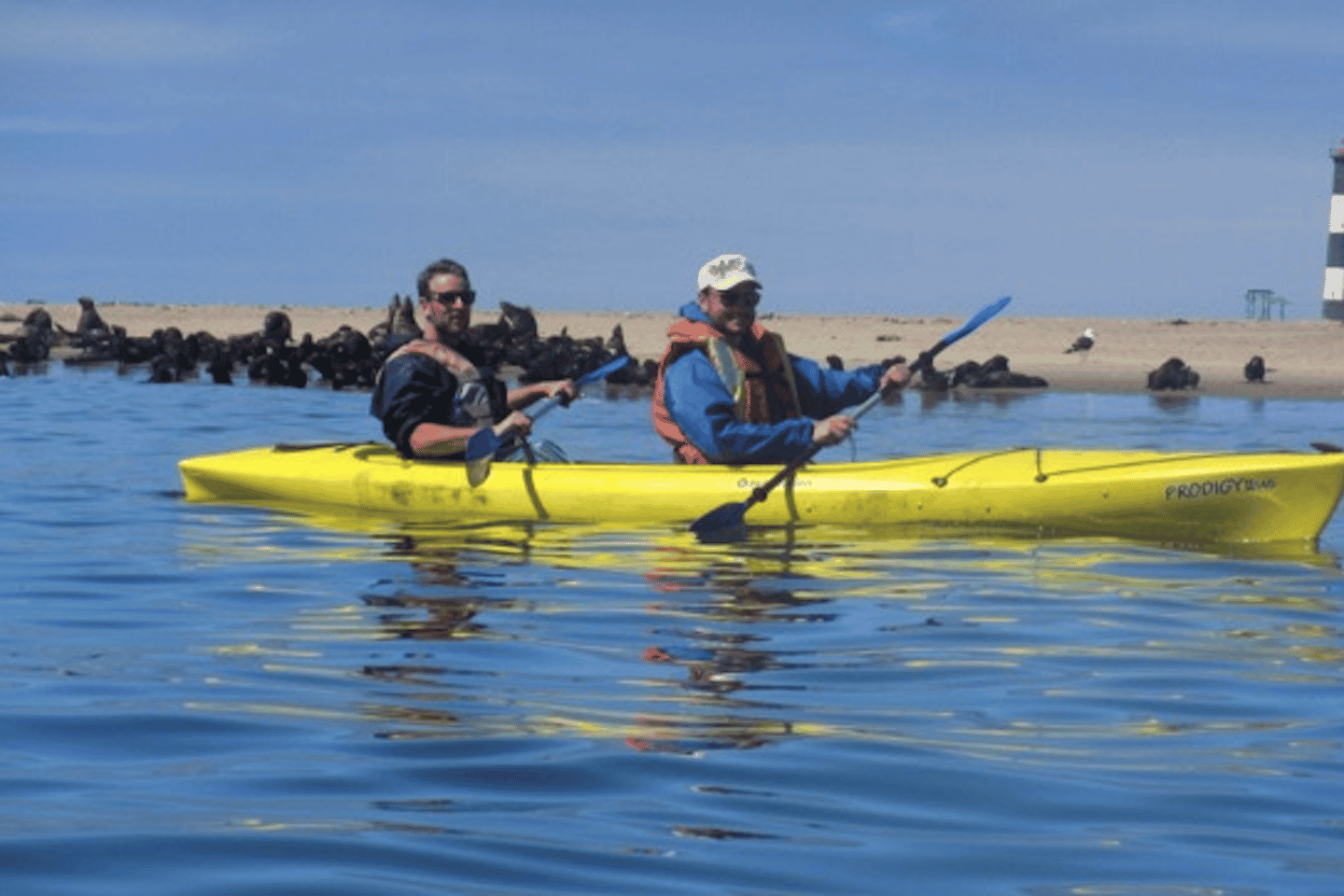 Enjoy the thrill of kayaking around Pelican Point and make your Walvis Bay trip an unforgettable one. You'll have two hours of fun and excitement as you explore the waters alongside tens of thousands of Cape Fur Seals that are the highlight of this destination. Other than the delight of kayaking, this tour also allows you to get up close with birds like cormorants, flamingoes and pelicans, which are native to this part of the country. And if you're fortunate, you'll also get to encounter some playful dolphins. This kayaking tour is bundled with a drive along Walvis Bay Lagoon aboard a 4X4 vehicle before hopping on your kayak at Pelican Point.
Walvis Bay: Pelican Point Kayaking Tour

Duration: 4.5 hour
See the full picture of Walvis Bay
Although there are many places in Namibia where you feel that there's a healthy and cool mix of the population, in Walvis Bay, its daunting history can still be felt. Way too often the colour of your skin would determine which part of the city you're supposed to live, which restaurants you should eat in, and what type of job you can have. So if you happen to visit, make sure you see both sides of it in order to understand more about this interesting small town. Whether you're looking for amazing attractions in town or things to do around Walvis Bay, you'll be spoilt for choice. It will give you a better cultural understanding of Namibia, put the historical facts into context, and transform your experience in Namibia into more than a simple trip to visit tourist sites. And along way, don't forget to talk to locals.
Disclosure: Trip101 selects the listings in our articles independently. Some of the listings in this article contain affiliate links.
Get Trip101 in your inbox
Unsubscribe in one click. See our privacy policy for more information on how we use your data