It is the capital of a country that boasts the largest economy, the world has unofficially approved this nation as the global superpower. This is The United States, and that city is Washington DC, also known as DC. Washington is deemed as the city of art and culture due to the number of museums and memorials built here, but the metropolitan area also comprises several outdoor recreation areas, for instance, the Meridian Hill Park, Rock Creek Park, and Kingman Island. But there is also one spectacular thing noted for this city, which is its rainy days per year. It receives showers for as few as eight days a month annually, and if you happen to travel DC during the precipitations, you wouldn't enjoy the outdoors as much as you could when it's sunny. Thus, we are here to present you with a list of things to do indoors when it rains in Washington DC.
1. Shop and dine at Union Station
Union Station DC is doubtlessly the most live spot in this city, it's a major train station and in addition to that, it's a shopping mall. There are three floors constructed exclusively for shopping and dining, coupled with the regular platform areas. The station structure is over a century old, which is splendidly restored in its actual beaux-arts and classical-style architecture to this day. Thus, even when you're not concerned about its mall, you should still visit the Union Station just to admire its timeless beauty.
Shop and dine at Union Station

Address: 50 Massachusetts Ave. NE Washington, DC 20002

Website: Union Station

Opening hours: 5am - 2am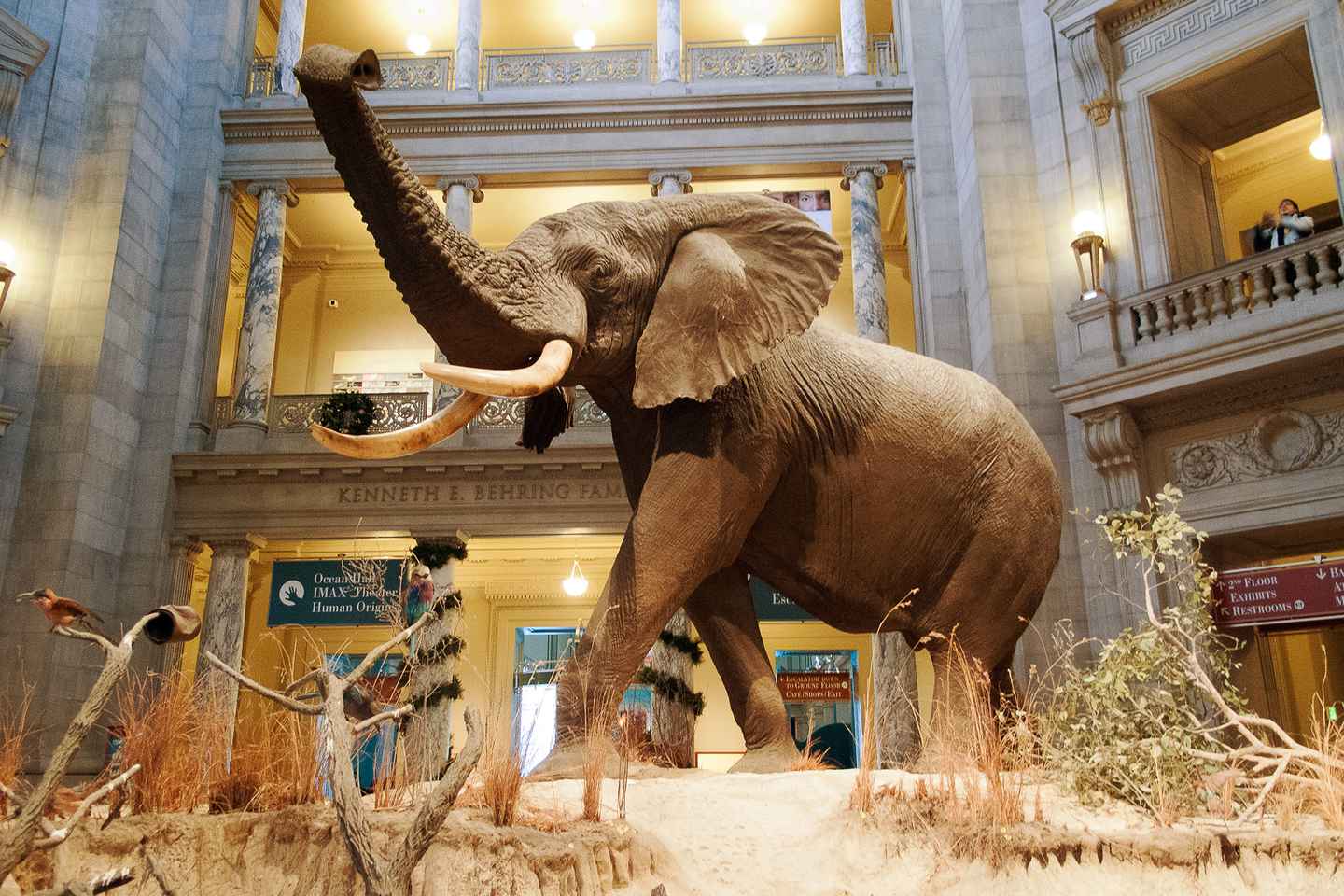 Smithsonian's National Museum of Natural History is the most visited museum of this country, also the fourth most-visited museum of the world. This place has justifications for being so alluring, as they exhibit the real 45 carats Hope Diamond that is linked with the mysterious fate of its owners, real mummies, dinosaur skeletons, fossil labs, replicas of a 45-ton (90000 lbs) whale, elephants and so on. Along with that, Smithsonian has a collection of 126 million specimens of interesting items. You wouldn't be able to explore this massive museum without an expert's help, hence you should book this tour.
National Museum of Natural History Guided Tour

Duration: 2.0 hour
3. Catch an Imax movie at the Smithsonian - Lockheed Martin IMAX Theater
Do you know that watching a regular movie is different than watching an IMAX movie? Allow me to explain the dissimilarity here. The regular movies are shot on either 35mm or 70mm films, but the IMAX ones are shot on a larger format, thus an IMAX screening could measure up to 6 stories tall if needed. For our normal movies shot on IMAX, we can expect the sharp 4k laser projection, both in 2D and 3D. Book a ticket if you haven't experienced IMAX until now, you will certainly feel the difference. Plus watching a movie is the best pastime when it rains.
Smithsonian - Lockheed Martin IMAX Theater

Address: 600 Independence Ave SW, Washington, DC 20597, USA

Website: Smithsonian - Lockheed Martin IMAX Theater

Opening hours: 10am - 7:30pm
4. Hang out at the Kramerbooks & Afterwords Café
The Kramerbooks & Afterwords Café has not just a bakery but a whole restaurant attached to it. If you happen to be a passionate reader who loves spending much of his leisure reading books while sipping coffee, why not do both the things at one place. Another positive thing about this café is its timings. It opens very early in the morning and closes a few hours after midnight.
Kramerbooks & Afterwords Café

Address: 1517 Connecticut Ave NW Washington, DC 20036

Website: Kramerbooks & Afterwords Café

Opening hours: Sun - Thu: 7:30am - 1am; Fri - Sat: 7:30am - 3:59am

Price: 11-30 USD
5. Enjoy bowling and bocce ball at Pinstripes
Editor's Note: Photo taken from the establishment's official social account
It's raining, you're bored, and that is why you are thinking about Pinstripes, right? Usually, people would come here for a round of bowling and bocce, and order food in the meantime. It has an Italian-American restaurant where you can get the authentic wood-fired pizzas, craft beers, but the distinctive feature that makes Pinstripes so lively is its indoor play area.
Enjoy bowling and bocce ball at Pinstripes

Address: 1064 Wisconsin Ave NW Washington, DC 20007

Website: Pinstripes

Opening hours: Mon - Thu: 11am - 11pm; Fri: 11am - 1am; Sat: 10am - 1am; Sun: 10am - 10pm

Price: 11-30 USD
6. Explore the United States Botanic Garden
Visiting a botanic garden doesn't sound exciting, but this experience is going to be wonderful. The U.S Botanic Garden has over 7000 plant species, including rare genus from the different parts of the world. Agreed, it's not a fun place, but it's an excellent place to get educated and educate your young ones about the importance and irreplaceable value of plants. It's all about teaching them about the conservation and sustainability of ecology. Admission is free here.
United States Botanic Garden

Address: 100 Maryland Ave SW Washington, DC 20001

Website: United States Botanic Garden

Opening hours: 10am - 5pm
If you like reading and you're also in this city, can there be anything more remarkable than visiting the Library of Congress? Collectively, with over 38 million books, multi-million manuscripts, maps, and historical photographs duly arranged in shelves, it's the largest library of the United States and ranks second in the world. Similar to many other federal libraries, your admission will be free, you will just have to acquire a reader identification card if you'd like to read a book here, which is also free. Get it all done and dive into the ocean of books.
Washington DC: Capitol Building and Capitol Hill Walk

Duration: 3.5 hour
The fresh generation knows too little about the World Wars, specifically the genocide and the Holocaust. Their knowledge towards this depressing subject is limited with just cinemas like Schindler's List or with the wrongfully illustrated campaigns inside their modern console games. Now it's our humble request that when you're in Washington, please visit the U.S. Holocaust Memorial Museum and pay a tribute to the victims of the world's most horrendous crime. If you have kids take them too, make them aware of the horrors of the war and educate this generation what hate can do to this beautiful world.
Washington D.C. Twilight Evening Bus Tour

Duration: Wheelchair accessible
But what if the rain stops in the midst?
Don't worry, we have presented you with only the treasured and possibly the signature attractions of this city in this article. Your trip to Washington wouldn't be complete if you skip visiting these iconic places, especially the museum and the memorials. Thus, in our opinion, even if it's not raining or snowing outside, one must put these things on priority when traveling to Washington.
Disclosure: Trip101 selects the listings in our articles independently. Some of the listings in this article contain affiliate links.
Get Trip101 in your inbox
Unsubscribe in one click. See our Privacy Policy for more information on how we use your data