Johannesburg is the biggest city in South Africa and the capital of the province of Gauteng. An eclectic mix of talent spanning from DJs to jazz musicians is what makes Johannesburg nightlife incomparable. If you're wondering where to stay in Johannesburg then check out some of the best boutique hotels in the area. Find something to suit you in the vibrant city of music, dancing, and entertainment. Are you planning a trip with your group to this lively and happening place soon? Continue reading to find out more about some of the top things to do at night in Johannesburg.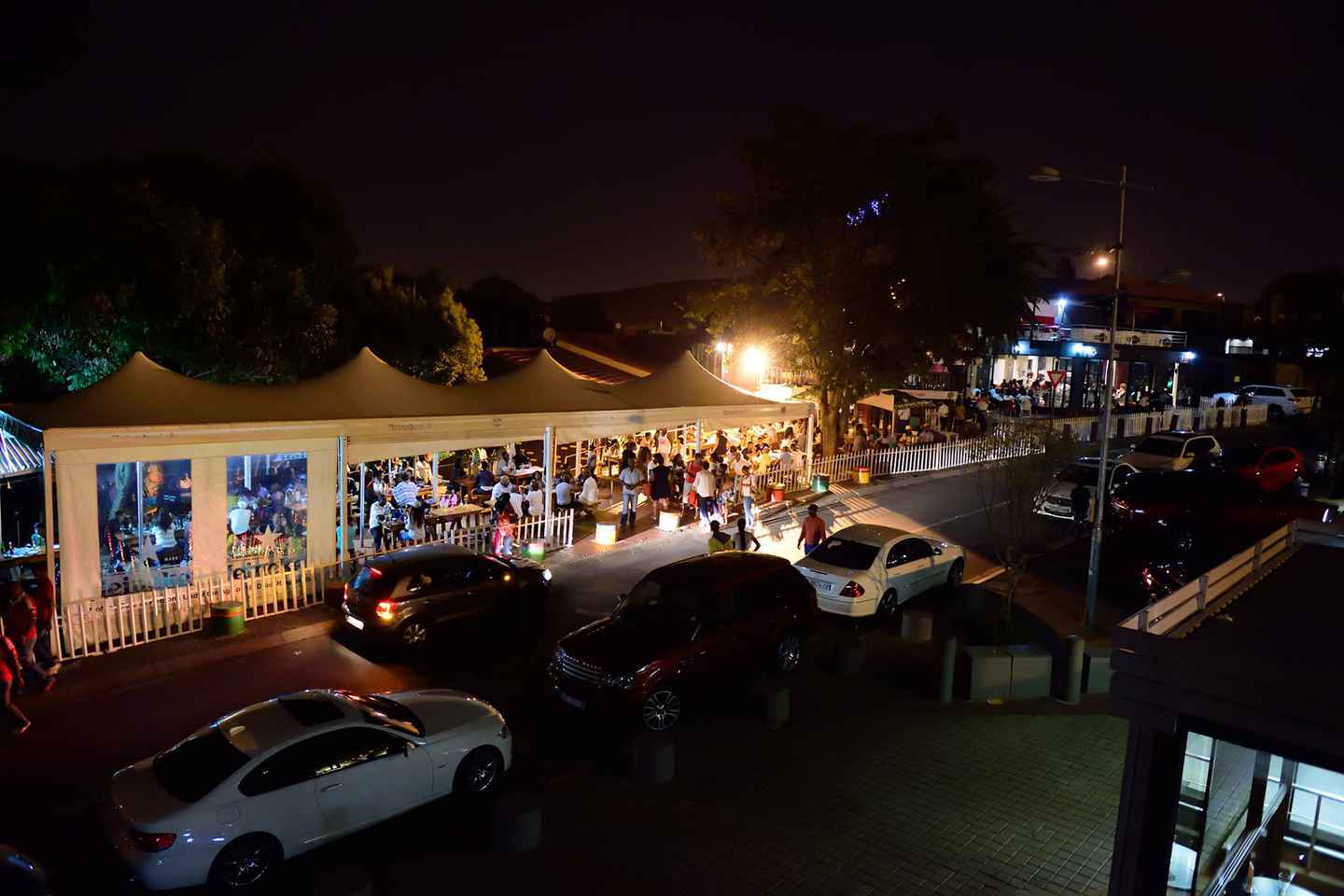 If you are wondering about the things to do on a Friday night in Johannesburg, think no more and book this guided tour that takes you through the renowned township of Soweto, a place brimming with rich stories and cultural significance. What makes this tour particularly enjoyable at night is the way it illuminates the local life and community spirit in a different light. As the sun sets, the atmosphere comes alive with the buzz of nightlife, offering a dynamic and energetic ambiance.
The visit to Soweto's famous landmarks, such as Vilakazi Street, where Nelson Mandela and Desmond Tutu once lived, is especially enchanting under the evening lights.
Duration: 5.0 hour
After you have decided what to buy and splurged to your heart's content, you can go bar and club hopping. This night activity in Johannesburg is a fantastic way to immerse yourself in the city's vibrant nightlife and create an unforgettable evening of entertainment and fun. It takes you to some of the city's trendiest venues to get the true essence of Johannesburg after dark. What makes it great for nighttime fun is the opportunity to explore the dynamic urban scene, from trendy bars and nightclubs to live music venues such as Kitcheners Carvery Bar. You'll be able to mingle with locals and fellow travelers alike, all while enjoying the pulsating beats of South African music and dance.
The tour also provides a safe and hassle-free way to navigate the city's nightlife, ensuring you can fully enjoy the evening without worrying about logistics.
Duration: 5 to 8 hours
3. Sankayi
Editor's Note: Photo taken from the establishment's official social account
Boasting some of the best parties in town, this venue provides entertainment for the masses. They are able to provide wild, high octane nights as well as more sophisticated corporate functions. Booths, VIP areas, and bars are dotted around the space, making mingling easier. Be it during an Afrocentric night, one of their salsa nights, or a vintage Friday, drift through the crowd of smiling faces and meet new and fascinating people. While there are amazing party houses nearby, partying in this kind of place is a surefire way to kickstart your time in Joburg.
Sankayi

Address: Engine Garage, 240 Rivonia Rd, Morningside, 2057 Johannesburg, South Africa

Website: Sankayi
4. The Artisan
Editor's Note: Photo taken from the establishment's official social account
Cocktails, excellent food, and a sense of the Johannesburg community, The Artisan hosts various events such as board game nights, drink and draw (where you doodle and embrace your creative side whilst simultaneously sipping a cheeky cocktail), and wine, whiskey, gin and beer tastings. A less hectic view of the African nightlife in Johannesburg, without the sacrifice of a good time.
The Artisan

Address: 12 Gleneagles Rd, Greenside, 2196 Johannesburg, South Africa

Website: The Artisan
5. The Living Room
Editor's Note: Photo taken from the establishment's official social account
Weddings, birthdays, product launches, corporate functions, networking events: All of these are catered to by the rooftop paradise that is The Living Room. An urban jungle of plants stands out on the Johannesburg skyline with the music and noise of a crowd having the time of their life. Saturdays have a strictly vinyl DJing policy, and every Sunday since the place opened they have hosted a party, which is now cherished by the community. Experience the Johannesburg nightlife with The Living Room.
The Living Room

Address: 20 Kruger Street, Main Change Bdg., Maboneng Precinct, 2094 Johannesburg, South Africa

Website: The Living Room
6. The Orbit
Editor's Note: Establishment is permanently closed at the time of writing
A live music venue and bistro, The Orbit is the culmination of some of the best jazz in Johannesburg. State of the art sound equipment will ensure an outstanding musical experience, and the menu will guarantee a satisfied tummy to put you in the right mind for a listen. The Orbit is fueled by passionate musicians and listeners, as well as a respect for the practice of jazz and other such classic genres.
The Orbit

Address: 81 de Korte Street, Braamfontein, 2001 Johannesburg, South Africa

Website: The Orbit
7. And Club
Editor's Note: Photo taken from the establishment's official social account
22nd Feb 2020 AND Club & Carfax Newtown For more info: fb.com/ANDClubZA/ fb.com/Lighthousefestival/ Photographer: Julian van Jaarsveld fb.com/ArtofaWanderer

Posted by And on Wednesday, February 26, 2020
If you're looking for what to do on a Friday night in Johannesburg, then check out the rowdier side of Joburg nightlife: And Club is a nightclub and a "no-phone-zone," where people disconnect from cyberspace and focus on the undisturbed fun of dancing. A wide variety of DJs will provide the soundtrack to an incredible evening. Hosting different events and artists, there is bound to be a night that's perfect for you.
And Club

Address: 39a GwiGwi Mrwebi Street, Newtown, Johannesburg, South Africa

Website: And Club
8. Johannesburg Theatre
Showcasing Disney classics like Pinocchio, Cinderella, and Snow White, in addition to performances with more adult themes like The Color Purple, Waiting for Nelson, and Milked Voice, the Johannesburg Theatre is a guaranteed evening of blissful entertainment for both families and adults without children.
Johannesburg Theatre

Address: Loveday St & Hoofd St, 2001 Johannesburg, South Africa

Website: Johannesburg Theatre
9. Mesh Club
Editor's Note: Photo taken from the establishment's official social account
Visit us this week and enjoy your favourite cocktails, beers, wines, spirits, and MCCs while relishing delectable meals...

Posted by MESH on Monday, July 26, 2021
"Common ground for uncommon people." Mesh is a contemporary space where entrepreneurs and modern-day pioneers can connect, network and create. For a slice of innovative inspiration, join their community and see your opportunities and ideas blossom into successful, stylish, and sophisticated reality. Without a doubt, this is where to find revolutionary-minded people.
Mesh Club

Address: 2nd Floor Trumpet On Keyes, 21 Keyes Avenue, Rosebank, 2196 Johannesburg, South Africa

Website: Mesh Club
10. The Bioscope Independent Cinema
Editor's Note: Photo taken from the establishment's official social account
South Africa's film scene is a must regarding what to explore in Johannesburg. The Bioscope has both indoor and outdoor facilities, with a rustic, classic feel to the place. This adds up to a phenomenal experience. Hosting a French film rendez-vous, and classic kids' movie nights, The Bioscope has a range of scheduled plans for making your night incredible. Grab a box of popcorn, sit back and let the tape roll.
The Bioscope Independent Cinema

Address: 286 Fox St, City and Suburban, 2094 Johannesburg

Website: The Bioscope Independent Cinema
11. Licorish Bistro
Editor's Note: Establishment is permanently closed at the time of writing
After an exhausting day of traipsing around Nicolway Shopping Centre, treat yourself to some top quality cuisine at Licorish Bistro. Not only is the food excellent, but the drinks menu is equally inviting. A classy, open environment will make you feel indulged, and the superb staff will strive for you to be treated with the utmost care. This will make a nice addition to your list of things to do alone in Johannesburg.
Licorish Bistro

Address: Nicolway Shopping Centre, Wedgewood Link & William Nicol Drive, Bryanston, 2191 Johannesburg

Website: Licorish Bistro
12. Beefcakes
Editor's Note: Photo taken from the establishment's official social account
Beefcakes is a one-of-a-kind burger bar with a twist. The incredible burgers and thick-cut fries are a must-try, and they cater to vegetarians as well, but that isn't why people come here. The stars of the show are definitely the atmosphere, entertainment, and the staff. At Beefcakes, attractive young men will bring the drinks and food right to your table, dancing all the while. On top of this, there are cabaret shows, drag queen performances, and a host of other spectacles. Whether you are planning a bachelorette party or simply a girls' night out, going to Beefcakes is one of the most fun things to do in Johannesburg for adults.
Beefcakes

Address: Illovo Muse, 198 Oxford Rd, Illovo, Johannesburg, 2918, South Africa

Website: Beefcakes

Opening hours: Thu - Sat: 5pm - 12am (closed from Sun - Wed)
13. Parker's Comedy & Jive
Editor's Note: Photo taken from the establishment's official social account
Self-styled as the home of stand-up comedy in South Africa, Parker's Comedy & Jive is the best way to relax and have fun on your night out. The comedy club has a classy interior, a full bar, and high-quality food. Juicy burgers, mouth-watering pizzas, delicious chicken curry, and trinchado – a uniquely South African dish – are just some of what's on the menu. As for entertainment, this place regularly gets top-of-the-line performers, both from South Africa and abroad. Comedy legends like Trevor Noah and Nik Rabinowitz have passed through this club and have sometimes come back for a local show. Make sure to check this place out when you are in the neighborhood.
Parker's Comedy & Jive

Address: 1 Montecasino Blvd, Magaliessig, Johannesburg, 2055, South Africa

Website: Parker's Comedy & Jive

Opening hours: Wed - Sat: 6pm - 12am; Sun: 4pm - 12am (closed on Mon & Tue)
As promised, the heart of Joburg is filled with all kinds of musical flair, but what would an African to-do list be without some authentic, traditional African drumming? Klitsgras is something a little different that few other places can offer you, so be sure to pay a visit to one of their sessions. They have all the facilities that a normal club or venue can bring to the table, only with the added bonus of drumming circles and experts to guide you. This is a true interactive musical experience.
Klitsgras Drumming

Address: Garsfontein Rd, 0056 Pretoria, South Africa

Website: Klitsgras Drumming
Duration: 6 hours
A night to remember
Whether you're looking to wind down after a busy day or are only getting started once the sun sets, there are several places to go for a night out in Johannesburg that can meet anybody's needs. Be sure to check out the amazing rooftop bars as well. If a day is simply too short, there are also hotels for your accommodation needs. Go and experience Johannesburg firsthand!
Frequently asked questions about things to do at night in Johannesburg
1. Which are some of the best hangout spots for groups in Johannesburg?
If you are looking forward to letting your hair down with music and drinks in the company of your tribe while in Johannesburg, you can book this Johannesburg: Soweto Night Tour or go bar and club hopping with this tour.
2. What are some of the fun things to do at night for couples in Johannesburg?
If you are visiting Johannesburg with your special someone and would like to have fun over a couple of drinks, good food, and private couple screenings, you can visit The Bioscope Independent Cinema and have a great time.
Disclosure: Trip101 selects the listings in our articles independently. Some of the listings in this article contain affiliate links.
Get Trip101 in your inbox
Unsubscribe in one click. See our Privacy Policy for more information on how we use your data