A lesser known but breathtaking and absolutely beautiful village, Praiano lies between Positano and Amalfi. With all the hustle and bustle of the world and all the developments, Praiano has managed to stay peaceful with a tranquil atmosphere throughout the centuries. It is a perfect place to spend your holidays in and is located in a convenient place since all the other cities can easily be accessed from here.
Known for its crystal clear seas, beautiful beaches and laid-back environment, Praiano is what many would call a gem - it is quaint, exotic and gives all the vibes of a pleasant and picturesque village while also having modern amenities such as bars, cafes, restaurants and shops. The charm of Praiano will make you instantly fall in love with it and you will keep wanting to come back to enjoy relaxed and laid-back days.
In this article, you will find some of the best things that Praiano has to offer to all those who want to enjoy the town at night including bars, boat cruises, shopping at night, and more!
1. Bar Del Sole
One of the most popular bars amongst the locals of Praiano, Bar Del Sole offers a splendid view and has a laid-back atmosphere. Come here in the evening for drinks, coffee, or pastries and enjoy the sunset while relaxing on the patio. The locals who visit the bar are friendly and will make you feel comfortable and like you are a part of their family.
Apart from having an amiable ambience with a helpful and friendly staff, the bar is fairly priced and affordable, thus giving it extra bonus points. Adding more cherries on the cake, Bar Del Sole is also perfect if you want to plan an event or celebration. This easygoing bar should definitely be on your list; enjoy beautiful evenings sipping beer, or coffee and watch the world go by.
Bar Del Sole

Address: Via Gennaro Capriglione 120, 84010 Praiano, Italy

Contact: +39 089813079

Opening Hours: 7:30 am - 1:00 am

Facebook: Bar Del Sole
2. Africana Famous Club
Spread over natural caves, the Africana Famous Club is magical, unique, modern, and musical. It provides picturesque and stunning views of the sea and surrounding areas. The exposed natural rocks give the bar an other-worldly feeling and provide a magical ambience. The outdoor sitting area with glass plates on the floor lets you watch the sea right below you, while you enjoy your food and drinks. Spend your night drinking, eating and grooving to the awesome music played at the club.
Africana Famous Club

Address: Via Terramare, 2, Praiano, Amalfi Coast, Italy

Opening Hours: 7:00 pm - 3:00 am

Website: Africana Famous Club
3. Bar Le Fioriere
Located in a picturesque town by the seaside, Bar Le Fioriere provides stunning views of Praiano along with great food and drinks. The bar is located on the top of Le Fioriere hotel, but has a separate identity of its own. The roof top restaurant lets you enjoy the fresh air and scenic beauty of the area while you enjoy the beautiful dining experience. Come here to watch the sunset and get awed by nature like never before.
Bar Le Fioriere

Address: Via Gennaro Capriglione 138, 84010 Praiano, Italy

Contact: +39 089874203

Opening Hours: 6:30 pm onwards

Website: Bar Le Fioriere
4. Vivaro Wine Bar
A gem of a place at the heart of Praiano, Vivaro Wine Bar offers a romantic and wonderful ambience. Known for its super-amazing food and wine, do not miss out on this place. The owner and chef, Gennaro, will cook the freshest and the most sumptuous meal for you and you will find him bustling along tables and in-and-out of the kitchen. The crowd is a mixture of locals and tourists, all enjoying the good food and wine.
The place is definitely good value. However, be sure to book your reservation beforehand since the bar fills up quickly.
Vivaro Wine Bar

Address: Via Gennaro Capriglione 156, 84010 Praiano, Italy

Contact: +39 3355624805

Opening Hours: 6:30 pm - 1:30 am
5. Cafe Mirante
A little bar with incredible vibes, Cafe Mirante offers some of the best drinks that are mixed to perfection. It also has a splendid view of the coastline. The staff is helpful, friendly and willing to serve you in the best way possible. Do not miss out on this gem; watch the sunset while enjoying wine, beer, or a cocktail.
Cafe Mirante

Address: Via Masa 55, 84010 Praiano, Italy

Contact: +39 3661718593

Opening Hours: 9:30 am - 9:30 pm

Facebook: Cafe Mirante
In this tour you will learn to cook a 3-course Italian meal, from the first course to dessert. You get to choose from 3 menus: Vegetarian, Fish, or Meat. Led by an experienced chef, you will learn how to make dishes such as handmade gnocchi, meatballs, eggplant parmesan, and tiramisu. Once you are finished preparing and cooking, you dine and enjoy your creations. Wine is included.
Quanto Basta Semi - Private Cooking School & Meal in Sorrento Center

Duration: 3 hours
A scenic drive along the Amalfi coast brings you to Positano, where you can enjoy a delicious 3-course dinner at a beach restaurant. The tour starts at 6:30 pm and begins with a short drive to Positano, where you will have enough free time before dinner. In the free time, you can explore the pretty lanes, do some shopping or just enjoy the view. At 8:30 pm, dinner will be served with a choice of different meals.
After dinner, before you descend into the town, you will be taken to the terrace overlooking the picturesque village of Positano for photos. The tour ends with the drive back to the hotel.
Positano by Night Experience

Duration: 4 hours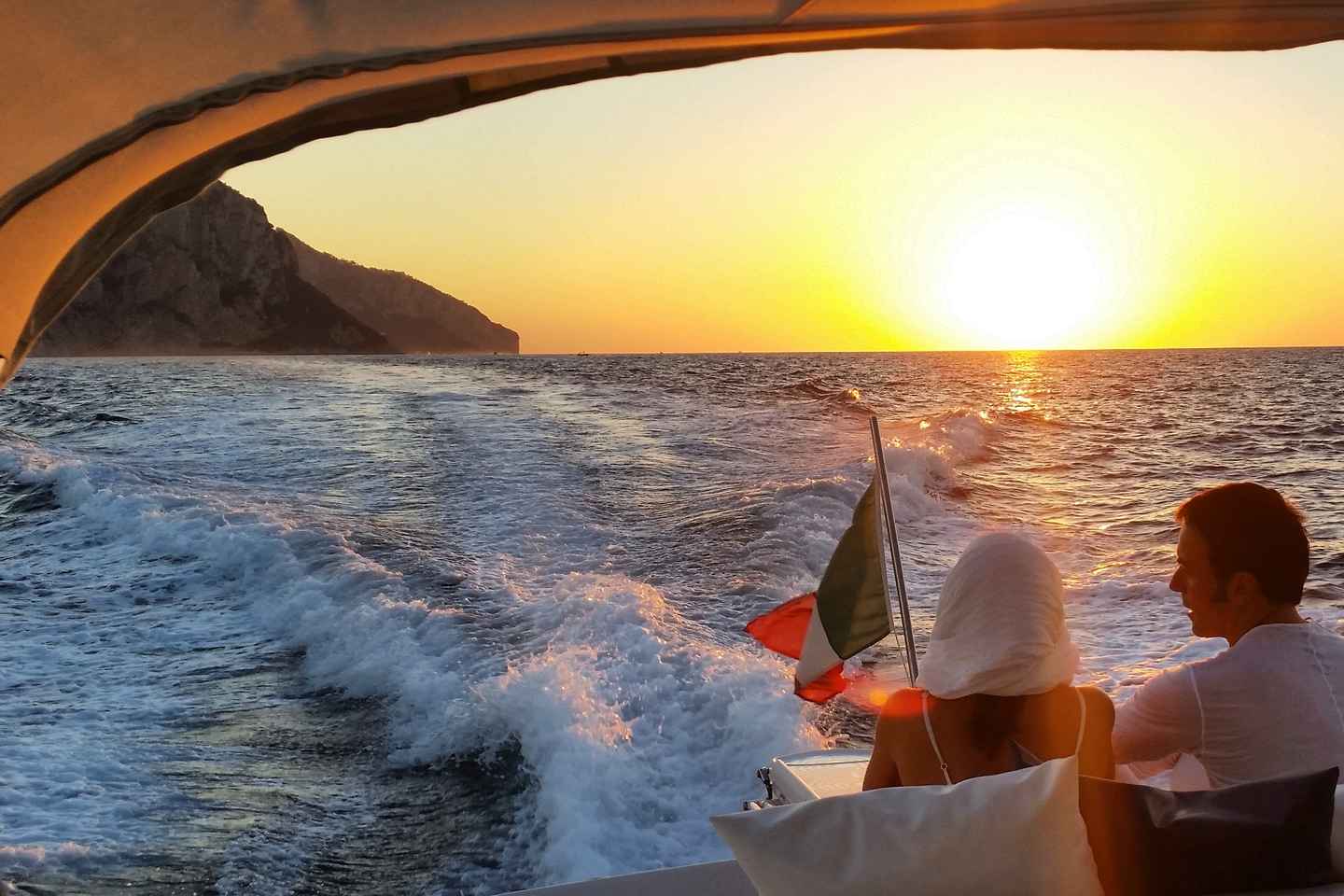 Admire the local scenery as the sun sets, while you leisurely cruise on the water along the Sorrento coast. The journey begins at 6:00 pm. Travel to Punta del Capo, home to Villa Pollio Felice, as your savor the early evening lights illuminating the sky. At Villa Pollio Felice, you can swim, and enjoy cocktails and appetisers. After returning to port, relish a 3-course dinner while you unwind and watch the evening turn into night.
Sunset Boat Tour in Sorrento

Address: Sorrento, Italy

Duration: 6 hours (approx.)

Price: From 111.44 USD

Website:
Sorrento Coast Sunset Cruise with Happy Hour or Dinner

Duration: 3 hour
Let the tranquility begin!
And that concludes some of the best things to do in and around Praiano at night. A beautiful village, Praiano offers some of the most laid-back, scenic and exhilarating activities for the night owls. Enjoy the warm sun on the beach, drink wine in the bars, enjoy the view and savor delicious food.
Get booking now!
Disclosure: Trip101 selects the listings in our articles independently. Some of the listings in this article contain affiliate links.
Get Trip101 in your inbox
Unsubscribe in one click. See our Privacy Policy for more information on how we use your data