There is no way you are going to skip New York City when talking about the ultimate vacation in USA. When in New York City, the most prominent destination would be Midtown Manhattan, the largest commercial and entertainment center in the entire country. The borough is where all the must-visit attractions are located. From Times Square and Rockefeller Center to Broadway and the Empire State Building. While taking note of all the top-notch attractions and planning your itinerary, let's not forget about your accommodation. You will surely want a superb place to stay. Keep reading to find out the best Vrbo vacation rentals in Midtown Manhattan, New York City.
What a nice stay you are going to have when you book this relaxed apartment that comes with all the modernities you need. The apartment features two bedrooms and one bathroom and can perfectly accommodate families of four. But, solo travelers and couples are cordially welcome as well. Feel free to prepare a delectable meal in the well-equipped kitchen. The living room makes an excellent place to sit back and relax as it offers a sofa that is easily converted to a twin bed. What is more, you will have access to a shared garden courtyard that features a fountain, a lounge, and an outdoor table with chairs.
NYC Manhattan! Stay like a local! Under $100 for a great apartment with Garden!!

Top guest reviews

clean and a lot of towels dishes and utensils

the apartment was nice and clean - plenty of towels and well appointed

the bathroom dated but fun and also very clean

the apartment was nice and clean

the apartment is very dark and in need of a deep clean

she is an excellent host

roberta was very responsive and attentive

roberta was extremely helpful and timely in response to all our questions

whilst a little old the apartment worked for us and the owner left lots of great tips

this location was ideal for our long weekend stay

the location was perfect to explore manhattan

its was easy walking distance to empire state times square & rockefeller centre

it was a great location and very walkable around us

so all in all - great location

Read more reviews
Unwind and recharge at this apartment that promises a splendid feeling for as long as you stay. Equipped with one bedroom, one living room with a sleeper sofa and one bathroom, the apartment is ideal for up to six people. When you enjoy your coffee in the morning, turn on the cable TV to catch a good movie. Or, be headed to the small balcony to enjoy the view.
Experience New York City Living! Midtown East Area close to everything
Welcome to this studio apartment and experience a relaxed stay. Up to three people can stay together and make use of the available facilities that include a large bathroom with a shower and a tub, a flat-screen TV, a kitchen, and a wet bar. You are going to love the hand-knitted Persian rug along with large windows that overlook 30th Street.
Off Fifth Avenue, 3 Blocks from Empire State Bldg, windows open!
Set on the vibrant Fifth Avenue, this apartment offers coziness throughout your stay. The bright apartment is equipped with three bedrooms and two bathrooms, making it ideal for eight people. There is an appointed kitchen to help you cook your best meals. Lie down on a cozy couch in the living room to recharge your energy. To keep you entertained, a cable TV and wireless internet connection are provided.
Fifth Avenue Ultra Luxurious Large 3 Bedroom - Domenico Vacca Building

Top guest reviews

the doormen are all very friendly too a must do

we're so happy we did this the apartment was so nice and the location is the best

Read more reviews
If you are looking for an apartment that promises a quiet and serene stay, then this apartment is your answer. Have a peaceful stay as the apartment depicts a wellness theme where you can see a few Buddha statues, a samurai painting, a wood bench, and even a yoga mat. The apartment comes with one bathroom and a comfortable bed for solo travelers or couples. Feel free to be headed to the backyard area that comes with a table and benches for relaxation.
Beautiful Studio Near Times Square, welcome to zen and serenity

Top guest reviews

the communal garden area was clean and well-kept

our stay was blessed with great october weather so we could also enjoy the clean courtyard

mike was very helpful

the onsite manager was helpful and friendly providing recommendations on eateries etc in the area

while michel who runs the property is lovely and very helpful the property itself is old and needs updating

michael who checked us in was so helpful (even with delayed flights) and gave us some great recommendations

michel was friendly helpful and accommodating

perfect location walking distance to just about everything

good location in hell's kitchen close to broadway shows and midtown

location is great and the room had nice conveniences

however we were warm dry and close to a lot of things like good restaurants the theaters etc

Read more reviews
When traveling around Manhattan, it would be nice to stay in a place that offers a strategic location like this spacious house. The house is adjacent to Times Square and the theater district, among others. Providing three bedrooms and one bathroom, the house sleeps eight people. You can also enjoy hardwood flooring along with an equipped kitchen and smart TVs.
Near Everything. Heart of theater district, Times Square, Central Park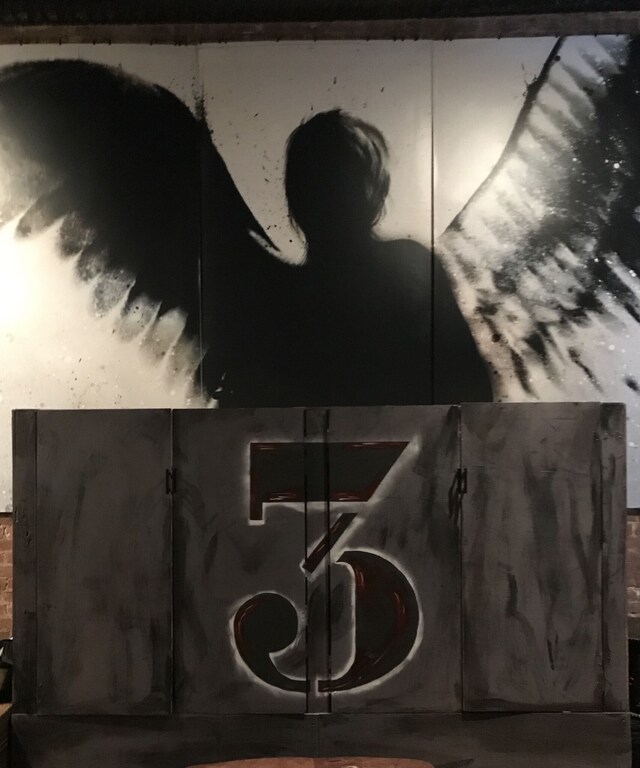 Enjoy a pleasant stay at this modern loft with your loved ones because it can accommodate up to 16 people. Five queen beds along with two couches, two love seats, and air mattresses will be provided to let you rest easy at night. You will also have access to the kitchen and a Bluetooth speaker. Moreover, you can watch whatever movie you like and whenever you want it because the loft comes with a projector and Chromecast, much better than a cable TV.
Event space. Events only. Gatherings of up to 50 only. No overnight stays.
Welcome to this apartment and indulge in a comfortable stay. Situated within walking distance from Times Square, Central Park, and Lincoln Center, the apartment offers one bedroom and one bathroom but can accommodate up to seven people, with extra guests resting easily on the convertible sofas in the living room. As a guest, you will be granted access to the gym and rooftop area. Other facilities offered include an LCD TV, a DVD player, and a CD player.
Luxury,spacious:Bdway/TimesSq(Sleep7)Promо $200 Oct 2-6;11-13; Nov6-10; 12-17
Nestled in the heart of New York City with convenient subway stations nearby, this contemporary apartment promises a memorable stay as it has everything you may need throughout your stay. There are three bedrooms and each room features a lockable door. If you need extra blankets to keep you warm, feel free to take some. To keep you company, free wireless internet access and a large smart TV with streaming options are provided. You can enjoy whipping up a delicious breakfast in the well-equipped kitchen.
Perfect Midtown Retreat - Hells Kitchen - Near Everything
Indulge in a traditional NYC way of living while having the convenience of getting around major attractions, thanks to its strategic location. Offering two bedrooms and one bathroom, this house can accommodate up to six people. Relax over a glass of wine by the fireplace in the evening before indulging in your delectable dinner in an intimate dining area. The house also provides facilities such as a cable TV, internet and a kitchen.
TIMES SQUARE, THEATER DIST, CENTRAL PARK - SUBWAYS - ART LOVERS
Have a great vacation and a great stay in Midtown Manhattan
When talking about vacation, you cannot completely depend on the attractions per se. Although you are exploring a lot of superb attractions, your vacation will not be that great and dreamy if your place of stay is not great. That is why you need to book your favorite Vrbo vacation rentals mentioned above. Enjoy Midtown Manhattan!
Disclosure: Trip101 selects the listings in our articles independently. Some of the listings in this article contain affiliate links.
Get Trip101 in your inbox
Unsubscribe in one click. See our privacy policy for more information on how we use your data