Phoenix is a booming metropolis set against an alluring desert backdrop. The Desert Botanical Garden provides tourists with a close-up view of the region's splendid flora and fauna. Along with Phoenix's natural beauty, there are high-end luxury spas, first-class golf courses, and great nightlife. Phoenix also boasts the most mouthwatering Southwestern cuisine you'll ever sample. A culturally rich environment, Phoenix offers a vibrant opera and symphony, theaters, and three of the state's preeminent museums. With all this available in the city, it's no surprise for travelers to expect superb lodging, and also find one. Here's a must-see list of the top Vrbo accommodations in the Phoenix Metropolitan Area!
Offering the ideal blend of 1920s craftsmanship with modern-day luxury, this spacious three-bedroom house features cozy furnishings, attractive decorative accents, and sturdy hardwood floors. The kitchen comes nicely equipped with fine appliances and lots of counter space to assemble a meal with ease. If you wish, you can dine al fresco on the large outdoor living space that provides a table, comfy chairs, and even a barbecue grill. This lodging is a five-minute walk to a light-rail transit which can take you to the heart of downtown Phoenix.
The Wilshire House In Central Phoenix

Accommodates: 8
Minimum Nights: 3
Refund Policy : 100% refund if you cancel at least 14 days before check-in.

This one-bedroom condo is the top tier in luxury living. This condo features high ceilings, large windows, and a spacious layout. The outstanding kitchen offers a full-size double-door fridge that allows guests to stock up on food supplies. Small details like handsome lighting fixtures and built-in bedside tables enhance this accommodation's appeal. The nearby Phoenix Art Museum and Arizona Opera House will please guests interested in cultured activities and the Encanto Golf Course is close as well if there's an avid golfer in your party.
Modern Loft Condo in Midtown Phoenix W/ Pool!

Accommodates: 4
Minimum Nights: 3
Refund Policy : 100% refund if you cancel at least 30 days before check-in.


Top guest reviews

Having additional dishes would reduce dishwasher usage

The unit is on the main floor has two large bathrooms and modern appliances

For longer stays it could use a dresser in the bedroom and some patio chairs

the pool was great and the owners were SO nice

The condo is very clean and had everything we needed Jou and Dani answered every single one of our questions and were so gracious to help us out with some printing when we had ticket issues

only - leave some instructions in the condo about the entry/gates/key fob

when I found Jouven & Dani owners and hosts of the Metropolitan Lofts

The property is located across the street for St Joseph's hospital with plenty of restaurants near by Louven was very informative and welcoming

Nice condo in a very convenient location

The condo is about center of all the ballparks and attractions in Phoenix and convenient on/off the interstate Wonderful breakfast diner not even a block away

It was very clean at a good location

Read more reviews
Nestled within lots of greenery, fragrant citrus trees, and pretty rose and herb gardens, this three-bedroom house boasts an absolutely tranquil ambiance. The interior has been remodeled and possesses every modern convenience: a fully appointed kitchen, plush king-sized beds in all bedrooms, an efficient washing machine and dryer, internet access, and cable TV. This house is on the National Registry of Historic Places and is situated next to the Encanto public golf course. Guests are offered exercise via a jogging course across the street or by taking a walk around the lake found at Encanto Park.
New Listing - Central Phoenix Historic Home

Accommodates: 8
Minimum Nights: 2
Refund Policy : 100% refund if you cancel at least 30 days before check-in.


Top guest reviews

Wonderful property comfortable and cozy

it is a 3 bdrm home)

The looks of this beautiful home is deceiving Lots of room

It is very comfy and the backyard is so peaceful

(it's not a 4 bdrm home

Very helpful each time we had any questions or changes

every amenity you can think of luxurious linens beautiful house

Also lots of cute yard cats Extremely responsive owner had a few issues with smoke detector and TV came over and fixed problems promptly Would definitely stay here again

Our family shared a vacation and this beautiful historic home was perfect for the 6 of us

Marvin is a fantastic host

The neighborhood is quiet and there's not a lot of traffic

Loved the garden behind the house along with lemon and grapefruit trees

Read more reviews
Exuding a colorful and eclectic vibe, this smartly assembled and chic two-bedroom apartment is a welcome place to return to at the end of the day. The decor and furnishings are vibrant and there's lots of sunlight streaming in. The kitchen is equipped with stellar appliances and attractive tiles. The location is perfect for exploring Phoenix attractions. For art-loving guests, there are nearby galleries. For food fans, there is a selection of delectable restaurants that can be reached on foot.
WanderJaunt | Estrella | 2BR | Downtown Phoenix

Top guest reviews

the beds were very comfy

the filtered water pitcher in the fridge much appreciated

Beds were quite comfortable amenities adequate

Being technically challenged we would have appreciated a human being to speak with when we ran into some problems with verifying identity

There was no phone number to call for help Once we arrived we dealt with 2 smoke alarms doing their nasty beep thing More details on how to lock the key pad would have been appreciated All in al...

All we got was a repetitive message

It hadn't been required with the other three rental experienceS

The property is well decorated and thought out

Fantastic- easy to get to and communicative

As in the title it's a very conveniently located apartment Very close to a lot of different Phoenix attractions Would definitely stay again

This is a nice apartment in the arts district of Phoenix close to downtown and public transportation

Read more reviews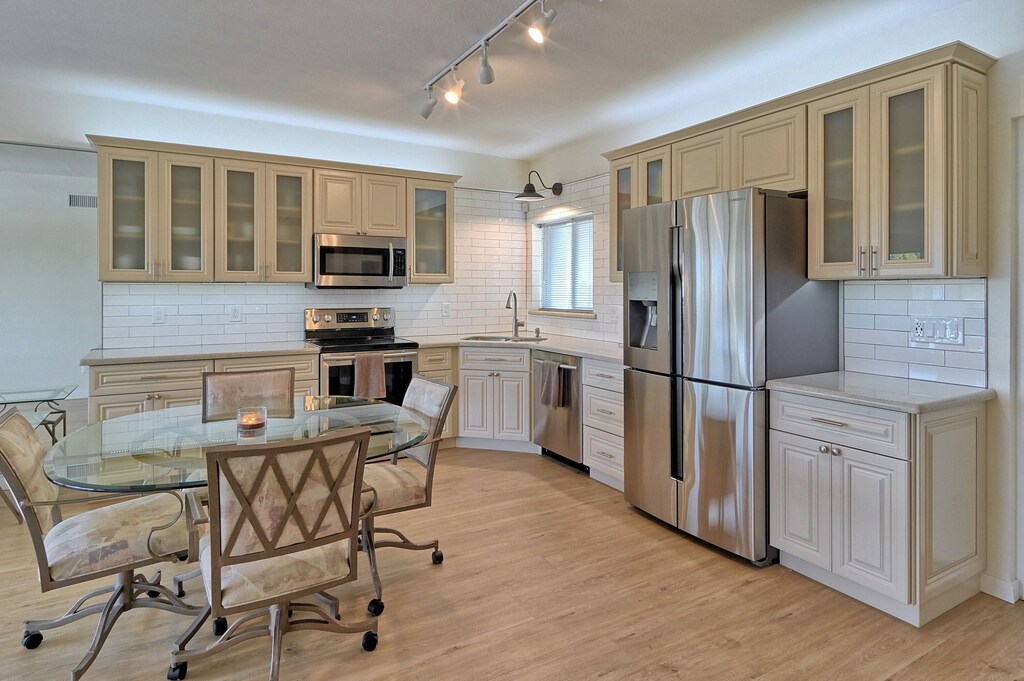 Boasting a wonderful open layout, this top-floor condo is filled with plenty of contemporary charm. The upgraded kitchen features first-rate appliances and you can enjoy a nice evening on the balcony which is equipped with an intimate table and chair set. This condo affords access to a light-rail system and several freeways, so you can easily enjoy the surrounding area's many amenities: expansive golf courses, delicious eateries, fun museums, and lively nightlife. A few restaurants are also within walking distance of this property.
Central Phx Top Floor with Amazing View! (1/2 mile from St. Joe's Hospital)
Only moments from fun shopping and fine dining, this one-bedroom loft-style condo is high quality in every way. This condo is decorated with great care and boasts stylish furnishings and lots of natural light throughout. Conveniences include a stacked washing machine and dryer unit, a large walk-in shower, and a well-appointed kitchen with top-of-the-line appliances. The property offers a sparkling pool, a lounge with internet availability, an expert yoga studio, and a nicely equipped 24-hour fitness facility.
Luxury Loft Condo at its BEST!!!
This four-bedroom mid-century charmer has everything you could want in a home-away-from-home lodging. Take a soothing dip in the heated swimming pool and stay connected with complimentary and reliable WiFi. The kitchen is thoroughly equipped with top appliances and supply of cooking utensils. Non-stop fun is available with a billiards table, a ping pong table, and even a backyard putting green for anyone who wants to practice their golf skills. This fully renovated accommodation is surely a top pick.
Mid-century modern gem with private pool and pool table/Ping-Pong table!
Conveniently situated, this deluxe loft-style condo is a remodeled unit with new ultra-chic furnishings and stellar stainless steel appliances. With a cool contemporary vibe, from the attractive lighting to the high-tech fireplace, this one-bedroom condo is a wonderful respite at the end of a busy day of sightseeing. Drift off to sleep on the cushy king-sized bed and enjoy complimentary WiFi, cable TV, and an in-unit washing machine and dryer. This second-floor condo is moments from scrumptious restaurants and energetic bars.
Luxury Modern Loft In Downtown Phoenix
Don't let the modest exterior and the interior's sparse decor shy you away from this spacious four-bedroom lodging. Though it lacks abundant pizazz, this house does feature bits of stylish furnishings and pretty fixtures. For relaxation, there's a deep-soak tub in the master bath and there's a top-notch washing machine and dryer available. The outdoor space provides a large backyard, a dining area, and a fine grill for barbecuing. With secure fencing around the entire property, parents are worry free when it comes to letting the kids play.
Welcome to Willo Historic District in Central Phoenix, AZ
Found in a prominent neighborhood, this expansive three-bedroom home, with an additional one-bedroom guest house, is ideal for large traveling parties who love golf and nature. Practice your swing at the 18 or 9-hole golf course directly across the street or take a nice stroll at the delightful Encanto Park down the road. This comfortable accommodation is completely furnished with stainless steel appliances in the kitchen and every bedroom features cushy beds with plush bedding.
Encanto Estate 1/2 Acre, 4 Bed 3 Bath, golf course park!! NEW FULL GUEST HOUSE
Fabulous Phoenix
If you're hoping for a luxury-laden contemporary condo, or a historically crafted house from a bygone time, or a mid-century charmer, Phoenix's Vrbo accommodations have something for every traveler's taste and comfort level. Phoenix's beautiful desert surroundings are inviting and rest assure so are the city's Vrbo accommodations.
Disclosure: Trip101 selects the listings in our articles independently. Some of the listings in this article contain affiliate links.
Get Trip101 in your inbox
Unsubscribe in one click. See our privacy policy for more information on how we use your data