The Municipality of Tulum is situated in the Yucatán Peninsula, on the eastern coastline, where Mexico is embraced by the Caribbean Sea. In the Yucatán Mayan language, "tulúm" connotes wall, fence, or trench. The archaeological site of Tulum can be found on tall cliffs by the shore. In the pre-Colombian times, Tulum was a walled city abandoned soon after colonizers settled in the peninsula. Though centuries old, the site is well-preserved and attracts many tourists. The turquoise waters and white beaches of the Caribbean coastline of Tulum makes it one of the top beach destinations in the world. The natural limestone sinkholes (cenotes) are irresistible to divers, and their aquamarine pools is only the start of the adventure. Underwater caves await the daring and courageous. Are you ready for an exciting Yucatan escape? So, check out our list of the best beachfront Vrbo rentals in Tulum, Mexico, and book the one that suits your style and budget.
Tankah Bay is home to Manatí Cenote, which should be on top of your list of local natural wonders to visit. There are protected reefs and mangrove forests in the area. It only makes sense to book a Vrbo vacation home on this part of the Caribbean Sea, and you'll do well to choose a private guesthouse that sits on the very white sands of the beach. This house on Tankah Bay offers comfort both inside and out. Four bedrooms and four baths should prove adequate for your party. There are umbrella chairs under shady palms and plenty of exclusive sandy beach for everyone. There is a shallow pool as well, if you and the kids want to take a break from the salty ocean.
Turquesa caribeña contemporánea casa frente a la playa en la bahía más hermosa

Accommodates: 10
Minimum Nights: 4
Refund Policy : 100% refund if you cancel at least 30 days before check-in.


Top guest reviews

they stay on the grounds to help you with cooking cleaning etc

they were very helpful and nice

i'll start off by giving complements to the staff

daniel and lucy were so kind and wonderful the whole time

overall this house was wonderful and santos and seyde were super helpful during our stay

we also loved daniel the caretaker and his family

so close to great

my family of four stayed in july and truly enjoyed the location and staff

Read more reviews
So you want nothing but a few shrubs and a handful of native palm trees to separate your vacation home from the sea. You also want to walk out the door in the morning straight from bed and head out to the whitest sandy beach in the Yucatan for an early morning swim. There is a modern, air-conditioned house for seven guests that fits your requirements perfectly. It is located on Tankah and listed on Vrbo as Casa Cavu. The beach that's right outside the casa door is rustic, and the house has a homespun feel. Still, you'll have every possible contemporary comfort for a fulfilling vacation, including a beachside swimming pool.
3 dormitorios, 2 baños Casa de playa con piscina. AC, Wifi. Un corto viaje a Tulum.

Accommodates: 7
Minimum Nights: 4
Refund Policy :

A two-bedroom Spanish style house with balconies, pool, and beachside seats is ready for occupancy. The property is situated near Manati cenote. You can cool off in the house or at the charming garden. You can cook in the kitchen and enjoy a meal in the dining area, or keep the conversation going in the plush living room. But, as soon as you are ready, it will take only a couple of minutes to walk the distance from comfy home to sandy beach. Remember to inform the host if you need a kayak or snorkeling gear. You have complete privacy in this wholesome space in Tulum.
Villa frente al mar a la bahía turquesa más increíble del océano y muy cerca de la ciudad

Accommodates: 4
Minimum Nights: 4
Refund Policy : 100% refund if you cancel at least 30 days before check-in.

Having a private chef and bartender to cook up meals and cocktails isn't too much to ask. Now that you are planning a vacation in the Yucatan for the people you love, take advantage of the unique experience Villa Vidorra is offering guests. Indeed, it is best described as a private paradise - an exquisite and spacious award-winning villa on the coast, with custom ironworks furniture and stand-out but tasteful highlights. The onyx bathtub and outdoor seating features are remarkable. This Vrbo villa is a vacation home for 15 people, and the best option in the area for people who want to be pampered on their holiday. You'd still want to walk the few minutes it takes to reach the sea because the view from the house will always remind you where you are.
Beach Front Luxury Villa w/ Chef & Bartender

Accommodates: 15
Minimum Nights: 7
Refund Policy : 100% refund if you cancel at least 60 days before check-in.


Top guest reviews

individualized air conditioning units for each room were also an added bonus

extremely comfortable for our family of 11 (8 adults 3 children (11-13-16))

by the end of the week he was enthusiastically swimming the length of the pool by himself

the pool was also ideally created for children as it has multiple levels

clean and neat

the rooms were immaculately serviced clean and very neat at all times

we didn't have to cook or clean

the staff was great and spoiled us like family

the home is beyond beautiful and the staff is amazing great food and drinks and very attentive staff

wonderful and attentive staff especially the kitchen crew who work long days and appear to love pleasing their guests

beautiful home and owner went over and beyond to personally accommodate our needsstaff was also amazing

above all the staff were our best surprise of the trip

Read more reviews
Alaya Hotel in Tulum is known for its excellent beachfront service and natural villas. A three-bedroom house that is also owned by the hotel builder/designer sits within the property, and is listed as a Vrbo vacation home. It's not your usual beach house with inspired decor and modern appliances. Rather, it is a luxury thatched hut with stone walls, and wide windows and balconies. Custom furniture and tools define the living spaces. You'll probably spend a lot of time examining the decorative elements and the structure of the house itself. Expect a singular Caribbean experience in this house, just a few metres from the water's edge. If you need anything, hotel staff will assist you gladly.
Casa de lujo frente al mar; Corazón de Tulum REAL

Accommodates: 6
Minimum Nights: 5
Refund Policy : 100% refund if you cancel at least 60 days before check-in.


Top guest reviews

the house was beautiful and very clean

the staff was great and attentive

staff was very friendly helpful and considerate

the owner came to meet us with his 2 beautiful children

Read more reviews
Soliman Bay in Quintana Roo is a short drive from Tulum. The bay is a hotspot for marine turtles. Hotels dot the area. But, why choose a hotel room if you can stay in a furnished hacienda by the sea? This Vrbo house is right there on that famous stretch of beach. It has three bedrooms and enough room for six adventure seekers. You have your own private beach, hammocks by the water, and kayaks to use. Jungle sites, ancient ruins, cenotes, and marine exploration are just a few minutes from this bayside headquarters that is furnished with basic necessities.
Hacienda 5 steps from beach, in beautiful Soliman Bay.
Villa Gummerson's red tiles and vibrant colors exude a warm welcome. The house's dimensions complement the wide open spaces surrounding the property. This Vrbo villa can accommodate 10 guests at a time, with room to spare. Three master bedrooms with their own full baths will let you rest fully after a long day. The balconies are strategically constructed to face the ocean. What do you need to do to reach the sea? Not much really. Get up from the lounge chair and get out of the house. Then, cross a wide expanse of sand. In a minute, you will be right where the waters of the Caribbean are lapping the shores of Tankah Bay.
Quiet, Elegant, Luxury, Beachfront, Paradise, Modern

Accommodates: 10
Minimum Nights: 4
Refund Policy : 100% refund if you cancel at least 60 days before check-in.

Ten steps as of the last count. That's all it takes to reach the blue waters of the Caribbean from Hacienda Paradiso. The beach mansion has private terraces, air-conditioned bedrooms, and furnished common areas that will take your breath away. Right next door is Paraiso Beach Club. You can relax to the max with their spa services, or set out to sea on a charter boat for offshore fishing. A kite-boarding school is a short walk away, but you might find it hard to leave the comforts of this Vrbo accommodation by the sea. The layout of both the ground floor and second floor is roomy and relaxing. The generous use of wood and thatch makes guests feel the Caribbean vibe even more strongly.
Increíble Mansión 6 dormitorios en una de las mejores del mundo prístinas playas.

Accommodates: 16
Minimum Nights: 5
Refund Policy : 100% refund if you cancel at least 30 days before check-in.


Top guest reviews

the staff clean every day and leave fresh beach towels

on a positive note- the rooms were always clean and well maintained

the manager sylvia was very helpful and responsive to our concerns

the entire staff was amazing starting with the hotel/hacienda manager silvia

everyone was very nice and accommodating

the house is terrific and the staff was so accommodating

we felt very safe the entire time with a designated security guard on staff 24/7

there are more than 5 within walking distance including an onsite beach club with great quality food

) the house is right on the beach and it's a truly beautiful place

Read more reviews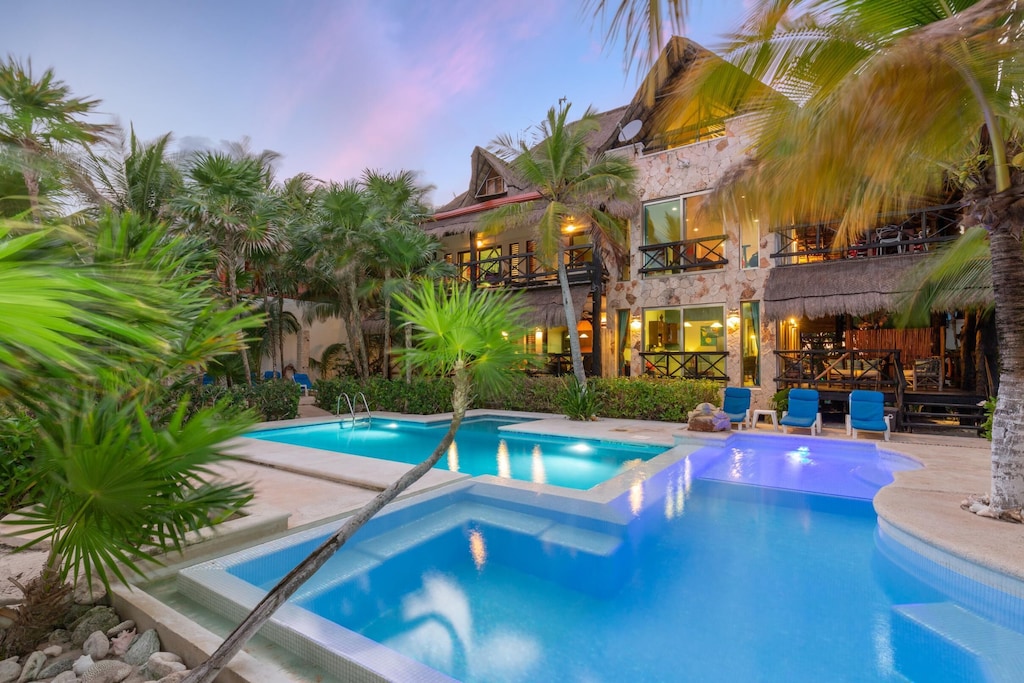 A thatched hut sounds like a usual seaside accommodation. Sombras Del Viento villa has taken the concept a few notches higher. If you are vacationing with a gang of 16 relatives or friends, then you should book all three separate units listed on Vrbo. They are named Bora, Sirocco, and Mistral. Each has its own unique feature, but they share colorful decorative highlights, roomy common areas, cozy bedrooms, and covered terraces for savoring the breeze coming from the ocean. The villa has functional kitchens, but you have the option to let a seasoned chef prepare all of your meals. That is, if you don't mind spending for the cost of groceries. When you are ready for a day in the sun, you can lounge by the pool a few steps from the terrace, or head out to sea directly. You'll reach the shoreline in a heartbeat.
The Tropical Soul just on the beach
Aptly named Turtle Heart Villa, this luxury accommodation is newly renovated and now ready to receive fans and followers of marine turtles. Everything is clean and new, and your security and comfort is the priority of the host. You'd want to stay in this beautiful smart home not only because you can see turtles nesting from the balcony. Every room in the house looks out to the sea. There is also a rooftop patio for hours of relaxation and Riviera Maya landscape viewing. Enjoy casual seating under the starry skies, or wake up early to catch the colors and smells of the dawn from there. To complete the promise of luxury, the villa has a lovely pool, where palm trees keep the poolside cool and refreshing.
TURTLE HEART VILLA,Tulum, TURTLE HABITAT, DISCOUNTS NOW
Visit Tulum for a Caribbean holiday
Tulum's rich and vibrant heritage is palpable as soon as you arrive. Its wonderful beaches and spectacular natural features remind us of the calming and healing essence of the natural world. Tulum is inviting you to head out and take advantage of the superb Vrbo accommodations awaiting your arrival.
Disclosure: Trip101 selects the listings in our articles independently. Some of the listings in this article contain affiliate links.
Get Trip101 in your inbox
Unsubscribe in one click. See our privacy policy for more information on how we use your data