Whether you're an adventure junkie or a nature enthusiast, water sports will surely lure you to Pattaya. With a gamut of adventurous activities to choose from, Pattaya is the ideal place for an adrenaline-pumping vacation. Stay in one of its sought-after beach resorts for quick and easy access to the coastal thrills. The beachfront hotels are similarly superb picks to stay close to the action. Diving beneath the beaches of Pattaya to explore the underwater world is an excellent option for all the water babies out there. The zoomed-in view of the exotic marine life will leave you awestruck. Other experience includes flyboarding, sailing, and kitesurfing be ambitious! Learn to sail or parasail. Ride a boat, go snorkelling to offshore islands. There is so much more to the splash and dash. Check out the list below for the top water sports and activities in and near Pattaya, Thailand.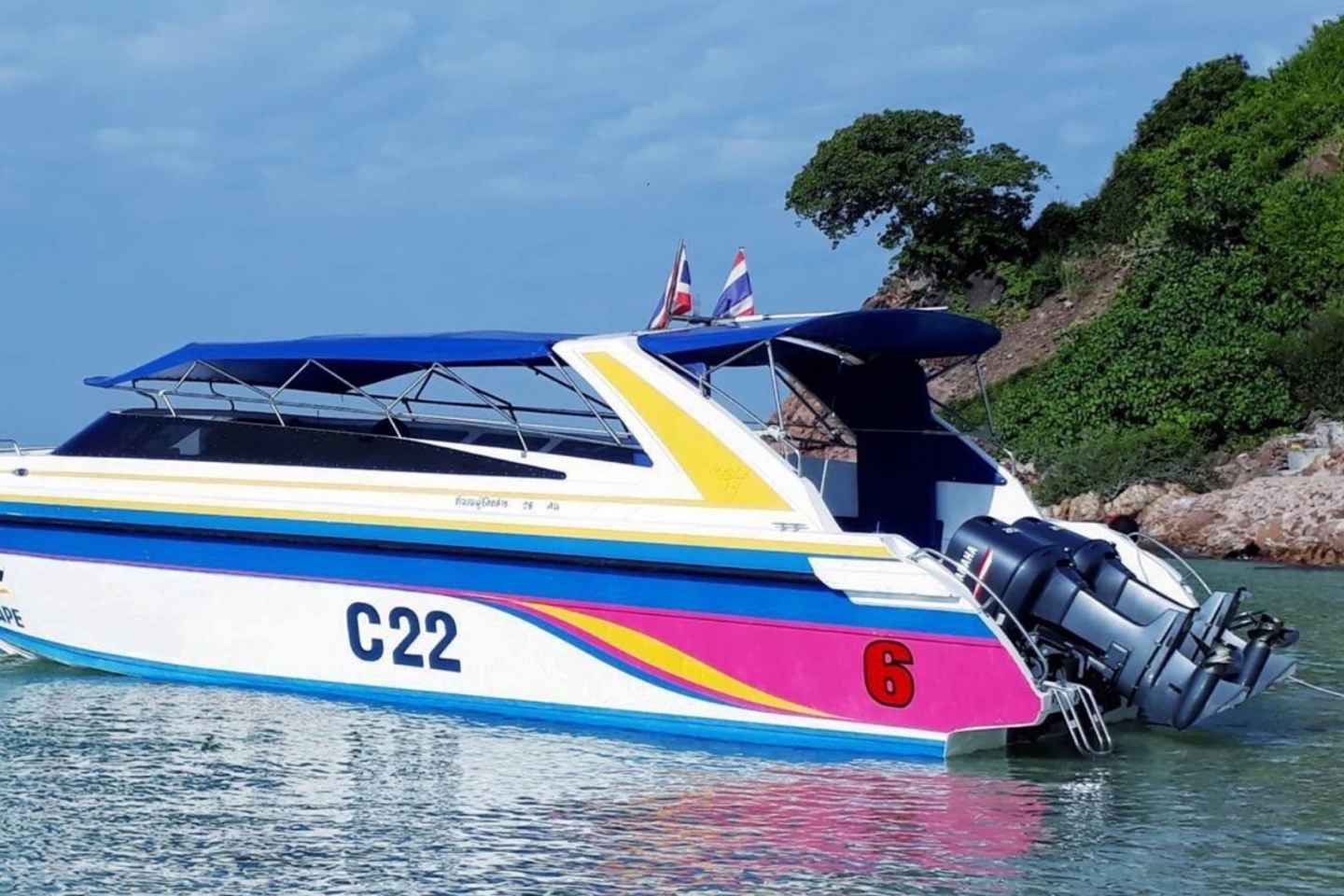 Embark on a thrilling adventure by taking a private speedboat to the beautiful coral islands. Escape the bustling city and set sail across the sparkling turquoise waters of the Gulf of Thailand.
Feel the wind in your hair as your private speedboat cruises through the waves, providing an exhilarating and scenic journey. Arriving at the coral islands, you'll be greeted by pristine white sandy beaches and crystal-clear waters teeming with colourful marine life. This speedboat ride also allows you to enjoy some water activities in Pattaya. Dive to snorkel or scuba dive, discovering vibrant coral reefs and a mesmerizing underwater world. Relax on the beach, bask in the tropical sun, or enjoy exciting water sports like jet skiing or parasailing.
Duration: 6.0 hour
Enjoy a day of fun and excitement at Aquaverse Waterpark, a great destination for when taking a break from the salty waters and beach activities in Pattaya. This thrilling water park offers many exhilarating attractions and recreation for visitors of all ages. Dive into a world of adventure as you plunge towering water slides, twist and turn through winding tunnels, and splash into refreshing pools.
Experience the adrenaline rush of high-speed water rides, conquer wave pools, and navigate lazy rivers. For younger visitors, there are dedicated areas with kid-friendly slides, water play zones, and interactive features. Relaxation is also on the agenda, with tranquil lounging areas, tropical gardens, and cosy cabanas where you can unwind and soak up the sun.
Coral Island offers a change from the congested beaches of Pattaya, it is well known to foreign and Thai visitors for its tranquillity, glass-clear water, beautiful beaches, and extensive coral. Coral Island attends to both those looking to relax and island adventures. If you're looking to enjoy activities such as banana boat rides and parasailing in Pattaya, this is the place to have the time of your life.
You can also marvel at colourful fish, parrotfish, sea urchins and sea sponges in the underwater world. A buffet lunch of fresh seafood is served to complete the tropical experience. Guests travel according to the itinerary which is subject to change. Additional information and inclusions are available on their official website.
Duration: 5 to 6 hours
Join an outdoor adventure which includes various activities in one tour with an excellent value for money. This is a joined tour, where some people can parasail, while others can immerse themselves in the clear water and tropical landscape. Travellers will also stop at sea walking site where they will wear a custom-made helmet to help them during the walk and one can continue breathing as normal. It is a unique and safe activity under water. Under the water, you can see fishes, coral reefs and underwater wildlife. You can explore this amazing experience even if you are a non-swimmer or non-diver. Guests are offered tasty Thai lunch after the activity. This activity is ideal for family and friends.
Duration: 6 hours
Decamp from the congested beaches of Pattaya and experience the true bliss on the sands of Coral island. Relax on the warm, white shores of the island with six main beaches, restaurants and intimate bays. The inclusions are a life jacket, PA insurance, lunch and entry to Koh Larn and Tawaen beach. Some of the places to be visited include the Coral island, Chonburi province, Naul beach, Samae beach just to mention a few. During this tour, you will get to indulge in various activities including sea walking, parasailing, sightseeing, swimming and relaxing at the beach. The program can change according to sea conditions. Cancellation and additional policy are available on the website.
Duration: 5 to 6 hours
No need to travel to south Thailand to experience amazing snorkelling, just visit Nemo Island which is just short distance from Pattaya. It is an amazing snorkelling destination, with a view of the coral reefs. The tour inclusions are a driver, marine activity guide, speed boat, underwater photos and entry admission to the beach and snorkelling trip. It is important to note that there are no food, drinks, towel and shower products offered during the tour. During the tour, you will get to explore Pattaya Beach, Chonburi province, Sameasam snorkelling and Sattahip, but in sessions of different time intervals. Minimum age of admission is 13 years and the maximum age is 60 years. This tour is not recommended for pregnant women, people with heart complaints and asthmatic people.
Duration: 6 hours
Come and experience the ultimate tour of the islands of Ko Lan and Ko man Wichai which are located just off the coast of Pattaya. These islands are the prime destination for sea fishing and offer a beautiful view of Pattaya islands from the water. Inclusions for the tour include fishing and snorkelling equipment, round-trip hotel transfer and light breakfast. Those willing to fish are given spinning rods and special bait while beginners can learn some sea fishing techniques. Guests are served with their freshly caught fish cooked in a unique style. After lunch guests can use snorkels and diving masks to explore under the water. There are toilets, changing rooms, showers and sunbeds for leisure in their ships. This is the best activity to indulge in with family.
Pattaya Wake Club tour is a sports and entertainment tour to a modern wake park in the suburbs of Pattaya with circular and reversing towing brand rixen. Inclusions in this tour are the instructor, delicious Thai-style lunch and protective equipment. Normally, the tour starts at your hotel where the guests are picked by the instructor. The wake park is one of the few places in Pattaya where guests can enjoy cable wakeboarding, waterskiing and wakeskating. Travellers are taught to level up their tricks until they are ready for the main lake. This tour is perfect for a group of family who wants to enjoy wakeskating, waterskiing and wakeboarding. Showers, toilet and changing rooms are available.
Find a Thai paradise of azure waters and sandy beaches on Kohlan by speedboat. It is home to six prime beaches. Kohlarn is a beautiful haven for snorkelling, water sling, ride the tides by parasailing and island hopping. The tour features a guide, speed boat transfer, insurance, lunch, towel, snorkelling gears just to name a few. Departure point is the guests' hotel and from there, guests travel around according to the itinerary. Some of the activities that guests will indulge in include snorkelling and slider, banana boat or jet ski, relax on the beach and later being dropped off in Pattaya. The schedule can change due to weather or sea conditions. This tour is ideal for families who will enjoy the banana boat ride and parasailing which offers a breathtaking view of the lovely sea.
Pattaya boat cruises prove a truly unforgettable charter with all your needs included. The tour offers an affordable luxury day on their yachts. Breakfast, lunch, dinner, snacks and accommodation is offered per itinerary. Meeting point is the marina main gates where guests are taken to various islands to enjoy snorkelling or relaxation. On the yacht, fishing equipment is offered for those who would love fishing. On one of the islands, you will get the opportunity of feeding monkeys which roam freely on the beach. A full multi buffet and barbecue are served on board with light drinks. The tour has a maximum of 25 travellers where confirmation is received at the time of booking. The place is perfect for a family with kids.
Grab your swimsuit and visit the world of aquatic adventure and enjoy the family-friendly attractions, thrilling rides and massive pools of Ramayana Water Park. This park has 3 pools, 21 waterslides, lazy river, shady cabanas, sandy beaches, and dozens of activities to indulge in. Adrenaline junkies can take a plunge on the freefall slide or test their courage on the aqua loop. Ramayana attractions are second to none and the facilities provided are of high quality. After purchasing the ticket all the rides are free, all day long. Dozens of food vendors are on hand serving tasty Thai dishes, international cuisine and drinks. There is so much fun in Ramayana for a family with kids or a group. Normally, the tour starts at the hotel where guests are picked up and dropped off.
Discover water sports and activities in Pattaya
For the ultimate watersport activity, you should try out one (or more) of the adventure sports in Pattaya listed above. You will not regret it for sure!
Frequently asked questions about the top water sports and activities in and near Pattaya, Thailand
1. Which water sports and activities in and near Pattaya are great for families with kids?
For a memorable adventure with the little ones, you can i) spend an exciting day at Aquaverse Waterpark to enjoy water slides, wave pools, and lazy rivers, and ii) take a private speedboat to Coral Islands for beach and water activities.
2. What water sports in and near Pattaya are great for thrill-seekers?
If your agenda in Pattaya involves feeding your adventurous spirit, you must definitely not miss going on a half-day trip to Coral Island to experience parasailing. Nothing beats seeing the natural beauty of Pattaya from a higher vantage point!
Disclosure: Trip101 selects the listings in our articles independently. Some of the listings in this article contain affiliate links.
Get Trip101 in your inbox
Unsubscribe in one click. See our Privacy Policy for more information on how we use your data