Ontario, Canada, is one of the most picturesque places with the most expansive vineyards and wineries in the world. Make the most of your time vacationing by scheduling a day trip to some of the popular wine houses. You'll find acres and acres of rich greenery, full of all manner of fruits and berries used to make the most exquisite Canadian wines. Are you thinking of going on a wine tour? No doubt, Ontario is home to the most enchanting attractions. If you're looking for ideas on some out-of-the-box places to visit, here are the top wine tours in Ontario, Canada, that you should visit.
Have you ever been to a winery by the lake? This Niagara-on-the-Lake wine tour is one of Ontario's most sought after adventures. Here, you will travel as a small group of no more than 15 people to sample a wide variety of world-class wines. A fan favorite is the ice wine, which goes oh so well with cheese.
You are free to take a morning wine tour or a more laid back afternoon tour. Either way, you will make several stops visiting different wineries and vineyards, where you will sip some of the most sumptuous wines in the region.
Small Group Niagara-on-the-Lake Wine Tasting Tour

Duration: 4 hours
Most wine tours have strict schedules already planned. One step behind and you may be too late for the bus or even miss out on a stop. But not here. If what you seek is a more personalized experience, this Niagara-on-the-Lake wine tour offers you a whopping five hours of non-stop wine tasting and exploration.
On this private tour, you will get to visit up to six wineries, including the Two Sisters Winery, Konzelmann Estates, Reif Estate Winery, Jackson Triggs, Ice House Winery, and Peller Estate Winery.
Private Winery Tour of Niagara-on-the-Lake

Duration: 1 day
Learn how to sniff, swirl, and taste wine like a pro. Part of your itinerary on this tour involves making several stops at some wineries, where you'll learn about wine crafting techniques and sip on some world-renowned wines, like Cabernet Franc, Chardonnay, ice wine, Riesling, and Pinot Noir.
Your comfortable ride comes complete with a guide. The tour lasts for one hour and there'll be lunch. If you like what you see, you can ask for accommodation after your Niagara-on-the Lake round trip.
Niagara-on-the-Lake Small Group Wine Tour with Lunch

Duration: 5 hours 30 minutes
The world-famous Canada wine belt comprises several wineries and vineyards. If you like how they taste, feel free to buy a bottle to take back to your room or back home. The Caroline Wine Cellars stop is going to be the peak of your day, as visitors will get to take a tour of the barrel room. Here, you can also pick up a gift bottle for your loved one's upcoming special occasion.
Your fee includes a driver, guide, and tasting fees. You'll sample plenty of wine on all four stops. You will, however, need to buy your own lunch. If time allows it, you can make an extra stop to shop and explore further.
Niagara-on-the-Lake Wine Tasting Tour Including Transport

Duration: 5 hours 30 minutes
The extraordinary scenes of Ontario are unbelievable. But if you've been here before, it's hard to find something that offers you more than what you've already seen. Ready for a tour experience like never before? How about a ride around some of the most revered wineries, cideries, and breweries in a Mercedes Benz?
Learn how wine is made, as well as beer and cider, and enter the craft breweries where some of your favorite beers are made. If you are lucky, you'll even get a free growler as a souvenir.
The Compromise Tasting Tour- Wine Tastings (Beer/Whisky option)

Duration: 4 to 5 hours
Visit up to four wineries and sample up to 12 different wines to get a glimpse of Niagara's good side. Here, you'll spend less time inside the tour van traversing from destination to destination. Instead, visitors will spend more time in wineries, cherishing quality experiences and sensations.
The wineries here are influenced in style and taste by other wine regions, like France, Italy, California, Spain, and Germany. There are up to 100 wineries at your disposal to tour in the designated four hours.
Private Four-Hour Wineries Tour with Tastings, Niagara Ontario

Duration: 4 hours
Ontario features a charming wine country. Your introduction to the wine scene here starts on a high note on this never seen before wine tour. Enjoy spending time with a small group of friends or family on a full-day tour by the Niagara Falls. See first-hand what Ontario has to offer.
On his tour, you'll make at least four stops. Your guide will explain most of the details regarding the events of the day, including more on wineries like Peller Estate, famous for its ice wine. The whole experience is personalized to suit your taste and preference.
Luxury Wine Tours to Niagara On The Lake

Duration: 8 hours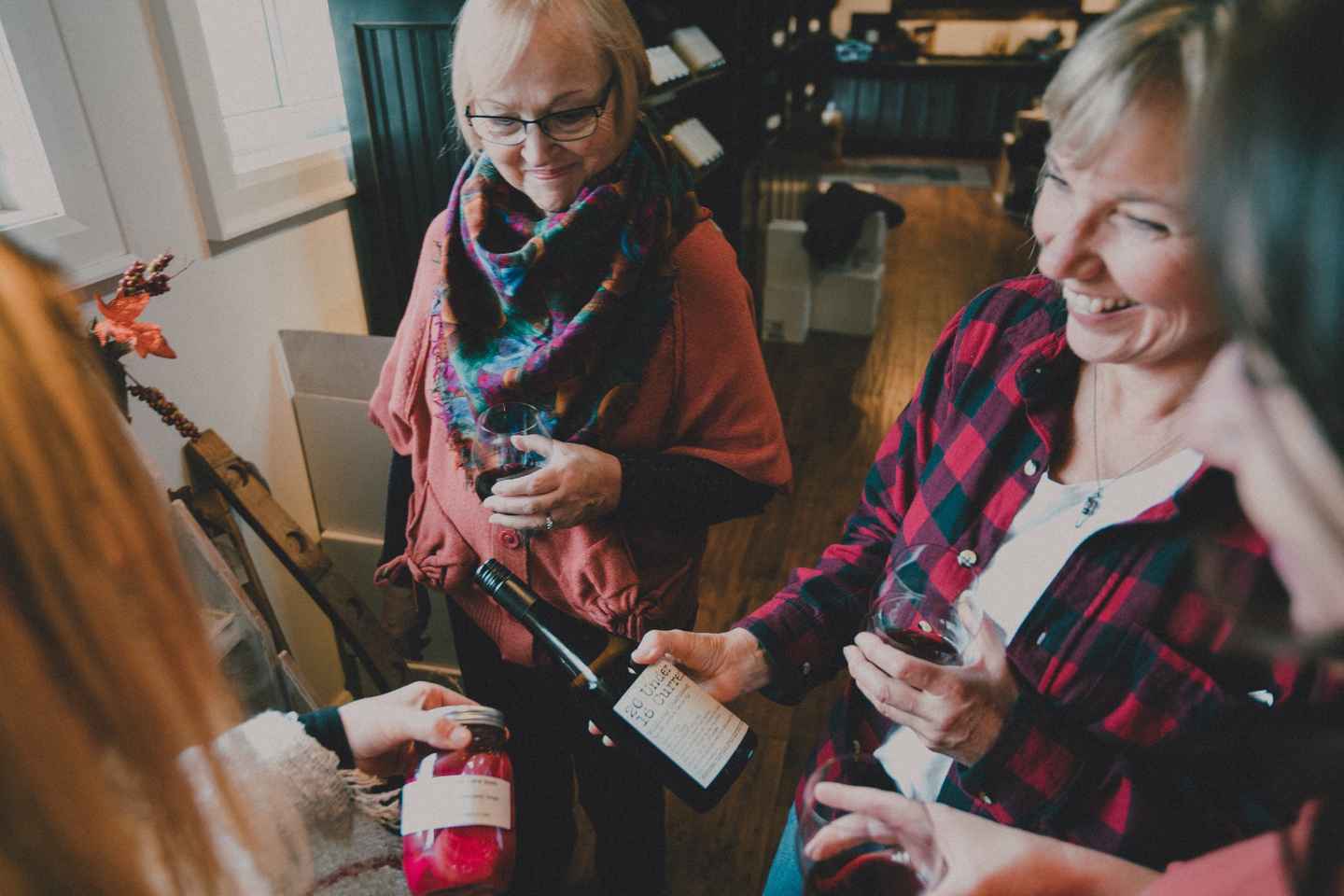 Who said that all wine tours have to be boring? Fun and luxury are quickly redefined through tons of interaction and plenty of sight-seeing. Take as many scenic selfies as you like as you travel. What should you expect? On this tour, you'll visit two to four different wineries and have plenty of time to enjoy the views.
What most people like about this tour is that, besides tasting the wines, you also get to learn about the history of the community and how the wine culture here started. The tour starts at 8.30 am and goes on for eight hours. You will sniff and sip some of the finest wines from Niagara's wineries and breathe the fresh air this part of the countryside has to offer.
Toronto: Niagara Wineries Tasting Tour & Optional Lunch

Duration: 8 hour
There's a famous saying that goes, "Where there's no wine, there's no love". So, in a quest to spread as much love as possible on this tour, you will get to sample a few tasteful wines. If you want something intimate or romantic, you can book a full guided tour that allows for a minimum of two people and includes a three-course gourmet lunch or dinner.
You may also book as a larger group of 15 people and set out to visit a smaller boutique winery or larger production wineries, breweries, and cideries.
Niagara-on-the-Lake Wine-Tasting Tour, Gourmet Lunch or Dinner

Duration: 5 hours 30 minutes
Are you a zealous wine connoisseur? Or do you love sharing some quality time with a friend over some fine wine? Whichever side you fall into, you will be awed by what this Ontario tour has in store. The entire tour lasts for a brief two hours, which is perfect for an evening activity or a last-day item.
You will taste wines collected from wineries in Ontario, as well as other wines from regions across the globe. As an accompaniment, you may be offered your favorite cheese or house-cured charcuterie to enjoy along with your glass of wine.
Toronto: Intimate Wine and Cheese Tasting with a Sommelier

Duration: 2 hour
Ontario's wine country is waiting for you
Niagara is better known for its magnificent waterfalls and breathtaking scenes. But, as is evident from the list above, Ontario is also home to some of the most pronounced wineries the world over. If wine is something you love sampling, why not make it part of your weekend or holiday itinerary? Above are some excellent wine tour ideas that will blow you away.
Disclosure: Trip101 selects the listings in our articles independently. Some of the listings in this article contain affiliate links.
Get Trip101 in your inbox
Unsubscribe in one click. See our privacy policy for more information on how we use your data