The capital of the Netherlands, Amsterdam is a historic city, well known for its elaborate canal system, lined with gabled houses from the Golden Age in the 17th century. Visit the Museum District, where you can see modern art at the Stedelijk or the fascinating Van Gogh museum and the Rijksmuseum, displaying works of Rembrandt and Vermeer. Visit quaint shops to buy souvenirs to take home and experience dining in the many restaurants. Take a bicycle and enjoy the city's many bike paths while visiting the city. If you are short on time, the following activities are recommended for 48 hours in Amsterdam, Netherlands.
The Royal Palace of Amsterdam is located next to Dam Square in the center of the city. The palace is also next to the Nieuwe Kerk and opposite the city's War Memorial. It is possible to tour the palace if no state visits are ongoing at the time.
Royal Palace of Amsterdam

Address: Nieuwezijds Voorburgwal 147, Amsterdam, The Netherlands

Opening Hours: 10:00 AM–5:00 PM

Website: Royal Palace of Amsterdam
Perfect for a rainy Amsterdam day, visit Madame Tussauds, close to the Royal Palace in Dam Square and see amazing wax replicas of celebrities, political figures and royalty. Take selfies with your favorite personality, including Justin Bieber, George Clooney and more.
Madame Tussauds

Address: Dam 20, 1012 NP Amsterdam, The Netherlands

Opening Hours: 10:00 AM–8:00 PM

Entry fee: From 18–42.50 EUR (20–48 USD)

Website: Madame Tussauds
Amsterdam Top Attractions Private Tour with Transportation

Duration: 4 hours
Day 1: Evening — Dinner at Worst Wijncafé. Stroll along the canals.
Worst in this case does not mean the obvious! The Worst wine café is a bar or "enoteca", serving wine along with fresh or dried sausage, ham and pâtés. They also serve an impressive brunch, including huevos rancheros, buckwheat crepes and German muesli. After eating your fill, take a stroll alongside the beautiful canals.
Worst Wijncafé

Address: Barentszstraat 171, 1013 NM Amsterdam, Netherlands

Opening Hours: 12:00 PM–12:00 PM

Prices for two: From 40–80 EUR (46–91 USD)

Website: Worst Wijncafé
Day 2: Morning — Late breakfast at Coffee & Coconuts. Head to Artis Amsterdam Royal Zoo.
Coffee & Coconuts is a cafe with a beach-shack vibe, surfing an eclectic menu along with craft coffee and fresh coconut juice, perfect for a breakfast feast. The cafe is located in a former cinema from the Roaring 20s and has three floors with rustic wooden furniture, comfortable cushions and plants. They serve wholesome food, most of which is organic or locally sourced. There is a Pacific Surf and a Harry Nilsson menu to choose from. They also have a branch in Bali, Indonesia.
Coffee & Coconuts

Address: Ceintuurbaan 282-284, Amsterdam, The Netherlands

Opening Hours: 8 AM–11 PM

Prices for Two: From 10–25 EUR (11–28 USD)

Website: Coffee & Coconuts
Het nieuwe buitenverblijf van de Aziatische olifanten is genomineerd voor de Gouden A.A.P. 2018. Al eerder won ARTIS de...

Posted by ARTIS on Monday, 26 March 2018
Artis Amsterdam Royal Zoo (Natura Artis Magistra) is the oldest zoo in the Netherlands and is located in the heart of the city. Visit the lemurs, deer, lions, elephants, monkeys and other creatures or gaze at the colorful flamingos, all in natural settings. Each habitat is surrounded by trees and plants. There is also a planetarium and aquarium on site as well as an art collection to browse.
Artis Amsterdam Royal Zoo

Address: Plantage Kerklaan 38-40, Amsterdam, The Netherlands

Opening Hours: 9 AM–5 PM

Entry Fee: From 19.50–23 EUR (22–26 USD)

Website: Artis Amsterdam Royal Zoo
The Rijksmuseum is located in Museum Square in the south of Amsterdam, close to the Stedelijk Museum and Van Gogh Museum. Exhibits are dedicated to the history and arts of Amsterdam. Enjoy viewing the magnificent works of Rembrandt van Rijn and Johannes Vermeer.in the Rijksstudio.
Rijksmuseum

Address: Museumstraat 1, Amsterdam, The Netherlands

Opening Hours: 9 AM–5 PM

Entry Fee: 17.50 EUR (20 USD)

Website: Rijksmuseum
Vondelpark is the most famous park in the country and the largest of its kind in Amsterdam. It is a pleasant visit on a sunny day and in summer there are free concerts in the open-air theatre and the park's bandstand. In the park visit the statue of the poet Vondel, the Groot Melkhuis with its children's playground and the Pavilion where meals can be enjoyed in the Cafe Vertigo.
Vondelpark

Address: Vondelpark, Amsterdam, The Netherlands

Opening Hours: 24 hours a day, every day of the week

Entry Fee: Free

Website: Vondelpark
Skip-the-line Rijksmuseum & Rembrandt House & City Tour - Semi-Private 8ppl Max

Duration: 5 hours 30 minutes
Enjoy dinner at a restaurant of your choice before heading to your Amsterdam canal cruise, where you can sip on the best European wines while listening to a fascinating commentary about the history and culture of the city. A guide will also answer any questions you may have about the European wines on offer. Timing of the cruise varies, but a visit to the official website will give more information.
Amsterdam Canal Cruise

Address: Stadhouderskade 78, Amsterdam, The Netherlands

Opening Hours: Varying.

Entry Fee: From 15–24 EUR (17–27 USD

Website: Amsterdam Canal Cruise
Amsterdam Fine Wine Cruise

Duration: 1 hour 30 minutes
Day 2: Night — Drinks and video games at TonTon Club Center.
The TonTon Club West offers cuisine which is a fusion of Japanese and American dishes, including the famous ramenburger, salads, snacks and subs with Japanese whiskeys and boozy milkshakes to wash down the food. Dance after dinner in the Dance Dance Revolution room or enjoy playing a variety of arcade games.
TonTon Club West

Address: Sint Annendwarsstraat 6, Amsterdam, The Netherlands

Opening Hours: Most weekdays 1 PM–1 AM. Mondays and Tuesdays from 1 PM–3 AM

Website: TonTon Club West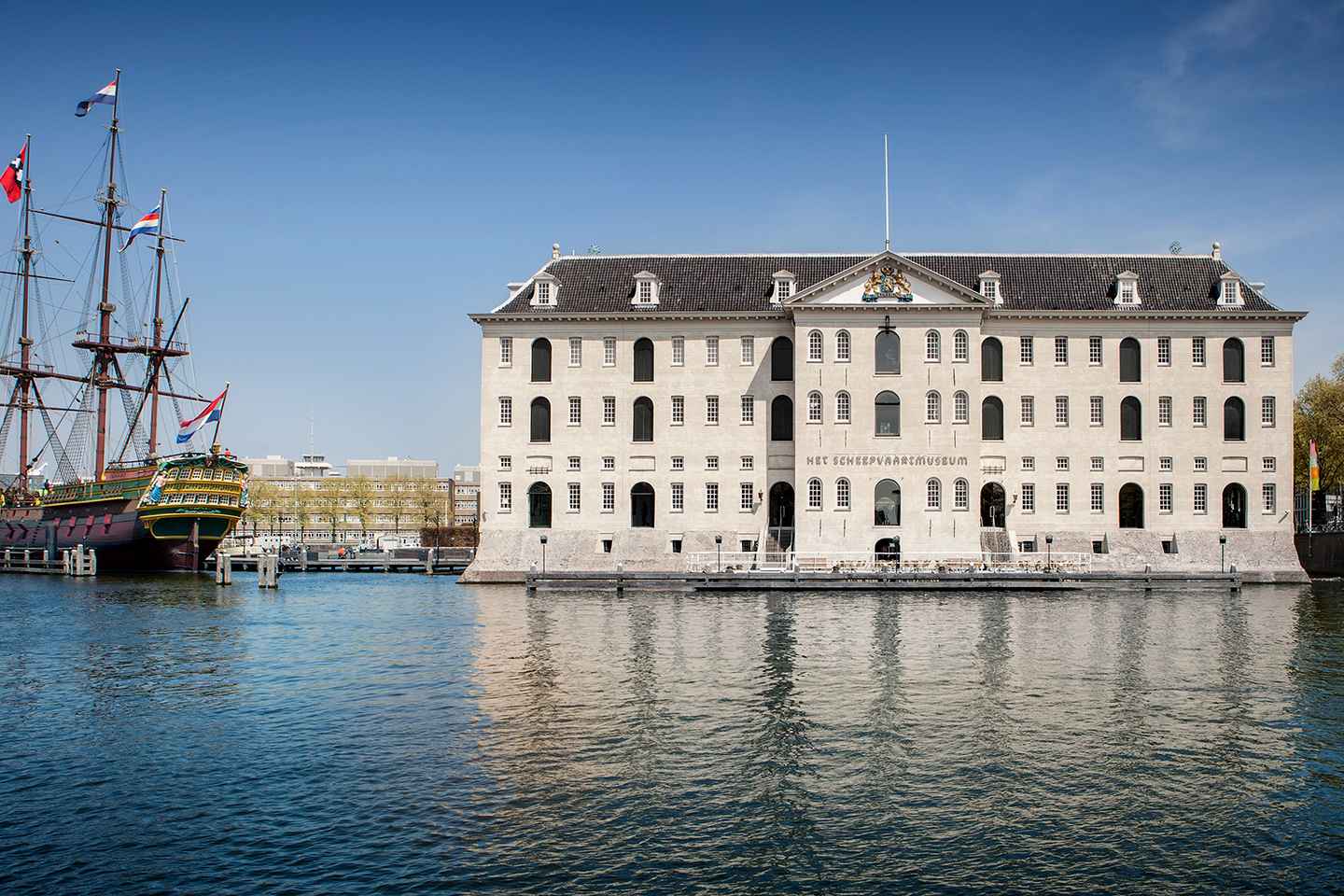 The Breakfast Club Amsterdam serves breakfast all day with flavors from London, New York and Mexico. Tuck into grilled cheese sandwiches, pancakes or a full English breakfast, accompanied by fresh fruit juices. Lunch items are also available, including a variety of open sandwiches.
The Breakfast Club

Address: Bellamystraat 2-H, Amsterdam, The Netherlands

Opening Hours: Weekdays 8 AM–4 PM, Weekends 8 AM–5 PM

Prices for two: 22–40 EUR (25–45 USD)

Website: The Breakfast Club
The National Maritime Museum (Het Scheepvaartmuseum) is housed in a former arsenal from 1656. The museum opened in 2011 and highlights the importance of the city's maritime history. There are audio visual and interactive displays of maritime oil paintings, model ships, charts, weaponry and silverware on display. The museum also covers controversial issues, such as the whaling industry and the European slave trade.
National Maritime Museum

Address: Kattenburgerplein 1, Amsterdam, The Netherlands

Opening Hours: 9 AM–5 PM

Per person price: 8–16 EUR (9–18 USD)

Website: National Maritime Museum
Amsterdam: National Maritime Museum Skip-the-Line Ticket
Day 3: Afternoon — Visit the NEMO Science Museum. Relax and have some coffee at Smoke Palace
NEMO Science Museum is located in the Oosterdokseiland neighborhood between the Oosterdokseiland and the Kattenburg. Learn about the universe here and do chemistry experiments in the laboratory. Find out all about mathematics and shapes and how they relate to the world surrounding you.
NEMO Science Museum

Address: Oosterdok 2, Amsterdam, |The Netherlands

Opening Hours: 10 AM–5:30 PM every day, but closed on Mondays.

Entry Fee: From 16.50 EUR (19 USD) for all persons over the age of 4

Website: NEMO Science Museum
Editor's note: establishment is permanently closed
Smoke Palace coffee shop and lounge is among the oldest coffee shops in Amsterdam. It was founded in 1990. Customers can relax with a cup of coffee and a (legal) joint, reading the latest newspaper or using the coffee shop's free Internet. The coffee shop also has a large terrace with a lovely view.
Smoke Palace

Address: Linnaeusstraat 83, Amsterdam, The Netherlands

Opening Hours: 7 AM–1 AM

Website: Smoke Palace
Day 3: Evening — Stroll in Dam square for some shopping before departure
Take a comfortable stroll around Dam Square with its trendy shops, like Magna Plaza and Bijenkorf or the Amsterdam Diamond Center. Should you need a break from your retail therapy, there is a variety of excellent restaurants, cafes and food stalls to choose from.
Dam Square

Address: Dam Square, Amsterdam, The Netherlands

Website: Dam Square
A visit to Amsterdam
Enjoy this brief, 48-hour tour of Amsterdam! There is so much more to see in the city you are sure to be back for more.
Disclosure: Trip101 selects the listings in our articles independently. Some of the listings in this article contain affiliate links.
Get Trip101 in your inbox
Unsubscribe in one click. See our Privacy Policy for more information on how we use your data