Situated on the coast of the Persian Gulf, Dubai is a haven for tourists from all over the world. The city is surrounded by the Arabian desert, which offers the residents and tourists alike to indulge in adventure activities. From dune bashing to desert safaris, and from hot balloon rides to a seaplane flight, there is something for everyone here. If you would like to experience something extra apart from the glitz-filled touristy attractions that Dubai has become popular for, these adventure sports will definitely leave a lasting impression on you. Check out these best adventure sports in Dubai, UAE, if you are an outdoorsy person and want to get an adrenaline rush.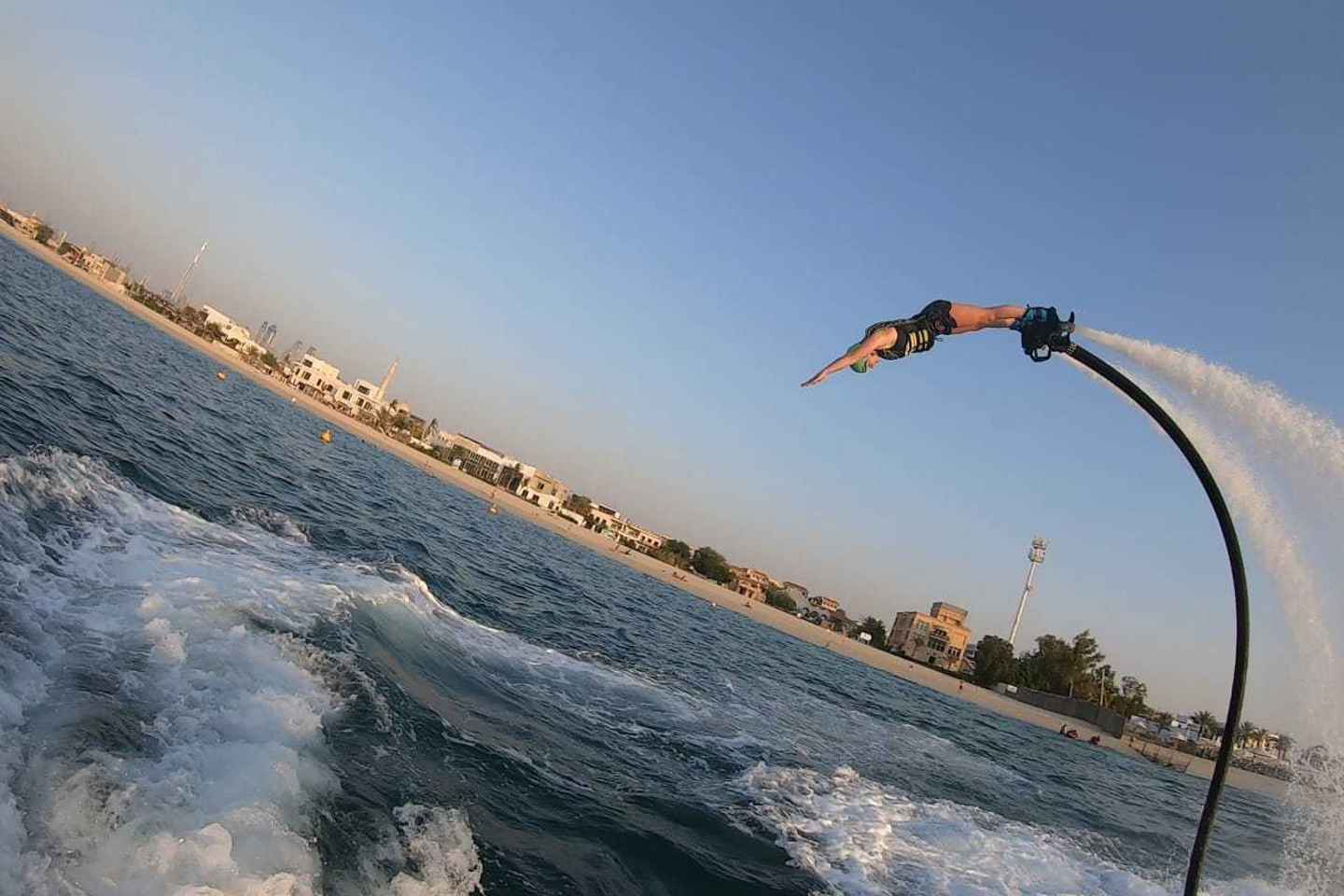 Flyboarding has gained immense popularity in Dubai. The activity includes a board featuring a hose, which is then attached to the engine of a jet ski. It is possible to maneuver the board while the rider is in the air, using hand controls. Even the bodyweight of the rider can be distributed accordingly. The tour allows you to float up to a height of 10 meters (32.8 ft) above the water. An experienced flyboard rider can polish their flying skills, while a beginner can learn the skill under the guidance of a professional and certified instructor.
Dubai: 30–Minute Flyboard Experience
The tour offers you an opportunity to see the desert city from an entirely new perspective, i.e. from high above the water. The thrilling parasailing adventure will enable you to go above the sparkling Arabian Gulf and marvel at the beauty of Dubai Marina, Palm Jumeirah, as well as many other top-notch attractions located off the city's amazing shoreline. However, the tour is meant exclusively for adventure freaks and is not for the faint-hearted. The tour features several departure times, so pick one according to your convenience and comfort level.
Jumeirah Beach Parasailing Experience in Dubai

Duration: 1 hour
If you are in Dubai and did not go for a desert safari, you have not experienced the city at all. This tour takes you into the desert, where you can indulge in dune bashing and desert camping, ride a camel, go sandboarding, enjoy a scrumptious dinner, and you even get to wear Arabic robes. There are plenty of entertainment options, too.
Dubai Royal Adventure Desert Safari Evening Tour

Duration: 6 hours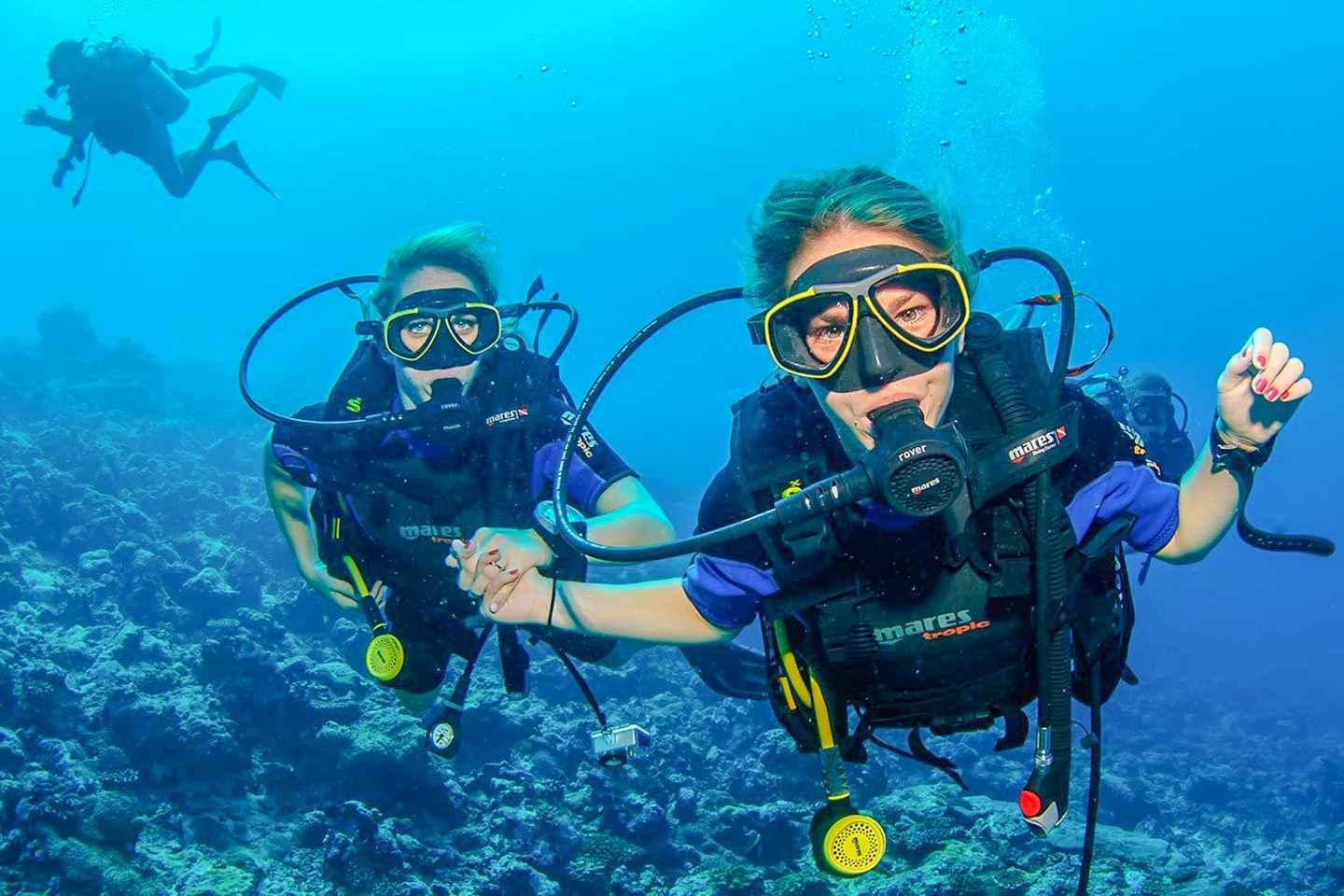 This amazing scuba diving tour will let you explore the diverse sea life. There are three different starting times to choose from, according to your convenience. It is an excellent tour, even for a beginner, as a professional instructor will always be there to guide you. You can also have your underwater picture posted on social media. The entire scuba diving tour lasts for around two hours.
Discover Scuba Diving in Dubai

Duration: 2.0 hour
Dune bashing an increasingly popular sport, which offers an elated desert experience. A person is strapped into a powerful vehicle's seat as it takes the passengers on an exhilarating ride over the sand dunes. Proceed into the desert on the outskirts of Dubai to relish a fun-filled evening of entertainment and gourmet dining. You will also enjoy an exciting dune bashing ride as an experienced driver will take you on an adrenaline-gushing adventure. Also, you can participate in activities like camel riding while enjoying Arab dance, music and hookah at a desert camp.
Dubai Desert 4x4 Dune Bashing, Self-Ride 30min ATV Quad, Camel Ride,Shows,Dinner

Duration: 7 hours 30 minutes
6. Sea Breacher Ride
Photo is only for illustrative purposes
Seabreacher ride is an exciting water-based activity. It is a one-of-kind watercraft that can go underwater, as well as float on the surface. The watercraft has an uncanny similarity to that of a deadly shark. A seabreacher can go five to six feet (1.5 to 1.8 meters) deep under the water and a maximum speed of 80 km per hour (49.7 miles per hour) above the surface. This relatively new ride in Dubai is worth trying if you want to experience the joy of riding under the water, as well as on its surface.
Welcome to this exciting hot air balloon ride tour in Dubai, which you will cherish for years. You have to get up early and an air conditioned minibus will take you to the launch venue. Finally, it is time to soar over the magnificent dunes in the company of your experienced pilot. It will be an excellent sight to see falcons flying at great heights as you glide over. End this thrilling experience with a delicious breakfast after you return to the ground. The package, as is obvious, includes a falcon display and a delectable breakfast.
Dubai Hot Air Balloon Ride with Breakfast and Falcon Show

Duration: 5 hours
An experienced skipper will take you to some of the best fishing locales near Dubai. It is difficult to locate these spots on your own. As you head to the sites, you will also get a chance to marvel at the amazing skyline of Dubai. Bait and fishing rods will be provided to you on this fishing trip. Catch anything from snapper and barracuda during this deep-sea fishing tour. The tour is perfect for experienced anglers as well as beginners and for people belonging to different age-groups, featuring different departure times.
4 Hours Dubai Deep Sea Fishing

Duration: 240 to 360 minutes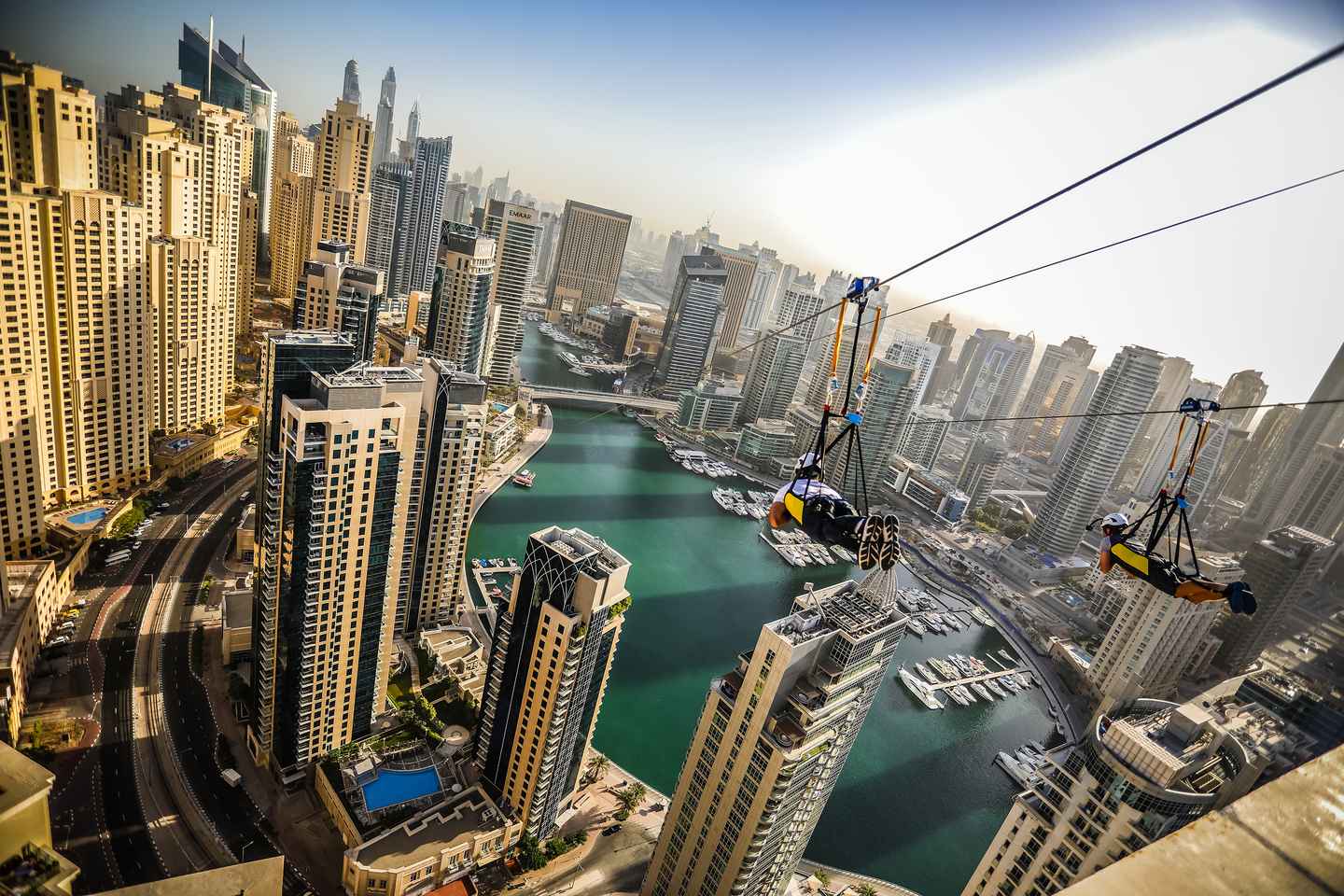 The city of Dubai boasts the longest urban zipline in the world. So, in case you are looking for an adrenaline-gushing experience, the city is ideal for you. You will invariably fall in love with the urban zipline spanning across the lovely Dubai Marina. The tour enables you to increase your speed to a maximum of 80 km per hour (49.7 miles per hour). It is possible to ride on parallel ziplines, with a friend or even solo. The duration of this tour is one hour.
Dubai: Zip Line across the Marina
Want to see the desert city from the top? Then, this adventure tour is perfect for you. A 40-minute ride in a seaplane will take you over the major attractions of the city, including Burj Khalifa, Palm Jumeirah, and Burj Al-Arab, among others. There are three different departure times and two take-off locations — you can choose according to your suitability.
Dubai Seaplane Flight

Duration: 45 minutes
Experience the joy of adventure sports in Dubai
Dubai is one of the most sought after tourist destinations in the world, which promises unforgettable memories. So, it is time to plan your itinerary as soon as possible. Simply make sure to incorporate as many adventure sports and tourist attractions as possible. That is the only way to enjoy and experience everything Dubai has to offer.
Disclosure: Trip101 selects the listings in our articles independently. Some of the listings in this article contain affiliate links.
Get Trip101 in your inbox
Unsubscribe in one click. See our privacy policy for more information on how we use your data