Some of you may already know that Jaipur in India is known as the Pink City. But do you know why? Jaipur is the capital of Rajasthan and under the rule of Sawai Ram Singh, the area was painted pink to represent hospitality. To this day, pink is still very prominent throughout the city. There are numerous landmarks such as the Hawa Mahal and Jal Mahal, which are breathtaking and bustling throughout the day. In addition, the Amer Fort offers stunning architecture, and the Jantar Mantar, a huge equinoctial sundial, are worth visiting, too. There are many unique stories that make Jaipur a special place for the thousands of tourists that visit each year. But, there is a newer reason why Jaipur is becoming more popular. Adventure activities. The landscapes, sights, and hospitality of the area make this a prime location to enjoy off-road racing, camel rides, hot air balloons, and so much more. So, if you want a once in a lifetime vacation with a little more thrill, read our list of the best adventure sports in Jaipur, India, today. A whole new world awaits…
1. Paragliding
Photo is only for illustrative purposes
Paragliding is quickly becoming one of the most popular adventure sports across India. We think that one of the main reasons for this is the absolutely breathtaking views that you can enjoy from the sky. It will be like no other experience that you have ever had in your life. You can receive training sessions before you take to the sky, or be attached to an expert. Either way, your dream of seeing this fascinating country can come true in Jaipur. The time for this activity is between one and two hours.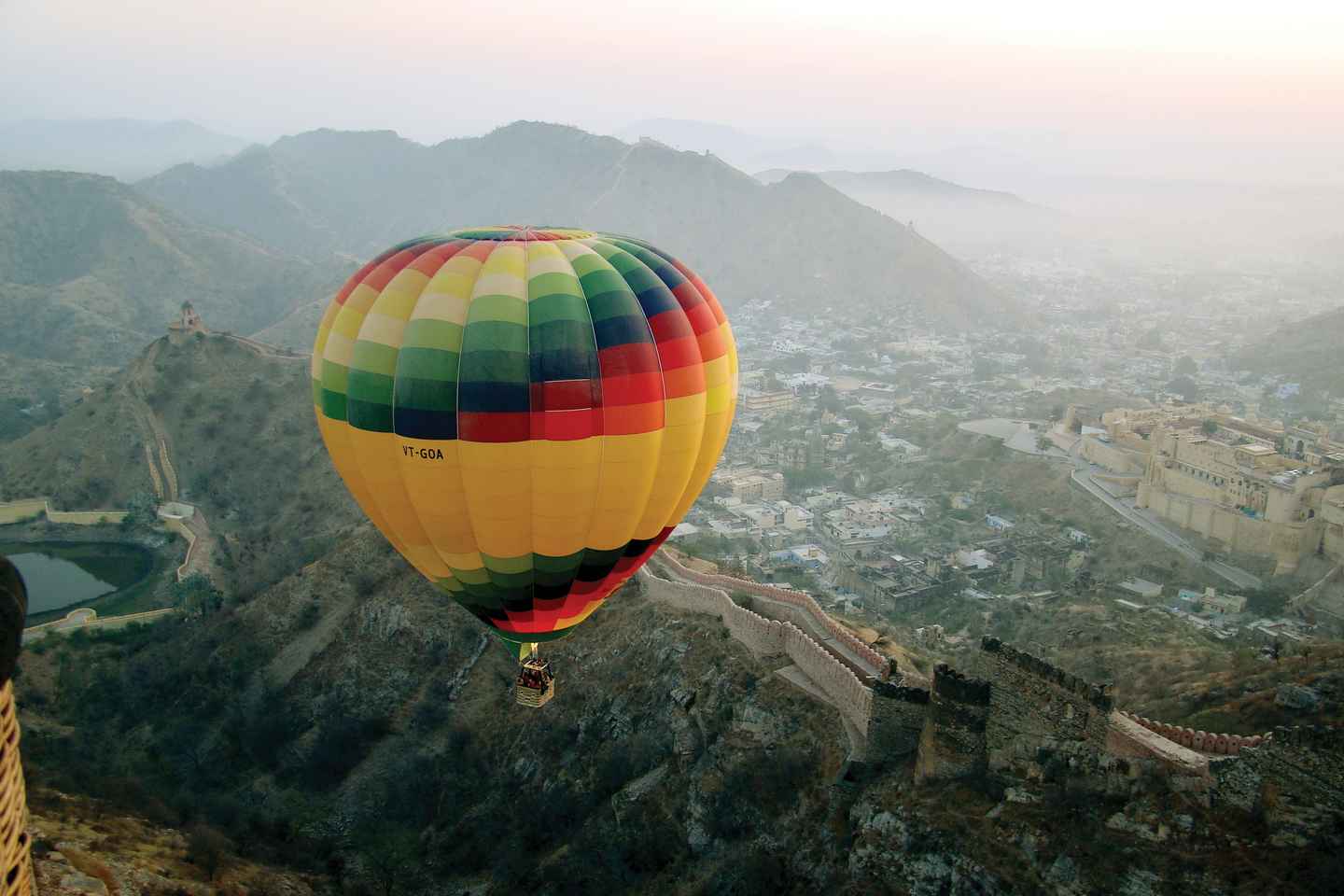 Another way to see this great city from the sky is to enjoy your very own hot air balloon ride. During this tour, which lasts for one hour, you can enjoy hearing about the sights, as you soar above them, from a knowledgeable English-speaking tour guide. Before the launch, you'll be offered some light refreshments included in the price and afterward, for an additional charge, you can purchase in-flight pictures. As this is a sunrise tour, we also think it's one of the most romantic adventure sports activities in Jaipur.
Jaipur: Hot Air Balloon Safari

Duration: 1 hour
3. Paintball
This time, you will have your feet firmly on the ground, but you will need to keep your wits about you. In teams, you'll be given all the safety gear and a set number of colored pellets. Don your wear, head out into the 'arena', and prepare for battle. Can you come out unscathed or will you be hit by the enemy with pellets? This fun-filled experience is great for families and friends alike. Of course, if you're not very good at aiming, you may need to purchase additional pellets. Time to relieve some of that work stress. Two of the most popular spots in the city where you can play paintball are WarZone Paintball at Snow Planet, and Mastiii Zone Flavors GT Central.
4. Zorbing
Photo is only for illustrative purposes
Okay, so let's begin with a quick introduction for those of you who have never heard of zorbing. There are now numerous styles but in Jaipur, the most popular is body zorbing, which entails a person wearing a huge inflatable ball around their midriff and running around. Now, this might not sound like an adventure sport, but throw in a few other people and you soon have some kind of running, rolling, bouncing sumo-match happening before your eyes. We love that because of the zorb ball protection, this activity can be enjoyed by lots of different ages. Let's just hope that if you fall down, you can get back up again.
5. Camel Ride
Yes, they spit so watch out for that, but we still think that a camel ride is an excellent way to explore Camel rides are most popular in the area around the stunning Jal Mahal (water palace). Most camel rides can be anywhere, from one hour to six hours, depending on what you want from the activity. Being atop a camel and enjoying some of the most beautiful landmarks is an adventurous way to enjoy Jaipur.
If you want an adventure sport that also includes seeing more of the local area, then look no further. In groups of up to four, and with an English-speaking guide, you'll be able to traverse longer distances. You'll meet with local farmers, have an opportunity to participate in farming, and of course, attempt the difficult roads. This challenge will see you drive through villages and mountain trails on your exploration. Not only can you have an intense and fun driving experience, but you will also learn more about the daily lives and culture of those that live in the villages of India. An adventure sport with a unique insight, too.
Jaipur Village Jeep Safari

Duration: 3 Hrs Duration
7. Elephant Ride
If you have never been able to experience an elephant ride, Jaipur is the perfect place. Nothing beats sitting atop an elephant and being in awe at the sheer power and beauty of this magnificent animal. In order to ensure that you choose the most suitable group, and one that is clear of any potential animal cruelty, we recommend doing full research before you book. However, don't let this put you off because an elephant tour is a once in a lifetime opportunity. You'll be able to see magnificent landmarks, such as the Amber Fort, Jal Mahal, City Palace, Jantar Mantar, and Hawa Mahal.
For pure adventure, set your sights on this 30 minutes off-road trip. After being given full safety instructions, you'll head out onto this 5 km (3 miles) tour in your very own ATV, which you can choose. All of the vehicles are safe for first-time users and so this is a fun adventure sport that everyone can enjoy. You can take in the views of the stunning nature as you whizz past your surroundings, and even get to explore the countryside. Your heart will be pounding non-stop with this adventure activity.
Off Road ATV Adventure

Duration: 30 Min Duration
9. Rifle Shooting
Photo is only for illustrative purposes
Rifle shooting is an extremely popular sport in the area and there are a number of bases to choose from. In fact, the National Rifle Association of India has organized the National Shooting Championship Competitions in Jaipur. Rifle shooting is an incredible sport for all ages and genders. You can choose to have a long-term series of classes, with the aim to improve. If you're short on time, opt for one-day experience, where you can practice shooting targets and learn safe handling. Whichever you choose, expect it to be loud and a fun challenge.
Camping in Jaipur takes on a whole new meaning. this isn't just any camping, this is adventure camping. This two-day, one-night experience begins with an open-air ride over the bumpy sand dunes of Jaipur. It's then time for the first challenge to begin as you tackle other players in a tug of war, Australian trolley, Burma Bridge, tire hurdle, and even a Tarzan swing. At the end of the day, you'll also relish a lavish starlit dinner. The following morning starts the day right with a nature hike through the Aravali Hills before returning home.
2D1N Adventure Camping in Jaipur
Get your heart racing in Jaipur
That's it! We've come to the end of our list, but if you're sitting on the edge of your seat with excitement, fear not. You can start planning your next adventure trip to Jaipur, India, and book all of these tours today.
Disclosure: Trip101 selects the listings in our articles independently. Some of the listings in this article contain affiliate links.
Get Trip101 in your inbox
Unsubscribe in one click. See our privacy policy for more information on how we use your data