When people mention the Red Light District they immediately think of . Amsterdam's notorious party center of the city. Despite many cities worldwide having their own red light districts, Amsterdam's is easily the most recognized one out of them. Bringing in tourists from all around the world, the area known as De Wallen to locals is steeped in reputation and legend–but what is certainly true is that the Red Light District is a must-see area if you're visiting Amsterdam. The area is not just the city's center of salacious activities but its history goes back to at least the 13th century. If you're looking to get acquainted with this bustling part of Amsterdam, here is a guide to Amsterdam Red Light District.
Things to do
Go on a pub crawl
Try out one of the many pubs or clubs that are around and let loose. Of course, what happens at many of these bars and clubs is a little different from traditional ones but if you're just looking to grab a drink and dance then you shouldn't have any problems finding a club that will cater to your tastes. If you're more the sit-back-and-have-a-pint type of person, there are also traditional Dutch brown cafes in the area. A "brown cafe" is similar to a typical British-style pub, with a selection of beers available and finger food to snack on. Bars and clubs typically stay open pretty late around the Red Light District so you can always hop from place to place
Tour the local museums
If you're in the city for a short amount of time or you're simply not interested in the nightlife scene, check out some of the Red Light District's most interesting museums. The neighborhood has been in an important part of the fabric of Amsterdam for generations and because of its proximity to the harbor, the Red Light District has seen migrants and sailors come and go since the medieval era. Check out a few historically fascinating places like the Saint Nicolas Church which is set on top of a 17th-century merchant's house and has a museum in the attic. For more thematic museums there is also Museum of Prostitution, Museum of Eroticism, and Museum of Cannabis.
Go for a walk
Contrary to what a lot of people may think the Red Light District is a very safe part of the city with little actual crime happening here. The area is almost always filled with tourists and so the area is pretty safely patrolled by security. The neighborhood has been around since the 13th century and is a beautiful old place with a lot of interesting architecture, shops, bars, and restaurants to see and discover. Since the neighborhood is in the old city many aspects of it are very quintessentially Dutch in its architecture. Take a walk through the area during the day and again at night and see two very sides of the legendary neighborhood. It's free and not very time consuming for the traveler on a budget or the traveler short on time.
Partake
If the curiosity and the stories get the better of you, there are always plenty of options to partake in the fun. Window shopping is recommended and there are varieties for every taste. Peep shows, strip clubs, and theaters can all be found here as well as perfectly legal prostitution. If the drug culture is more your thing, head to one of the many "coffeeshops" in the area and feel free to inquire about what they have in stock.
What to eat
FEBO
For a really weird and quintessential Amsterdam experience head to FEBO near The Oud Church. The concept is greasy diner-style food meets Japanese vending machines. Fried food is presented in a vending machine-like oven where guests then deposit money and get their food. Everything from burgers to fried noodles, egg rolls, and french fries can be found here.
Amsterdamsche Vishandel Anno 1938
For something a little more home-style, this restaurant has been open since 1938 serving the Red Light District's most delectable fish and chips. The store retains is its vintage feel while also serving some Dutch specialties like herring and fried kibbeling.
Things to buy
Adult toys
Since you're in the area why not pick something up for yourself. The Red Light District is very open-minded about all genders and orientations so if you're looking for that quintessential Red Light District souvenir, check out one of the many stores in the neighborhood. They are non-seedy, open-minded, and very helpful with any questions you might have.
Souvenirs
If you're just looking to purchase some cool souvenirs and trinkets from one of Amsterdam's most iconic neighborhoods, there are a variety of souvenir shops around the area selling everything from souvenir t-shirts to mugs and keychains. Souvenir Shop Baba B.V located near The Oud Church is one of the best souvenir stores in the area and also has a wide variety of marijuana paraphernalia like pipes and accessories.
Travelers tips
Etiquette
Despite what its reputation might tell you, there are rules and order to the Red Light District. Never take pictures of the working women–it is strictly prohibited and any attempts to do so will not be worth it if you get caught. Drugs are confined to "coffeeshops" but alcohol and smoking tobacco are not allowed inside those establishments. If you are going to partake in drugs here, it is considered in poor taste to do it out in the open.
Tourist scams
The Red Light District is generally a crowded space making it an easy area for pickpockets to occur. Always make sure you keep your valuables close to yourself. If you are planning to partake in the city's liberal drug policy, always buy from a vendor in a "coffeeshop" and not from a vendor on the street. It is illegal and generally more dangerous for no benefit.
How to get there
By bike
If you're going anywhere in Amsterdam, going by bike is the way to do it. Bike rental shops are abundant and bike stands are found everywhere. Prices range from a few Euros per hour and you feel like a local while you zip through the city
By metro
The public transport in the city is some of the best in Europe with trams, buses, and metros being easily accessible throughout the city. A contactless card is loaded with money and used on all systems interchangeably. Get off at Nieuwmarkt station and head west for a minute or two.
By tram / bus
Working on the same contactless card system as the metro, the bus and tram station here are side by side at Dam station. The numbers 4 and 14 trams go here as well as the N85 and N87 bus.
Amsterdam Red Light District information
Amsterdam Red Light District

Address: De Wallen Amsterdam, Netherlands

Opening hours: 24 hours (daily)

Department of tourism: Visit Amsterdam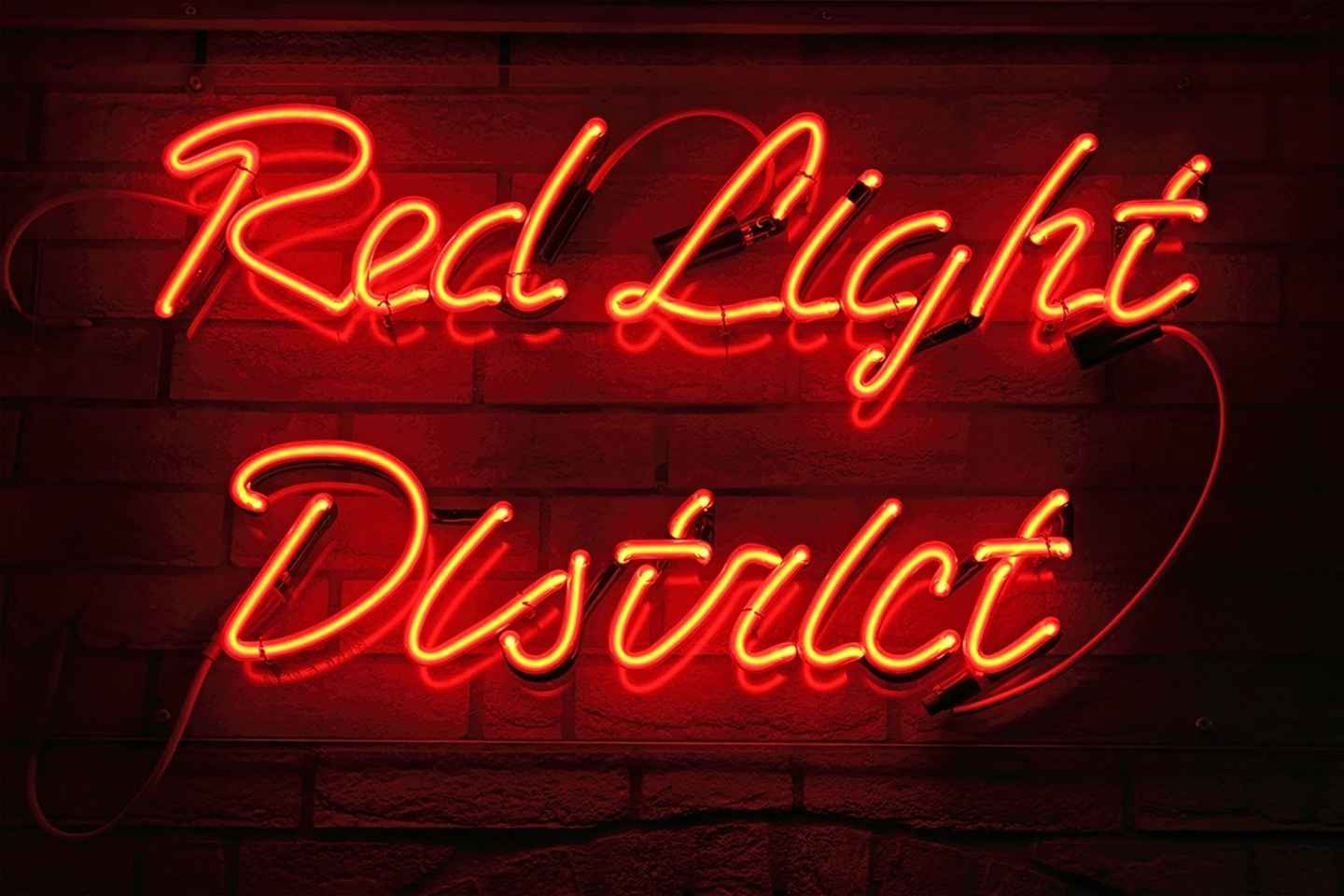 Amsterdam: Red Lights & Dark Amsterdam Tour

Duration: 1.5 hour
Disclosure: Trip101 selects the listings in our articles independently. Some of the listings in this article contain affiliate links.
Get Trip101 in your inbox
Unsubscribe in one click. See our Privacy Policy for more information on how we use your data