Nestled between the Atlantic Ocean and the Caribbean Ocean, you'll find the stunning tropical island known as the Dominican Republic. It's such a beautiful part of the world that tourists from the United States and other parts of the world love to visit regularly. One of its key locations is Punta Cana, which is a town renowned for its luxurious party resorts, grand hotels, and stunning beaches. Here, you'll find many attractions to fill up your days and nights, and even host a memorable bachelor party. These include the Coco Bongo Show & Disco that's one of the hottest nightspots in the area, Coconut Bar that boasts an amazing vibe, and Hip Hop Cave that lives up to its name. Check out our comprehensive list of the top 10 bachelor party ideas in Punta Cana, Dominican Republic, and plan your upcoming trip accordingly.
Punta Cana's shores are stunning and incredibly inviting, and they'll likely get you in the mood for fun things to do in the water. We recommend this thrilling parasailing excursion that includes a boat trip and parasailing high in the air along the coastline. If you're afraid of heights, then do keep in mind that parasailing only lasts for approximately 10 minutes, and you're bound to get over your fear once in the air. Hopefully, your mates that you've invited over for your bachelor party will offer some encouragement.
Parasailing Yacht Experience in Punta Cana

Duration: 8 minutes
There's no denying that Punta Cana is a natural wonderland that will take your breath away. Uvero Alto Beach is particularly striking with its sandy shores and swaying palm trees. But there's no better way to explore this peace of heaven, then on horseback. Fortunately, there's this horseback riding adventure led by a trained guide that will excite you and your friends that you've invited for your bachelor party.
Punta Cana Horseback Riding Adventure with Round-Trip Transfer

Duration: 2 hours
3. Enjoy dinner and drinks at Coconut Bar
Photo is only for illustrative purposes
Another great spot to hold a bachelor party is at the Coconut Bar, which is a laid-back and stylish bar that often holds live music events. It's renowned for its delicious chicken croquettes and cooked laing, and also for its tasty beers and drafts. And, you'll probably want to spend many hours here due to the cozy vibe and friendly people.
Coconut Bar

Address: Avenida Barceló, Punta Cana 23000, Dominican Republic

Opening hours: 5pm - 2am (daily)
If you're looking for an affordable and fun way to keep your guests entertained during your upcoming bachelor party, then check out the Punta Cana: Party Boat Cruise. You and your entourage will board a catamaran and offered unlimited drinks and snacks to get you all in party mode straight away. Furthermore, you'll have an opportunity to do some snorkeling and swim among the beautiful tropical fish. Do keep in mind that this cruise isn't suitable for those that are disabled or pregnant.
Half-Day Cruise with Snorkeling Experience in Punta Cana

Duration: 4 hours
5. Go bowling at Ocean El Faro Bowling Alley
Photo is only for illustrative purposes
Ocean El Faro is a massive and stunning holiday resort that attracts international tourists. It's also a great location for hosting a bachelor party since your guests can stay here, which you'll agree is very convenient. But what will you do to pass the time? Well, you could always head over to the on-site bowling alley with your entourage and enjoy a gripping game or two of ten pin bowling. And when you're done, you can spend the rest of the day at the resort's amazing bars, restaurants, spa centers, and swimming pools.
Ocean El Faro Bowling Alley

Address: Carr Uvero Alto, Punta Cana 23000, Dominican Republic

Website: Ocean El Faro Bowling Alley
Are you and the friends that you'll be inviting over to your bachelor party nature lovers? If that's the case, then consider a day at the Bavaro Adventure Park. Here, you'll have the opportunity to partake in adventure activities such as bungee jumping, horseback riding, and Segway tours, to name a few. However, you'll only be able to choose three activities, but that's more than enough to keep you and your mates busy for much of the day.
Bavaro Adventure Park Adventure Package and Admission Ticket

Duration: 6 hours
Hip hop is one of the most popular genres in the world, and there are many clubs where you can enjoy this type of music. But if you're planning on visiting Punta Cana to hold a bachelor party, then you'll want to check out one of the city's hottest nightspots. The Imagine Punta Cana Night Club is situated inside an actual cave and features an open bar and VIP tables. But it's the energetic and vibrant crowd that truly helps to elevate the atmosphere, and you'll want to party until the early hours of the morning.
Hip-hop Night - Infinity Club - Open 7 days a week

Duration: 3 to 4 hours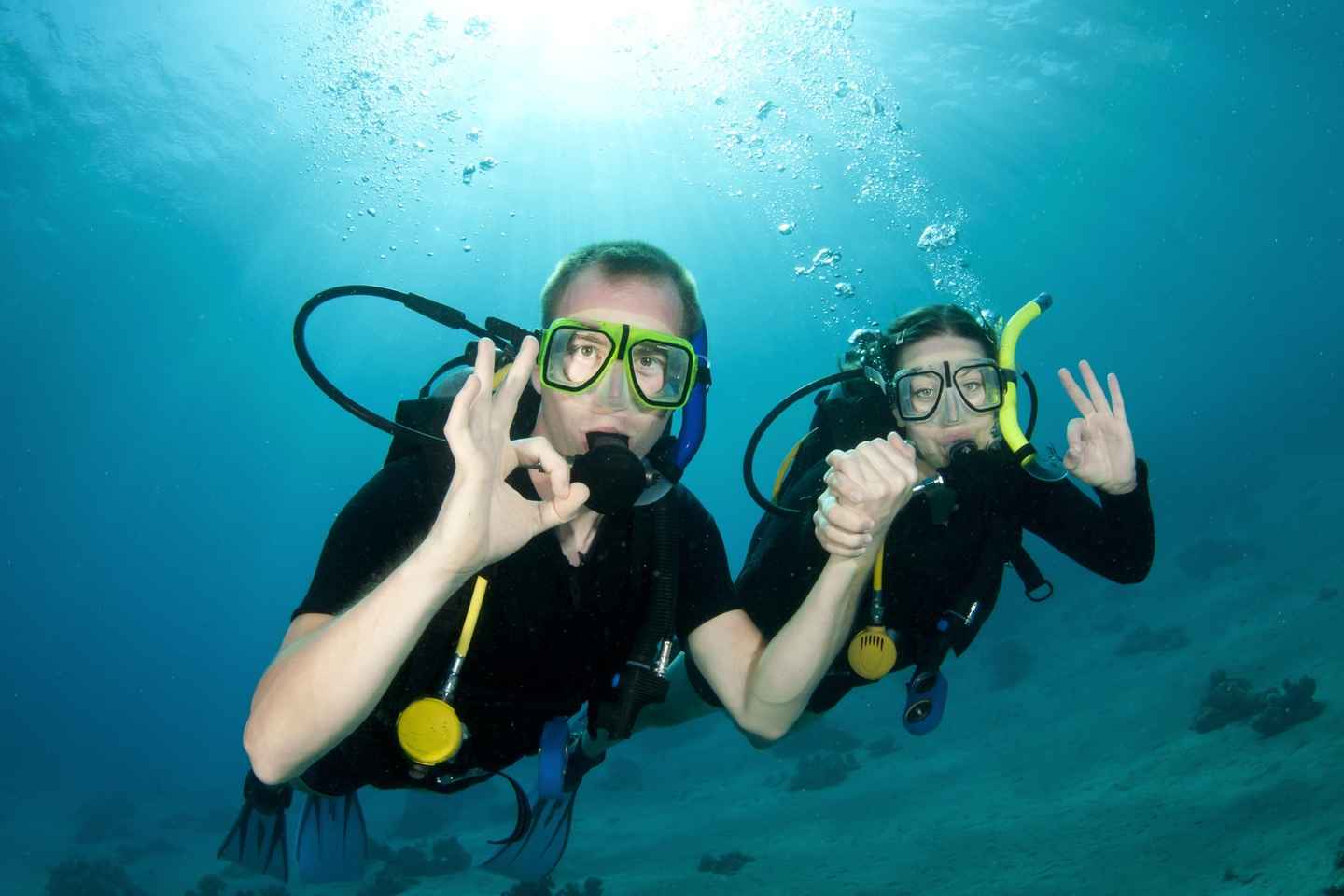 Do you want your upcoming bachelor party to truly stand out? Then, consider this exciting scuba diving excursion that is perfect for beginners. You'll be provided by an instructor who is fluent in English, French, and Spanish to teach you and your mates the basics of scuba diving. You'll be pleased to know that the waters near Punta Cana are warm and feature a variety of sea life.
First Time Scuba Diving Experience

Duration: 1 day
Treat yourself and your mates to a game of golf during your bachelor party. The good news is that you can do this at an exclusive Nicklaus Golf designed course that is situated at Cana Bay. Expect attentive and friendly staff, and you can find all golfing accessories you need at the pro shop that is located on the premises. And, don't forget to bring along your camera or smartphone to take snapshots of the lovely scenery.
Punta Cana, 4-Hour Hard Rock Golf Package, Open Bar, Pickup

Duration: 4 hours 30 minutes
The Coco Bongo Show & Disco is one of the most popular nightspots in Punta Cana, and the perfect venue to hold a bachelor party. Expect a clubbing experience taken to the next level with aerial dancing shows, an energetic crowd, and an open bar serving exotic drinks. Due to the popularity of the shows, tickets tend to sell out fast, so book in advance to avoid disappointment.
Coco Bongo Show and Disco in Punta Cana

Duration: 6 hours
Endless entertainment and stunningly beautiful beaches
Punta Cana seems to have it all, from friendly locals to idyllic beaches and tropical landscapes. And, it's also the perfect place to host a bachelor party due to the many excellent diving tours, party hotels, outdoor adventure activities, and nightclubs.
Disclosure: Trip101 selects the listings in our articles independently. Some of the listings in this article contain affiliate links.
Get Trip101 in your inbox
Unsubscribe in one click. See our Privacy Policy for more information on how we use your data