Known to be the largest of the three islands of Nusa, just a short ferry journey away from the southeast coast of Bali, Nusa Penida is truly a tourist drawer in the ever majestic Bali in Indonesia. The island's majestic blue and turquoise waters, breathtaking underwater life ranging from colorful fishes to rays and even sharks, Nusa Penida will surely give you the outdoor adventure that you desire. There are also waterfalls, cliffs, jungles, and villages for you to explore in case you get bored with all of those beaches and sea action. But if you are deciding to stay at the beaches, then here are the best beaches in Nusa Penida that you can visit and experience.

Crystal Bay Beach is one of the most popular beaches in Nusa Penida. Well, the beach truly deserves its status as it occupies a strategic location. It offers the best spots to watch sunsets, making it perfect for those looking for a place to indulge in cold brews as the sun goes down or just do something romantic with their loved one. The beach is also the main jump-off spot for snorkel tours on the island and is also just a short drive from the island's main port.
Private Tour in Bali: Exotic Beach Tour of Nusa Penida Island

Duration: 8 to 10 hours
Atuh Beach, locally known as Pantai Atuh, is among the best beaches in Bali. But as they say, difficult roads lead to beautiful destinations as the Atuh Beach requires a rough drive and a short hike just to get there. But all of the hassles in getting to the beach would be all worth it as when you get to see the beauty of the beach and its amazing rock formations. You will surely love spending your day at Atuh Beach sunbathing, swimming in the sea, or just exploring the environment. There's also some vendors in the island selling coconuts, a local delicacy called nasi goreng, some snacks, and beer.
East Nusa Penida Island Beach Tour - Departure From Bali Island

Duration: 11 hours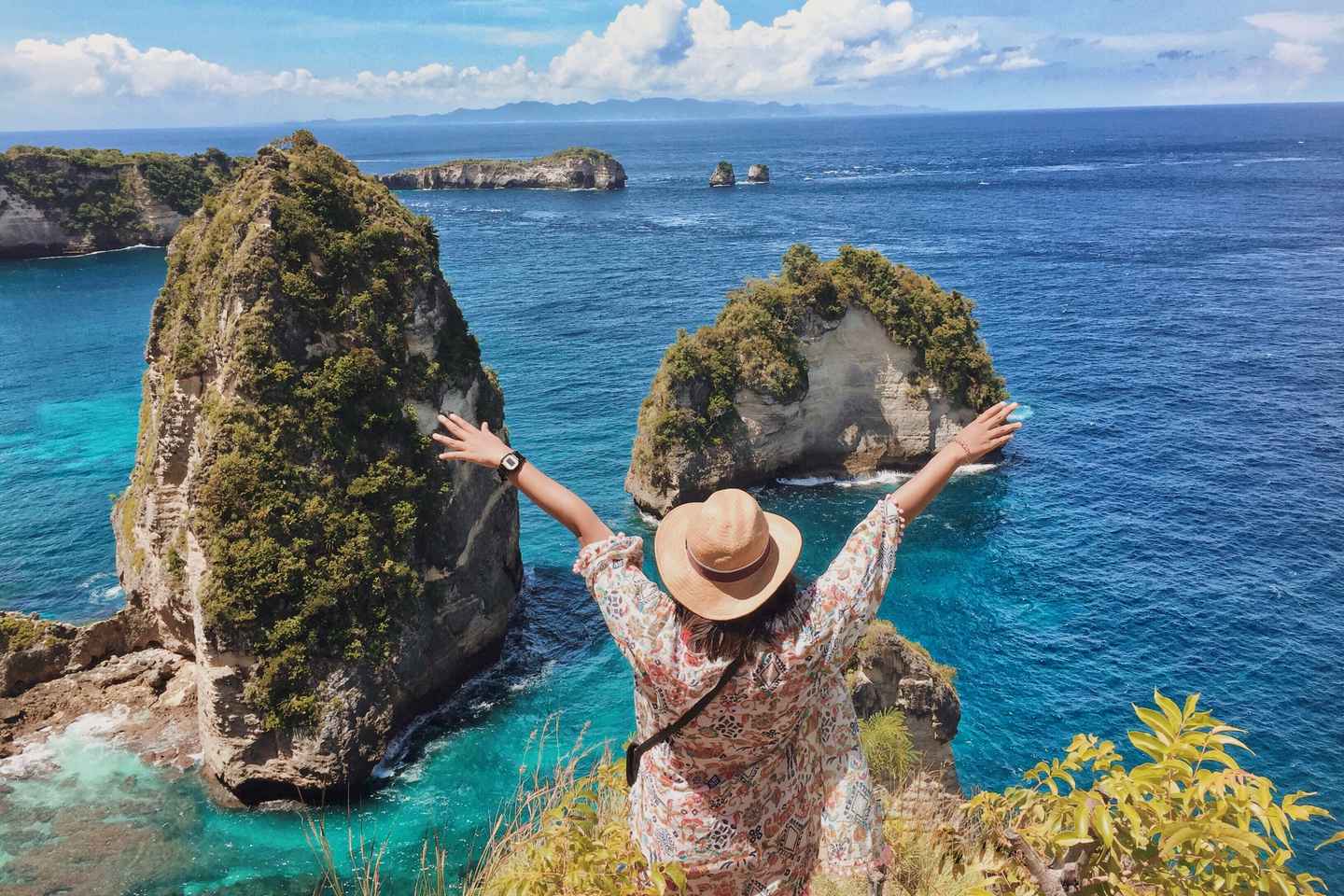 Kelingking Beach is probably among the most iconic and the most popular beach destinations in the whole of Bali. This hidden beach is nestled at the heart of Bunga Mekar village on Nusa Penida's southwestern coast. The beach itself is surrounded by tall and steep cliffs, stunning deep blue waters, and powdery white sand that will surely leave you astounded. A few things to keep in mind is that it is not a beach where you can indulge in swimming. Also, ensure that you do not visit during sunset as the tides are high and strong and the hikes are dangerous too.
Bali: Best of Nusa Penida Full-Day Tour by Fast Boat

Duration: 10 hour
4. Suwehan Beach
The island of Nusa Penida is home to a number of astounding beaches. But of course, there are beaches that seem underrated than the rest. One of those underrated beaches on the island is Suwehan Beach. Featuring white powdery sands, alluring turquoise blue-colored water, and stunning limestone rock formations, the beach is truly a perfect destination for everyone. However, some might be hesitant to travel to Suwehan Beach as you will be facing a series of broken roads, long hikes, and many other hassles. But the hassle would be really worth it if you arrive at the amazing beach.
Suwehan Beach

Address: Tanglad, Nusapenida, Klungkung Regency, Bali 80771, Indonesia
5. Diamond Beach
Diamond Beach in Nusa Penida is yet another virgin beach on the island that is known for its powdery white sand and breathtaking clear waters. The coast is lined by lush palm trees and towering limestone formations that are surely a hit among tourists. Reaching the Diamond Beach before is surely a hassle. But a stairwell and a viewpoint have been constructed recently so you get to have easier access to this majestic beach in Nusa Penida's eastern tip.
Diamond Beach

Address: Pejukutan, Nusa Penida, Klungkung Regency, Bali 80771, Indonesia
6. Broken Beach (Pasih Uug)
Known for its iconic coastal formation which is a hilly rock arch in the middle of the beach, Broken Beach or Pasih Uug as known by the locals is a favorite spot for photography enthusiasts and outdoor travelers to visit, explore, and take some photos. The sight of the waves crashing inside the cove from the Indian Ocean and sightings of giant mantas near the surface of the beach's clear waters will surely leave you astounded.
Broken Beach (Pasih Uug)

Address: Bunga Mekar, Nusa Penida, Klungkung Regency, Bali 80771, Indonesia
7. Tembeling Beach
One of the gems of Nusa Penida is the clear blue natural pool formation of the Tembeling Forest and Beach. As you arrive, you are greeted by the turquoise blue water formation where you can just take a dip and even take a plunge. If you had already enough of the natural pool, then you can just head out to the beach which is reachable by a short five-minute walk. However, swimming isn't really recommended on the beach because of the strong waves and large rock formations.
Tembeling Beach

Address: Batumadeg, Nusa Penida, Klungkung Regency, Bali 80771, Indonesia
8. Pandan Beach
Located just a mere 10 to 15 minutes' walk away from Crystal Beach, Pandan Beach is yet another underrated attraction in Nusa Penida. The beach is absolutely virgin, and interestingly, that there are times when you would find nobody roaming around. However, it is its calmness and tranquility that makes the beach stand out among the other attractive ones in the whole Nusa Penida. It is noteworthy that you need to be prepared early on as it is not really an easy task to reach this attraction from Crystal Beach.
Pandan Beach

Address: Sakti Nusapenida, Sakti, Klungkung, Kabupaten Klungkung, Bali 80771, Indonesia
9. Lumangan Beach
Located along the west coast of Nusa Penida is the Lumangan Beach. The beach is known for having an inlet with a huge cave. Reaching the beach only takes a five-minute hike and then you get the view of the amazing coastline with breathtaking turquoise waters. But what makes the beach even more popular is the huge sea cave. The water near the beach is only ankle-deep, so you can surely enjoy the beach's clear waters no matter what tide it is. In fact, some tide pools become visible during the low tide.
Lumangan Beach

Address: Sakti, Nusapenida, Sakti, Nusapenida, Kabupaten Klungkung, Bali 80771, Indonesia
10. Pasih Andus (Smoky Beach)
Truly, Nusa Penida is known for its amazing and delightful coasts. But there is this one beach on the island that is truly unique among the others. The Pasih Andus or the Smoky Beach is unique among other beaches on the island as it literally squirts water. In fact, it was called Smoky Beach because the water looks like smoke when the beach squirts water out in the open. Not only that but the strong waves that crash against the beach's rock formations also generate that smoky illusion.
Pasih Andus (Smoky Beach)

Address: Sakti, Nusapenida, Klungkung Regency, Bali 80771, Indonesia
11. Kutampi Beach
Kutampi Beach is yet another underrated beach in Nusa Penida. In fact, the beach is only popular among the locals. That is because countless fishing boats leave from the beach every night to sail to the middle of the sea so that they can return home in the morning with a full load of fish to cook or sell. However, word on the street is that Kutampi Beach has the most beautiful diving and snorkeling areas in the whole of Nusa Penida. In fact, you can just swim and dive directly from the beach and you will be greeted by amazing fishes and breathtaking coral formation in no time.
Kutampi Beach

Address: Jl. Pantai, Kutampi, Nusapenida, Kabupaten Klungkung, Bali 80771, Indonesia
12. Mushroom Bay Beach
Mushroom Bay Beach is a crowded part of the island where a lot of restaurants and cafes set up shop. Despite being crowded, the beach offers a nicer place to swim and have fun under the sun. Aside from that, the beach is also home to a number of bars, grocery marts, and even accommodations. If you are looking forward to a longer stay, this is perhaps the place to be.
Mushroom Bay Beach

Address: Pantai Mushroom Bay, Bali, Indonesia
13. Secret Beach
Last but not the least, a visit to Nusa Islands won't be complete without paying a visit to the Secret Beach on Nusa Ceningan. The beach is known for its white powder sands, crystal-clear turquoise waters, and lush palm trees where you can just tie your hammock and spend the whole day relaxing and breathing the freshest air. During calmer days, the Secret Beach turns into an excellent swimming spot and even a fantastic diving destination. Exploring the beach would be a great idea, although you might want to stay away from the reef as there are chances of injury. You might also want to have a stopover at the Blue Lagoon, just a kilometer away from the Secret Beach. The lagoon offers amazing views, blue waters, and a cliff jumping experience that you will never forget.
Secret Beach

Address: Jalan Secret Beach, Nusa Ceningan, Lembongan, Nusapenida, Kabupaten Klungkung, Bali 80771, Indonesia
Another iconic attraction in Nusa Penida is Angel's Billabong. It is a natural infinity pool that is surrounded by astounding rock cliffs and overlooks the ocean. You will surely love swimming and wading in this natural lagoon, especially when you are surrounded by a very natural and refreshing landscape. According to local folklore, the natural lagoon is where the angels take their bath, hence the name. Make sure to visit Angel's Billabong during low tide as swimming is prohibited during high tide.
Private Full Day Trip In Penida-Visit-Angel's Billabong-Broken-Klingking-Beach

Duration: 8 hours
Have fun under the sun at Nusa Penida
Nusa Penida indeed is a great haven for those looking for an amazing time under the sun, especially during the summer season. Make your experience in Nusa Penida an even more memorable one by visiting one or all the best beaches.
Disclosure: Trip101 selects the listings in our articles independently. Some of the listings in this article contain affiliate links.
Get Trip101 in your inbox
Unsubscribe in one click. See our privacy policy for more information on how we use your data