Surigao City is nestled in the north-eastern area of Mindanao. Its rich Spanish heritage and the abundance of its mineral reserves makes the province dearly treasured. In fact, because of its continuous progress and development, the city is among the most competitive small-sized cities in the Philippines. Naturally, vacationers and locals alike find it a must to visit Surigao for its famed tourist spots. For backpackers and those going solo-tripping, Surigao is all the more a worthy destination to see and most definitely to conquer. Such a trip is ideal for anyone needing some perspective because these days, spending quality me-time is important. Still not convinced? Here's a list of the best things to do in Surigao City, Philippines, to change your mind.
1. Get some perspective at the Day-asan Floating Village
The Day-asan Floating Village is also known as the Little Venice of Surigao City. It takes around 30 minutes to get there by the transport terminals in Pier 2, but the other route to take is by crossing wooden bridges that link the clustered houses to the mainland. This small fishing village is very serene and anyone will appreciate how time stands still when arriving there. Almost everyone in the community is a fisher folk, raising crabs and lobsters. Day-asan's green mangroves are also a must-visit. Because its waters teem with life, going snorkeling is a good idea. Bright-colored corals and different kinds of fish will surely become newfound friends.
Day-asan Floating Village

Address: Barangay Day-asan, Surigao City
2. Get some R&R in the Songkoy Cold Spring
The Songkoy Cold Spring is the answer to every tired soul. It is a natural spring that is ready to quench every weary heart with its cool and refreshing waters. Songkoy's enchanting and crystal clear spring is the cure to the humdrum of a busy lifestyle. Here you are set for the soul searching journey, let nature do its thing and heal your soul. Songkoy Cold Spring is found at Barangay Songkoy, Tubod, Surigao Del Norte. The invigorating haven is 30 minutes away from Mapaso Hot Spring. From the national highway, it is a mere 15-minute commute through what the locals call a habal-habal. Many would prefer to commute via the national highway.
Songkoy Cold Spring

Address: Barangay Songkoy, Tubod, Surigao Del Norta
3. Get lost in the Enchanted River
Surigao city is known for many beautiful natural wonders, but this one is one of the most famous. Every solo backpacker must make their way to the Hinatuan Enchanted River. The locals say that fairies touch the water, making it even clearer as its ripples disappear. Like a storybook, mermaids and pixies are also believed to be the river's muses. One would need to see it to believe it. Nothing else is as blue as its waters and as comforting as its serenity. Its waters are also filled with different kinds of marine life. The left side of the entrancing is quite deep. Perhaps this is why many say, it is where the mermaids are. Only the brave dare swim its depths. Many divers have tried to reach the bottom of the river but no one has ever been successful. The locals say these mystical beings protect the river from outsiders. Sometimes they hear of stories that visitors incur mysterious body pains or skin ailments, and it is believed that those complaining are not respectful of the river. The surrounding area of the river has been fully developed. Picnic tables and cottages are readily available for travelers to enjoy. To get there from Manila, take the bus bound for Bislig that has signboards that read "Mangagoy." Mangagoy is the commercial center of Bislig. Once there, tell any driver to drop you off at the Hinatuan Terminal. The fare costs 4 USD and travel time is an average of 5 hours.
The Enchanted River

Address: Talisay, Hinatuan, Surigao del Sur

Facebook: The Enchanted River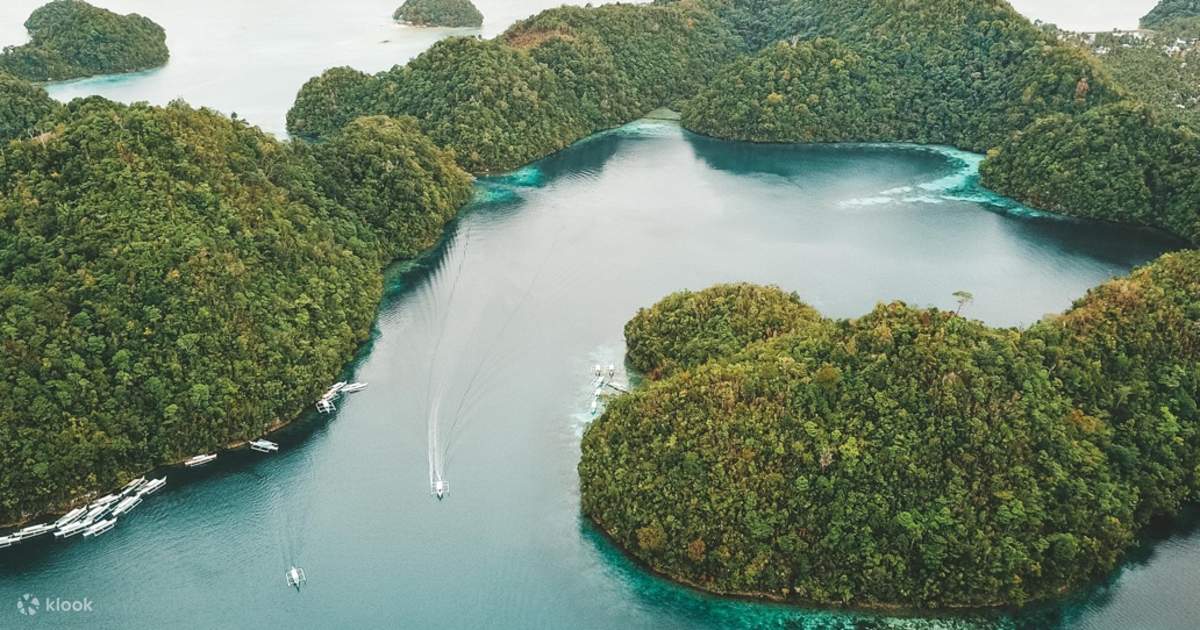 Bucas Grande should be in any adventurer's bucket list. To get there from Surigao City, ride a multi cab to Pier 1 (Pantalan Uno) to take another 2-hour boat ride to Bucas Grande. It is home to the stingless jellyfish at Tojoman Lagoon, the underwater Hakugan Cave, the Magkukuob Diving Cave with the crystal draperies, the Bolitas and Crystal Cave, Cinnamon Island lush with cinnamon trees, the snorkeling haven in Marka-a Island, Club Tara that is known for its hot tub rooms, the emerald Tiktikan Lake, and Kapihan Nature and Adventure Park.
Bucas Grande Island

Address: Barangay Rizal, Socorro, Surigao del Norte

Website: Bucas Grande Island
Duration: 11hrs30 Min Duration
5. Read a book on Mabua Pebble Beach
What better way to go solo than sitting by the seashore and reading your favorite book. Mabua Pebble Beach is every bibliophile's dream come true. The sea will always find its way to draw out the artistic and poetic side of any human being. What is extra special about this shore is that the pebbles are gigantic and well-protected. No one is allowed to take pebbles with them. Aside from the pebble beach, Mabua also prides itself on the glorious Looc Beach. Simply pick a spot, bring out your journal or your favorite read and just enjoy the solace. Who knows, perhaps the next published writer will be born out of that special moment of aloneness. Mabua Pebble Beach is a jeepney and a habal-habal ride away from Surigao Proper. Its definitely a Surigao City tourist spot with plenty of peace and quiet.
Mabua Pebble Beach

Address: Barangay Mabua, Surigao Del Norte
6. Go on a solo-adventure in the Silop Multi-Caves
For the spelunker in anyone, the Silop Multi-Caves will not disappoint. The 6-cave system is found in Barangay Silop, a 15-minute ride from the city. Of all the six caves, only two are open to tourists. Cave 1 is not open to the public because of the presence of snakes and bat dung. It also has a low oxygen level. However, should there be advanced cave explorers, it is possible to arrange preparations for this venture. Once inside the cave, the limestone formations, stalactites and stalagmites are a sight to see. An entrance fee of 1 USD (inclusive of safety gear) is all you need to enjoy spelunking in Silop. A guide fee of 4 USD for two people is a must. They have a strict No Dive No Cave Policy.
Silop Multi-Caves

Address: Barangay Silop, Surigao City

Website: Silop Cave
Surfers beware. Get ready to face the fact that you might just want to live in Siargao Island because of how breathtakingly awesome it is as a Surfer's Paradise. Siargao Island is a surfer's dream because it has about 15 surf spots. For 5 USD per person, surfing is as easy as pie. Among these famed spots is Cloud 9 where most international surf competitions are held. It is assumed that this is only for advanced surfers. It is comforting to know that every skill level has a recommended surf spot. For non-surfers, there are various water activities like island hopping, snorkeling, sunbathing, kayaking and diving. To reach Siargao Island, take a direct flight trough Cebu Pacific Airways. After that, take the shuttle to General Luna to reach the surf town. The shuttle ride will only take around 40 minutes. The other way is to take a ferry ride from the City of Surigao.
Surfing in Siargao Island

Address: Caraga, Surigao Del Norte

Website: Siargao Islands
Duration: 8 to 10 hours
8. Enjoy recreational fun on the waters of Lake Mainit
If beautiful lakes are what you are after, then Lake Mainit certainly fits the bill. This impressive water feature is the 4th largest in the entire Philippines and holds the honor of being the country's deepest. From recreational boating to swimming and fishing, Lake Mainit is a great spot to visit for some fun. It's only a scenic drive south from the city, making this magnificent Surigao tourist attraction worth a visit.
Lake Mainit

Address: Surigao City, Philippines
9. Explore Sagisi Island
What could possibly be better than spending the day on a tropical beach island? Sagisi Island is a small spot off the coast fromof Surigao City, boasting lovely sands and iconic beach huts. Far from being a commercialized resort destination, this island is peaceful and relaxing. Crystal clear waters beckon you to come in for a swim, while a lush forest is waiting to be explored. In terms of Surigao City tourism, Sagisi Island is a bit of a hidden gem. The people on the island are all incredibly friendly, and the feeling of tranquility offered by Sagisi Island is unparalleled.
Sagisi Island

Address: Surigao City, Mindanao Philippines
10. Savor delicious food at EJ's Garden by the Bay
Editor's Note: Photo taken from the establishment's official social account
EJ's Garden by the Bay is a lovely restaurant situated in the northern part of Surigao City. This establishment boasts a pleasant indoor vibe, live music, and affordable drinks. Their burgers are especially popular, but their fresh seafood dishes, mouthwatering sandwiches, and tasty desserts are worth ordering as well. If you want a great atmosphere with delicious food and friendly service, then look no further than EJ's Garden by the Bay.
EJ's Garden by the Bay

Address: Hotel Tavern Compound, Borromeo Street, Brgy. Taft, Surigao City, 8400 Surigao del Norte, Philippines

Opening hours: 11am - 1pm, 4pm - 12am (daily)
11. Go picnicking at Luneta Park
Luneta Park is a charming public spot that is always teeming with locals. From couples strolling around or lounging under the central gazebo, to seniors playing chess, Luneta Park is alive with activity. The flowers and vegetation are well maintained, and there are always plenty of nearby vendors selling food, drink, and souvenirs. Several old trees stand guard around Luneta Park, and a lovely fountain is also here. The nearby church lights up with decorations every Christmas, and this includes an illuminated tree. A statue of Jose Rizal, the national hero of the Philippines, also calls this park home.
Luneta Park

Address: San Nicolas Street, Surigao City, Surigao del Norte, Philippines

Opening hours: 9am - 9pm (daily)
12. Visit Battle of Surigao Strait Museum
History buffs, especially those interested in World War II, will feel sentimental at Battle of Surigao Strait Museum. One of the crucial battles on the Pacific theater of World War II is the Battle of Surigao Strait. It was one of the only two battleship-versus-battleship encounters in the war's Pacific campaign. The Japanese ships eventually lost the battle, with the US Navy submarine Blackfin giving the final blow. The Battle of Surigao Strait Museum is a memorial for those who fought for our lives.
Battle of Surigao Strait Museum

Address: Borromeo Street, Surigao City, Surigao del Norte

Website: Battle of Surigao Strait Museum

Opening hours: Tue - Sat: 10am - 6pm; Sun: 6am - 6pm (closed on Mon)
Surigao is every solo backpacker's dream come true
Choosing Surigao as your own solo adventure will be an adventure of a lifetime. It tests your limits and awakens creativity. Get enchanted, get enthralled and go with the flow to any of these seven featured destinations.
Frequently asked questions about the best things to do in Surigao City, Philippines
1. What are the best attractions to visit in Surigao City, Philippines?
Surigao City has a number of amazing attractions to visit. Check out Day-asan Floating Village, explore Enchanted River and Silop Multi-Caves, or go for a relaxing stroll around Luneta Park. You can also hop between beautiful islands like Sagisi Island and Siargao Island.
2. What are the best outdoor activities in Surigao City?
Outdoor activities abound in the vicinity of Surigao City. From discovering the mystical beauty of Enchanted River to relaxing at Songkoy Cold Spring, the area is full of natural wonders. Gorgeous islands like Sagisi Island and Siargao Island are also worth a visit and offer plenty of water activities.
3. What are the most popular things to do in Surigao City with kids and family?
Take the whole gang on a picnic to Luneta Park or relax on one of the many beaches nearby. You can also enjoy a family day trip to islands like Bucas Grande or Sagisi Island. To learn something about the local area, take the kids to see Day-asan Floating Village.
Disclosure: Trip101 selects the listings in our articles independently. Some of the listings in this article contain affiliate links.
Get Trip101 in your inbox
Unsubscribe in one click. See our Privacy Policy for more information on how we use your data