Krabi, the capital of southern Thailand's Krabi Province is a resort town near the Andaman coast. Krabi, on southern Thailand's west coast, is a province characterized by craggy, sheer limestone cliffs, dense mangrove forests, and more than a hundred offshore islands. Some of its most popular beach destinations include the Phi Phi Islands, which jut from the sea like giant rainforested boulders, and Railay Beach, accessible only by boat, is a prominent rock-climbing spot.
Krabi lies in an area of limestone karsts and mangrove forest. On a hilltop with access via stairs, Tiger Cave Temple is a Buddhist site with panoramic views. Read on to learn more about tours you can take to help you uncover the best of Krabi.
This is a must when in Krabi. Escape from the crowds with a visit to Phanom Bencha National Park. Enjoy an hour-long ride on the back of an elephant into the lush rainforest. Afterwards, feed the elephant and visit the 7-level Huay Toh waterfall, where you can enjoy a refreshing dip.
The elephant camp is situated in the Huay Tho Village, which is only a 30-minute drive from Krabi Town and is definitely worth a visit for anyone interested in elephants and their welfare. The elephants belong to the locals and are treated like members of the family.
Highlights of this tour: Explore the lush rainforest of Khao Phanom Bencha National Park on the back of an elephant, then feed the elephant locally grown bananas as a reward for their effort, trek to the 7-level Huay Tho waterfall, and take a refreshing dip in the Huay Tho waterfall ponds.
Krabi: Elephant Trekking and Huay Tho Waterfall Tour

Address: Krabi, Thailand

Website: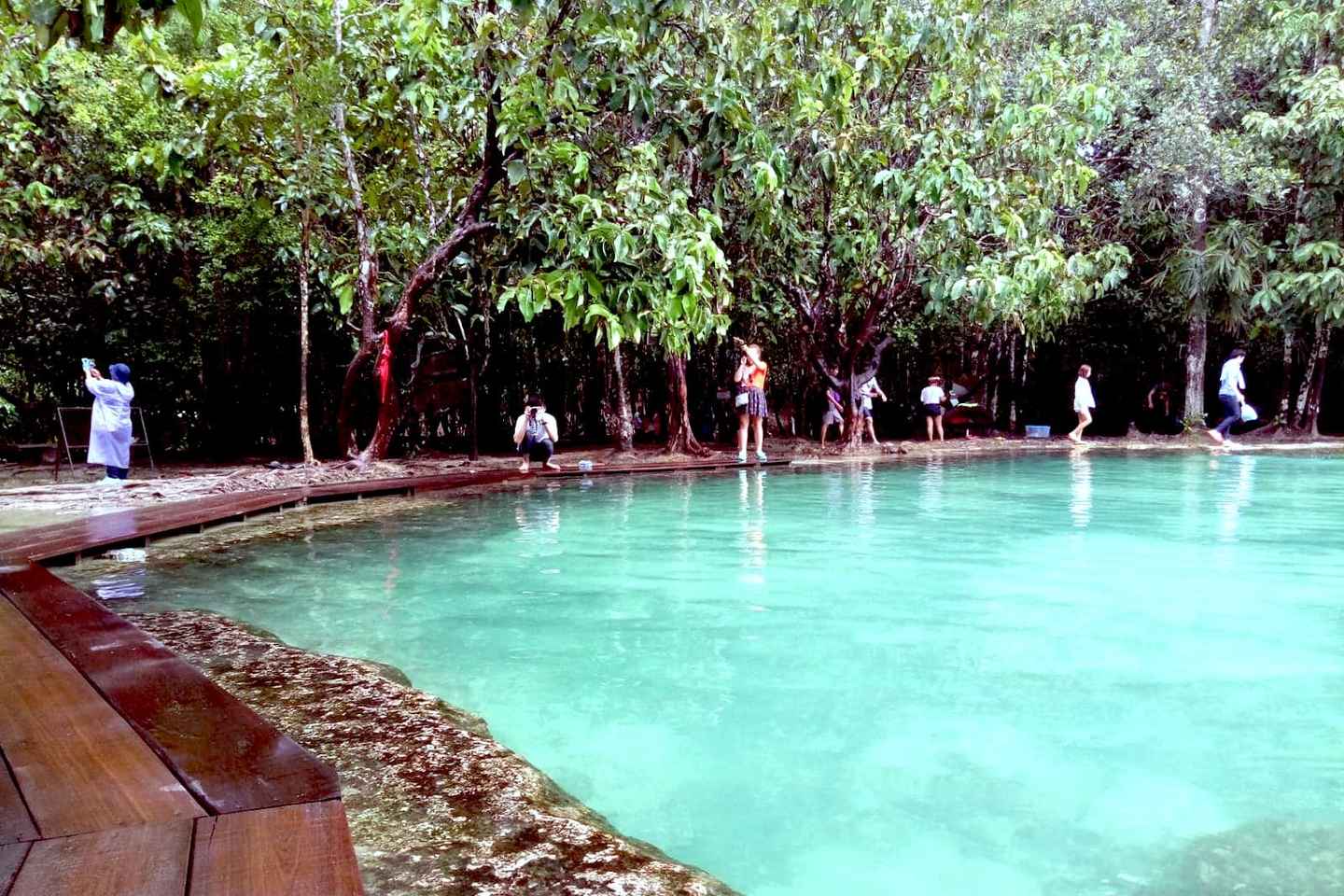 See Krabi from a bird's eye view by climbing the steps of the Tiger Cave Temple to the top where a giant statue of Buddha in gold awaits you. Revel in the joy that you've just climbed over a thousand steps to reach this picturesque view of beautiful Krabi.
Set in a beautiful forest, the temple is in fact a famous meditation centre. Monks and nuns come from all over Thailand to retreat here. The temple is laid out as a small village with a main boulevard with monkeys. From the end, you can walk around the nature trail in the Khiriwong Valley, with many caves and big trees. For those who are fit enough, a 1,237 stair climb leads to the famous mountain-top shrine, providing a view that will really take your breath away.
Krabi: Private Trip to Tiger Cave Temple & Waterfall

Duration: 8 hour
The beaches of Krabi have a lot to offer! Check out the unique peninsula of Railay – climb one of the limestone cliffs that line the beach, swim in the turquoise water, or even book yourself a bungalow! Scenic Railay Beach is best accessed by boat. Take a 4 hour introductory rock climbing class at Railay Beach and be guided by an expert instructor on various climbing routes.
Experience the thrill of rock climbing on the stunning limestone cliffs of Railay Beach, a world renowned destination for climbing in paradise! During this 4 hour introductory class, you will be guided by an expert instructor on various climbing routes, suitable for beginner and intermediate climbers at mixed levels.
You will learn top rope climbing, belay techniques, safety measures, how to use the equipment, and basic climbing techniques.
Beginner's Half-Day Rock Climbing Tours at Railay Beach Krabi

Duration: 4 hours

This a a trans-gender show that showcases different stories through lip singing and dancing. It is a presentation of the country's culture through movement, costumes, and props. The Blue Dragon Cabaret Show is split into twelve segments, each one with a distinct style, colorful costumes, and stage designs. This option includes a show ticket and drinking water.
Blue Dragon Cabaret Show Ticket Krabi

Duration: 1hrsDuration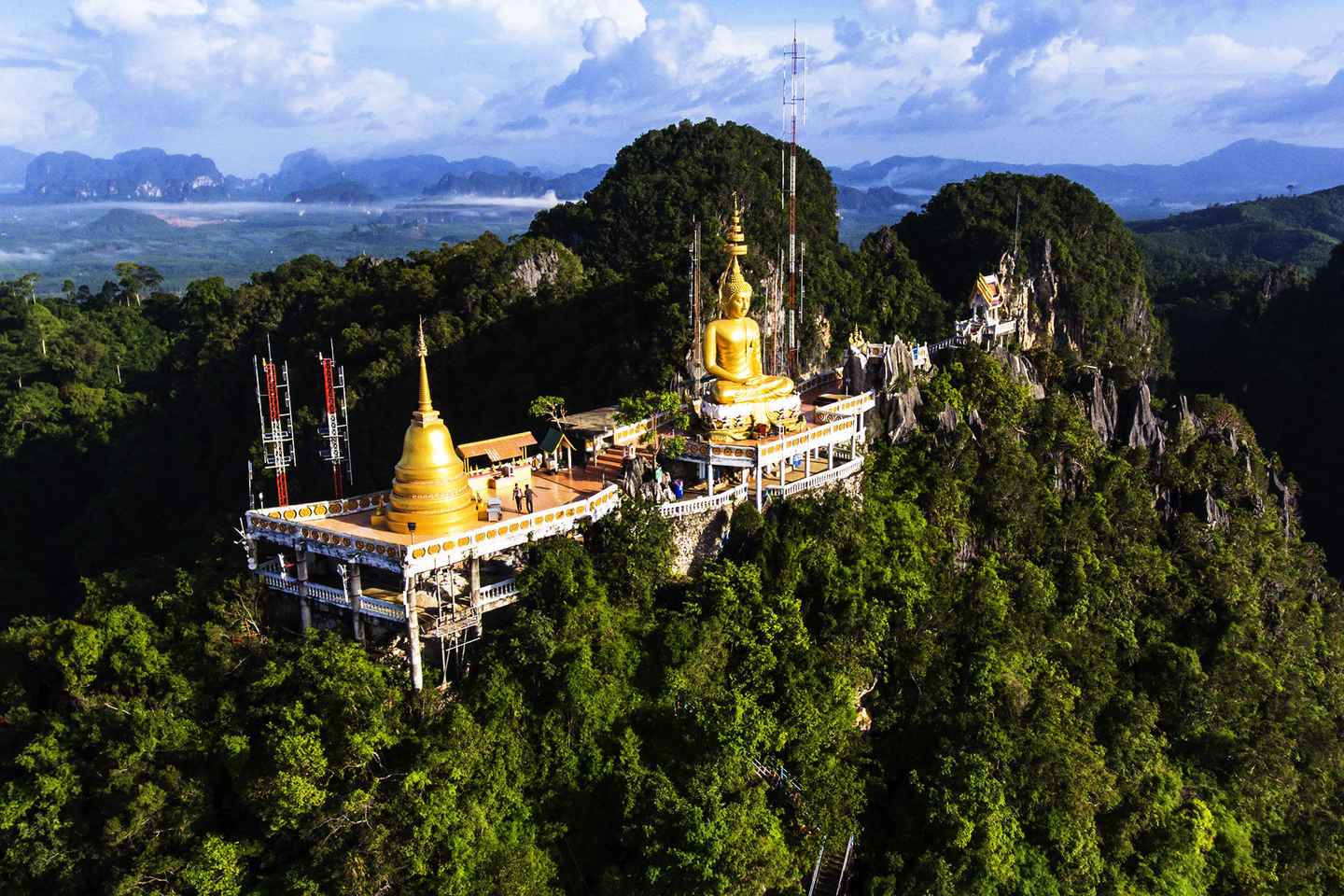 Join this half-day tour that will take you to some of the best spots in the city. The highlights for this city tour are: visiting a morning market, riding a traditional boat, seeing caves and other natural formations, and of course, shopping in Krabi Town, and relaxing at Tiger Cave Temple, one of the most beautiful temples in Krabi.
Krabi : 4-Hour City Tour with Tiger Cave Temple

Duration: 4 hour
Why not relax and watch the sunset while you are on a cruise? You can enjoy a beautiful sunset on the Andaman Sea near Krabi for a 4-hour dinner cruise and enjoy a full barbecue dinner and dessert onboard.
While enjoying the sunset, you can also watch for wildlife at the edge of the water while passing Krabi's mangrove forest, the Khanap Nam Mountains, the twin promontories that are a symbol of Krabi. And of course, enjoy music playing onboard throughout the trip for a relaxing laid back atmosphere.
Sunset Cruise by Catamaran from Krabi
Have you tasted Thai food? What about cooking Thai food?
Here in Krabi, you can enjoy and experience a 5-hour cooking lesson on traditional Thai food. You can learn the Thai spices and how to use them in some of the most popular dishes in Thailand. You can also choose from several menus for the class in which you will enroll. They offer 3 sample menus for your options: Regular Class: spring rolls, hot and sour prawn soup, chicken in coconut milk, papaya, cucumber/mixed fruit salad, fried noodles, chicken with cashew nuts or sweet & sour, green, red/panang curry, banana and sticky rice. Special Class A: Thai-style fried noodles with prawn, steamed fish with lemon, chicken in pandanus leaves, savory beef salad, make massaman curry paste, massaman curry chicken, and sweet sticky rice with mangos. Special Class B: fried noodles with vegetable & seafood gravy, steamed fish with soya sauce, stir fried prawn in tamarind sauce, seafood salad, yellow curry paste, curry with chicken, and water chestnut in coconut milk. The normal class schedule is daily from 8:30 am to 2:00 pm. They have a dinner class from 4:30 pm to 8:00 pm and special classes A & B from 8:30 am up to 2:00 pm.
I'm sure that learning how to cook Thai food is a souvenir that will last on your entire life and you will be able to re-live your Krabi trip at home.
Small-Group Smart Thai Cooking Class in Krabi

Duration: 3 to 4 hours

Sail by longtail boat from Krabi to one of Thailand's most stunning islands. This tour will take you to the main islands in the Hong group. Jump into the island's beautiful waters and snorkel along the rocky ledges or take a walk through the mangrove forest. In the middle of the island lies the secret Hong Lagoon where you can be in harmony with nature. Kayak into this superb lagoon surrounded by huge limestone karsts and clear tranquil waters. Eat lunch on a pristine beach and paddle along the sinuous coastline, where soaring cliffs and lush vegetation join the Andaman Sea. On this tour, you will have the freedom to explore this beautiful island at your own pace.

The highlight of this tour is seeing native wildlife in their natural environment; travel by boat and see the signs from the water. Snorkel gear, lunch, and free hotel pick-up and drop-off are included.
Hong Island Snorkel and Boat Tour from Krabi with Kayak Option

Duration: 7 hours
Experience the perfect holiday destination on an island
Most of us are dreaming of a vacation from our busy lives and stress of work from the office, and wish for a relaxing trip on an island. Krabi is the perfect place to be.
With over 150 islands off its 150 km (90 mi) long coastline (many of them featuring fantastic white sand beaches and turquoise waters), a jungle-covered interior, towering limestone cliffs, caves, waterfalls, and exotic wildlife, Krabi offers a great selection of natural assets including island-hopping, snorkelling, rock climbing, sea kayaking, jungle trekking, and scuba diving – just a few of the numerous options available to visitors during their holiday in Krabi.
Plan your trip now to Krabi and surely you will never regret visiting this pristine and beautiful island.
Disclosure: Trip101 selects the listings in our articles independently. Some of the listings in this article contain affiliate links.
Get Trip101 in your inbox
Unsubscribe in one click. See our privacy policy for more information on how we use your data