Ipoh is the capital city of the Malaysian state of Perak, north of Kuala Lumpur, and it is home to almost 700,000 people. It was once a mining town in its early days, and tin was the main product until its eventual decline in the 1980s. Today, tourism is one of the biggest industries here. The transportation system is composed primarily of buses, with the Ipoh Railway Station connecting the city to Kuala Lumpur. Ipoh is known for its many old-style structures built in the late 1800s, which make up the Old Town district. The cuisine here is also diverse, with a healthy mix of Malay, Chinese, and Indian flavors, along with lots of coffee. Also famous in Ipoh are many large limestone formations, including caves that house temples. We've selected some of these caves that you should visit on your next trip here! You can read below about these great caving adventures in Ipoh, Malaysia.
1. Dong Hua Cave
Editor's Note: There's no photo available at the time of writing
Located in a quiet neighborhood on the east side of town, the Dong Hua Cave is a beautiful temple. The temple is not as frequented by tourists as others on this list, so your experience here will be private and intimate. Climb up a set of stairs to reach the cave entrance, a large red gate that is visible from the highway. Inside, you'll see many statues and other ornaments, with impressive rock formations and crevices in the background. The main altar has several Buddhist statues, and you can even light incense for a blessing and protection. The keepers here are ready to accommodate and introduce you to the different parts of the temple. Lastly, don't forget to enjoy the great view of the neighborhood from the top of the stairs.
Dong Hua Cave

Address: Lot 26006, Hala Perindustrian 1, Taman Bistari, 31400 Ipoh, Negeri Perak, Malaysia

Opening hours: 8am - 5pm (daily)

Price: Free
2. Tambun Cave
The Tambun cave is located on a hill in the eastern part of Ipoh, and it is not so much a cave as a hole in a cliff face. The formation itself is located on top of a flight of stairs. On the surface of the rock, you can spot many paintings depicting different entities, like wild animals, among these being turtles, deer, and wild boars. There are also other geometric and abstract figures present, that may suggest religious influence. Over 500 of these paintings have been spotted on the rocks, making this the largest collection of its kind in Asia. These neolithic paintings are between 2000-12000 years old, far older than the country itself.
Tambun Cave

Address: 31400 Tambun, Perak, Malaysia

Opening hours: 8am - 5:30pm (daily)

Price: Free
3. Perak Tong Cave
The Perak Tong Cave is one of the most visited caves in Ipoh and also one of the most popular. Discovered in 1926, the cave was developed into the temple whose elaborate entrance you can see today, a process that took over 50 years. Inside, you will see figures and carvings of deities. The crowning jewel of this cave is the golden statue of Buddha inside, standing at over 40 feet (12.2 meters) tall. Outside, there are pavilions around the complex that have amazing vistas providing great views of the landscape. And after climbing to the top of the trail, you will see commanding views of Ipoh.
Perak Tong Cave

Address: Jalan Kuala Kangsar, Kawasan Perindustrian Tasek, 31400 Ipoh, Negeri Perak, Malaysia

Opening hours: 8am - 4pm (daily)

Price: Free
4. Kek Lok Tong Temple
Kek Lok Tong (translating to cave of great happiness) is a popular tourist site in the region. It served as a place of worship since the 1920s and houses a whole host of religious statues. Most of these statues are Buddhist and Taoist, cast in Taiwan. Some parts of the cave even have preserved rock formations, especially brilliant stalactites hanging over the halls. Outside of the cave is a beautiful garden filled with a lot of lush grass, pretty flowers, and small lakes that grace the periphery, with paths that are ideal for walking or jogging.
Kek Lok Tong

Address: Pesiaran Sepakat 3, TMN ENDAH JAYA, 31350 Ipoh, Negeri Perak, Malaysia

Opening hours: 7am - 7pm (daily)

Price: Free
The Tempurung Cave is one of the most popular natural caves in Malaysia, and it sees a high volume of visitors annually. Over 3 kilometers (1.8 mi) of tunnel is contained in this cave. You'll pass by many chambers, each with large and impressive rock formations. Prepare to be amazed by the large stalactites, stalagmites, crevices, and even crevasses. Just be sure to watch your step and your head. A tour guide will assist you throughout the tour, ready to answer questions, and even modify the itinerary if needed. You will also be served a nice meal during the tour, so you'll always be in good spirits. Afterward, you can visit the souvenir shop, to take home some memories.
Tempurung Cave Exploration in Ipoh, Malaysia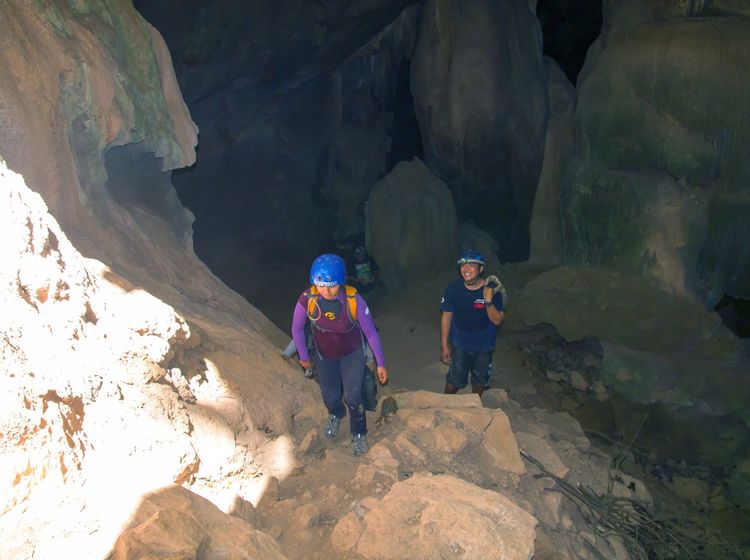 Also called Gua Kandu, this site lies in a mountain just south of Ipoh. The cave is known for having many long chambers that even experienced cave explorers break a sweat in. You'll be impressed by the rock formations throughout the cave, from protrusions, all the way to stalactites and stalagmites. You'll even see some cave writings made by rebels who hid here in the past. You will have a tour guide with you the whole trip, introducing you to all the history that these caves hide. The trip takes around five hours, so bring plenty of water.
Kandu Cave Exploration

Duration: 5hrsDuration
Ipoh, a rare gem in Malaysia
Thanks to a rich cuisine, historical buildings, and interesting natural features, Ipoh has become a popular place to visit in recent years. But it's the rock formations, whether due to nature or mining, that made Ipoh a popular site for explorers around the world. So, if you're up for an exciting adventure, give Ipoh a visit.
Disclosure: Trip101 selects the listings in our articles independently. Some of the listings in this article contain affiliate links.
Get Trip101 in your inbox
Unsubscribe in one click. See our Privacy Policy for more information on how we use your data