Athens is the heart of ancient Greece, a powerful civilization and empire where the city is still adorned with fifth-century landmarks which include the Acropolis, a hilltop with ancient buildings like the Parthenon, and the National Archaeological Museum with many artifacts from ancient Greece. Day trips will give you a great educational tour if you are looking for the ultimate fact-finding mission about this ancient city. We have a list of top day tours which you can take up as part of making your holiday trip memorable. Once you arrive in Greece, the endless scenarios will leave you spoilt for choice so you might need to have a well-planned itinerary to keep you engaged. Scroll below for the top day tours in Athens, Greece.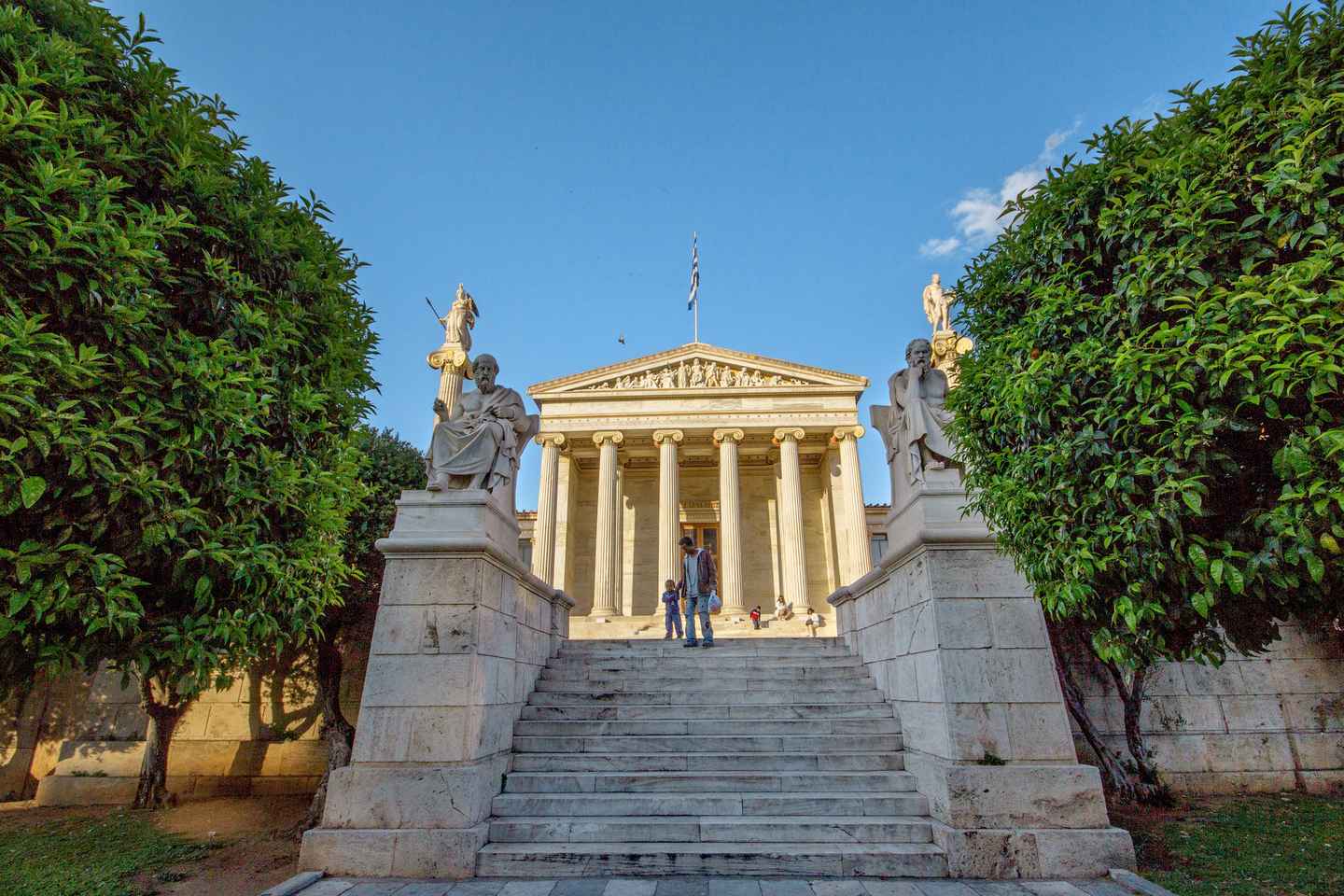 Check out Greece's most famous site, the Acropolis which is the symbol of Athens and is a famous landmark that serves as a great point of understanding of ancient Greek. You'll get to tour the buildings at your own pace with the entrance ticket which includes access to Propylaea the gateway, Temple of Athena, the Parthenon and Erechtheion. The new Acropolis museum houses one of the most important works of ancient architecture in Athens and featuring priceless findings from the Acropolis monuments which will be sure to blow your mind.
Athens, Acropolis and Acropolis Museum Including Entry Fees

Duration: 5 hour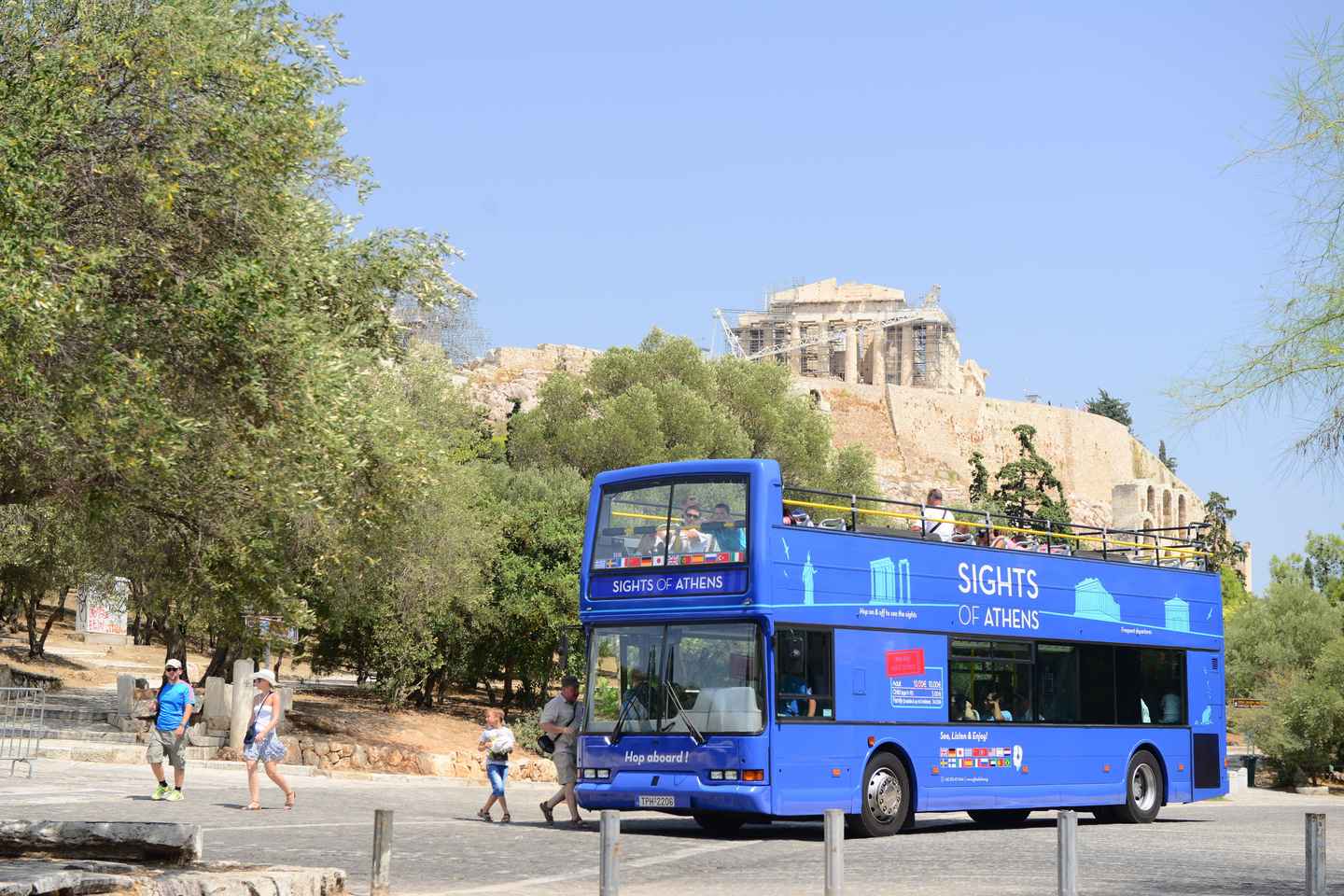 Enjoy a stunning sightseeing tour of Athens in a hop-on-hop-off bus where you will have the opportunity to see the yacht marina at Pasalimani, the historic Plaka district and discover the most traditional areas of this great city. Even better, you will also get to visit the gate of the temple of Olympian Zeus, and the Hellenic Parliament in Syntagma Square and the Roman Emperor Hadrian. That's not it, you'll also get to find out how Greece evolved from a bewildered desert to a modern-day scenic city.
Athens, Piraeus, and Coastline: Blue Hop-On Hop-Off Bus
Travel back to the days of Ancient Greece and discover the historic Acropolis in Athens where you'll get to walk through Plaka and the old town. While here, you will gain insight into the city and will be able to take souvenir photos in the most picturesque neighborhoods and also have the opportunity to sample some local dishes. You will then explore the ancient citadel and the ancient buildings of great architectural and historic significance which include the iconic Parthenon at the top of the hill from where the views of the city are simply award-winning.
Athens, Acropolis, and Acropolis Museum Skip-the-Line Tour

Duration: 5 hours 30 minutes
This is a fantastic way to tour Athens where you have the chance to learn how to take amazing professional photos while touring some of the most famous ancient monuments in Athens. The tour gives you a first-hand experience of understanding how to take amazing pictures of various monuments in the city. You also don't want to miss a tour to the Acropolis and other ancient Greek scenarios which outline the city's evolution to modernity. Bring out your photographic gear and unleash the explorer in you as you enjoy the thrill of touring this ancient scenic city.
Private Full Day Athens Photography Tour

Duration: 8 hours
Have a fun-filled tour of the Athens in a detailed full-day tour with a well-informed guide. You are free to ask questions as you experience the marvel of ancient Greek architecture and culture that has been preserved to date. Take your time to make memories and take pictures with your loved ones, as this is an incredible location to do so. You'll also have the opportunity to taste local cuisines in one of the local restaurants as part of your break and then continue touring at New Acropolis Museum. All this can be done on foot or in an electric Trikke which you can hire at a reasonable fee.
Athens Full Day Tour with Lunch

Duration: 10 hours
The Athens coastline is ideal for beginners to dive into its warm water with great visibility and is only a stone's throw from Athens center. Don't miss this opportunity to enjoy a once in a lifetime scuba diving experience! As soon as you reach the dive site, your experienced instructor will give you a short briefing on what to expect and a few simple skills you'll need to know to scuba dive safely, such as mask clearing, how to equalize your ears to the water pressure, regulator usage, proper fin kicking and basic hand signals. Your instructor will also provide all the basic scuba gear which is well maintained. You will discover what it is like to breathe underwater for the first time and see marine life such as eels, octopuses, breams and large schools of Mediterranean fishes.
Private Discover scuba diving for beginners in Athens

Duration: 5 hours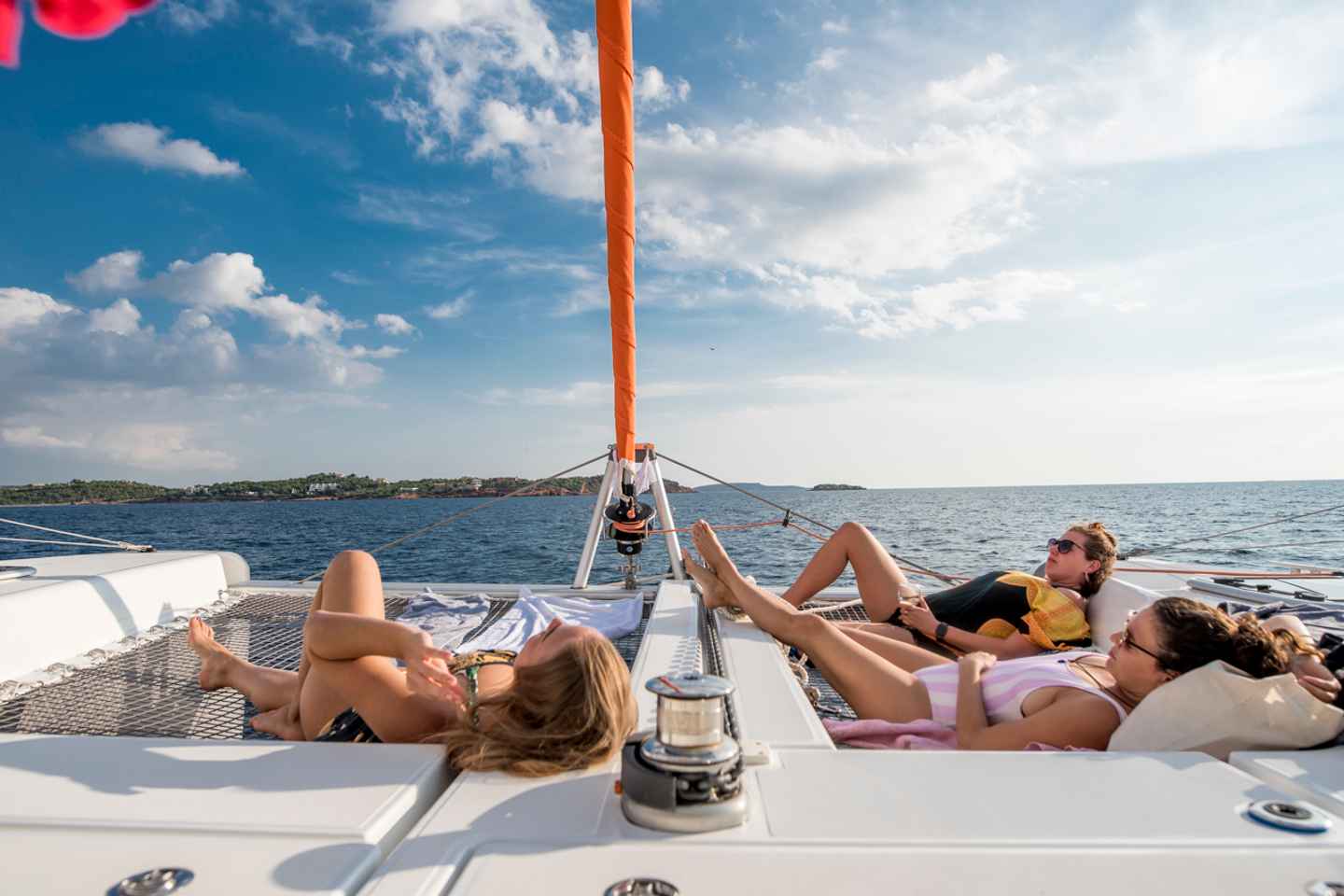 Hop on a sailboat, meet an experienced crew and join a heart-filling adventure sailing in the Saronic Gulf where you get to enjoy a quick dip in the clear waters before you continue to your second swim stop located off the coast. There, you will be served by a selection of Greek appetizers and some local wine or refreshments as you learn the basics of sailing from your skipper or just sit and relax in the sun. Explore some hidden coves and drop an anchor in beautiful secluded bays where you will be able to enjoy a swim using the onboard snorkels, flippers, and goggles. If swimming is not your thing, then grab a fishing rod and try your luck with fishing.
Athens: Sailing Cruise along the Coast

Duration: 5 hour
Have the full experience of a well-guided tour of the Acropolis which will broaden your perspective of ancient Athens. This will be followed by a grand tour of the Plaka and Kifisia neighborhoods where you'll see the well-designed ancient stone streets before making a stop at ancient Agora. The exploration will end in the Thisseio area, where you will board a private vehicle to sightsee other important landmarks such as the Panathenaic Stadium, the Monument of the Unknown Soldier and the changing of the guards and Zappeion.
Athens Highlights with Kifissia District Full Day Private Tour

Duration: 1 day
If you don't want to tour with large crowds, you can have your own private tour which starts at the Parthenon, the best example of classic architecture from the fifth-century, Erectheion, the Temple of Athena Nike, Dionysus theater and finally, the Areios Pagos. After that, you can head to the Lycabettus Hill (the highest point of Athens) if you have some time left and don't forget to take some pictures to reminisce about these amazing trip after you have long gone back home.
Athens: Great Eats and City Streets Private Full Day Tour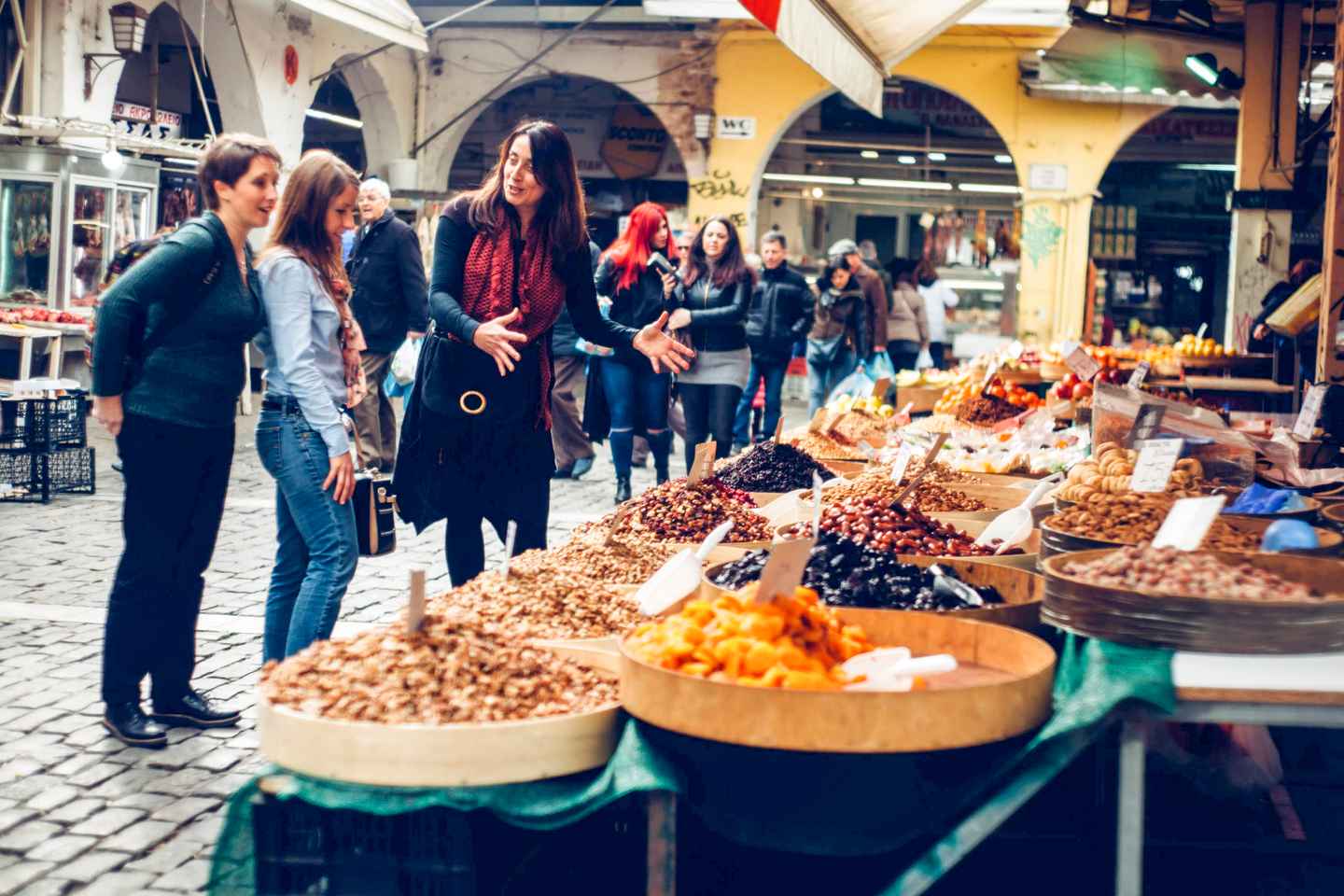 Book a four-hour walking tour through the markets of Athens and taste authentic Greek food. Visit local stores selling olive oil, Greek wines, wild mushrooms, pasta, and salamis. Start with a traditional Greek breakfast of koulóuria in a century-old café, and then make your way to a tiny pastry shop to sample loukoumades (Greek donuts) and custard-filled filo squares. There are fantastic local pies and cheeses at authentic Greek bakeries and cheese stores not forgetting the meat and fish markets which sell fresh meat and seafood.
Athens: Food and Culture Tour in an Authentic Neighborhood

Duration: 2.5 to 6 hour
Visit the wondrous city of Athens and check out its glorious treasures
If you are looking for the finest place to have an educational and scenic tour, this is the place for you. Athens' endless treats will leave you in total wonder as you get to learn how this ancient city came to be what it is today. The historical tale of this city is like no other.
Disclosure: Trip101 selects the listings in our articles independently. Some of the listings in this article contain affiliate links.
Get Trip101 in your inbox
Unsubscribe in one click. See our privacy policy for more information on how we use your data