Moscow is the capital of Russia, and it was also the base of the Soviet Union about a century ago. Being one of the great powers, Russia played a big role in the shaping of the world we know now. From the first to second World War to the cold war and to its active participation in the current United Nations, Russia has time and time again proven itself to be a force not to be reckoned with. So head down to Moscow to find out the story behind one of the greatest empires. To explore this unique country, keep scrolling to find out more about the best day trips from Moscow, Russia.
Sergiev Posad is known for its monastery, which was founded in 1340 by the country's most revered saint, St. Sergius of Radonezh. From the 14th century onwards, many pilgrims have also been embarking on journeys just to arrive at the monastery to pay homage to him. The monasteries have then gone on to earn their name by being listed as UNESCO sites where many tourists flock to visit landmarks such as the Dormition Cathedral, Holy Gates, and Godunov Burial Vault.
Moscow to Sergiev Posad Monastery Private Day Tour, Transport

Duration: 7 hours
St. Petersburg is another viable location where many tourists clamour to visit as it is home to The State Hermitage Museum. It is the second-largest and also the eighth most-visited museum in the world. Now, with a reputation like that, how could one simply resist the urge to visit? Comprising a wide array of three million items, the artwork spans over a large complex of six historic buildings (one includes the popular Winter Palace - the residence of the former Russian emperors). Another hot spot to visit would be Saviour on the Spilled Blood, a church built on the ground to commemorate the deceased Tsar where Alexandra II suffered a mortal injury that cost him his life.
One-Day Trip to St Petersburg from Moscow by Train

Duration: 16 to 18 hours
Home to UNESCO-listed monuments and historical attractions, one of the popular sites include Cathedral of Saint Demetrius - a church with around 1500 images of people, animals and plants. Established in the 12th century, this church was built by the Grand Duke of Vladimir for his personal use and was connected to his palace, and it also has a mix of both biblical and pagan figures which are emblems of power. Another place to go to would be Suzdal Kremlin, which is the most ancient part of Suzdal. Dating back to the 10th century, which was further built up in the 11th and 12th century, the kremlin was established and was developed to be a strong fortress for defensive purposes. The kremlin was fortified to protect the local prince and bishop, who resided behind these walls. And even till this day, Suzdal Kremlin has been a famous place to visit as it is a UNESCO site due to its rich historical value and infrastructure - about how it is impressively fortified to be able to defend the city for centuries.
Day Trip to Suzdal and Vladimir with traditional Russian lunch

Duration: 12 hours
If you would like to know more about World War II and find out more about what transpired during the war and how the Russian army force developed over the years, Military Patriotic Park of Culture and Recreation of the Armed Forces might just be the place for you. Having an array of military equipment, it is a museum of aviation, armoured vehicles, artillery and more. In fact, there are historical exhibitions and also samples of weapons and equipment which will allow you to have a full-fledged experience of what being a Russian soldier was like.
Tank Excursion and Bazooka Shooting in Moscow

Duration: 8 hours
Here at Kolomna, which is home to Assumption Cathedral, you will be able to take part in a fully immersive trip. You will be able to visit popular landmarks such as Marshmallow Museum, which is also known as 'History with Taste', where the museum focuses on the taste of the apple sweetmeat. Or more locally referred to as Kolomna Pastila, this old Russian dish is a national treasure as it is a dish passed down through the generations, providing many insights into the local culture or traditions. Besides, you will also be able to take a stroll along the Moskva River.
Trip to Kolomna - Authentic Cultural Experience from Moscow with Private Guide

Duration: 10 hours
If you are more of an adventure person, Sorochany Ski Resort might be the perfect fit for you! Russia has always been known for its cold and harsh winters, but in this case, the weather there is exactly what makes it so suitable. Being able to accumulate a thick layer of snow, Russia has been later known to be a Winter paradise, where the ground and buildings are layered with a thick covering of white snow. Here at Sorochany Ski Resort, you will be able to go skiing and also toboggan activities, which are activities that use the sledge. Apart from that, you also will be able to visit Dmitrov, which is an ancient town where you will just be in awe of the breath-taking churches and the beautiful Kremlin.
Day trip from Moscow to Sorochany Ski resort and Dmitrov medieval town

Duration: 8 hours
7. Museum-Estate Arkhangelskoye
Museum-Estate Arkhangelskoye is a historical estate where you will be able to delve deeper into the rich history of Russia and visit the Arkhangelskoye Palace - which was the pride of Yusopuv family. Being able to withstand the hardship of war in 1812 and the fire of 1820, this strong palace continued to serve its purpose till today. Another crucial part of the museum is the park - which was established during the same time as The Big Haus Society.
Arkhangelskoye Estate

Address: Arkhangel'skoye, Moscow Oblast, Russia, 143420

Website: Arkhangelskoye Estate

Opening hours: 10am - 9pm (daily)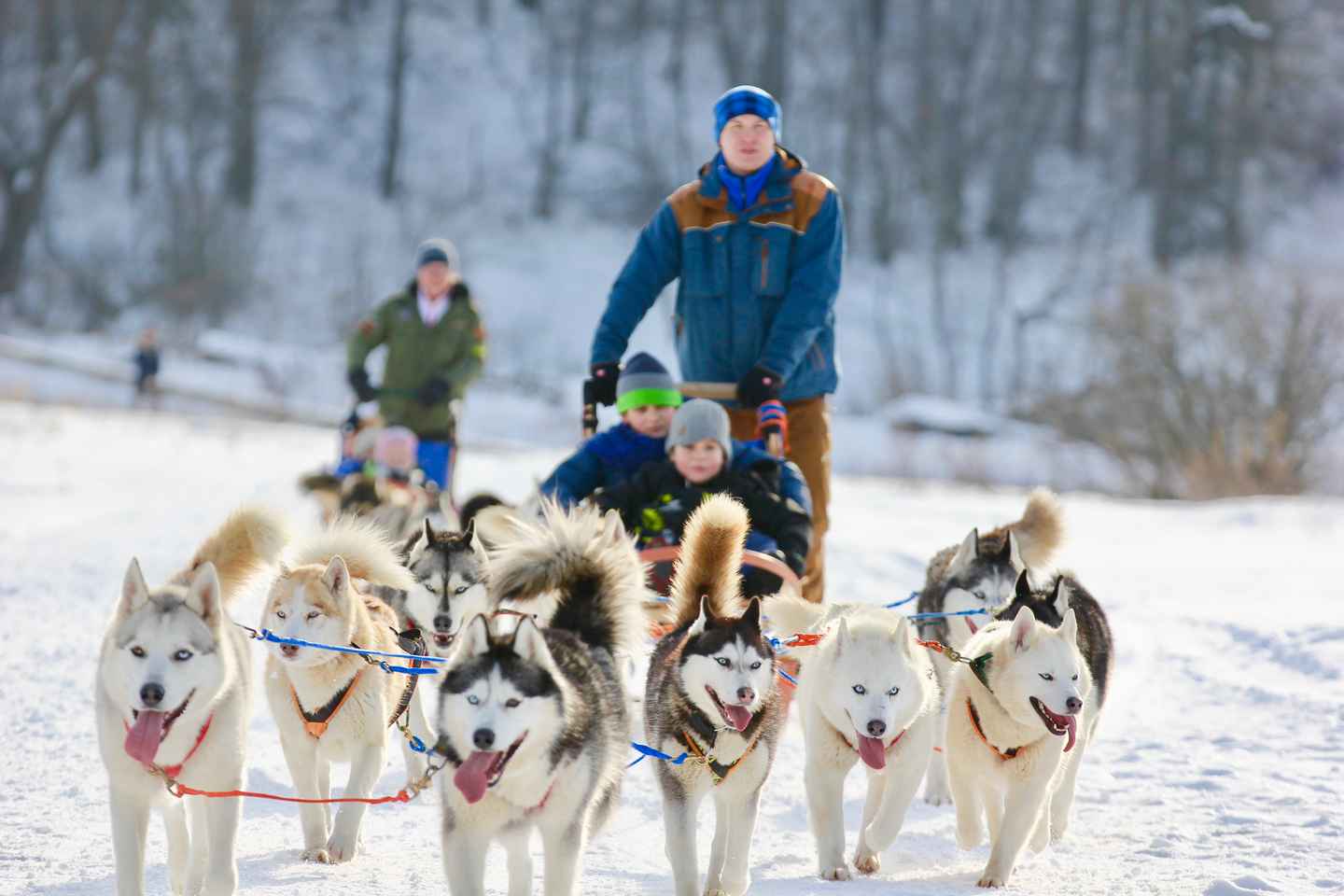 Huskies are majestic animals, where it has been long debated if they were dogs or wolves. Having a thick coat of fur and well-developed muscles in their legs, huskies are able to withstand the cold in Russia and a pack of them are also able to pull sleds even when the ground is covered with snow. Head down to get this once-in-a-lifetime experience to be pulled by a group of huskies through the snowy forest, and who knows - you might even make a furry friend or two! In this trip, you will be able to interact with up to 120 huskies and you will also get to enjoy scrumptious traditional Russian tea and pancakes to warm your tummy up in the cold weather.
From Moscow: Dog-Sledding Tour with Husky Farm Visit

Duration: 7 hour
Known for their military strength even back in the days, Russia was seen as a formidable opponent as they had sufficient materials and manpower to churn out weapons and machinery like no other. Reading up to this point, if this interests you, then you definitely have to head down to Kubinka Tank Museum in Moscow. Here at the museum, you will be able to see the extensive collection of military tanks that were mobilised in war. In addition, you will be able to see original battlefield tanks, captured Nazi vehicles, and also realistic tank replicas.
Moscow to Kubinka Tank Museum Private Tour with Admission

Duration: 4 hours
Zvenigorod is one of the oldest towns in the Moscow region. One interesting landmark to visit would definitely be Savva-Storozhevsky Monastery, which has a long history, dating back to the 14th century. The monastery was dedicated to the feast of the Nativity of the Theotokos. In addition, you will also be able to travel back in time to enjoy Museum of Russian Dessert and have a taste of some of the medieval sweets that really speaks of the history and the flavour profile of Russia. Dive deeper into their culture and traditions by visiting Russian Orthodox Church.
Zvenigorod Day Trip and Russian Countryside

Duration: 9 hour
Visit Moscow: a winter paradise
Moscow has a rich history and culture and it is evident from the many buildings, churches and palaces all around the country. Head down to experience this unique adventure as you learn so much more about Russia as a country.
Disclosure: Trip101 selects the listings in our articles independently. Some of the listings in this article contain affiliate links.
Get Trip101 in your inbox
Unsubscribe in one click. See our privacy policy for more information on how we use your data