The capital city of Taiwan, Taipei is a vibrant and bustling metropolis with plenty to offer its visitors. From shopping in the buzzing Shi-men Ting neighborhood to food crawls at Raohe Night Market, fun-filled and memorable activities can be enjoyed here. If you wish to see the beauty of the Taipei cityscape, you can climb the 89th floor of Taipei 101 Business Center, where an observation deck awaits. While in there, you can also check out dining spots in the building. Additionally, you cannot miss a chance to visit the historic Lungshan Temple, which dates back to 1738. Have you covered all these attractions already and wish to explore nearby destinations? If so, browse through this list of the best day trips from Taipei, Taiwan.
1. Sandiaoling Waterfall Trail
Editor's Note: Photo taken from the establishment's official social account
Sandiaoling Waterfall Trail is a destination for nature lovers and thrill-seekers, located 42.8 km (26.6 mi) away from the capital city of Taiwan. Since it offers short and low-difficulty paths, the 2.7 km-long (1.7-mi) route appeals to all adventurers, even the inexperienced ones. For visitors, the goal is to reach the three-tiered waterfall at the top. The tiers are named respectively - Hegu Waterfall, Motian Waterfall (alternatively called Yuemei Cave Waterfall), and Loquat Cave Waterfall.
Apart from magical cascades, cliffs, lush forests, and grottos await travelers on Sandialing Waterfall Trail.
Sandiaoling Waterfall Trail

Address: No. 1, Yuliao Road, Shuorenli, Ruifang District, New Taipei City

Website: Sandiaoling Waterfall Trail

Opening hours: Open all year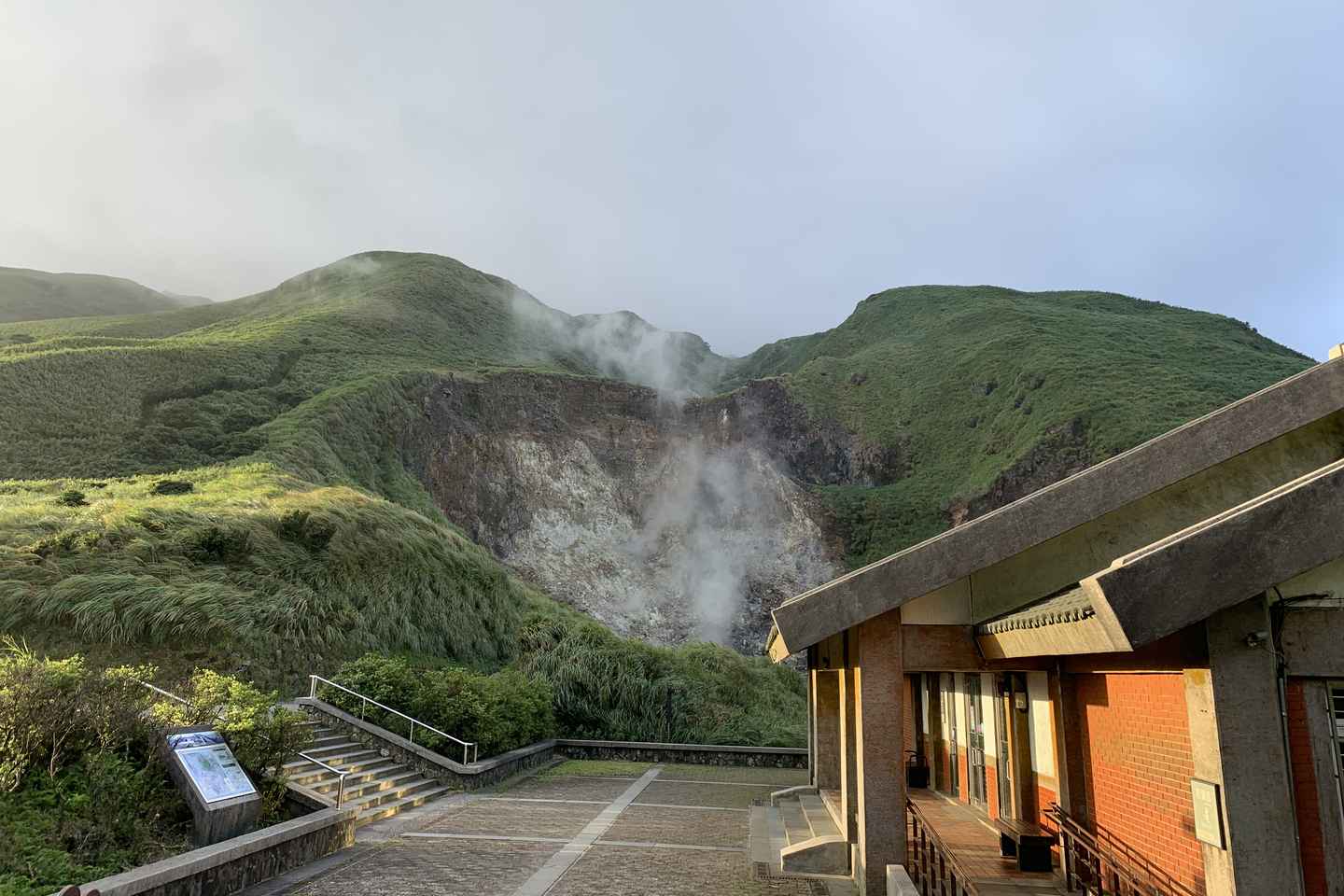 One of the few national parks in the country, Yangmingshan National Park is about half an hour away from Taipei, making it an ideal day trip destination. If you wish to explore this serene and scenic place but have no idea where to start, you can join this Private Yangmingshan Volcano and Nature Tour by GetYourGuide.
The package covers transport, entrance fees, and lunch sets. Once you get to the national park, you're sure to be blown away by the volcanic landscape views. The tour includes a trek to Qingtiangang where marvelous natural scenery awaits in the form of lush meadows. After the journey, you can opt to enjoy a hot spring bath for a more memorable experience.
From Taipei: Private Yangmingshan Volcano and Nature Tour

Duration: 5 hour
3. Pinglin District
Situated in southeastern New Taipei, Pinglin District is only 26.5 km (16.5 mi) away from Taipei. It is set in a mountainous area, offering refuge to tourists and city-dwellers seeking a change of scenery amidst abundant nature.
Apart from the views and the serenity, people come here to taste some tea of the Bao Zhong variety, which is at its freshest during Spring. April or May are good times to be here to make the most of your visit. You can know more about this district's tea heritage at Pinglin Tea Museum. Additionally, bikers can explore JinGuaLiao Bike Path for an enjoyable experience.
The district also comes with many restaurants and cafes where you can try delectable meals.
Pinglin District

Address: New Taipei City, Taiwan
4. Wulai District
A 29.9-km (18.5-mi) journey from Taipei can take you to the beautiful district of Wulai. This mountainous destination is popular for its hot springs, which draw plenty of travelers looking for wellness getaways. Wulai Old Street offers hot springs and river views, coupled with flavorful street food. Along Nanshi River, there are pools where you can take refreshing dips and bond with your adventure buddies. You may also visit Wulai Waterfall, which can be reached by cable car.
If you are a culture enthusiast, feel free to get to know the history of the place at The Wulai Atayal Museum.
Wulai District

Address: New Taipei City, Taiwan
Are you done immersing in everything Taipei has to offer and hoping to branch out? Why not avail of this exciting tour package by Viator? Through this package, you will be able to explore the Taiwanese countryside and visit the charming towns of Pingxi and Shifen. With the help of a knowledgeable guide, you will get to know more about these destinations and dive into their cultures and history.
You will be able to experience flying a sky lantern, pictures of which adorn the Instagram feed of everyone who visits Taiwan. A stop at Ah Mei Teahouse, a mountaintop cafe, to taste a flavorful taro dessert is also part of the memorable journey. The best part? A picture-taking session at Shifen and Golden Waterfalls is also included.
City Discovery: Pingxi, Shifen & Jiufen Private Day Trip

Duration: 8 hours
Editor's Note: Photo taken from the establishment's official social account
Since Heping Island Park is only 33.9 km (21.1 mi) away from Taipei, it is definitely an ideal day trip destination. This idyllic coastal park is a playground for watersports enthusiasts as it features a popular diving spot. It serves as a great home base for travelers looking to explore Keelung Harbor. Situated just outside Keelung's city center, it houses must-see attractions, including Alabo Bay, Blue Ocean Pool, and the Temple of all Goodness.
This is a family-friendly destination. In fact, pets can also be allowed here.
Heping Island Park

Address: No. 360號, Pingyi Rd, Zhongzheng District, Keelung City, Taiwan 202

Website:

Opening hours: 8am - 7pm (daily)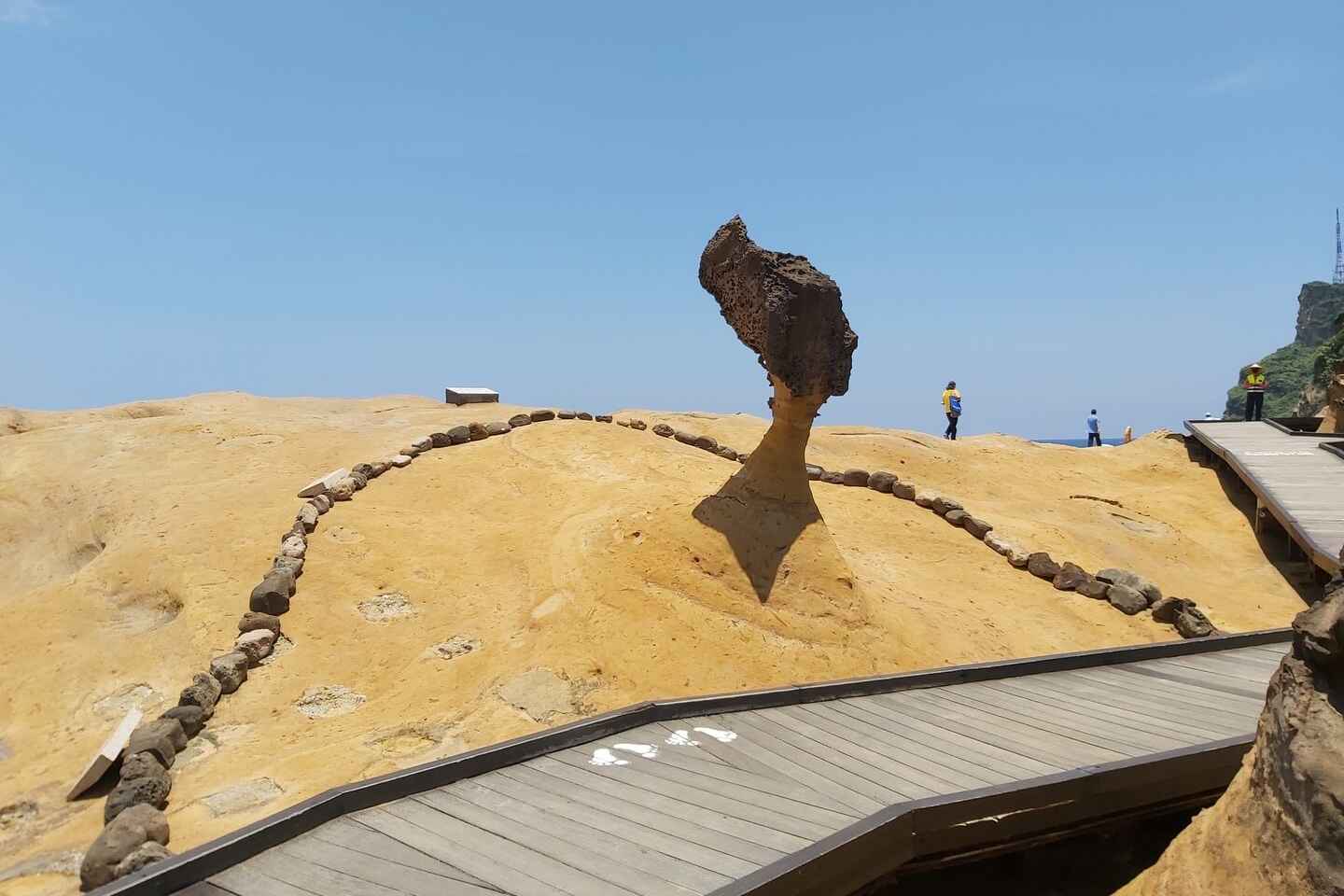 Check out this exciting Yehliu Geopark and Keelung Harbor Guided Tour by GetYourGuide, as it might pique your interest. Through this tour, you'll be able to immerse in the beauty of the Northern Coast, visit the charming coastal city of Keelung, and admire the fascinating rock formations in Yehliu Natural Park. The escapade lasts four hours and includes stops at Keelung Maritime Plaza, Gihou Fishing Harbor's Fisherman's Market, and Chung Cheng Park - where the massive Goddess of Mercy statue is located.
A tour guide, a ride, and entrance fees are included in the package, so you won't have to worry about anything. You can bring your own food or try local dining spots at one of the destinations.
From Taipei: Yehliu Geopark and Keelung Harbor Guided Tour

Duration: 4 hour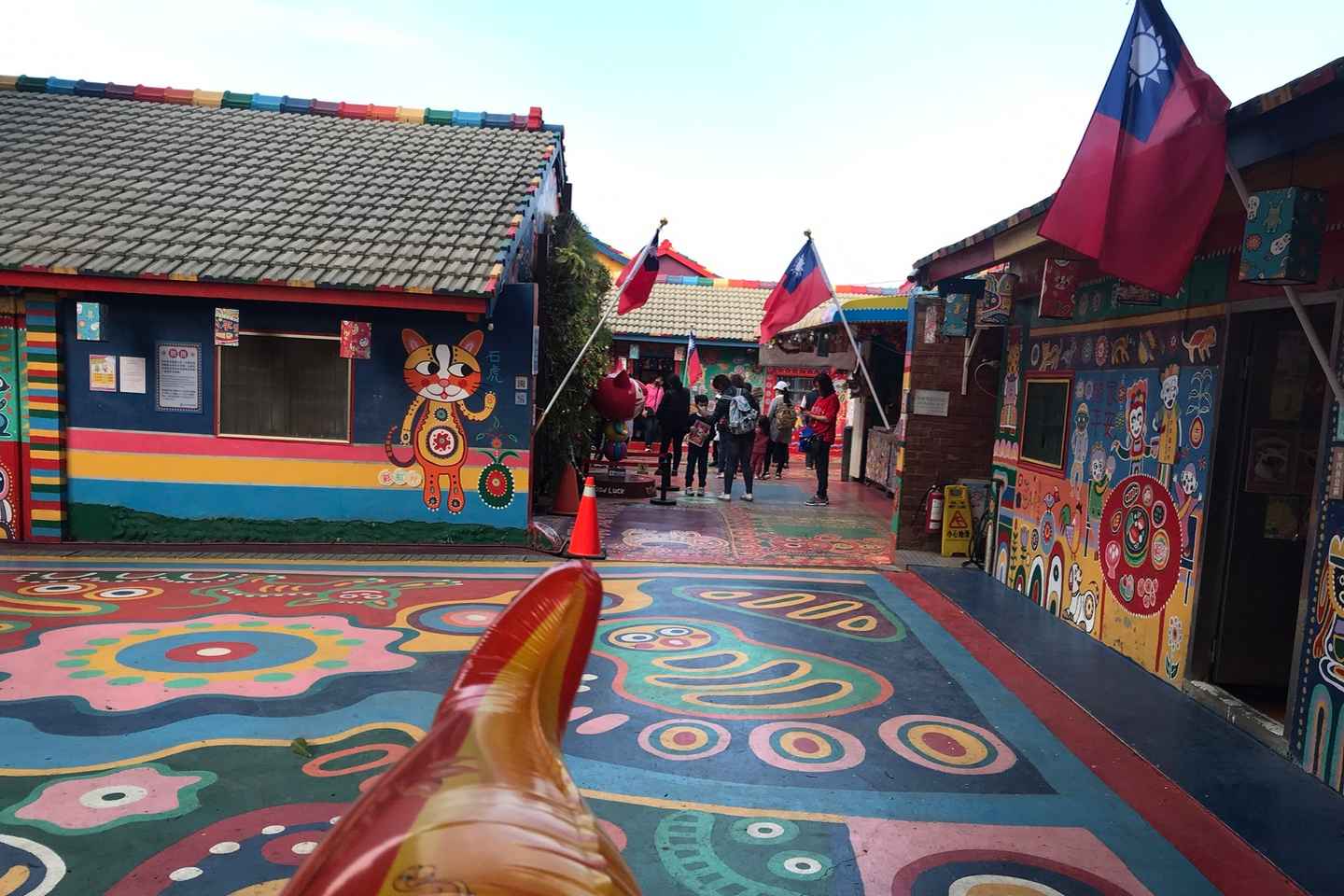 Social-media-savvy travelers will love this Taichung Instagram tour package by GetYourGuide. Together with a professional guide, you will discover the beauty of the industrial municipality of Taichung - packed with Instagram-worthy offerings. Take snaps of the vibrant surroundings and click the perfect vacation selfie with the colorful blooms of Chung-she Flower Garden. You can also strike a pose at Rainbow Village with its fascinating street art as your backdrop. A stop at Gaomei Wetlands, where you will enjoy sunset watching, is also part of the itinerary.
This fantastic tour includes an air-conditioned ride, Chung-she Flower Garden entrance fees, and local insurance.
From Taipei: Taichung Instagram Day Tour

Duration: 11 hour
9. Laomei Green Reef
Laomei Green Reef is only 58.1 km (36.1 mi) or approximately an hour's drive from Taipei. It is a breathtaking natural wonder in the Shimen District, characterized by a picturesque shoreline with unique-looking landscapes (caused by a volcanic eruption) and a carpet of algae that covers it during spring. That being said, this year-round attraction is at its prettiest between the months of March and May.
Also, it is important to be informed of the tides before your visit, as the reef only emerges during low tide. If you could, come by on a weekday for a less-crowded visit.
Laomei Green Reef

Address: Shimen District, New Taipei City, Taiwan 253

Website: Laomei Green Reef

Opening hours: 24 hours (daily)
10. Thousand Island Lake
Situated 32 km (19.9 mi) away from Taipei, Thousand Island Lake (Qiandao Lake in the local language) is a gorgeous body of water in the middle of tea plantations and verdant mountains. It is open 24 hours a day, offering swimming opportunities, hiking trails, and scenic viewpoints. Qiandao Lake Observation Deck offers magnificent views of Emerald Reservoir.
For travelers arriving by car, note that you'd have to park away from the main attraction because of the rugged roads.
Thousand Island Lake

Address: 223, Taiwan, New Taipei City, Shiding District

Website: Thousand Island Lake

Opening hours: 24 hours (daily)

Price: Free
Plan an exciting day trip from Taipei
While Taipei has plenty to offer its visitors, there are also exciting attractions waiting outside the city limits for you to discover. To help you enjoy a more memorable holiday in Taiwan, we have compiled the ideal destinations for you in this list of the best day trips from Taipei.
Disclosure: Trip101 selects the listings in our articles independently. Some of the listings in this article contain affiliate links.
Get Trip101 in your inbox
Unsubscribe in one click. See our privacy policy for more information on how we use your data