When you go to hot springs in Japan, you usually wear nothing to hop in the water. However, at Yunessun in Kowakien Hakone, you can wear swimsuits and enjoy a bath with the opposite sex. Yunessun looks like a water park, but it is an actual hot spring resort with high quality water. If you are new to hot spring and are not comfortable with the idea of getting naked in front of others, this could be a great place to get started with Japanese bathing culture!
Book now e-tickets for Hakone Kowakien Yunessan!
Yunessun, a hot spring amusement park!
Up in the mountains of Hakone, there is a castle-like building not so far from Kowakien station, called "Yunessun". It is a part of Hakone Kowakien, a Hakone hotel resort surrounded by the opulent nature of Hakone Mountains. If you take public transportations, you can take a few different routes by using trains and buses. Because Hakone is a very popular tourist destination for both domestic and international tourists, it will be easy for anybody to figure out a way to get there, especially now that there are more people who can communicate in English around this area. The website offers information in various languages, thus you can easily find how to access this location.
Soak in the coffee bath: fun themed baths at Yunessun!
Yunessun is like a water park of a hot spring, thus they have many unique baths that cannot be found anywhere else. For example, the "coffee bath" actually smells of and has color of coffee! It is because Yunessun uses real coffee for this bath so that it is dark brown like the strong morning coffee you drink before heading up to the office. There are also many other themes such as Japanese green tea, sake, soda, wine to just name a few. Unfortunately, not all of them are real like the coffee bath, as some are using bath salts. At Yunessun, each bath has a unique shape and color so it is definitely worth trying all of them.
Let Dr. Fish take care of your feet!
At Yunessun, you can experience "Garra rufa", also known as "doctor fish" to nibble your feet. This particular skin smoothening technique comes from Turkey, but has been getting pretty popular here in Japanese hot spring resorts in the recent years. At Yunessun, at the extra price of 100 JPY (0.8 USD), you get to experience doctor fish for 5 minutes. Since it is still quite new and popular among Japanese people, this section of Yunessun always has a long wait line. However, the experience is unique, so if you do not mind waiting in line a bit, I highly recommend it. You will have ticklish sensations, but it is not painful as the fish are just eating your dead skin. It is a fun activity to do with your friends and/or family. As you see in the picture, somehow older men attract more doctor fish than young adults and children!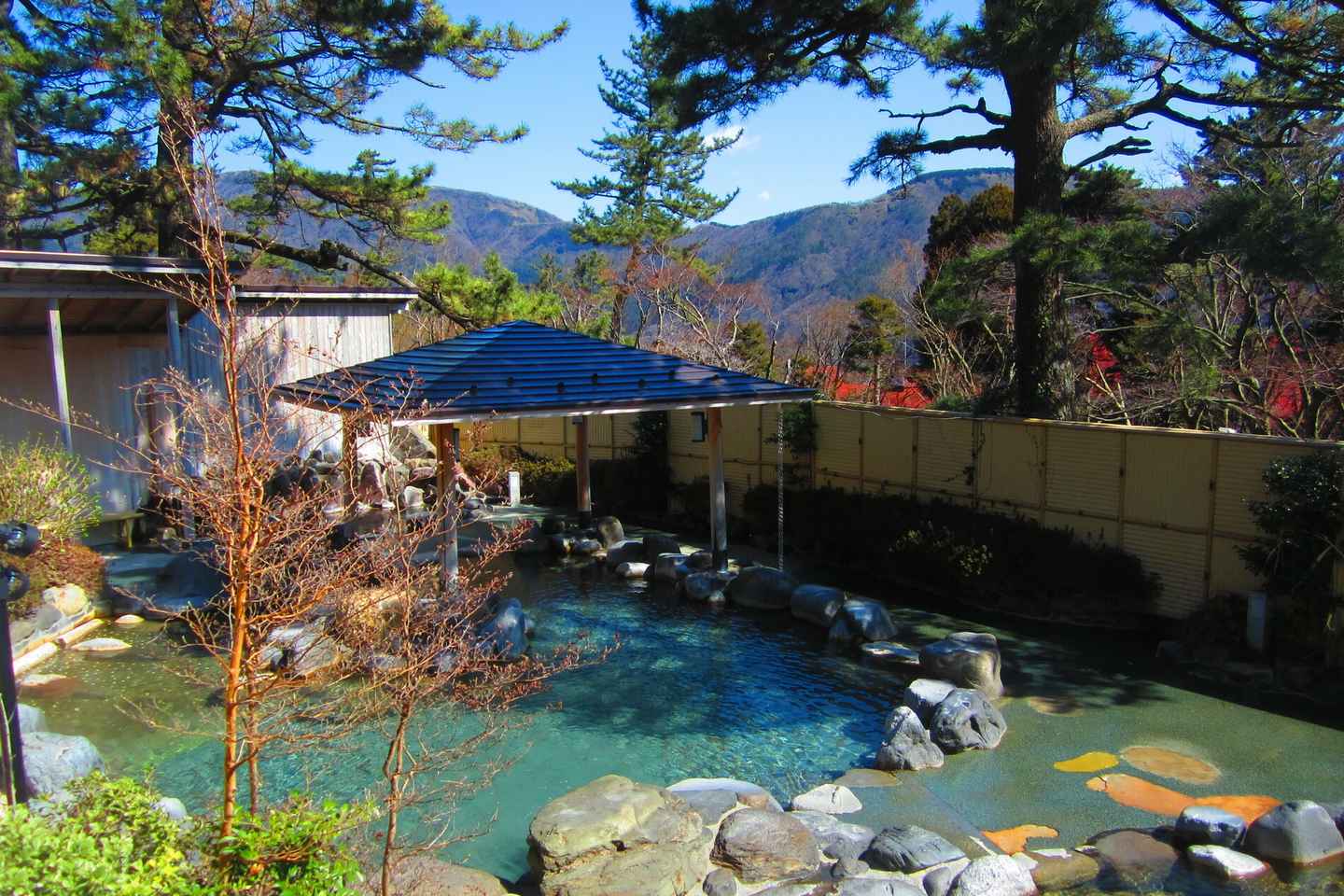 A couple times a day, the Yunessun staff organize a special performance in each bath. In the wine bath, three times a day, Yunessun staff pour real wine on visitors! The wine bath itself is not real wine, but for the performances, they use real wine and pour some on everyone who desires. If you are lucky, you could be the one enjoying a full bottle of wine to be poured from the top of your head. Like this wine bath, Yunessun offers various performances and events, and welcome visitors to participate, in order to make the visit even more entertaining and engaging. Though, just a warning! If you participate to the wine performance, make sure to close your eyes because they could burn a bit if wine gets in your eyes!
Hakone: Kowakien Yunessun Spa Resort 1-Day Pass
Be a kid on a peach slider!
Like many other hot springs, Yunessun also has an outdoor area. If you just want to relax in the hot spring that is totally fine. However, if you want some more excitement, why not try the water slider, called "peach slider"? It is a short slide, but it goes pretty fast! Adults and children over 110 cm can participate! There are 3 courses: "easy", "normal", and "hard" so you that everyone can have fun at their own pace. There is a lifeguard always on site so you do not have to worry about the safety of your children.
Yunessun: where excitement and relaxation meet!
Yunessun is not only for children, but also for adults who enjoy hot springs and beautiful nature, like what you can find in Hakone.
Yunessun is packaged with a regular hot spring in the same building, called "Mori no Yu" (Forest Hot Spring) , so after playing in the various themed baths, you can go and relax at a regular hot spring taking off your swimsuit. The entrance fee for adults to relax in both Yunessun and Mori no Yu is 4,600 JPY (38 USD). It includes mostly everything except towels, snacks, buying pictures, and the doctor fish session. As you see from my pictures, unlike other regular hot springs, you are allowed to take pictures inside the facility, so you will be sure to keep tons of great memories when you visit Yunessun!
Book now e-tickets for Hakone Kowakien Yunessan!
Disclosure: Trip101 selects the listings in our articles independently. Some of the listings in this article contain affiliate links.
Get Trip101 in your inbox
Unsubscribe in one click. See our privacy policy for more information on how we use your data