Nesting on the western parts of Europe, Germany is a breathtaking country that is known for its rich cultural heritage, delicious cuisine, and captivating cities. The biggest of them all is Berlin, which is also the country's capital. Also, you'll find Munich, Frankfurt, Cologne, Hamburg, and other marvelous cities in Germany. Other than that, this vibrant city showcases majestic architectural wonders that seem frozen in time. For people who are hardcore party-goers and beer-lovers, Germany celebrates some of the biggest Oktoberfest parties in the world. If you are more into sightseeing and visiting iconic landmarks, here is a list of the top famous buildings in Germany that you must not miss. Book your hotel or Airbnb soon and pay a visit to these amazing spots!
1. Schwerin Castle
Nestled on an island in the captivating city of Scherwin, Scherwin Castle is a majestic palatial schloss. In the past, this remarkable palace is home to dukes and grand dukes of Mecklenburg-Schwerin. It showcases a stunning Neo-Renaissance architectural design that will surely blow you away. Besides its breathtaking facade, it houses ornate rooms with intrinsic designs. Additionally, Schwerin Castle holds a vast collection of European art, from paintings to sculptures and other masterpieces. Outside lies a garden with lush greens and a picturesque view of the lake.
Schwerin Castle

Address: Lennéstraße 1, 19053 Schwerin, Germany

Website: Schwerin Castle

Opening hours: Tue - Sun: 10am - 6pm (closed on Mon)

Price: 9 USD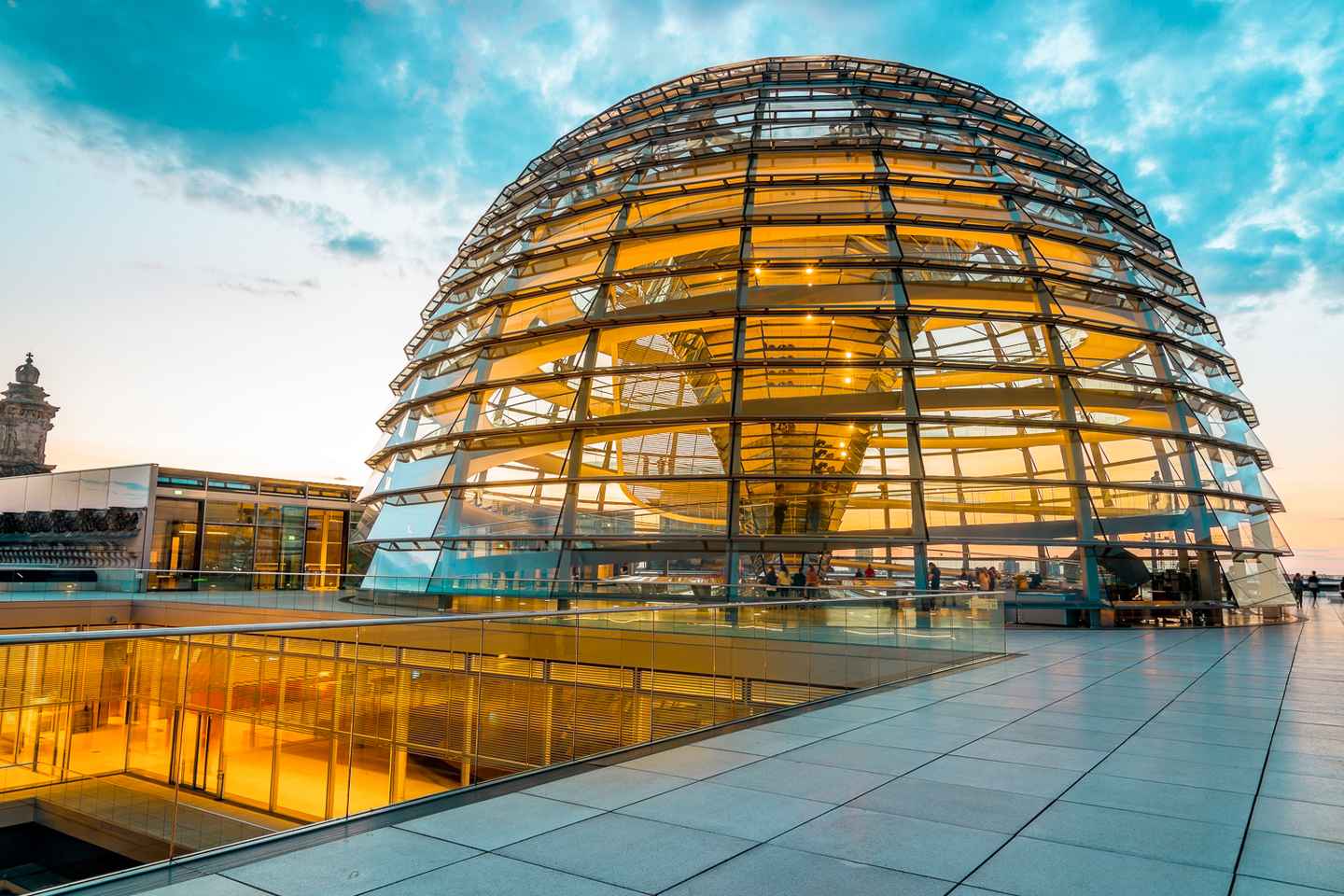 If you are very much into culture, history, and architecture, be sure that you add Reichstag Building to your itinerary on your trip to Germany. This iconic building is located in Platz der Republik 1, Berlin. It was constructed in the year 1884 to serve as home to the diets of the German Empire, but that only lasted till 1993, after being destroyed by fire. It was then reconstructed to be a symbol of history and tourists are welcome to explore this stunning structure. On top of the building, you'll see a remarkable glass dome. Visitors are allowed to climb up there to see panoramic views of the city.
Berlin Reichstag and Glass Dome Private Tour

Duration: 1.5 hour
3. Trier Saint Peter's Cathedral
Trier Saint Peter's Cathedral is also called The High Cathedral of Saint Peter in Trier. It is a marvelous Catholic church that devotees and pilgrims make sure to visit. Trier Saint Peter's Cathedral is considered the oldest church in the whole country. This stunning place to visit showcases a combination of remarkable architectural designs, including Romanesque architecture, Gothic architecture, and Baroque architecture. It is famous for having been standing since 1270.
Trier Saint Peter's Cathedral

Address: Liebfrauenstraße 12, 54290 Trier, Germany

Website: Trier Saint Peter's Cathedral

Opening hours: 6:30am - 5:30pm (daily)
4. Neuschwanstein Castle
Another majestic castle that you must visit while in Germany is the Neuschwanstein Castle. You'll find it in the municipality of Schwangau, atop a hill in the middle of vast rolling plains and lush greeneries. This castle plays an important significance in the history of Germany, as it was built in 1869 to gift for a prominent German musician and artist, named Richard Wagner. This castle features a 19th-century Romanesque Revival architectural style. Now, under the management of the German government, Neuschwanstein Castle is open to public visits.
Neuschwanstein Castle

Address: Neuschwansteinstraße 20, 87645 Schwangau, Germany

Website: Neuschwanstein Castle

Opening hours: 9am - 6pm (daily)

Price: 14 USD
5. Ulmer Münster
Ulmer Münster is located in the breathtaking metropolis of Ulm in Germany. It is known for its marvelous medieval architecture. In fact, Ulmer Munster is one of the most visited architectural wonders in the town. Ulmer Münster is a Lutheran church that has gained worldwide popularity for its colossal size. On record, it is considered one of the tallest churches on the planet. Built in 1890, this Protestant church was made from cold stone. Guests are allowed to climb the top of the church to witness the picturesque views of the city. At the present time, Ulmer Munster features services, guided tours, and special musical events.
Ulmer Münster

Address: Münsterplatz 21, 89073 Ulm, Germany

Website: Ulmer Münster

Opening hours: 9am - 7pm (daily)
6. Cologne Cathedral
The city of Cologne in Germany is known for its marvelous architecture that seems frozen back in time. A testament to that is Cologne Cathedral. This UNESCO site is situated in the bustling vibrant area of Domkloster, where retail stores and dining options are scattered everywhere. It showcases Gothic architectural design that will blow you away. Serving as the hallmark of the Rhine region in Germany, this symbol of Catholicism stands tall with two skyscraping towers that dominate the empty Cologne Skyline. On record, this landmark began construction in 1248 and was completed in 1880.
Cologne Cathedral

Address: Domkloster 4, 50667 Köln, Germany

Website: Cologne Cathedral

Opening hours: 6am - 7:30pm (daily)
7. Sanssouci Palace
If Potsdam is the main destination in your upcoming Germany trip, you should definitely include Sanssouci Palace in your travel plans in the city. Once a summer home to the King of Prussia, Frederick the Great, Sanssouci Palace is famous for its stunning period furnishings and its majestic terraced vineyards. Its facade and opulence are exceptionally aesthetically pleasing which makes it a favorite destination of couples on a romantic getaway. It's like a palace that you see in romantic period movies. Its name is derived from the French phrase "sans souci", which translates as "carefree".
Sanssouci Palace

Address: Maulbeerallee, 14469 Potsdam, Germany

Website: Sanssouci Palace

Opening hours: Tue - Sun: 10am - 4:30pm (closed on Mon)

Price: From 21 USD
8. Berlin Cathedral
Another remarkable landmark that you should not miss while you're on an adventure in Germany's capital, Berlin, is Berlin Cathedral. Formally called Evangelical Supreme Parish and Collegiate Church, Berlin Cathedral nestles in Mitte borough. It was open to the public in 1905 but its construction started in 1894. Berlin Cathedral boasts a marvelous Neo-Baroque architectural design, and its immense size makes it stand out even more. It houses some tombs that belong to royal people and a fascinating 7,000-pipe organ. Additionally, the church is built with a dome on top, and from there, visitors can marvel at the sweeping city views.
Berlin Cathedral

Address: Am Lustgarten, 10178 Berlin, Germany

Website: Berlin Cathedral

Opening hours: 9am - 8pm (daily)
9. Heidelberg Palace
A breathtaking landmark in the lovely quintessential town of Heidelberg, Heidelberg Palace is a castle that is noted as one of the most significant Renaissance architectural wonders in the Northern Alps. At the present time, visitors are only able to see what's left of the castle after its demolition in the 17th century. Rupert the III initiated its renovation after the damages. Heidelberg Palace houses valuable artifacts in the German Apothecary Museum that visitors can marvel at, as well as a barrel cellar, an enchanting courtyard, and superb restaurants.
Heidelberg Palace

Address: Schlosshof 1, 69117 Heidelberg, Germany

Website: Heidelberg Palace

Opening hours: 8am - 6pm (daily)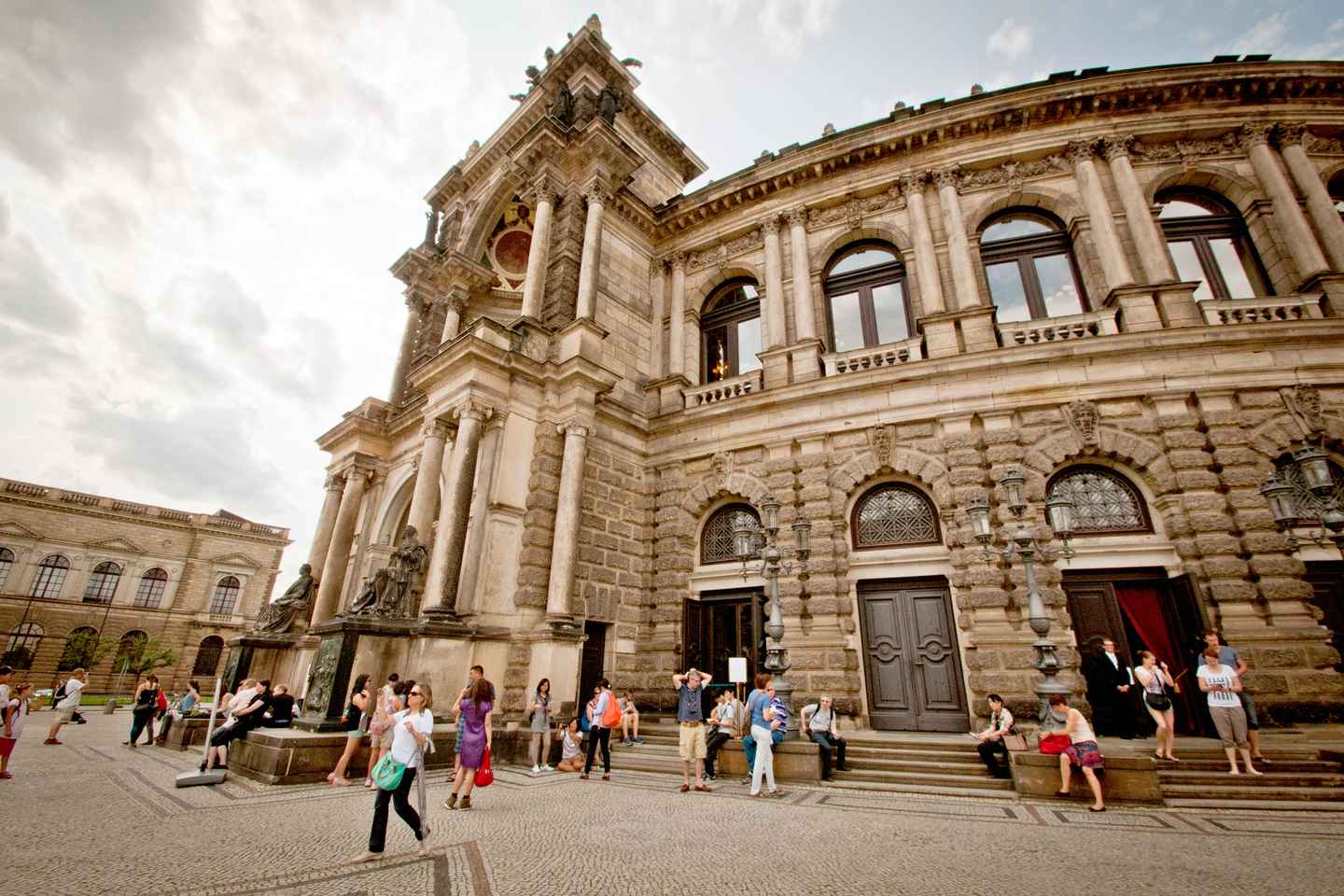 Semperoper Dresden nests in Dresden, the charming capital of Saxony - a German state located on the eastern side of the country. It is a top-class entertainment venue that serves both as an opera house and a concert venue for other musical performances. Also, it houses the Semperoper Ballet - a community of talented ballet performers led by Aaron S. Watkin. Originally Semperoper Dresden was constructed in 1841. A fire heavily damaged it in later years and it had to be rebuilt in 1869.
Dresden: Semperoper Tickets and Guided Tour

Duration: 45 minute
Fall in love with Germany
Boasting a wide array of exciting things to do, Germany is a breathtaking European country that is famous for its architecture, cuisine, festivals, and rich cultural heritage. It is a travel destination for all types of tourists, whether you are a history buff, a nature adventurer, an architecture enthusiast, a foodie, and even a shopping enthusiast. If you like sightseeing and city walks, remember this list by heart and use it as your guide in planning an elaborate itinerary in Germany.
Disclosure: Trip101 selects the listings in our articles independently. Some of the listings in this article contain affiliate links.
Get Trip101 in your inbox
Unsubscribe in one click. See our privacy policy for more information on how we use your data