Ever since K-Pop came into the scene, South Korea has infiltrated its way into greater Asia and Western pop culture. Korea is now a combination of traditional customs, and charming landscapes - picture the fall leaves, ski slopes, and fresh spring scenes you usually see in Koreanovelas. There's also a colorful city life in Seoul that just gets more and more robust by the day. The city seems to be constantly moving, with its huge shopping malls and pop-themed bars. There's always a series of packed events all around the city. Not to mention the amazing accommodations such as ski resorts and unique Airbnb vacation rentals. But if it's your first time in the country, you'll want to see the most iconic parts of Korea first. For your ease, we've compiled a list of the 10 most famous buildings in South Korea. Keeping reading to know more.
In its prime, Gyeongbokgung had 330 buildings with 3,000 staff that served the royal family. But while the eunuchs, concubines, mathematicians, scholars and royals have all been replaced by a heavy mass of tourists that visit all times of the days, it's still striking to imagine how Gyeongbokgung Palace must have been in the 1500s. Most of what you see today are reconstructions of the original structures as the buildings have been destroyed and rebuilt over the years. Feel like a king as you roam through the hallways and corridors of this magnanimous palace.
Gyeongbokgung Palace, Jogyesa Temple and Folk Museum Tour

Duration: 3 hours 30 minutes
2. Deoksugung Palace
This is the only palace among Korea's five palaces that can be visited in the evening. At night, the trees and the palace itself are illuminated with fairy lights, and you can stroll around freely on the grounds. You can imagine just how romantic that is. It is also perhaps the least traditional among the palaces, with western-style neoclassical buildings mixed in with the more traditional Chinese-inspired structures. If you have time to wait, watch the changing of the guards at 2pm and 3:30pm. It's a fascinating sight to behold.
Deoksugung Palace

Address: 99 Sejong-daero, Jeong-dong, Jung-gu, Seoul, South Korea

Website: Deoksugung Palace

Opening hours: Tue - Sun: 9am - 9pm
The 63 Building Tower in Yeouido Island is an iconic landmark tied to the 1988 Summer Olympics, which was hosted by South Korea. At that time, it was the tallest gold-clad structure in the world. While it has since been overtaken by other skyscrapers, it still looks impressive even up to this day. It regained popularity when it became an icon for the Sim City 3000 Unlimited cover.
63 Building Observatory & Aqua Planet 63 Admission Ticket in Seoul, South Korea

Duration: 2hrsDuration
This palace is said to be the most beautiful among the 25 main palaces. With a spectacular view of the mountain at the back and a stream in front, Changdeokgung is a prime example of a Korean establishment that has good pungsu or feng shui. Roam through the courtyard, the corridors, and the beautifully maintained trees. You can also see a snippet of the royal family's living quarters even if you can't really access them.
Seoul Morning Heritage Tour Including Changdeokgung Palace

Duration: 4 hours
5. Leeum, Samsung Museum of Art
Perhaps the most appropriate symbol of a Modern Korea, the Samsung Museum of Art is a clean, contemporary architectural gem that houses hundreds of Korean paintings, metal and woodcraft, calligraphy, ceramics, and other Buddhist art. If you want a more curated tour, visit it during the weekend where there's a scheduled hour and a half tour in English. Otherwise, there's an audio guide that you can rent when you enter.
Leeum, Samsung Museum of Art

Address: 60-16 Itaewon-ro 55-gil, Hannam-dong, Yongsan-gu, Seoul, South Korea

Website: Leeum, Samsung Museum of Art

Opening hours: Tue - Sun: 10:30am - 6pm (closed on Mon)
6. Dongdaemun Design Plaza
If you're looking for some fun things to do, spend an hour or two in Dongdaemun and find out what this cultural complex has to offer. There are galleries, design shops, parks, museums and even a 16th-century military camp. The Dongdaemun was designed by the late famous architect Zaha Hadid. And while they were excavating some of the spaces to prepare for construction, parts of the old Korea including the Seoul City Wall was excavated. It has since been integrated into the complex's design.
Dongdaemun Design Plaza

Address: 281 Eulji-ro, Euljiro 7(chil)-ga, Jung-gu, Seoul, South Korea

Website: Dongdaemun Design Plaza

Opening hours: 10am - 7pm (daily)
7. Seoul City Hall
The Seoul City Hall was redeveloped recently to add more features inside the structure, such as an eco-wall, which is a vertical garden that reaches up to seven floors. There's also an impressive art installation made out of twisted white balloons called 'Metaseosa Seobeol'. And if you want to check out the rest of the City Hall installations, you can ride the glass elevator all the way up to the 8th floor, where the Sky Plaza Gallery is.
Seoul City Hall

Address: 110 Sejong-daero, Myeong-dong, Jung-gu, Seoul, South Korea

Website: Seoul City Hall

Opening hours: 7:30am - 6pm (daily)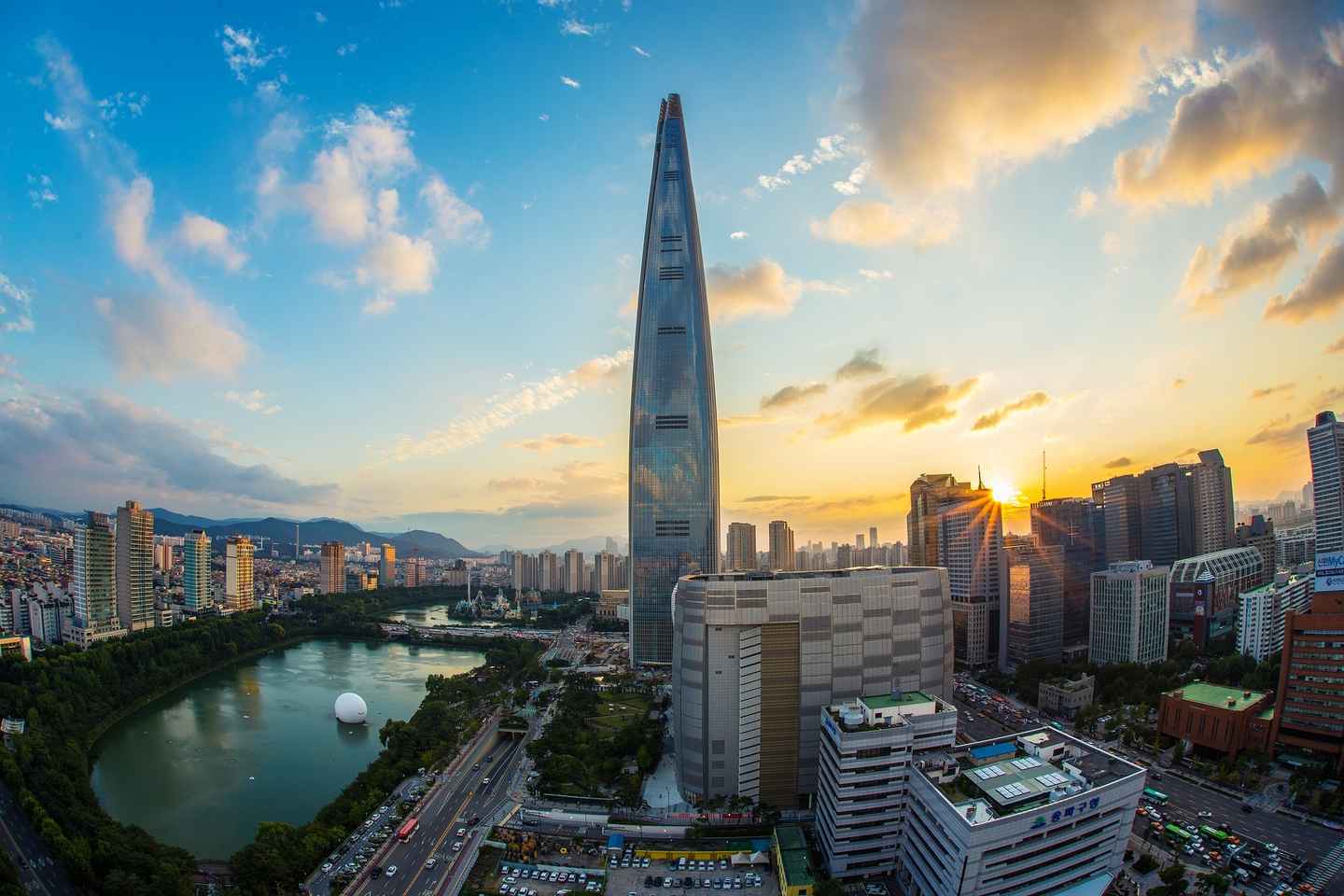 One of the most recent additions in Seoul's cityscape, Lotte World Tower quickly became an iconic part of the city because it's the 6th highest building in the world, which also makes it the tallest skyscraper in South Korea. Lotte World also has the world's highest observation deck called the Seoul Sky, which has an art gallery, a six-star hotel, the Lotte World Mall complex, and a glass-floored Skywalk. Take your time as you enjoy everything this building has to offer.
Seoul: Lotte Tower Seoul Sky Observatory E-Ticket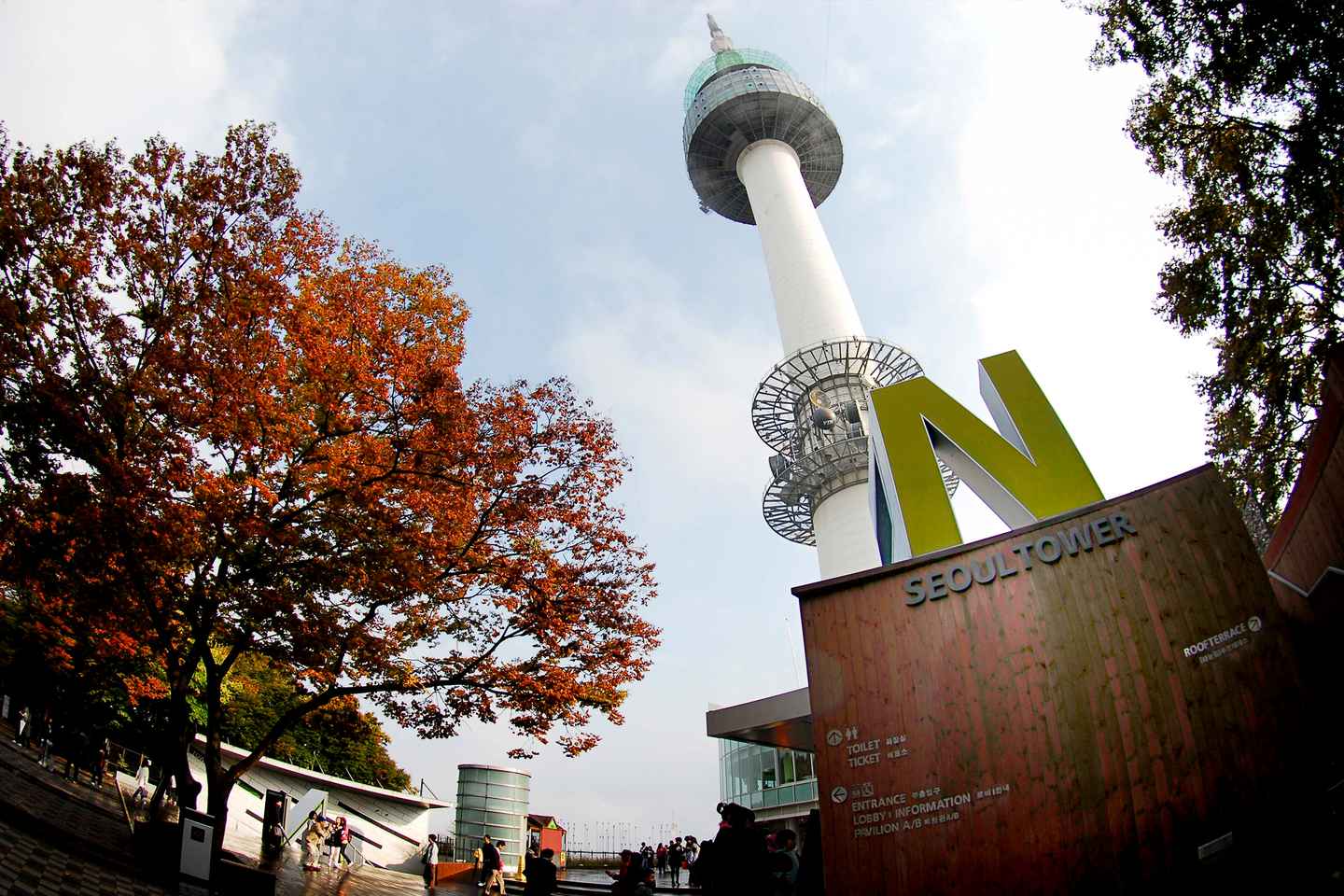 The Namsan Tower or Seoul Tower is the second-highest point in South Korea after another building in this list, the Lotte World Tower. You can take the cable car to reach the tower on top of Namsan Mountain, and be rewarded with spectacular views of the city as well as the mountain where the tower lies. At night, the tower lights up, so it's also nice to see it then, and it is also happens to be less crowded during that time.
Seoul: N Seoul Tower Observatory Ticket
The National Museum has floor after floor of snippets of the Korean culture, starting from its prehistory all the way down to the more modern 1900s. When visiting this museum, it's always best to take your time as you don't want to just run through all the exhibits. But if you have other things in your itinerary for the day, just make sure you go to the Golden Treasures from the Great Tomb of Hwangham and the Baekje Incense Burner on the ground floor. There are cafes and restaurants connected to this museum, if you also want to relax for a while.
Seoul National Palace Museum Private Tour with Lunch Option

Duration: 3 hours
Impressive skyscraper giants in South Korea
From the idyllic countryside to the charming city, Korea has a lot in store for the traveler. it offers lots of amazing theme parks as well as destinations for fabulous winter family fun. And since it opened itself to the world, Korea is said to become even bigger and better than ever, and one of the most impressive symbols of that progress are its beautiful skyscrapers. This is exactly why you should visit it now while it's in a beautiful transition. These ten famous buildings in South Korea are a great way to start off your Korean journey.
Disclosure: Trip101 selects the listings in our articles independently. Some of the listings in this article contain affiliate links.
Get Trip101 in your inbox
Unsubscribe in one click. See our Privacy Policy for more information on how we use your data