Gran Canaria is one of Spain's Canary Islands, off northwestern Africa. It's best known for its black lava and white sand beaches, including the bustling Playa del Inglés and Puerto Rico. Gran Canaria is a remarkable family destination, which prides itself in its 60 kilometres (37.3 miles) of amazing beaches. You may feel it is almost like a miniature continent, where awesome attractions and activities await. Sail aboard a local boat and watch the beauty of the sea and sunset, explore the city and its vibrancy, unwind at a water park, wander its shopping streets, visit museums, or just relax on a beautiful beach. Discover Spain and experience the best of Gran Canaria. Read on to find more on the best GetYourGuide tours in Gran Canaria, Spain.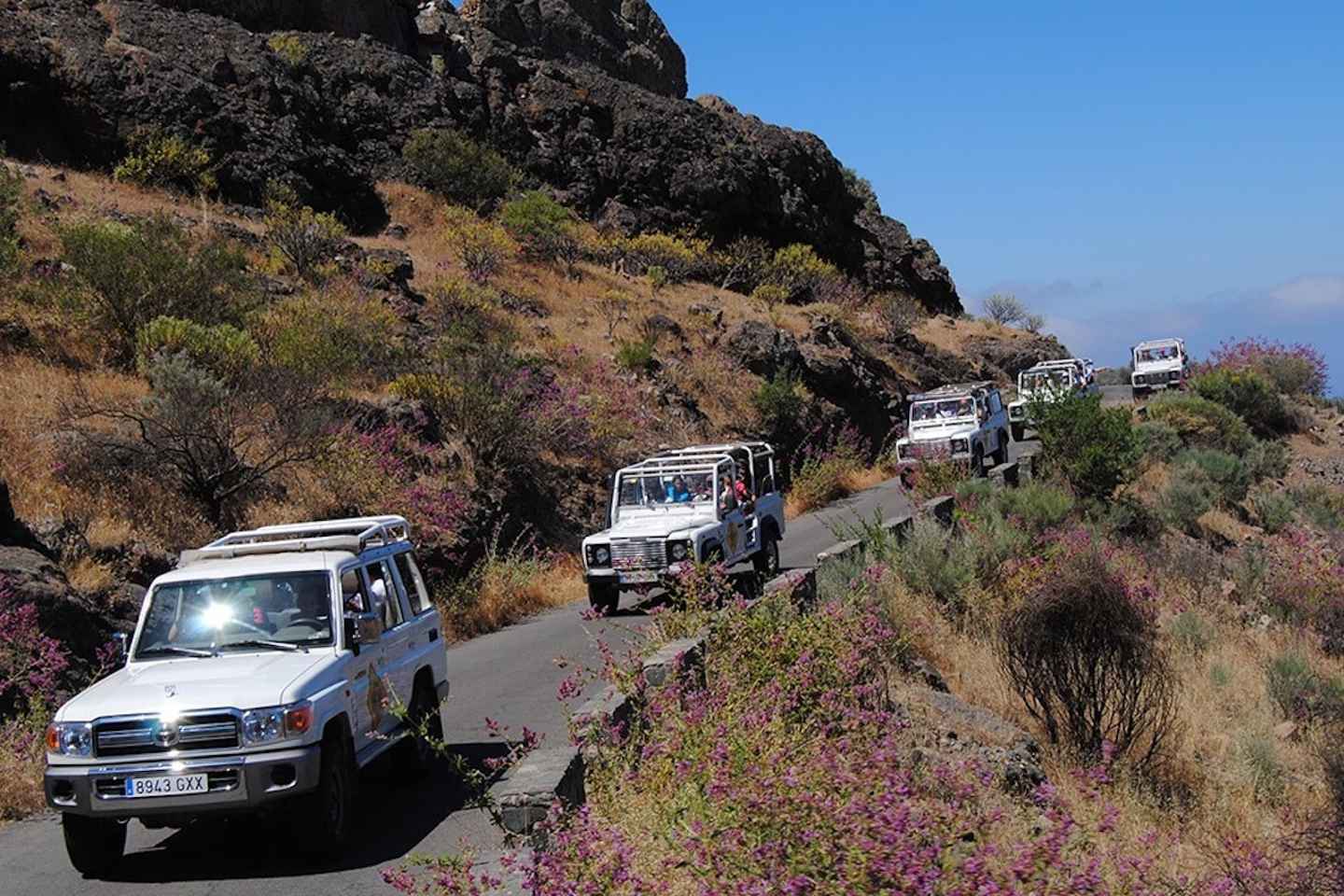 Feel the Gran Canarian winds on a 4WD safari off-road jeep and discover the landscapes of Gran Canaria's wildest regions. This off-road tour offers a eight-hour trip into the very core of the island, where you can witness why Gran Canaria is called a miniature continent. You'll travel by fully-equipped jeep with a highly-skilled driver and guide, who knows every inch of the route. Take photos of the picturesque views and grab some lunch consisting of some Canarian specialities during the tour.
Gran Canaria: Off-Road Day Tour with Optional Lunch

Duration: 8 hour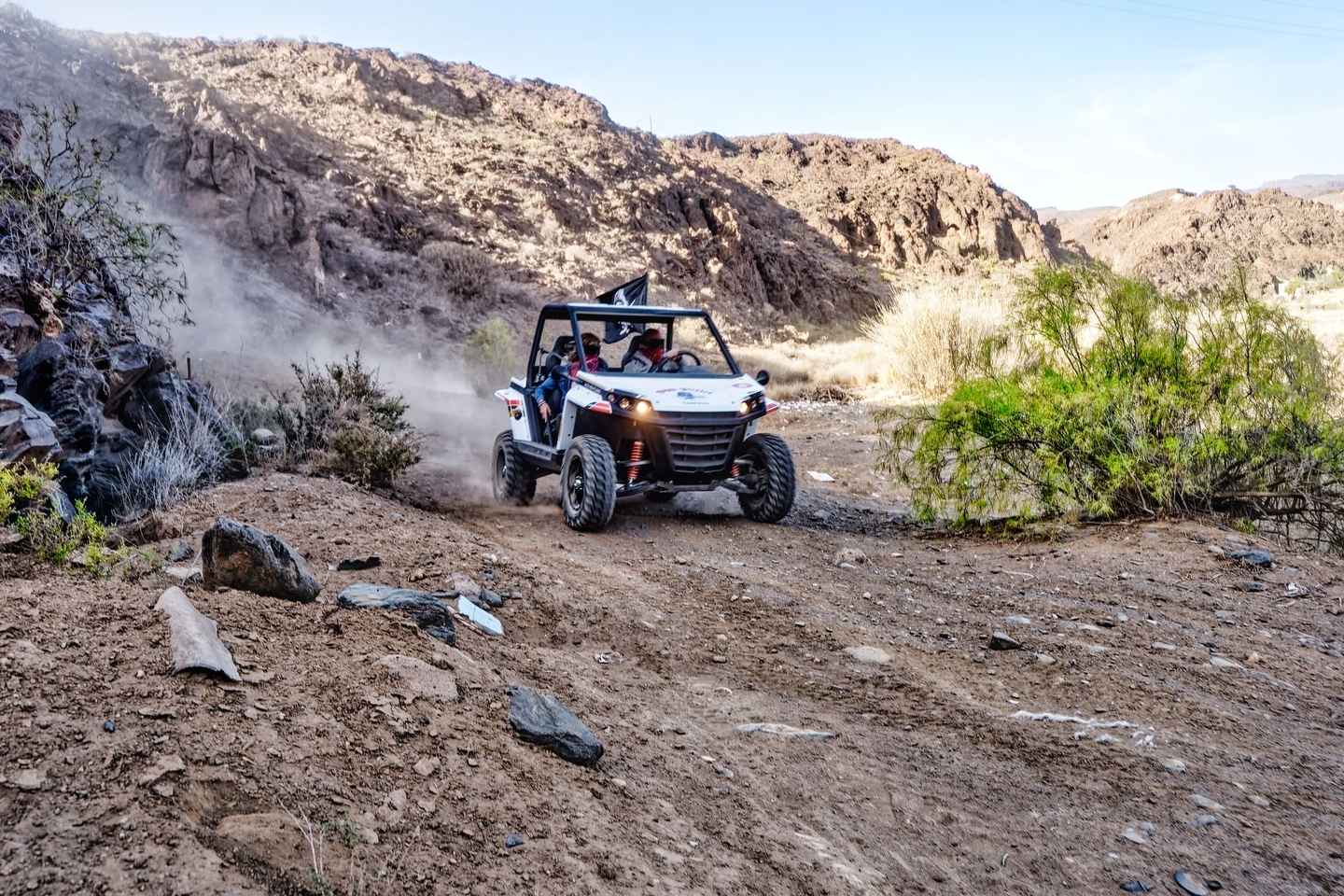 Experience the wonderful sensation of driving off-road and flying through the mountains of south Gran Canaria in this 90-kilometre (55.9-mile) buggy ride. Enjoy the panoramic views of the mountains and fascinating villages and uncover the reservoir at the Valley of the Thousand Palms. Drive your way to the wonderful observation points on Gran Canaria on this extensive route through the famous southern half of the island.
Gran Canaria Guided Buggy Tour

Duration: 2 hour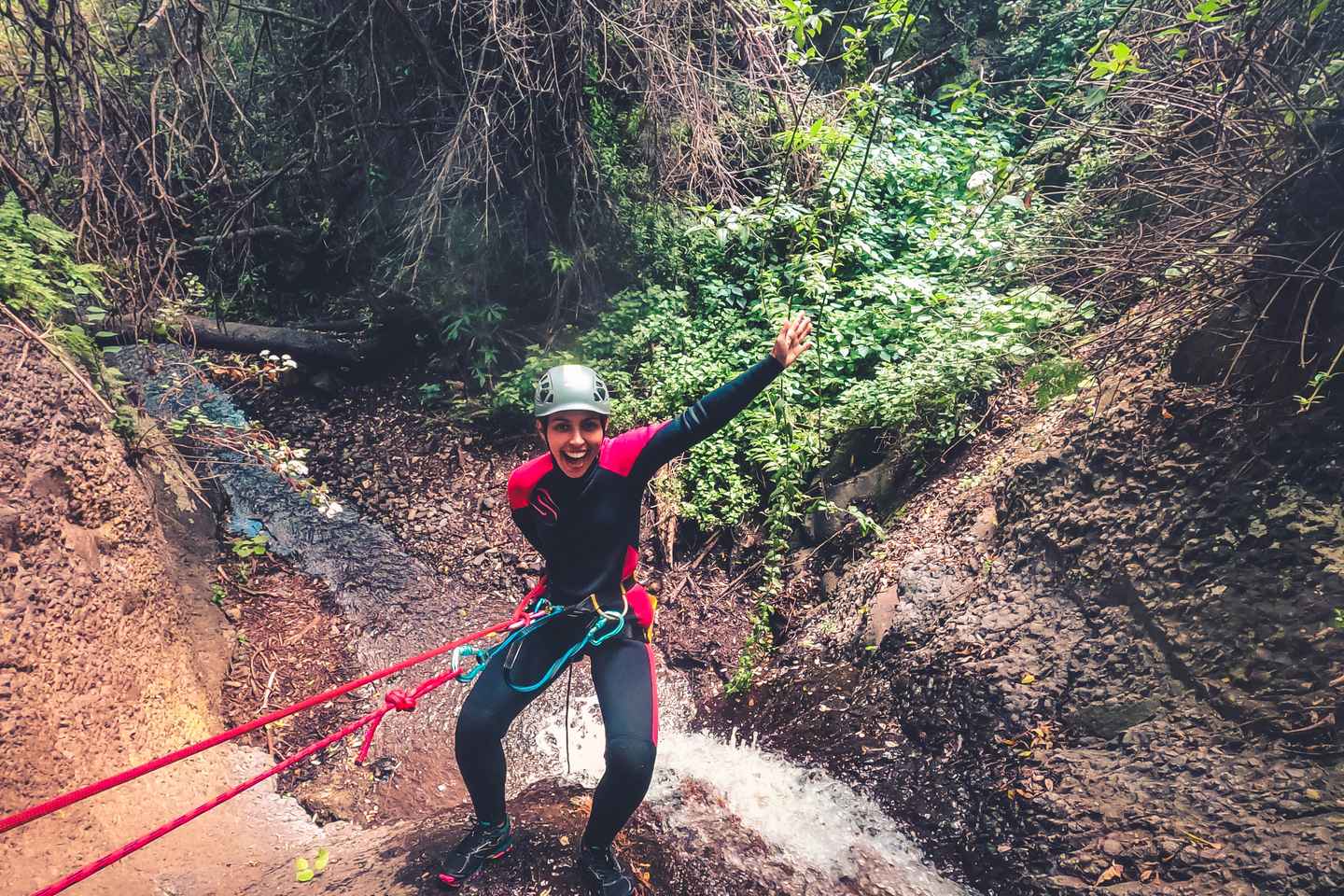 Feel the adrenaline rushing through your veins as you climb and navigate Gran Canaria's canyons and riverbeds, in this Barranco de los Cernicalos tour. The stream of water that crosses the canyon increases its flow after the rains, which makes the canyon grow green vegetation, giving it a colourful character. These characteristics, along with the different waterfalls that can be found in the area, make this an amazing trip! Be one with nature as you climb over rocks, slide down waterfalls, and feel the adventure as a professional team of canyoning instructors assists you during your climbs.
Gran Canaria: Canyoning in the Rainforest

Duration: 4 hour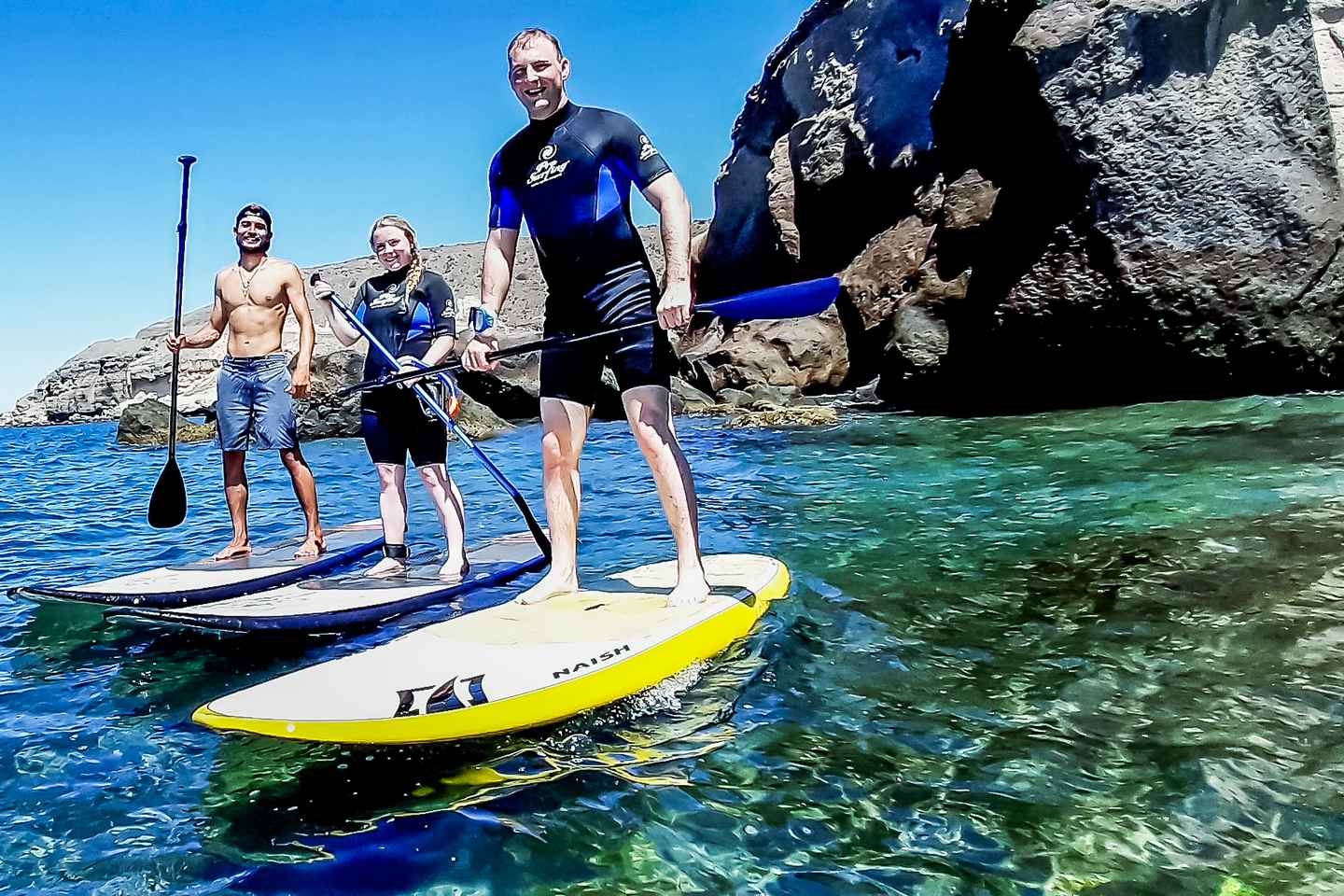 Explore the coast of Gran Canaria while enjoying two of the most exciting water activities, stand up paddleboarding and snorkelling. With stable winds and water temperature, Gran Canaria provides ideal paddleboarding conditions. Learn to ride the waves as the competent and highly-skilled instructors give you a preparatory lesson and assist you until you can ride the waves for that picturesque glide in the water. After paddleboarding, explore underwater life on a guided snorkelling tour and be amazed at the vibrant fish and coral species Gran Canaria has to offer.
Gran Canaria: Stand-Up Paddle Lesson & Snorkeling Tour

Duration: 4 hour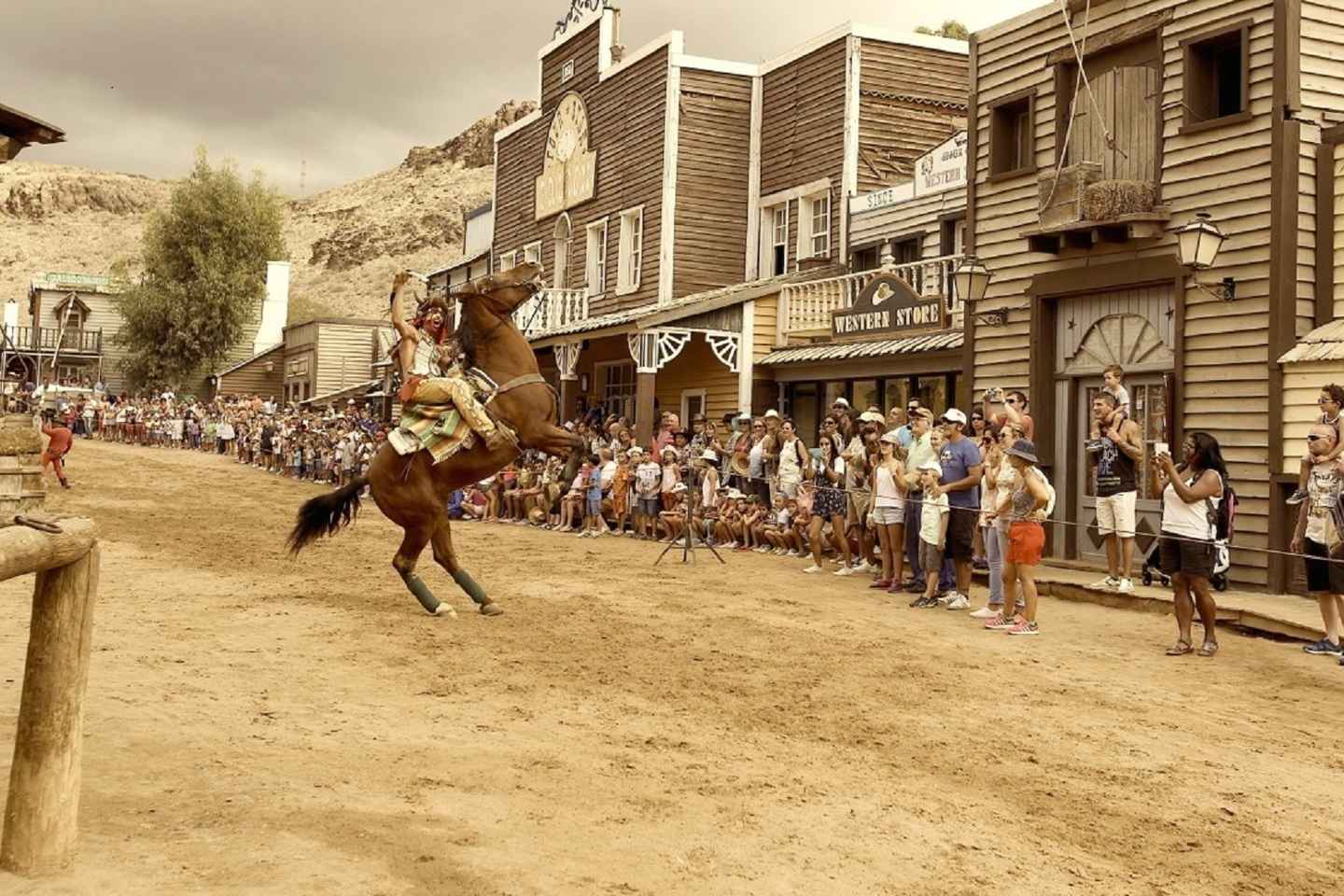 Get a glimpse of the 19th-century American Wild West and experience a wide array of activities that the whole family will surely enjoy at Gran Canaria's Sioux City Park. Witness scenes that feature cattle walking through the village, bank assaults, duels, fights, dancing, and throwing axes and knives. The fascinating Sioux City Park also houses the Film and Lee Van Cleef Museum and the Weapons Museum. There is also the chance to get up close to emblematic animals, including the bison and the American cow, Canarian goats, donkeys, hens, and ponies, as well as other amusements that will make you live an unforgettable experience.
Gran Canaria: Sioux City Park Western Adventure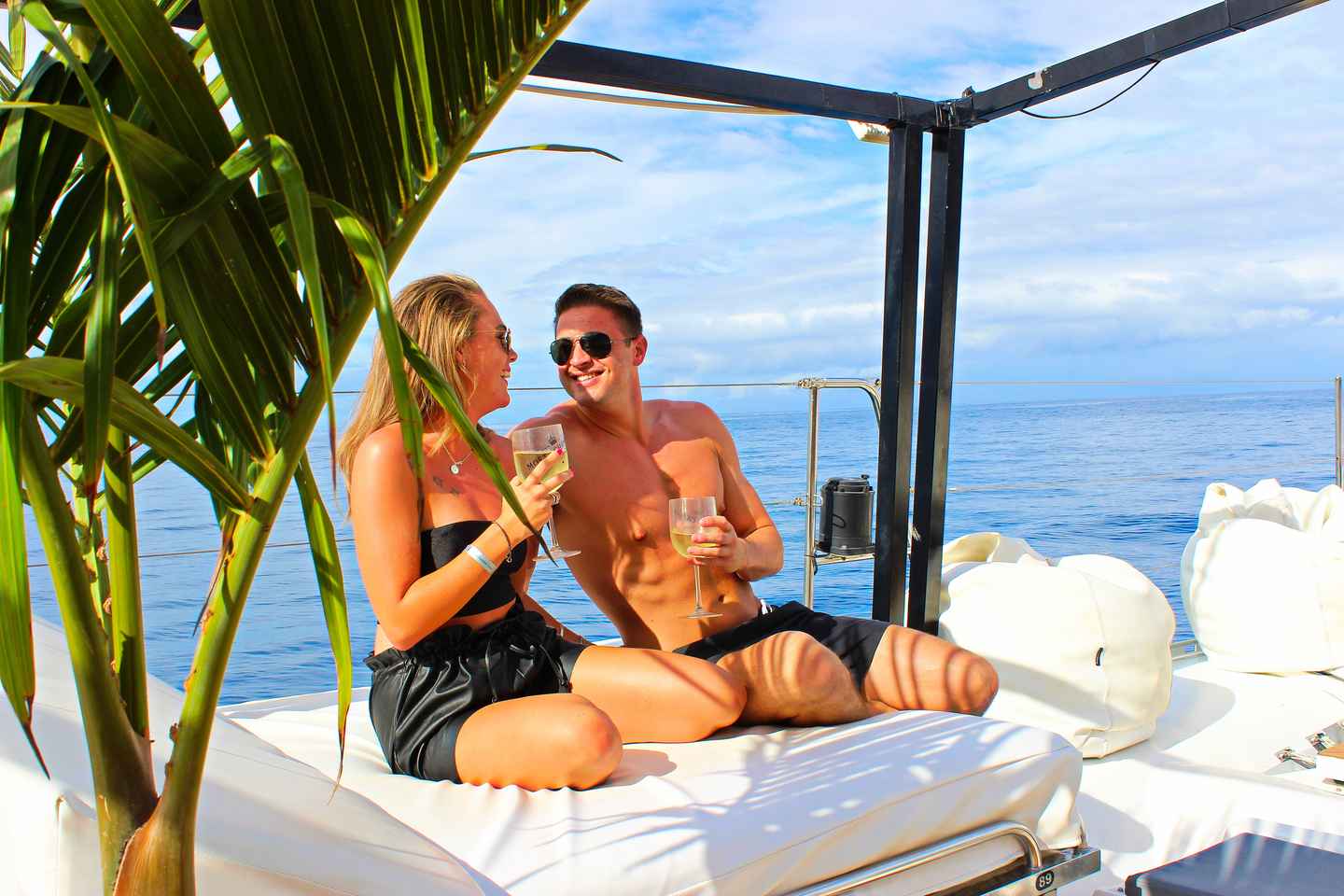 Enjoy a luxurious cruise off the coast of Gran Canaria on this half-day filled with fun and great aquatic activities. Allow yourself the convenience of one of the classiest boats on the island, that includes Balinese beds and a fine culinary menu. All you have to do is relax, take a sip of champagne, indulge in delicious food, soak up the warm Mediterranean sun, and pamper yourself, as you admire Gran Canaria's beauty.
Gran Canaria: Half-Day Luxury Catamaran Cruise with Food

Duration: 4 hour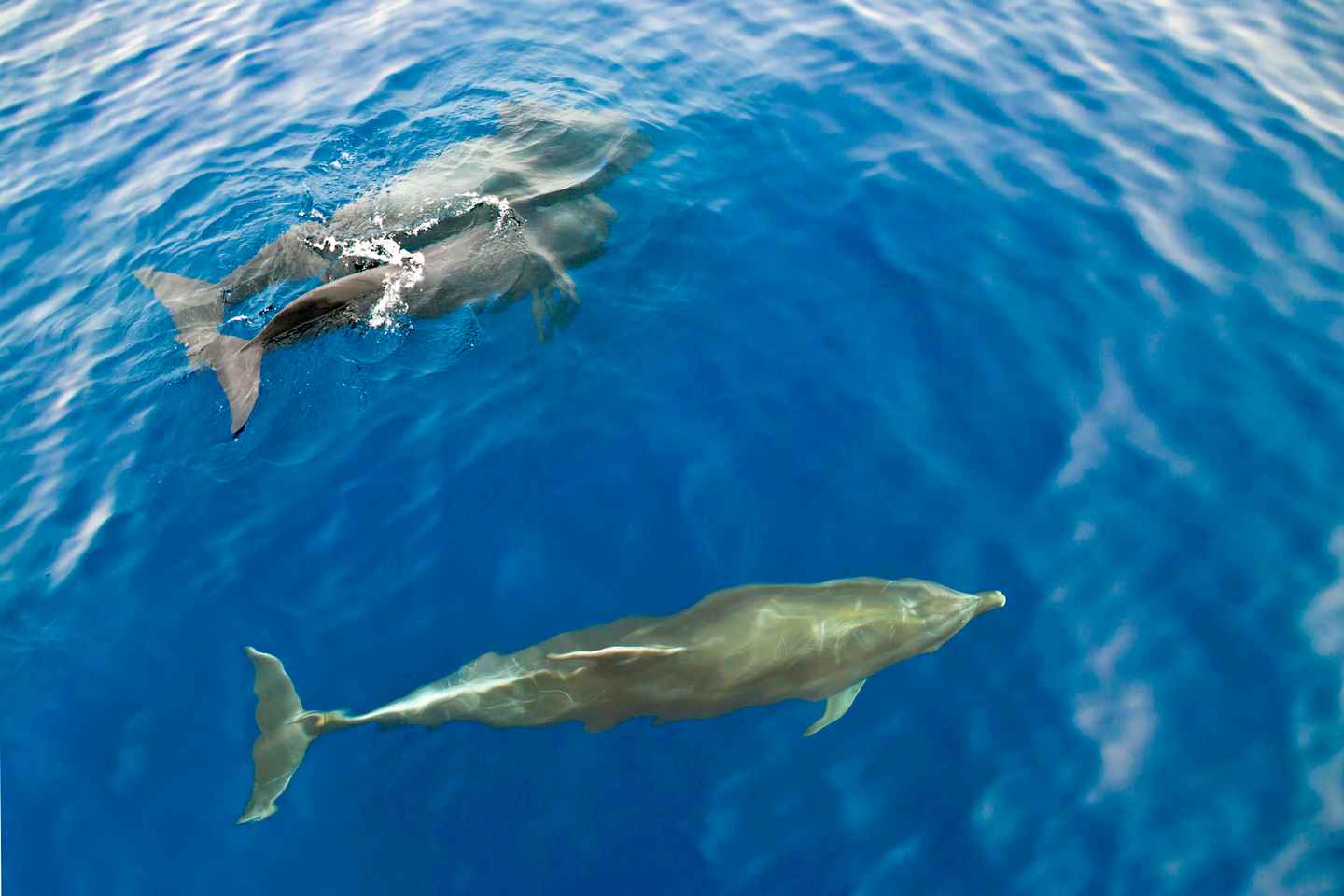 Be mystified by one of the smartest marine animals in their natural habitat, as you sail off the coast of Gran Canaria. Enjoy a two-and-a-half-hour tour via a speedboat in search of friendly dolphins in the deep blue waters of the Atlantic Ocean. Benefit from live and informative commentary aboard the large and comfortable boat, with room for up to 32 people for your luxury. Finally, stop at the beautiful beaches of the Canary Islands for some relaxing swimming and sightseeing.
Gran Canaria: 2.5-Hour Dolphin Watching Boat Tour

Duration: 2.5 hour
Visit the scenic Valley of Azuaje for a hike through its stunning natural landmarks, lush green environment, and historic locations. Take a bus ride to the town of Arucas and marvel at the sights and sounds of historical houses and cathedrals. Then, head to the captivating village of water, Firgas, and take a sip of their local coffee before embarking onto the Valley of Azuaje.
Witness the lush reservoir of nature while listening to the music of local birds and following the path of small river bridges. Be astonished by tiny lagoons, waterfalls, and forest around you.
Gran Canaria: Azuaje Valley Trekking Tour
Take your Gran Canaria Adventure to greater heights, as you venture on a day trip to the Pico de las Nieves, where you'll be dazzled by the famous rock formations at Roque Nublo. Take a trip to the village of San Mateo and discover its remarkable neoclassical 19th-century church and buildings. Experience its market and its local products and then carry on your adventure to Gran Canaria's highest point, Pico de las Nieves. Towering at 1,949 metres (6,394.4 feet) above sea level, witness a magnificent view of its nature. Proceed to the 70-metre (229.7-foot) basalt monolith of the Roque Nublo, formed by volcanic activity.
Gran Canaria's Highest Peaks and Roque Nublo Day Trip
Escape the hustle and bustle of city life, take a sip of champagne, and feel the gentle waves of the sea on this luxurious cruise along the southwest coast of Gran Canaria. Cruise aboard the majestic Turkish gullet, "Aphrodite". Named after the Greek goddess of beauty and love, this 27-metre (88.6-foot) aquatic vessel boasts luxurious decor beyond your imagination. Admire details such as the mahogany fittings, pine masts, wooden decks, and gleaming brass wheel. Feel like royalty from the moment you are welcomed aboard with a drink. Discover the hidden treasures of the southwest coast, such as water cascading down rugged cliffs, dark and mysterious caves, and the isolated Gui-Gui Beach.
Gran Canaria Sailing Trip
Explore the wonders of Gran Canaria!
Immerse yourself in the beauty and vibrancy of this place. In Gran Canaria, anything is possible! The surprising mix of this delightful location and its awesome attractions is a must try. Choose from these amazing selections and you will surely enjoy the best holiday getaway with your family.
Disclosure: Trip101 selects the listings in our articles independently. Some of the listings in this article contain affiliate links.
Get Trip101 in your inbox
Unsubscribe in one click. See our privacy policy for more information on how we use your data