Bali is known for many things – lush nature, never-ending rice fields, coffee plantations, honeymooner's islands, beautiful beaches with gorgeous sunsets, and unique culture and vibrant streets. Of course, Bali is also famous around the world for its affordable party scenes and crazy bachelor trips. You could be a solo traveller, a couple going on their honeymoon, a group of friends, or even a family of four–and there will be something for each of you in Bali. Speaking of which, if you're into nature walks and like to explore a place via its hiking trails, then here are some of the top hiking and trekking spots in Bali, Indonesia.
Mount Agung is the highest mountain in Bali which makes it worth touring. This tour starts at midnight so if you're a night owl who loves to get their adrenaline pumping, this 12-hour tour is perfect for you. You will be driven from your hotel to the drop-off point, after which your five-hour trek in the forest begins. After that, you have a three-hour trek over solid lava until you reach the active volcano, which is 10,308 feet (3,142 meters) above sea level. You will reach this volcano around 6am, where you can enjoy a panoramic view, watch the sunrise, and enjoy a good breakfast. For this trek, a moderate or active level of fitness is recommended.
Mount Agung Hiking Tour

Duration: 12 hours
2. West Bali National Park
West Bali National Park is at the westernmost part of the island of Bali. Spread over 77,000 hectares (190,270 acres), this national park takes over 10 percent of Bali. Once you reach the national park, you need to go to the front office to get a permit and hire a compulsory guide who can take you for a half-day tour or a full-day tour, depending on your requirements. The best way to really explore this national park is with a tour guide so that he can show you around the place, spot animals and birds, tell you about the various plants growing in the area, and maybe explain the significance of some plants in Balinese culture. Go for this trek early in the day because you can easily spend three to four hours here, if not more.
West Bali National Park

Address: Jl. Raya Singaraja-Gilimanuk | km.15 Labuan Lalang, 81155, Indonesia
3. Campuhan Ridge Walk
Campuhan Ridge Walk is a very scenic hiking trail; you will only see the lush greenery of nature all around you. This trail is relatively flat, so anyone can walk here. It takes about two hours from the starting point to the finishing point - make sure your phone has enough battery because you're going to want to take pictures of the stunning views during the whole trail. The route is easy to follow, the view is amazing, the vibe is relaxing - what more can you ask for? If you love being in and around nature, you must go for a hike on this trail.
Campuhan Ridge Walk

Address: Kelusa, Payangan, Jl. Raya Campuhan, Sayan, Kecamatan Ubud, Kabupaten Gianyar, Bali 80571, Indonesia

Opening hours: 24 hours (daily)
4. Lake Tamblingan Trek
If you want to go trekking in the middle of a tropical rain forest, then Lake Tamblingan Trek is perfect for you. This is typically a two-hour trek, which also includes crossing a lake via a canoe to get from one side to the trail to the other. Sounds exciting, right? During this trek, you will see nothing but nature. Admire the beauty of nature and spend some time to just relax, away from the hustle and bustle of the city. This is a pretty easy tour so kids and families can do it comfortably. PS, you need a local tour guide with you as visitors are not allowed to enter the forest without supervision.
Lake Tamblingan Trek

Address: Tamblingan Nature Recreation Park

Opening hours: 8am - 6pm (daily)
If you're interested in climbing the third highest active volcano in Bali, then opt for Mount Batur Hike. This hike is approximately 10 hours long and starts at around 2 in the morning. You will be picked up from your hotel then taken to the starting point of the hike where you will be accompanied by your hiking guide. You will reach the top of the volcano right before sunrise so that you can enjoy the glorious view from the top of the volcano. After watching the sunrise and taking in the picturesque view, you will be served breakfast, after which you can enjoy the hike back down the volcano.
Bali Mount Batur Hike Private Tour

Duration: 10 hours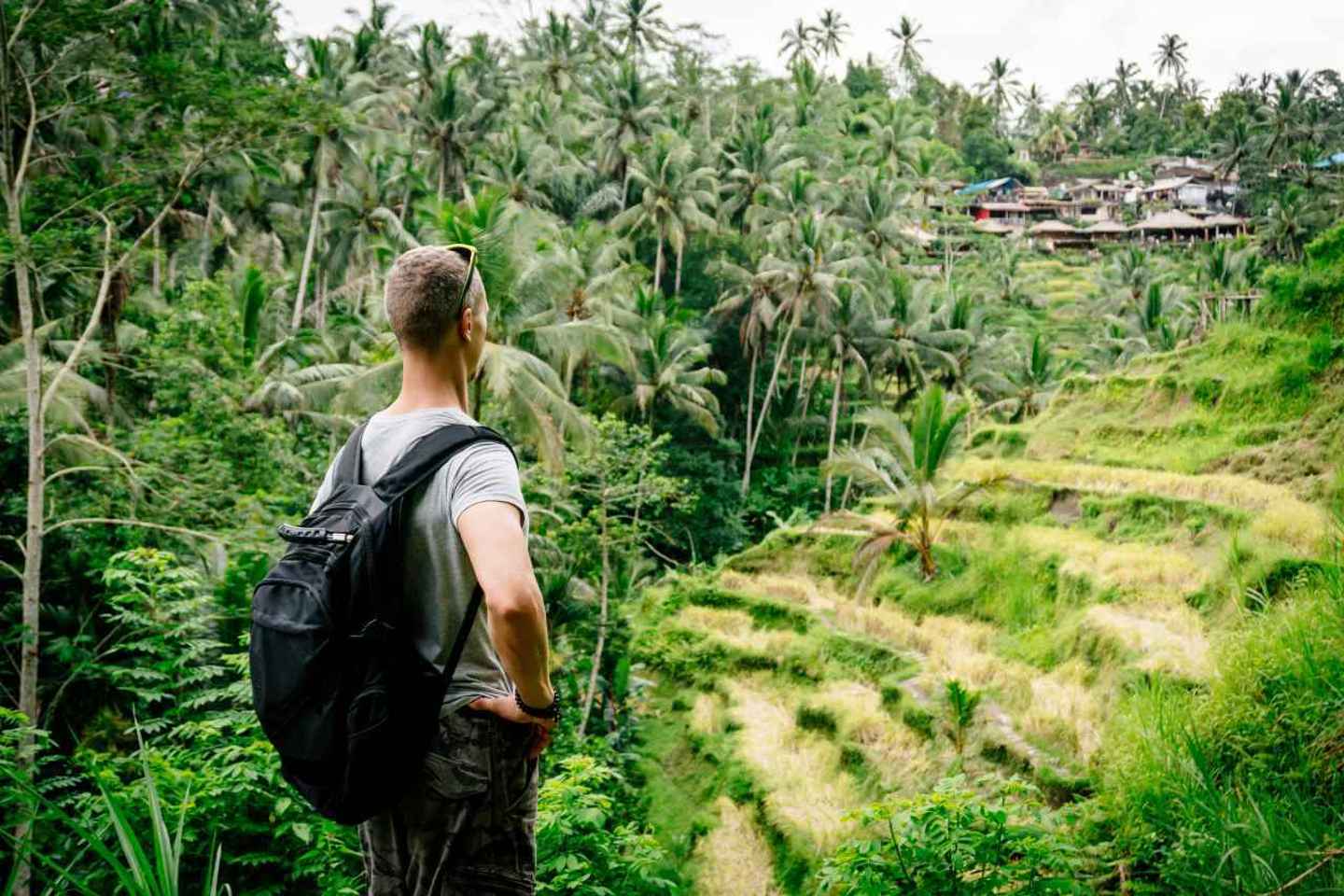 The Ubud Rice Terraces Walk is a guided 10-hour tour in which you get to explore Ubud on foot. This tour includes a visit to the monkey forest, the famous temples, a few waterfalls, and finally, a hike through the famous rice terraces of Ubud. You basically get to explore all the main attractions of Ubud on foot. This group tour is for small groups and is limited to five people per group. While it is a fairly easy tour, it is not suitable for people with back problems and pregnant women. Make sure to wear comfortable walking shoes. The price includes mineral water, however, lunch is not included.
Ubud: Highlights Small Group Guided Tour

Duration: 9 hour
7. Mount Catur
Editor's Note: There's no photo available at the time of writing
If you want to enjoy a picnic in the middle of a rainforest and hike through untouched nature, then you need to book a hiking tour to Mount Catur. Various companies provide half-day hiking tours for Mount Catur, and it is highly recommended that you go for this tour with a local guide. This trek is not very easy for beginners; the more you go into the rainforest, the harder the trek becomes. Once you've reached the top, you can enjoy a panoramic view of the lush green forests and hilltop temples.
Mount Catur

Address: Pelaga, Petang, Badung Regency, Bali, Indonesia
8. Sambangan Secret Garden trek
Editor's Note: There's no photo available at the time of writing
Sambangan is known as the secret garden because it is basically a hidden paradise in the heart of Bali. There are three different treks that you can opt for depending on what attractions you would like to visit. You get to see three secret waterfalls and maybe you can even slide down one, you get to enjoy the beauty of the Blue Lagoon and you get to trek through the gorgeous expanse of rice plantations. You also get to visit a local village where you can see how coffee is made. While the trek is a little hard, it is totally worth it!
Sambangan Secret Garden trek

Address: Sambangan, Sukasada, Buleleng Regency, Bali 81161, Indonesia
9. Candidasa – Lempuyang Temple
Candidasa – Lempuyang Temple is probably the most popular spot of Bali on Instagram! You know those pictures where people are posing between two gates of a temple? That's Candidasa – Lempuyang Temple! Once you reach the temple, you need to pay a small admission fee and climb around 1,500 steps to the top. Make sure you're wearing comfortable shoes or hiking boots, otherwise these steps will feel like a nightmare. Once you reach the temple, the picturesque view and stunning photographs will make it all worth your while.
Candidasa – Lempuyang Temple

Address: Bunutan, Abang, Seraya Bar., Kec. Karangasem, Kabupaten Karangasem, Bali 80852, Indonesia
The Mount Batukaru tour allows you to visit the real Bali, deep within the island. This eight-hour tour includes a visit to remote villages followed by a visit to Pura Luhur Batukaru Temple. During this tour, you also get to hike through various rice fields and the dense forests of Mount Batukaru - both of which are picturesque and unique. Admire the beauty of the ancient architecture, understand the agricultural practices of Bali and explore this unique island on foot. PS, this tour is for small groups–up to six people only. It is a relatively easy tour that most people can participate in.
Jatiluwih Batukaru Mountain Nature's Best Tour

Duration: 8 hours
All set to hike?
While some people get their adrenaline pumping by going from one nightclub to the other, you can get your adrenaline pumping by trying one hike after the other! Here's hoping you enjoy the picturesque views at these top spots for hiking and trekking in Bali, Indonesia.
Disclosure: Trip101 selects the listings in our articles independently. Some of the listings in this article contain affiliate links.
Get Trip101 in your inbox
Unsubscribe in one click. See our privacy policy for more information on how we use your data