Venice is a small city in the Veneto region that is built on a group of islands in a lagoon on the Adriatic Sea. There are no roads here so people just use canals which are the common means of transport. This place is celebrated for its elaborate architecture and art-filled palaces that will enrich your stay in this city. Since there are no cars in the city, you must walk or take a boat to see the surrounding attractions which add excitement to your holiday. While visiting, here is a list of 10 amazing things you can do to experience this vintage city full of wonders like a local. You will be sure to have a wonderful experience as you go back in time whilst in a modern set-up. Before you explore Venice's off-the-beaten-path locations, take a look at the best budget hotels and vacation rentals for your accommodation needs. Then scroll down for the best non-touristy things to do in Venice, Italy.
While Grand Canal is the most prominent waterway of Venice, with its expanse reaching 3.8 km (2.3 mi) long, trying to create a personal experience in this place may prove a bit difficult. With its popularity, visitors from all over the world typically flock to admire its grandeur. If you are looking for an excursion with more privacy, you might want to try exploring the hidden canals of Venice instead. Accompanied by a trained guide, you'll start off by crossing Grand Canal while enjoying a glass of sparkling wine. Then, you'll head into the smaller, more obscure canals of the city, where tourist traffic is scarce. You'll find yourself appreciating the charm and the privacy of these water avenues, making your Venice experience a bit more magical.
Hidden canals of Venice

Duration: 1.5 hours
Another non-touristy thing to do in Venice involves pedaling through Sant'Erasmo, an island dubbed as Venice's vegetable garden as it supplies the majority of the city's fresh produce. Enjoy the breeze as you bike through the flatlands dotted by farms of vegetables, including the carciofo violetto di Sant'Erasmo (purple artichoke) that the place is known for. After the stroll, get a chance to visit a family-owned bee yard and witness firsthand how the bees work and how beekeepers harvest their product. You'll also get to taste some raw lagoon honey straight from the farm.
Biking & Honey tasting on Erasmo island

Duration: 4 hours
Visit one of the amazing homes in Venice and learn some insider secrets of Italian cuisine with a three-hour cooking class. Located in the bustling Polo Quarter of Venice you have the option between a lunch and dinner class where you will get a hands-on experience of the art of making traditional food and Italian dishes with guidance from a very amazing guide chef. You can later enjoy the meal you made with a glass of your choice of wine.
Traditional Home Cooking Experience in Venice

Duration: 3 hours 30 minutes
Venetians have always been buying their seafood, fresh fruits, and vegetables at the Rialto Market for the since the medieval days which made it one of the oldest aspects of daily life in this floating city. At this local market, stalls are well-arranged from seafood hawkers to local specialties from the Venetian lagoon. Make sure you take some time to get fresh food since there are so many vendors around selling similar things. While at the Rialto Market, make sure to make a stopover at Piazza San Marco and the Doge's Palace and also have a gondola ride. This is one of those places in the world you will experience the finest blend of culture with the preservation of ancient methods.
Rialto Market Food and Wine Lunchtime Tour of Venice

Duration: 4 hours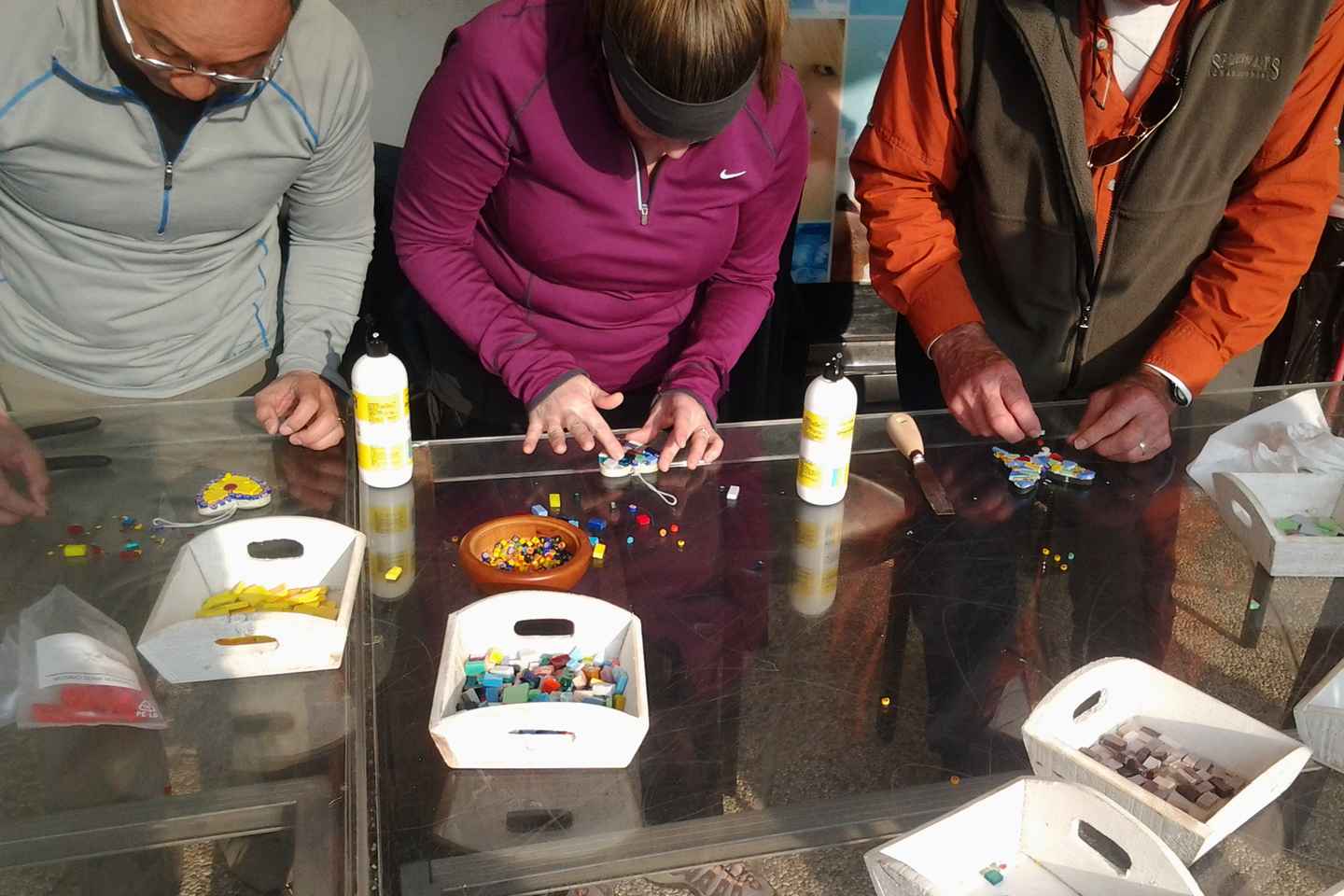 If you're looking for cool things to do in Venice, check out this glass-blowing demonstration on the island of Murano. Here, you get to create your own glass jewelry and glass beads as you unwind in the serene environment. The glass master will demonstrate the art of glass-blowing to create a unique piece. Keep keen on the techniques he will be using in order for you to be able to make a great piece of your own with ease. After the session, you can take a walk in the beautiful serene streets of Murano as you enjoy the flora and fauna.
Venice: Murano Island Glass Blowing Demo and Workshop

Duration: 1 hour
6. Dine in the cozy Barcado Quebrado
This is a very spectacular local joint for travelers looking for authentic cuisine and superb service at a pocket-friendly price. It is a family-friendly spot with a minimalistic style that allows you to get to know other visiting travelers. You will get a first-hand experience of Venetia's finest meals with a wide range of pasta to choose from, not forgetting the great wine selection that will blow you away. The service of this place coupled with the warm hosting house chef will make you want to return to this amazing, cozy restaurant.
Barcado Quebrado

Address: Calle Larga dei Bari, 1107/A, 30121 Venezia VE, Italy

Website: Barcado Quebrado

Opening hours: 10:30am - 12am

Price: 7 - 20 USD
This is one beautiful island among the three islands in the Venetian lagoon you can visit while in Venice. Here, you will find an amazing collection of colorful houses, narrow streets, and the St. Mark's Cathedral that attracts a lot of tourists from around the world. Make sure to catch the lace-making lessons where you are taught the fine art of the Venetian lacing techniques.
Murano, Burano and Torcello Half-Day Sightseeing Tour

Duration: 4 hours 30 minutes
Squero di San Trovaso is one of the oldest boatyards in the city which opened in the 17th century as numerous Venetian vessels were plying on the city's waters. This traditional boatyard was the primary mode of transport and around 60 boat builders had been employed by the Squero to maintain the place. Tourists looking for that perfect romantic ride can come to this place and take a ride with a great selection of boats to pick from.
Private Venice Grand Canal Gondola Serenade Experience (Skip the Line)
9. Take a trip to the historic Torcello Bell Tower
Situated on the island of Torcello, this tower offers an incredible view of the surrounding lagoon area and gives you a great feel of the 1600s. Because of the continuous arrivals of people from Altino, during the barbarian wars, the Roman Empire ordered the construction of a cathedral in 639. This cathedral, which still exists in its original form since its construction, is one of the most ancient religious gems in Venice. You will find some of the most ancient antiques in this place in their pristine nature due to the high level of preservation in this place.
Tocello Bell Tower

Address: Fondamenta dei Borgognoni, 24, 30142 Venezia VE, Italy

Opening hours: 10am - 6:30pm

Price: 13 USD
Venice's iconic gondolas are a popular way to experience the city where can book a private gondola ride for just you and your partner. Some of which include a serenade along the way or you can choose to ride with a few other people to share the tourist experience. Sunset rides are most popular, but they cost more than daytime rides because you get to enjoy the scenic Venice sunset. The boat tours and cruises usually run through both larger and smaller canals, giving you the chance to see the daily lifestyle of the Venice people.
Venice Gondola Ride and Serenade

Duration: 30 minutes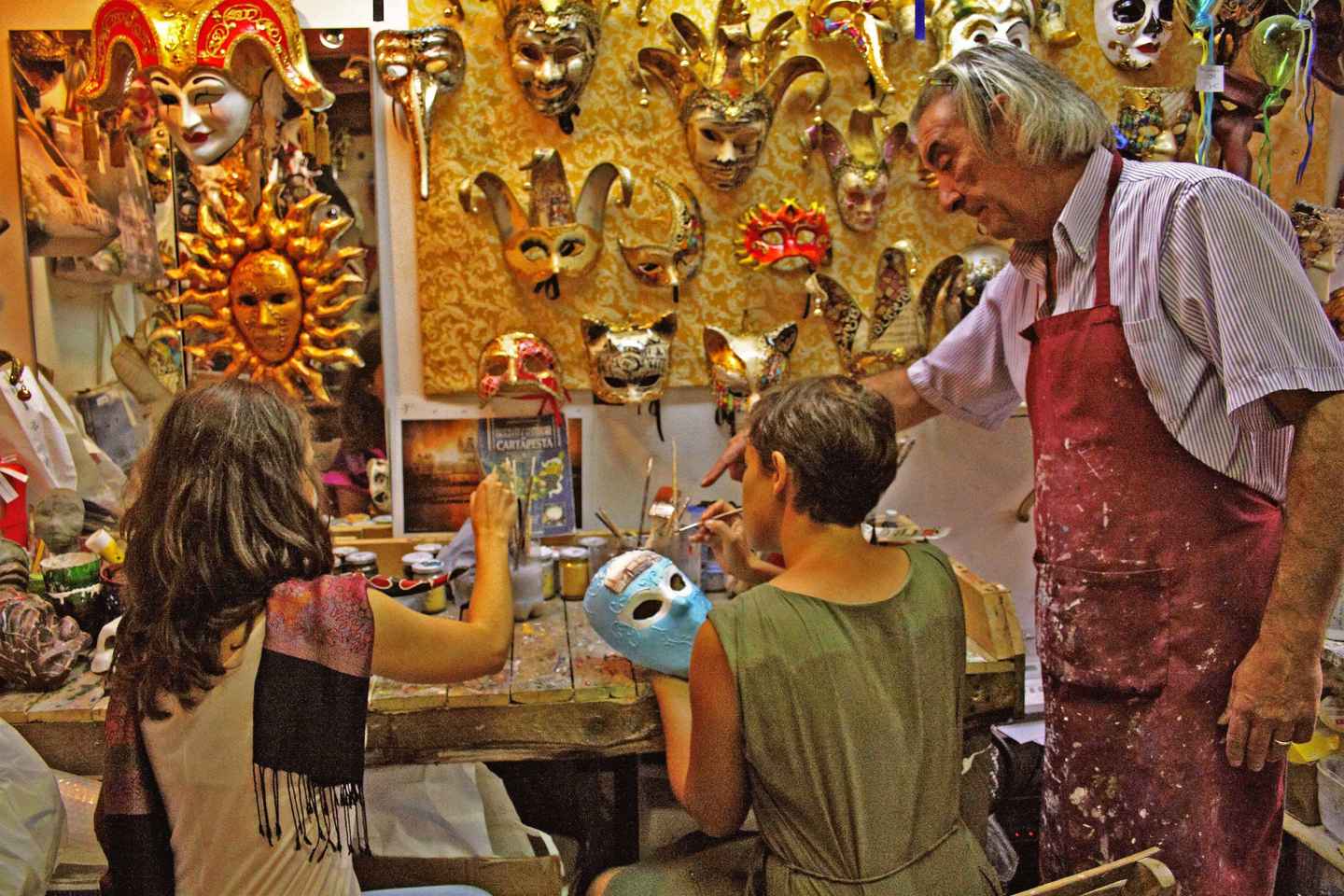 This workshop produces and sells some of the typical Venetian souvenirs. With years of experience, this shop has finessed the art of making the most exquisite masks. The strong passion for craftsmanship and the manual skills gave the owners the urge to focus more and more on the handmade production of ceramic and papier-mâché Venetian masks that have become a world-renown souvenir for travelers visiting this place. If you're looking for unusual things to do in Venice, sign up for a class on your visit!
Venice: Create Your Own Carnival Mask Workshop

Duration: 1 hour
Complete your Venice experience by having fun and learning about one of UNESCO's World Heritage Sites: Prosecco Hills. Generally comprised of the production area of Prosecco di Conegliano-Valdobbiadene DOCG, Prosecco Hills is home to great viticulture landscapes and the world-famous Prosecco sparkling wine. With your host, you'll enjoy a visit to the winery, learn secrets of winemaking, taste some sought-after wine, and feast on a delicious lunch. If you time your visit in the right season, you'll get a chance to enjoy a picnic amidst the vineyards.
A sparkling day in the Prosecco Hills

Duration: 8 hours
Travel to Venice, Italy and see the hidden gems of this amazing city
Visit this amazing tourist destination and experience one of the most refined and well-preserved cultures you'll ever come across. With amazing rooftop restaurants and boutique hotels, this town will give you a great sense of time travel as you get to view the blend of the ancient and modern lifestyles that co-exist together in one city. You will want to come back again and enjoy the endless attractions this scenic city after you visit for the first time.
Disclosure: Trip101 selects the listings in our articles independently. Some of the listings in this article contain affiliate links.
Get Trip101 in your inbox
Unsubscribe in one click. See our privacy policy for more information on how we use your data