Not sure which cities you should visit next on your big trip around France? Or have you been looking for a different trip to a unique city but can't decide on just one? Whatever brought you to this article, we hope it means that you're seriously considering visiting Carcassonne. This city is famous for its medieval fortress, Cité de Carcassone, which was added to the UNESCO list of World Heritage Sites in 1997. Carcassonne is very dependent on the tourism industry, so you can expect to be surrounded by tourists and be one yourself – it would be hard not to feel like one in such a touristy city. However, touristy or not, this city has too much charm for you to be able to resist it. Carcassonne has amazing restaurants, lots of history and myths to discover, and plenty of places that are so beautiful you won't be able to put your camera down. But what are the main reasons to visit Carcassonne, France? What makes the city so special? Keep reading to find out!
What is Carcassonne famous for, you ask? Although Carcassonne established its roots in the Neolithic period, it only became relevant as a region when the Romans fortified its hilltop, which would later turn into Cité de Carcassonne. Many fought for it, either to siege it or to defend it and when the Hundred Years' War broke out, it was almost completely destroyed. One of the towers of the fortress housed the Catholic Inquisition and is still known as "The Inquisition Tower".
Because it was completely demilitarised under Napoleon and the Restoration, the Cité of Carcassonne was abandoned and was in such bad condition that the French government decided on its demolition. However, the Cité still stands because many people wanted to preserve the monument and so it was preserved until today. Its rich history is what makes it France's most famous medieval walled city and an important site to visit for those who are passionate about historical places.
Toulouse Private Carcassonne and Wine Tasting Tour

Duration: 9 to 10 hours
2. It is full of history and legends
Carcassonne may have a rich past but it is even richer in legends. The most famous story that supposedly gave Carcassonne its name is called The Legend of Dame Carcas. It goes like this: when the emperor sieged Carcassonne, the king of the Saracens was murdered and his wife, Dame Carcas, decided to act. The siege had been going on for 5 years and the ones who hadn't still given up were dying of hunger. So Dame Carcas was alone to defend the fortress. She made sure that the enemies knew they hadn't surrendered by firing crossbows to give the impression that her army was still apt to fight back. In the city, there was one single pig and one measure of wheat to feed the population but Dame Carcas decided to force-feed the pig with the rest of the wheat and threw it over the walls.The pig's belly burst open with wheat and upon seeing such a thing, the army quit the siege: they would never surrender if they had so much food that their pigs were fed on wheat. Overjoyed, Dame Carcas had the all the city's bells sound and when the enemy army heard it, they exclaimed "Carcas sonne!" ("Carcas sounds") and that's the origin of Carcassonne's name.
Dame Carcas statue

Find it at: Entrance of the drawbridge

Website: Dame Carcas statue
3. It's the setting of Labyrinth by Kate Mosse
Labyrinth (2005) is an archaeological mystery novel written by Kate Mosse set both in the Middle Ages and present-day France. It is divided into two main storylines that follow two protagonists, Alaïs (from the year 1209) and Alice (in the year 2005). The novel refers to many historical events such as the massacre at Béziers and the Crusade against the Cathars in Occitania (South of France). One of the main settings of the story is the city, so if you'd like to know more about the rich Carcassonne history, this is the book you should read before you visit it!
You might be interested in these Airbnbs!
4. It is home to an incredible food market
Open on three days of the week, the market at Carcassonne, an open-air food market in Place Carnot, is one of the best places to find locally and organically grown fruits and vegetables. These are certified and labeled. You can also indulge in buying some cheeses and sausages at this market. However, if you want to enhance the experience, or simply want to be indoors, check out Les Halles, only a three-minute walk away from this open-air market. Les Halles is a covered market area that remains open 6 days of the week from Tuesday to Sunday, between 7:30am and 1:30pm.
The market at Place Carnot

Address: Place Carnot, the Central Square of the bastide of Carcassonne, 11000 Carcassonne

Website: The market at Place Carnot
5. It has plenty of amazing museums to visit
As such a relevant historic city, it would be strange if Carcassonne didn't have museums showcasing its past and artistic culture. In fact, Carcassonne has plenty of museums and if you want to visit all of them, you'll want to have a very well-organised itinerary! There's a Fine Arts Museum filled with paintings and ceramics, a School Museum displaying how schools looked in different periods, a museum that goes back to the dark times of the Catholic Inquisition… Carcassonne could probably have a museum for everything.
Carcassonne's Museums

Website: Carcassonne's Museums
6. It has unforgettable places to treat your taste buds
Before you leave for Carcassonne, you have to check our article in which we present you with a delicious list of the best places to eat in Carcassonne. From a cheese shop to tapas bars and Michelin starred restaurants, Carcassonne has excellent places where you can treat your taste buds. If you're on a strict budget, we're afraid you probably won't be able to stick to it when you see such good looking food.
For more information, read our article on the best places to eat in Carcassonne.
7. It is a souvenir lover's dream
Editor's Note: Photo taken from the establishment's official social account
Carcassonne has the loveliest souvenir shops where you can get the most adorable, tastiest, and original gifts for yourself and your loved ones. Les Chocolats Philippe Bocardi is a chocolate shop where you can buy mouth-watering bonbons for your other half – and probably finish them before you even leave the city. Vins & Vinos has the best wines to remember your trip to Carcassonne when you're having dinner at home. Well, you can already see how good this city is for souvenirs.
Les Chocolats Philippe Bocardi

Address: 34 Rue du Pont Vieux, 11000 Carcassonne

Website: Les Chocolats Philippe Bocardi - in French

Vins & Vinos

Address: 38 Rue Barbès, 11000 Carcassonne

Website: Vins & Vinos
8. It has a beautiful canal that will convince you to rent a boat
The Canal du Midi used to be the main way of transporting goods and people into Carcassonne and, today, it is still filled with many boaters and tourists floating through the centre of the city. The canal is also in UNESCO's list of World Heritage Sites and its locks, bridges, and aqueducts make the delights of anyone who sees it. Be an adventurer and rent a boat for yourself and your travel companions and see Carcassonne in an unexpected way!
Canal du Midi

Website: Canal du Midi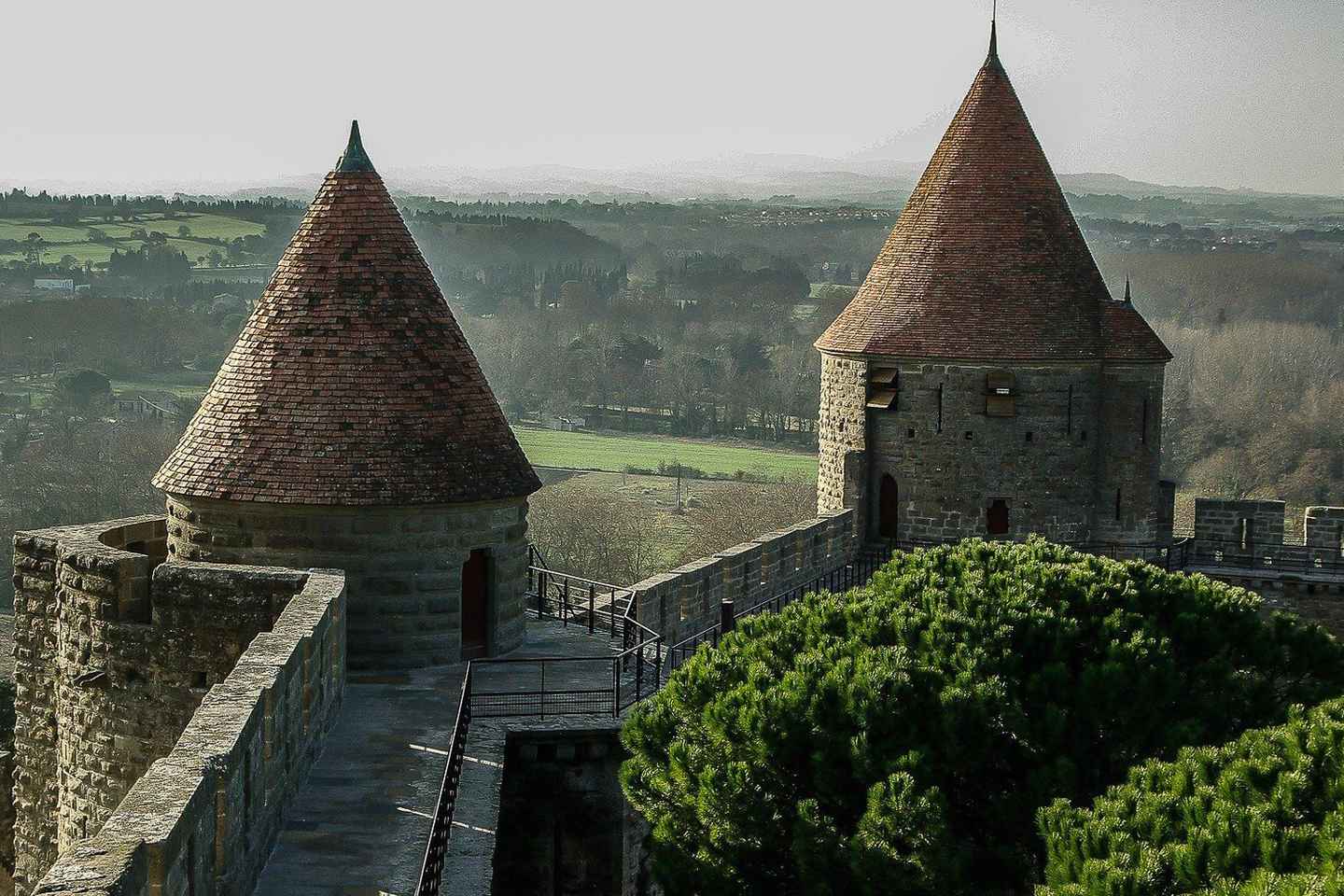 If you love walking, Carcassonne is one of the best places for you to walk in. It can be steep at times but if you explore the Cité by foot, you'll be able to see everything up close and feel that pleasant (albeit tiring) feeling in your legs that means you've been seeing many things you've never seen before. If you'd like to go on a walking tour, Viator has the perfect option for you. Enjoy walking around the historic Carcassonne!
Carcassonne : 2-Hour Private Walking Tour

Duration: 2.0 hour
Carcassonne is so well preserved that when you find yourself standing before its magnificence, you're going to feel like you've gone back in time and are inappropriately dressed. If you visit it by night, that feeling will prove itself stronger: you'll seriously expect to be attacked by vandals and rescued by a valiant knight. We recommend you visit it by day.
Carcassonne Sightseeing Tour

Duration: 3 hours
Carcassonne: a place that doesn't need reasons to be loved
Carcassonne is the kind of place that is enchanting by itself: it could have no restaurants, no shops, no entertainment and it would still be visited because its charm is too powerful to be denied and go unnoticed. Carcassonne's tourism is having its glorious moment after suffering and going through so much. Make sure you see it with your own eyes because no one knows when these magical places may disappear.
Disclosure: Trip101 selects the listings in our articles independently. Some of the listings in this article contain affiliate links.
Get Trip101 in your inbox
Unsubscribe in one click. See our Privacy Policy for more information on how we use your data