Tucked away on the northwestern coast of the holiday island nation of Jamaica is the beautiful city of Montego Bay. A ravishing city considered a melting point of vibrant cultures, and fascinating attractions, this beautiful Caribbean city boasts a pristine coastline dotted with secluded beaches, tropical flora, and laid-back vibes of some of the friendliest people on the planet, not to mention a favorable weather pattern annually – its no wonder that so many couples frequent this magical vacation hotspot in search of a romantic gateway to rekindle the first "spark" that brought them together. Come down and make the Vrbo vacation rentals and all-inclusive hotels your retreat in the city. Keep reading this article for a list of the best romantic things to do in Montego Bay, Jamaica, for a charming and romantic experience.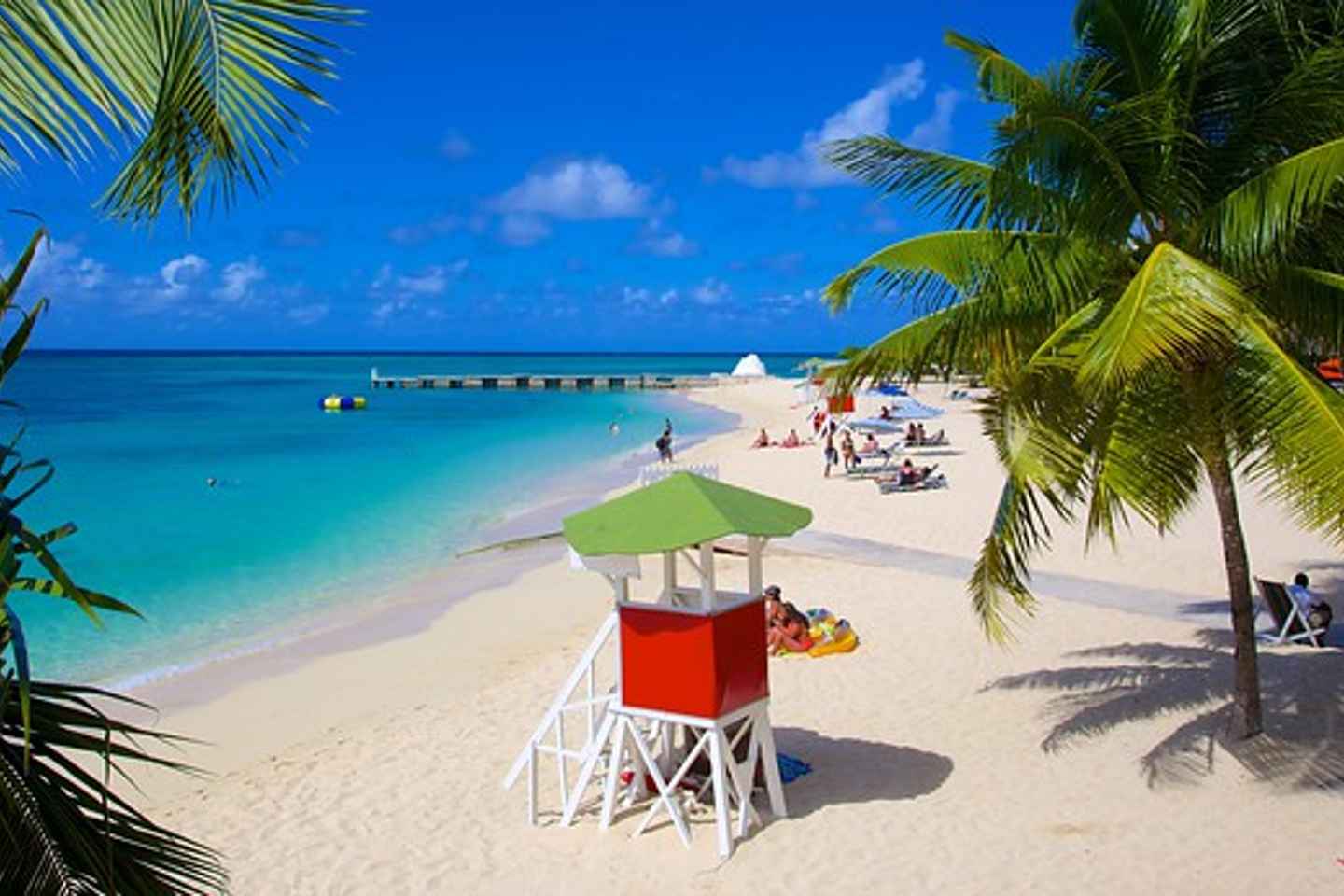 Nothing screams relaxation like basking in the piercing rays of the tropical sun as you sink your feet in the vast swathe of soft sand in the company of your loved one, and there's simply no perfect place to delight in this that's compared to Doctor's Cave Beach. A scenic beauty to behold, Doctor's Cave Beach is one of the most famous beaches in the Carribean, with golden sand and turquoise waters adding to its allure. Located on the west coast of Jamaica, this charming paradise is awash with exhilarating activities that you and your partner can indulge in, including snorkeling, and scuba diving.
Duration: 4.0 hour
2. Buy amazing souvenirs on Harbour Street
If you would like to spoil your loved one with a simple yet adorable gift or souvenir to remember the intimate times you shared during your holiday in Jamaica, make your way to the buzzing Habour Street where you are guaranteed to find something special to woo the heart of your special someone. Set in downtown Montego Bay, this alluring crafts market is less than a 30-minute drive from Iberostar Grand Rose Hall and spans three blocks between Barnett and Market Streets. Here, you will find the largest selection of exquisite Jamaican souvenirs like inspiring local art paintings, beautiful wood carvings, and kitschy Rastafari t-shirts in red, yellow, black, and green.
Harbour Street

Address: Harbour Street, Montego Bay, Jamaica

Website: Harbour Street
3. Have cocktails at Blue Beat Ultra Lounge
Pick your better half and experience Montego Bay's ecstatic nightlife scene in one of its most iconic bars – Blue Beat Ultra Lounge. Nestled in a convenient location, just a stone's throw from restaurant Marguerites, this exquisite lounge makes for the perfect spot to enjoy a seamless night in the company of your "heartbeat," as you sip on your favorite cocktails and dance the night away with some inspiring jazz and blues music. Adding to a casual yet elegant feel is a cozy outdoor space, where you two love birds can admire the starry skyline of this wonderful Jamaican paradise as you share intimate stories.
Blue Beat Ultra Lounge

Address: Gloucester Ave, Montego Bay, Jamaica

Website: Blue Beat Ultra Lounge

Opening hours: Sun: 6pm - 12am; Mon - Sat: 6pm - 5am
4. Go snorkeling in Montego Bay
Snorkeling in Montego Bay is in itself a phenomenal activity, and the fun of this elating ocean adventure even escalates higher when you are in the company of your better half. So break the ice and brace yourselves with all the right gears and types of equipment as you take on the rugged shoreline and azure waters of Jamaica's most iconic beaches. From a rejuvenating boat ride, you can admire the beauty of numerous awe-inspiring lagoons scattered across the ocean, or if you are feeling more adventurous, you can enjoy a swim to the ravishing coral reefs, as you delight in the lively view of fascinating sea creatures and friendly fish species.
Montego Bay Marine Park

Address: Montego Bay, Jamaica

Website: Montego Bay Marine Park
5. Have a picnic in Old Hospital Park
If you're looking for a scenic place in Montego Bay to reconnect and surround yourselves with the quiet respite that nature provides, then make time and visit the magical Old Hospital Park. A favorite park among residents and visitors alike, this beautifully landscaped public venue features exotic flowers, tall palm trees, and breathtaking panoramic views of the pristine ocean, and makes for an excellent spot for a rejuvenating stroll and photo-taking opportunity. Situated along Gloucester Avenue, Old Hospital Park boasts unique green spaces dotted with several gazebos that provide adequate shading and sanitary conveniences, making it a perfect spot for a romantic picnic.
Old Hospital Park

Address: Glouster Ave, Montego Bay, Jamaica

Website: Old Hospital Park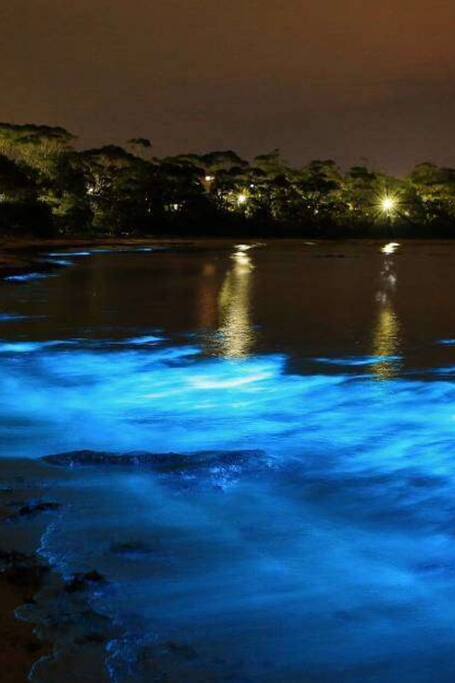 One of the unique ways to experience the majestic waters of Montego Bay is through this Luminous Lagoon sailing tour. This Airbnb Experience hosted by Kimone and Adrian and sets off to the historic Trelawny parish, and you may chance upon cold jelly coconuts before you head out to the lagoon. The 35- to 45-minute tour takes place at night, and you may even opt for a nice Jamaican meal after. Surprise your date and book this one-of-a-kind tour in Montego Bay!
Duration: 3 hours
7. Visit the Rastafari Indigenous Village
Nothing builds a strong bond of love between you and your special someone like an elating outdoor adventure with the thrill of sharing magical experiences, and that is precisely what's on offer at the iconic Rastafari Indigenous Village. With surreal scenic surroundings and a beautiful ecosystem oozing with serenity and tranquility, this ravishing village located just outside Montego Bay resembles something like an epic scene from a sci-fi movie and makes for a perfect spot to discover the elating culture of the Rastafarians. Imbibe in their fascinating culture through uplifting drumming sessions and get a chance to sample their delectable vegan cuisines as you learn great details about their spiritual practices and beliefs.
Rastafari Indigenous Village

Address: Montego River Gardens Porto Bello, Irwin Close, Montego Bay, Jamaica

Website: Rastafari Indigenous Village

Opening hours: Tue - Thu & Sat: 10am - 10pm (closed on Sun, Mon & Fri)
8. Admire the statues in Sam Sharpe Square
Cling on to the arms of your loved one and travel back to the golden days of this beautiful Carribean paradise at the iconic Sam Sharpe Square. Nesting centrally in the heart of downtown Montego Bay, this enchanting square boasts an eerie historical snapshot of Jamaica during the late 1800s. Named in honor of a lively Jamaican who was a national hero and anti-slavery activist, the main attraction in the area is a charismatic bronze monument, commemorating the struggles faced by Sam Sharpe, and a fascinating fountain with intriguing water displays. You can also choose to learn more about the city's rich history at the Montego Bay National Museum, just adjacent to the square.
Sam Sharpe Square

Address: Montego Bay, Jamaica

Website: Sam Sharpe Square
9. Connect with nature at Montego Bay Marine Park
Surrounded by warm golden beaches, lush green hillsides, and turquoise waters of the pristine ocean, Montego Bay Marine Park captures everything that is marveling about Jamaica. An exciting holiday destination for marine lovers and outdoor adventurers looking to explore the fascinating marvels of Jamaica's marine life and get acquainted with the crystal clear waters of its idyllic shorelines, this amazing ecology park is one of Montego Bay's most beautiful highlights. Being one of the first marine conservation areas in the country, the alluring Marine Park enjoys an abundance of beautiful sea and fish species ranging from crabs, lobsters, octopus, to name but a few. Exploring this park is one of the best Montego Bay romantic activities, so come down and bring your loved one.
Montego Bay Marine Park

Address: Montego Bay, Jamaica

Website: Montego Bay Marine Park
10. Relish a candlelit dinner date at Marguerite's
Experience dining at one of Jamaica's best restaurants! Dine at the critically acclaimed Marguerite's Seafood by the Sea...

Posted by JPS on Monday, 4 November 2013
Pamper the apple of your eye with a sumptuous dining experience and relish a taste of Jamaica's tantalizing cuisines at Marguerite's restaurant, one of the romantic places in Montego Bay. Boasting 55 years of an unparalleled level of service, this seamless eatery has been ranked the best seafood restaurant among Montego Bay restaurants and it is a favorite spot for couples and celebrities who flock here to enjoy the eclectic mix of seaside spices and exquisite signature drinks. Boasting a breathtaking seaside setting that has been the crown jewel of Montego Bay, you and your special someone can enjoy remarkable al fresco dining under the shade of an aged Almond tree, as you watch the beautiful sunset over the horizon.
Marguerite's

Address: Gloucester Ave, Montego Bay 0000, Jamaica

Website: Marguerite's

Opening hours: 6pm - 10:30pm (daily)
11. Stroll through Aqua Sol Theme Park
Soak up the vibes of Montego Bay's breathtaking outdoor scene at the fascinating Aqua Sol Theme Park, located on Walter Fletcher Beach, just a stone's throw from the picturesque ambiance of Sam Sharpe Square, and discover some of Jamaica's ravishing coastline. A perfect destination for lively couples looking for some major fun in the sun, this charming beachside park is awash with elating activities that you and your significant other can indulge in together, including snorkeling on the beautiful reefs, going on a guided dive, or enjoying a soothing pedal boat ride as you admire the beautiful surrounds of the pristine beach.
Aqua Sol Theme Park

Address: Gloucester Ave, Montego Bay, Jamaica

Website: Aqua Sol Theme Park
A paradise of romance
From romantic beaches to exquisite dining spots, and even thrilling adventures with a classic touch of romance, Montego Bay is a picturesque paradise if you wish to make romantic memories with your significant other. And with this list of romantic things to do in Montego Bay, you are bound to find something in Jamaica to rekindle the sparks that brought you two love birds together.
Disclosure: Trip101 selects the listings in our articles independently. Some of the listings in this article contain affiliate links.
Get Trip101 in your inbox
Unsubscribe in one click. See our Privacy Policy for more information on how we use your data