New York must be perhaps the coolest and most happening city on the planet, and it is no wonder it is called the 'City That Never Sleeps'. From incredible museums to wild nightlife activities, killer restaurants and events, Manhattan truly has the world on a platter for you. If you are planning a vacation to Manhattan, New York, then it is completely normal to be baffled at the sheer choices of things to do in this city. However, worry not. Read on as we help you narrow down your NYC bucket list as we show you some of the best things to do at night in Manhattan.
1. Sip a few cocktails at the Lantern's Keep
This is a famous easy style bar inside the Iroquois Hotel which serves excellently crafted pre-Prohibition style drinks. The bartenders are highly vouched for, and you are sure to have a wonderful time here sampling cocktails and having a great time overall. The bartenders are true mixologists and extremely serious about their craft, so you can be sure to thoroughly love the cocktails here.
Lantern's Keep

Address: 49 W 44th St, Iroquois Hotel, New York, NY 10036

Opening hours: Monday to Friday: 5:00 pm to 12:00 am, Saturday: 6:00 pm to 12:00 am

Price: 75 USD

Website: Lantern's Keep
2. Try out inventive cocktails at Manhattan Cricket Club
This is a very cosy candlelit bar with black and white photos of cricket players on the wall that contribute to the overall ambience significantly. This is considered a gem amongst locals, and you can try it out for its innovative cocktails and amazing ambience. The drinks and food are to die for, and this will truly be an amazing New York experience. The decor simply transports you to another era, and you will never want to leave.
Manhattan Cricket Club

Address: 226 W 79th St, Level 2, New York, NY 10024

Opening hours: Monday to Wednesday: 6:00 pm - 12:00 am, Thursday to Saturday: 6:00 pm - 2:00 am, Sunday: Closed

Price: 35 USD

Website: Manhattan Cricket Club
3. Go on a sightseeing walk with Big Apple Jazz Tours
This is one of the most famous underground jazz tours you will find that is highly educational and extremely interesting at the same time. They take small jazz groups into intimate basements joints where you can enjoy the jazz scene. All ages are welcome, and this is an unforgettable experience even if you may not be super into jazz as a genre.
Big Apple Jazz Tours

Address: 200 Central Park S, Ste 16J, NY, NY 10019

Opening hours: Monday to Friday: 8:00 am to 12:00 am, Saturday and Sunday: 9:00 am to 12:00 am

Price: 40 USD

Website: Big Apple Jazz Tours
4. Enjoy French dining at Le Bernardin
This decadent and incredibly famous French restaurant is a must-try venue if you are planning a vacation to New York. The service is perfect, although it can be quite difficult to get in because it is so highly rated and popular. Go for the four-course meal here, and truly treat yourself to one of the finest experiences New York City has to offer.
Le Bernardin

Address: 155 W 51st St, The Equitable Bldg, New York, NY 10019

Opening hours: Monday - Thursday: 12:00 pm - 2:30 pm, 5:30 pm - 10:30 pm, Friday: 12:00 pm - 2:30 pm, 5:30 pm - 11:00 pm, Saturday: 5:30 pm - 11:00 pm, Sunday: Closed

Price: 65 USD onwards

Website: Le Bernardin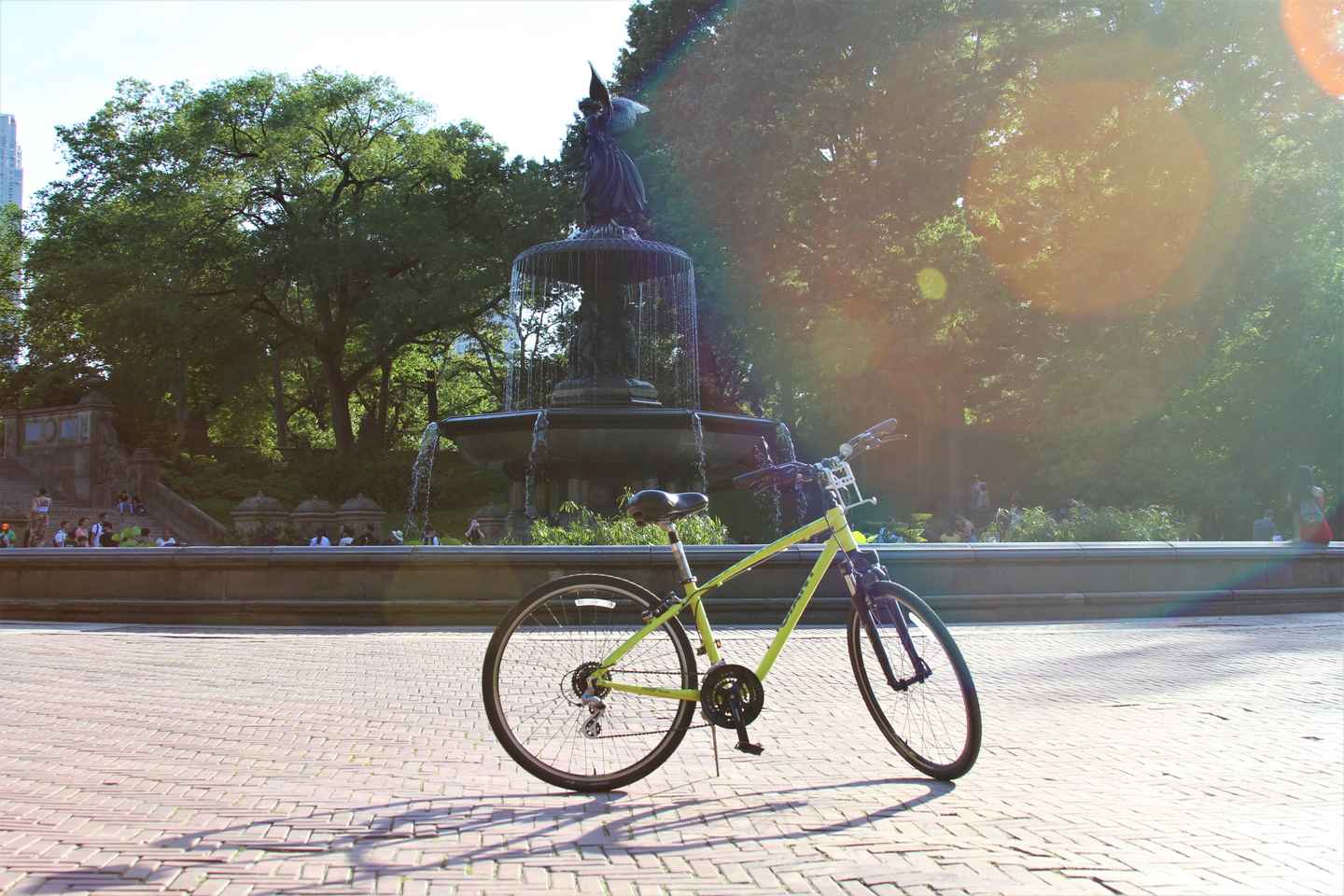 Explore New York's Central Park the best possible way - by hiring bicycles available for rent at a venue very near to the park. Your rental will include a bicycle, a helmet, a bike lock and optional front and rear lights if you wish to ride at night, as well as added bike baskets and water at the rental store. The bike shop is located one block from Central Park, in a location which makes it very easy and convenient for you to pick up and drop off your bike.
Central Park Bike Rental

Duration: 2 to 1 hour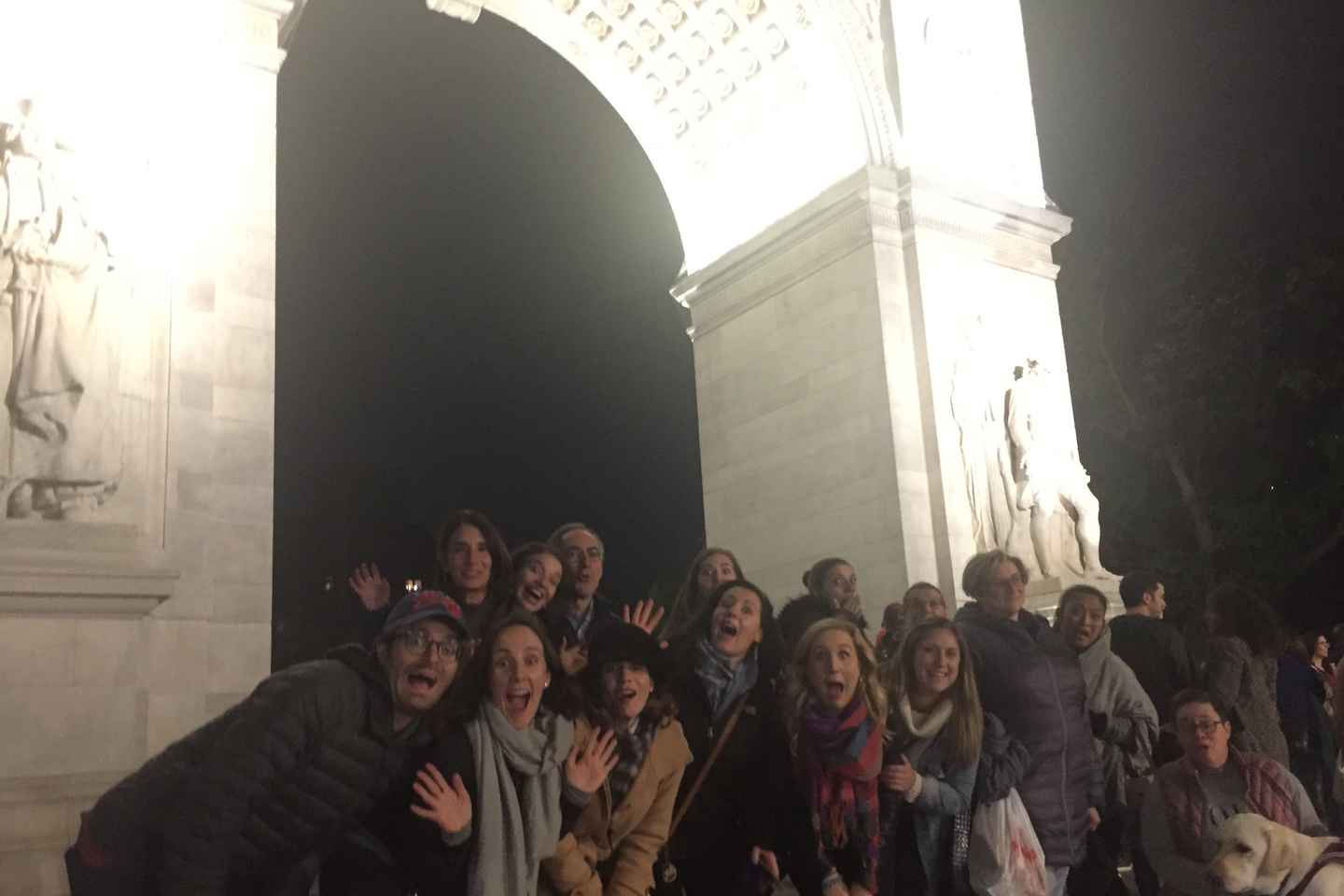 Get spooked on this two-hour ghost tour in Greenwich Village after dark. Explore the darker side of Greenwich Village as you learn about the infamous Hanging Tree and listen to spine-chilling stories narrated by your guide. Next, your guide will take you to the place of the infamous Triangle Shirtwaist Factory Fire, where the victims still linger to this day. Also, check out the most haunted house in Manhattan at 14 West 10th Street, home to 22 spirits and the site of several murders. This tour will require quite a bit of walking (and possibly running from ghosts), so be sure to wear comfortable footwear!
Greenwich Village Ghost Tour

Duration: 2 hour
Get an unparalleled panoramic view in all of New York City from this 60-minute observatory tour at Rockefeller Plaza. Admire the most famous buildings and the skyline of New York including Freedom Tower, the Empire State Building, the Chrysler Building, the Brooklyn Bridge, the Statue of Liberty and more. There is an upgrade available that lets you include a 75-minute Rockefeller Center tour. You can also find interactive displays detailing the Rockefeller Center's construction.
Top of the Rock Observation Deck, New York Ticket

Duration: 1 hour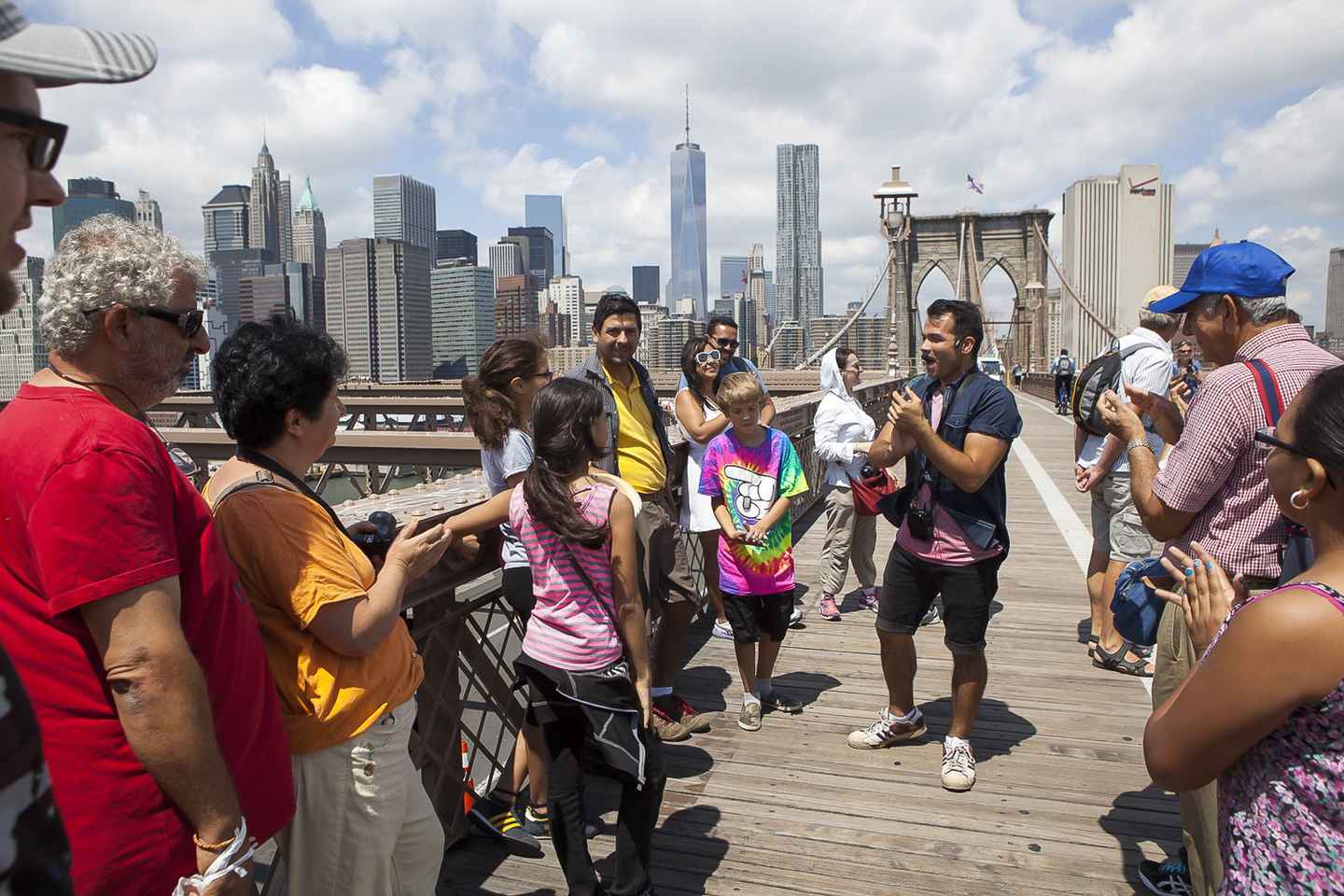 This two-hour tour will take you through the Brooklyn Bridge while your knowledgeable guide educates you about all of its dramatic histories. Walk along the famous bridge as you witness the magnificent Manhattan skylines, and make use of several Instagram-worthy moments you will encounter along the way. You will get to learn about the politics behind building this bridge, trials of the Roebling family, who designed the bridge, and riveting facts about the construction of this bridge. After this walk, you will also get to visit the town of Dumbo, where you can stroll the cobblestone streets and witness the historical architecture filled with shops, boutiques and galleries.
Manhattan: Brooklyn Bridge & Dumbo 2.5-Hour Walking Tour

Duration: 2.5 hour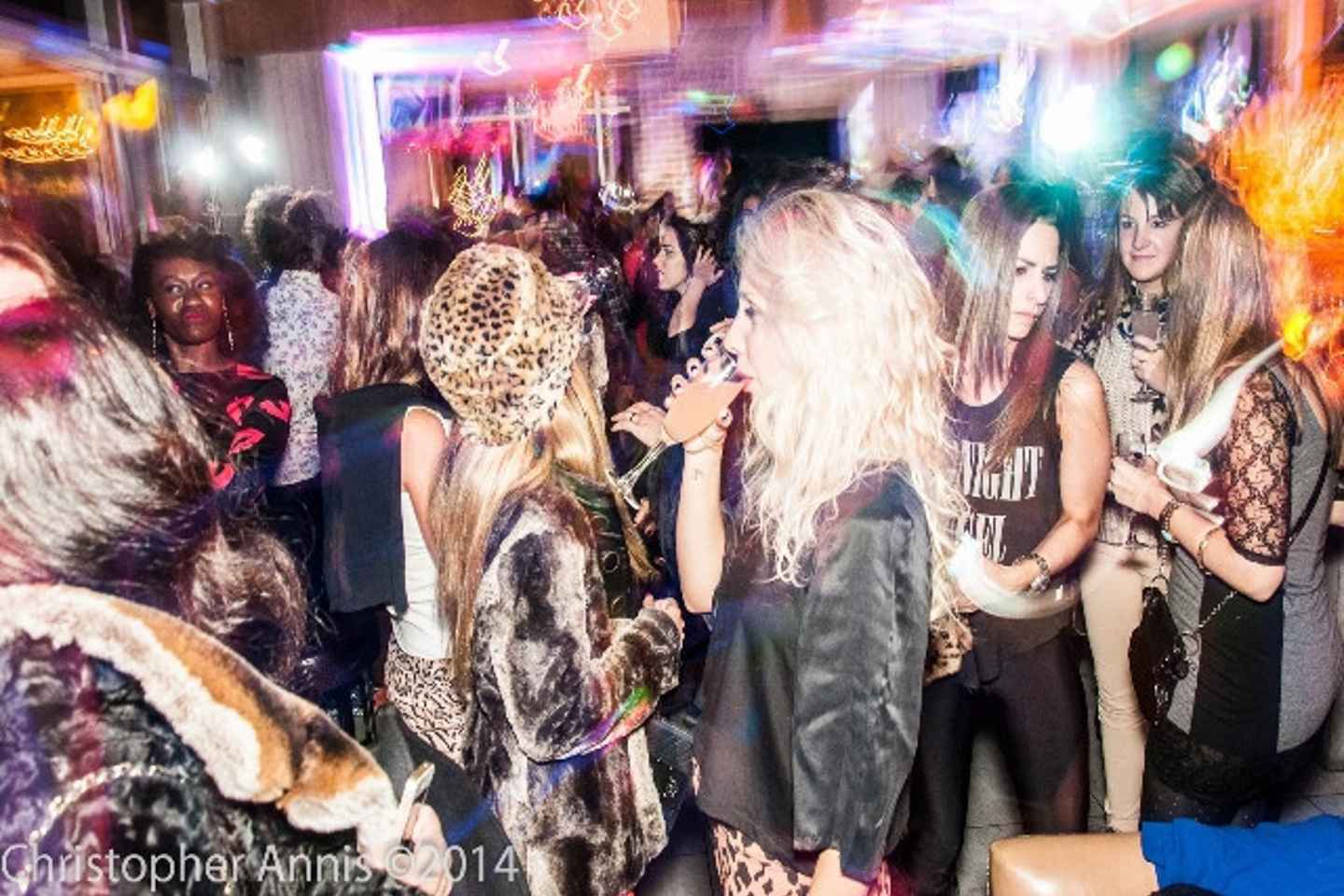 Treat yourself to an amazing New York nightlife experience. Manhattan offers the most exciting nightlife possibly on the planet, so try this tour that allows you to visit one of the city's topmost nightclubs, enjoy three drinks at a VIP table and skip the line and gain entry into the world-famous Lavo Nightclub. This three-hour night out is sure to give you memories to last a lifetime and without all the waiting lines and stress. These are the places where celebs like Rihanna, Jay-Z, Beyonce and Lady Gaga choose to party. Entrance fees will be included in this tour.
New York 3-Hour Exclusive Nightclub Experience

Duration: 3 hour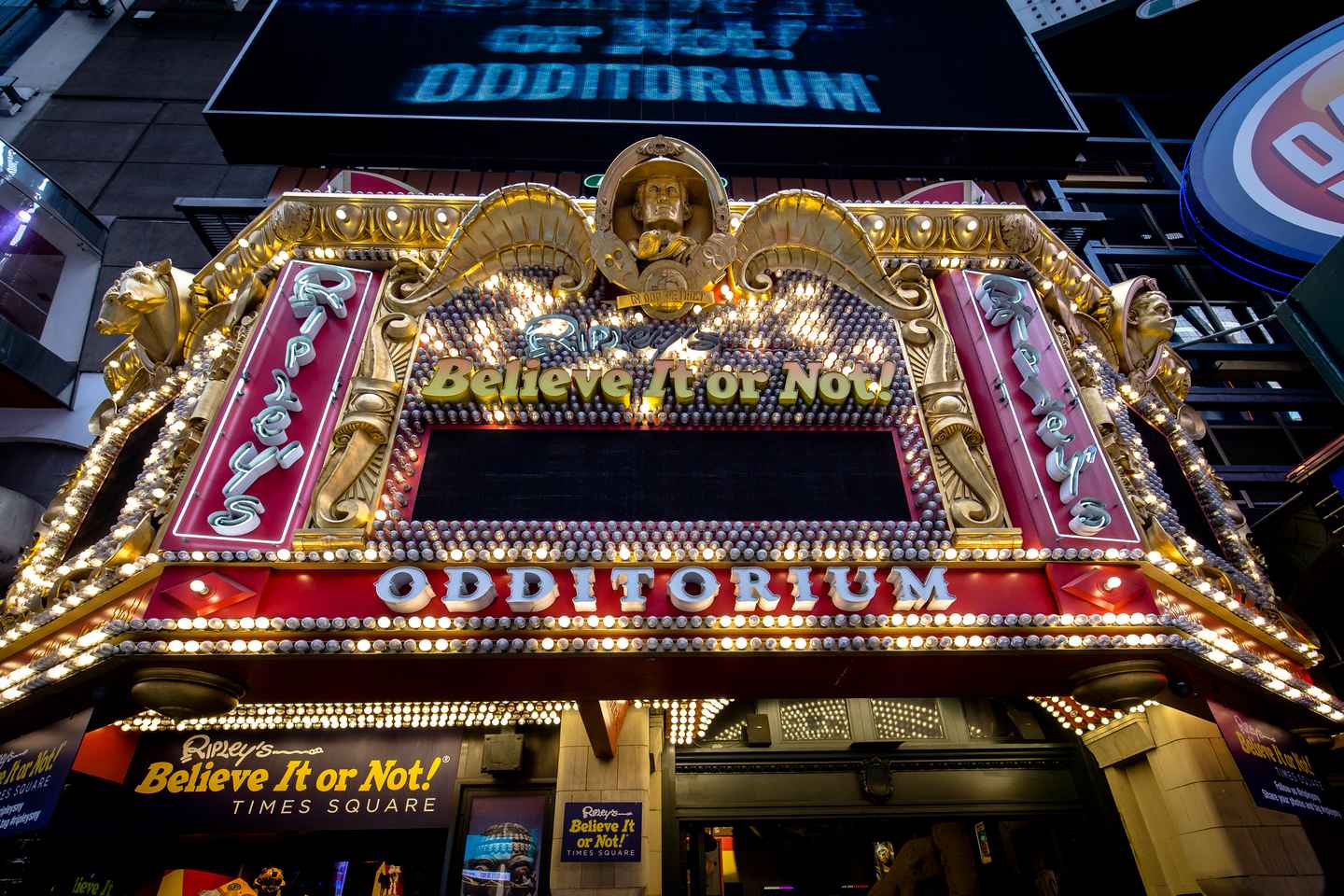 This is the ultimate treat for the nerd inside all of us. At Ripley's Believe It or Not! Times Square, they boast of over 500 astonishing real artefacts on display, dozens of interactive elements and twenty themed galleries. Discover new surprises and magic at every turn, as Ripley's showcases the most remarkable and outrageous collection of natural, artistic, and scientific oddities. The pass you can get is valid for one day, and it is also wheelchair accessible.
Ripley's Believe It or Not! Times Square
Manhattan, the city of dreams
In Manhattan, every corner you turn will offer you a brand new activity or experience and no matter how long you stay here, you will simply not get enough of this city and end up with massive FOMO no matter what you narrow down. As an experience-hungry traveller, there is just so much to see and do and eat and experience, that you are likely to be bewildered when you land here. However, having a concretely planned itinerary can help you focus on getting the best out of each experience, and the vacation as a whole. So take a deep breath and dive into this gorgeous glittering city!
Disclosure: Trip101 selects the listings in our articles independently. Some of the listings in this article contain affiliate links.
Get Trip101 in your inbox
Unsubscribe in one click. See our privacy policy for more information on how we use your data