Located on the banks of the Spaarne River, Haarlem is the capital of North Holland. The city is, somewhat unfairly, often overlooked or compared to Amsterdam, which is just 15 minutes away by train. Doing so, however, would be a disservice to Haarlem. While it may be smaller compared to the capital of the Netherlands, the city is rich in history and culture. Fans of architecture will love the ancient buildings, while those with a romantic soul will adore the narrow, cobbled streets. What's great about Haarlem is that many of its attractions are located in or near Grote Markt, the city square, so travellers will have a fun and easy time exploring the sights within the vicinity. Molen de Adriaan, the trademark windmill of the city, is always worth a visit, as is St Bavo's Cathedral, built during the 14th century, and Corrie ten Boom House, which served as the hiding place of many refugees fleeing from the Nazis. Check out this list for the best things to do in Haarlem.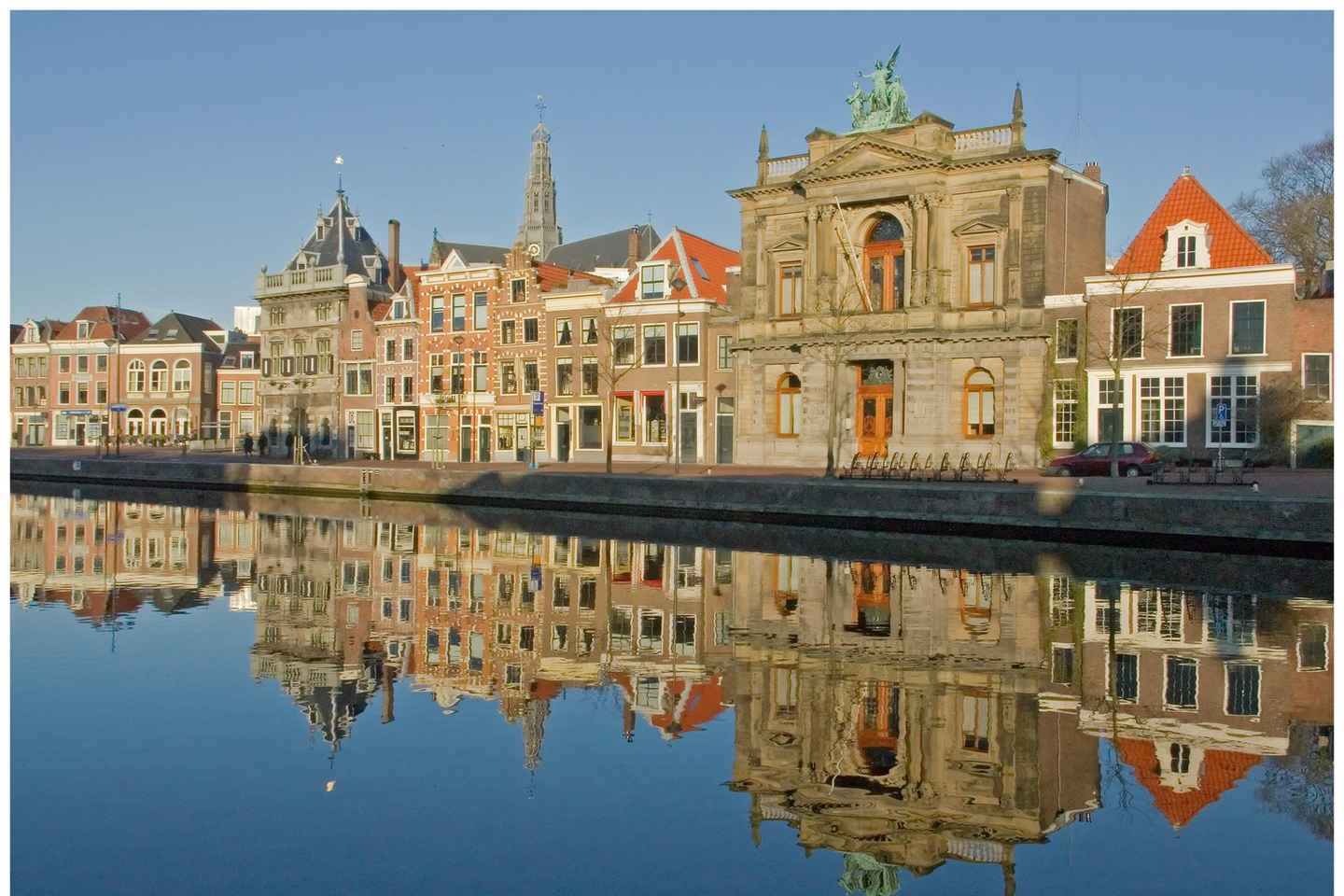 There's no better way to get a lowdown on the best Haarlem points of interest than by joining a tour. Running for approximately two hours, this walking tour takes guests to key attractions within the city. Sights to visit include known tourist drawers such as St. Bavo's Cathedral and the city hall, as well as Haarlem's best-kept secrets, such as the Teylers Hofje courtyard. During the tour, joiners will also get to learn more about the story of Hans Brinker. Make sure to wear comfortable shoes if you join this tour.
From Hans Brinker to Frans Hals: Haarlem Walking Tour

Duration: 2 hour
2. Hop-on hop-off boat cruise
If you want a more relaxed way of seeing Haarlem, consider availing this. "Tour" is actually a misnomer, because this option does not come with a guide who can provide travellers with more information about the surrounding areas. What it does cover is easy access to four key locations within the city. Those who avail of this will not just be able to explore Haarlem at their own leisure, they will also have an enjoyable time cruising the canals and the Sparne River. What's more, they can also enjoy the food and drinks available on board. The pass is valid for 24 hours.
This option is perfect for those who want to have fun while feasting their eyes on what Haarlem has to offer. This is essentially a self-guided walking tour and a treasure hunt combined into one. Played through a web app, users can select which trail they want to explore in Haarlem in order to get clues that they need to solve to move forward to the next challenge. If you find yourself stumped, you can ask for a hint or skip the puzzle - but you'll need to face penalties if you do so. What's great about this option is that there are various trails to choose from, so you can easily explore the various nooks and crannies in the city through the app.
Self-Guided Discovery Walk in Haarlem: The Secrets of its Golden Streets

Duration: 1 to 2 hours
If you prefer a more structured tour, this might be the option for you. Running for approximately 50 minutes, this tour allows guests to enjoy cruising along the canals of Haarlem. The experience is both relaxing and educational since they will also be able to spot some of the key attractions in the city from the water. Guests are welcome to enjoy the food and drinks available on the ship.
Haarlem: 50 minutes Boat Cruise

Duration: 50 minutes
If you prefer exploring the city with people you know, consider getting a private guide to show you around Haarlem. This option, which takes approximately two hours, will take guests around the key attractions in the area, with a guide giving them detailed information not just of these sites, but of the history and culture of Haarlem itself. This tour is customisable according to guests' interests, so you have the freedom of calling the shots on what places to visit.
2 Hour Private Walking Tour of Haarlem

Duration: 2 hours
The following content is contributed by Trip101 writer, Celeste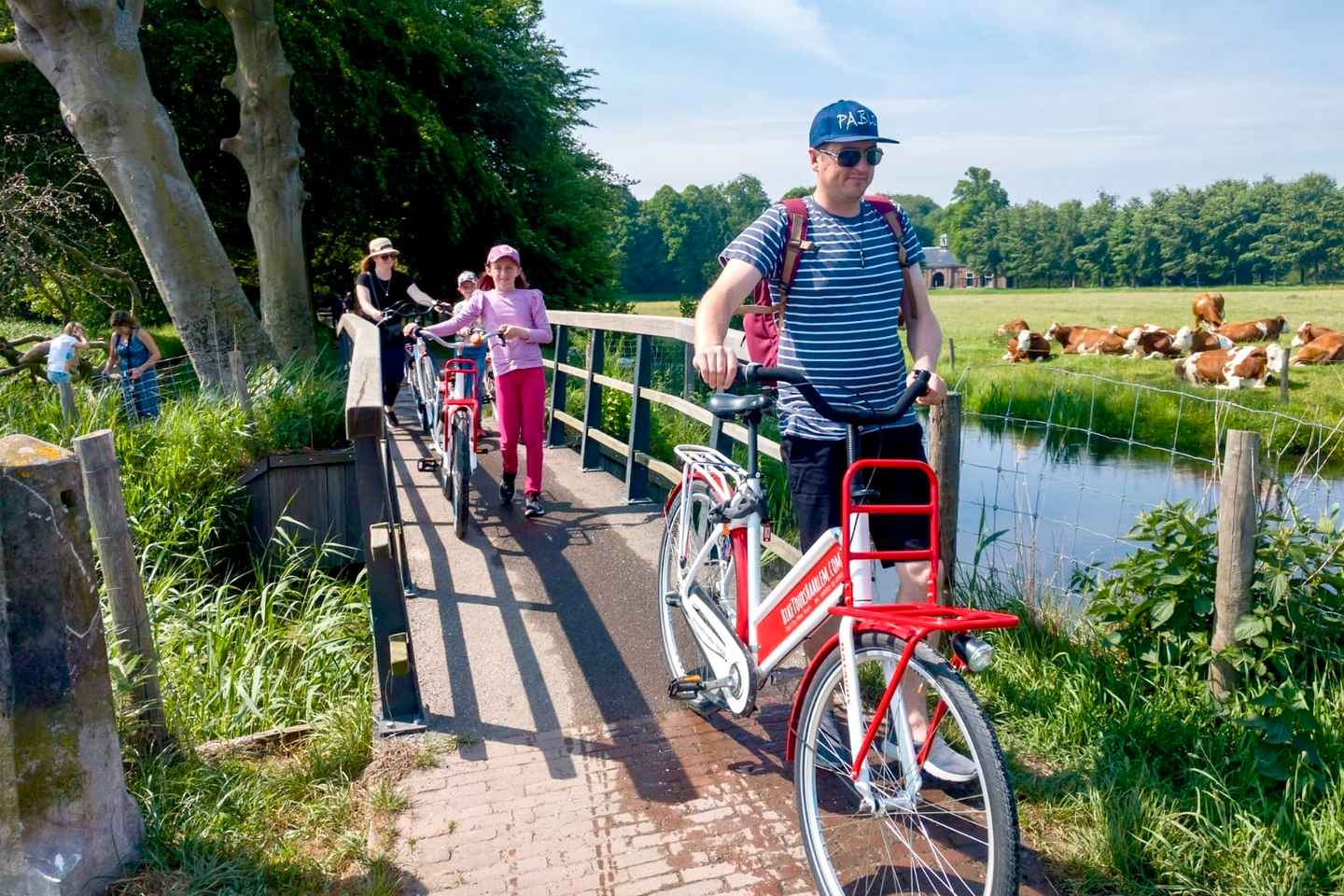 Apart from walking tours or private tours to see the main attractions of Haarlem, you can also opt for a bike tour if you prefer pedaling to walking. You will get to see some historical churches, popular windmills, and the winding streets of the old city center. The bike tour will last about two hours, and apart from the key highlights, you will most likely cycle past some hidden streets. Want to know more? Ask your professional tour guide who speaks both Dutch and English. He or she will also share some tips, or you can simply ask away for the best places to visit and local cuisines to try! Slab on some sunscreen if you need to before you start your day.
Haarlem Highlights Bike Tour

Duration: 2 hour
7. Teylers Museum
Take a trip to Teylers Museum located in the heart of the city. Open to the public since 1784, this museum in Haarlem has almost everything you need to know about art and science from the 18th century. In fact, many travelers flock to Teylers Museum to witness for themselves the stunning interiors from the 18th century. This place was named after Pieter Teyler van der Hulst, a rich Haarlem banker and silk merchant. Exhibitions have included art forms by John Constable, a British artist best known for his landscape paintings. Do check their website for a list of ongoing displays.
Teylers Museum

Address: Spaarne 16, 2011 CH Haarlem, Netherlands

Website: Teylers Museum

Opening hours: Tue - Fri: 10am - 5pm; Sat - Sun: 11am - 5pm (closed on Mon)

Price: 16.50 EUR (19 USD)
8. Hofje van Oorschot
Hofje van Oorschot was founded by Wouterus van Oorschot in 1768, the donor of the courtyard. The world 'hofje' is essentially what the Dutch people use to describe a courtyard with charitable houses surrounding it. You will usually spot them in U-shapes with a gated entrance. They exist to provide housing for elderly women usually above 50 years old. Apart from Haarlem, there are several other cities in the Netherlands with hofjes, including Amsterdam, Groningen, and Leiden. Drop by for a look at the gardens after visiting Teylers Museum. It's only a five-minute walk away from the museum!
Hofje van Oorschot

Address: Kruisstraat 44G, 2011 PZ Haarlem, Netherlands

Opening hours: Mon - Fri: 10am - 5pm (closed on Sat & Sun)
9. Windmill De Adriaan (1779)
Windmill De Adriaan (1779) is a windmill located 650 m (2,132 feet) from Teylers Museum in Haarlem. You can find it seated on the Spaarne River. It was one of the famous icons of Haarlem until it was burned down in 1932. Thanks to the work of the locals, the windmill was rebuilt in 2002, after 70 years. Get your tickets from the ground floor and start your adventure on the first floor for some audio-visual presentations, before heading to the second-floor permanent exhibition for more information on windmills. Observe the giant model of Windmill De Adriaan before you explore the top floors with the outdoor decks. Guided tours are available for booking.
Windmill De Adriaan (1779)

Address: Papentorenvest 1A, 2011 AV Haarlem, Netherlands

Website: Windmill De Adriaan

Opening hours: Mon - Fri: 1pm - 5pm; Sat - Sun: 10:30am - 5pm

Price: 2.50 - 5.50 EUR (3 - 7 USD)
10. Frans Hals Museum
Founded in 1862, Frans Hals Museum has undergone a split in 1950 when the modern art collection was moved to another museum near Teylers Museum. From their website, you can get a glimpse of their current exhibitions and events, and some of their exhibitions run for a long time. You will see for yourself the works of other Dutch masters, including Hendrick Goltzius, Karel van Mander, Jan Porcellis, Salomon van Ruysdael, and Nicolaes Berchem. Another exhibition named 'The Hals Phenomenon' has been running since 2013 and will end its display of Frans Hals' masterpieces and documents in 2023. Tickets can be purchased online.
Frans Hals Museum

Address: Groot Heiligland 62, 2011 ES Haarlem, Netherlands

Website: Frans Hals Museum

Opening hours: Tue - Sat: 11am - 5pm; Sun: 12pm - 5pm (closed on Mon)
11. Barrel Organ Museum Haarlem
We can't get enough of museum visits in this city! Music and instrument lovers will appreciate a trip to Barrel Organ Museum Haarlem. This Haarlem attraction opened to the public in 1969, and a restored dance organ obtained in 1958 was its main instrument. A barrel organ is an instrument with bellows and pipes. Most of them are heavily decorated and come with wheels. As the name suggests, you will get to observe a variety of barrel organs, accessories, and documentation with regards to the instrument. To indulge in the sweet sound of the organ, head to the ballroom on-site where music is played.
Barrel Organ Museum Haarlem

Address: Küppersweg 3, 2031 EA Haarlem, Netherlands

Opening hours: Sun: 12pm - 6pm (closed from Mon - Sat)
12. Ratatouille Food & Wine
Photo is only for illustrative purposes
How about some modern French cuisine during your trip to Haarlem? Located between Teylers Museum and Frans Hals Museum, Ratatouille Food & Wine sits right in front of the Spaarne River. They have three to seven-course menus available, and there are vegetarian options. You may also order from the a la carte menu for a wide range of dishes. Order a glass of wine to complete your dining experience if you like. Do call or email ahead if you need to make a reservation for a group of more than 20 people. The restaurant is available for rent as a location for wedding celebrations as well!
Ratatouille Food & Wine

Address: Spaarne 96, 2011 CL Haarlem, Netherlands

Website: Ratatouille Food & Wine

Opening hours: Tue: 6pm - 10pm; Wed - Sun: 12pm - 10pm (closed on Mon)
13. Petossi Haarlem
Photo is only for illustrative purposes
While in the Netherlands, be sure to try some Dutch food. That's why we're introducing to you Petossi Haarlem. They are open only in the evenings, from 6 pm to 10 pm. The main highlight of this restaurant is its chef, Bart van Berkel. He's the man who won Masterchef Holland in 2014, so you can expect delicious food. He has personally learned from top chefs in the Netherlands, Belgium, and France. He has also undergone a culinary tour in 2013 throughout Asia, Australia, New Zealand, and South America. You can also send in a request via the website for private dining and events.
Petossi Haarlem

Address: Lange Veerstraat 15, 2011 DA Haarlem, Netherlands

Website: Petossi Haarlem

Opening hours: Tue - Sun: 6pm - 10pm (closed on Mon)
14. The Wolfhound Irish Bar & Kitchen
Photo is only for illustrative purposes
Soak in the pub vibes at the Wolfhound Irish Bar & Kitchen. This Irish pub, which is open till late, is a two-minute walk from Teylers Museum. It has a contemporary gastro-pub concept with excellent live music. Their breakfast menu runs till 3 pm, which is perfect for late risers who still want to enjoy some scrambled eggs and toast past noon. There are also several panini-style sandwiches, light bites, soups, and salad choices. Give some of their signature menu items a try - classic fish and chips or Irish stew. There's also a special Sunday roast dinner menu item served with Guinness gravy.
The Wolfhound Irish Bar & Kitchen

Address: Riviervismarkt 9, 2011 HJ Haarlem, Netherlands

Website: The Wolfhound Irish Bar & Kitchen

Opening hours: Mon - Wed: 4pm - 1am; Thu: 4pm - 3am; Fri - Sat: 12pm - 3am; Sun: 12pm - 1am
A vacation or a visit to a new city must be accompanied by good food. If you agree with this sentiment, then book yourself a 3.5-hour Haarlem food tour with a professional tour guide who speaks English. This is a wheelchair-friendly tour. Through this food journey, you will get to taste some Dutch apple pie, Dutch herring, and a variety of cheeses like gouda and comté. This is your chance to patronize local shops and cafes and experience what it's like to dine like a local. A craft beer tasting session will be included in the food tour.
Haarlem: 3.5-Hour Food Tour

Duration: 3.5 hour
More than Amsterdam's little sister
Haarlem is often overshadowed by Amsterdam. However, there is more to it than being a scaled-down version of the capital and most famous city in the Netherlands. The historical city has a charm of its own, and travellers will have a fantastic time seeing for themselves just what makes Haarlem special. Add these things to do in Haarlem to your itinerary.
Frequently asked questions about the best things to do in Haarlem
1.&nbspWhat are the top attractions to visit in Haarlem?
Haarlem is a city that art lovers and art aficionados will love since it boasts great museums and historic structures. Some must-see points of interest include Cathedral of St Bavo, Teylers Museum, Windmill De Adriaan (1779), and Frans Hals Museum.
2.&nbspWhat are the best outdoor activities in Haarlem?
Haarlem is a great place to enjoy walking tours since it's a very walkable city, with a center that sees little to no cars. Other outdoor activities you might want to check out while you're here include boat cruises and bike tours.
3.&nbspWhat are the most popular things to do with kids and family in Haarlem?
Some kid-friendly and family-friendly activities that are popular in Haarlem include bike tours, boat cruises, and a visit to Barrel Organ Museum Haarlem. You can also take your little ones to Windmill De Adriaan (1779) and join a tour so your kids can learn a thing or two about windmills from the friendly guides.
Disclosure: Trip101 selects the listings in our articles independently. Some of the listings in this article contain affiliate links.
Get Trip101 in your inbox
Unsubscribe in one click. See our privacy policy for more information on how we use your data