Just 10 miles (16 kilometers) south of the United States border with Mexico lies Rosarito, a coastal resort city in Mexico known for its warm weather, beautiful beaches, and proximity to the border city of Tijuana. Despite being practically walking distance from the United States, this beach city is unmistakably Mexican and offers lots to do for both local Californians looking to get away for the weekend, and international travelers looking to experience Mexican culture. If you're wondering where to stay in the city, you'll be glad to know that several Vrbo vacation rentals and other accommodation options can be found here.
Wondering what to do in Rosarito, Mexico? Make sure to try out these best things to do in Rosarito, Mexico.
Travelers who enjoy being pampered and having everything they need easily accessible will enjoy Rosarito. Neighborhoods like Villa Del Mar, Ricamar, and Castillos Del Mar are just some spots to consider for a memorable stay.
Villa Del Mar
Villa Del Mar is one of the hotspots in Rosarito where many cultural sights can be found. Some of these include Tijuana Cultural Center and The Trompo Interactive Museum Tijuana, which travelers with children will appreciate. There is also a range of local markets to check out for those who are eager to do some shopping. Homestays, villas, and small hotels are common in this part of Rosarito.
Ricamar
Another great spot to base yourself in when in Rosarito is Ricamar. Known for its residential and gated community, this part of Rosarito boasts safety and privacy. It's great for families and is close to many essential establishments as well as the downtown area frequented by most tourists. The local beaches are also accessible on foot for those who wish to explore the beach locale.
Castillos Del Mar
Translated as "Castles of the Sea", indeed, Castillos Del Mar boasts exactly that. It's a haven for scenic beaches and sunsets that will take your breath away. This beach town is a popular tourist destination and is frequented during high season. Many villas and rental homes are available for rent and are usually just a walk away from the most popular eating and drinking establishments.
For a top-notch vacation in Rosarito, we recommend booking these amazing places to stay:
1. Go horseback riding on the beach
If going horseback riding on the beach isn't already a bucket list goal of yours, it should be, especially in Rosarito, where tour companies like Pretty Horses Rescue take you on a guided horseback riding adventure. Horseback riding on the beach is a perfect way to begin or end your beach day in Rosarito – and it'll make for some enviable Instagram pictures, too.
Pretty Horses Rescue

Website: Baja Horses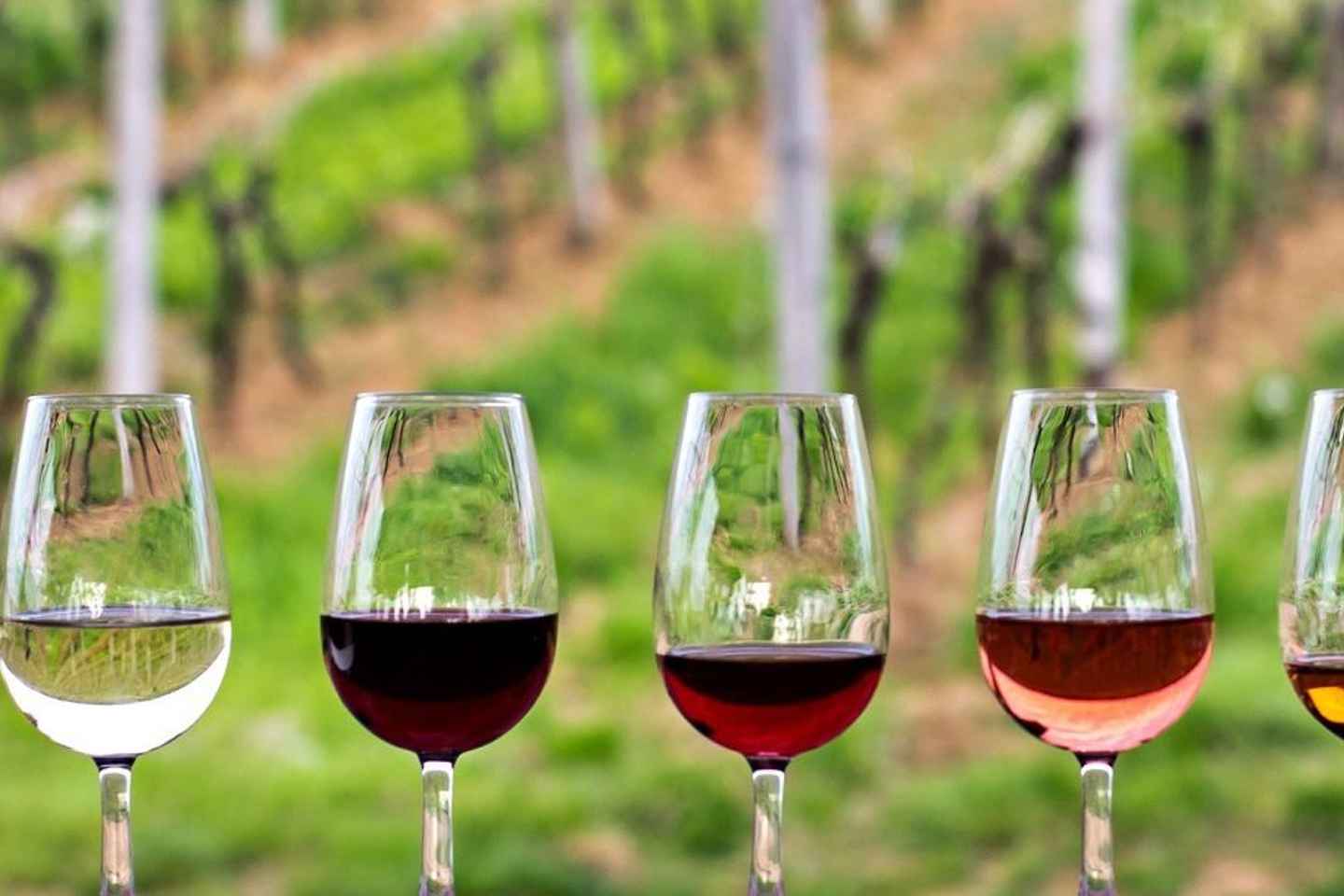 While Mexico may not be the first place you think of when you think of "fine wine," visiting La Vid in Rosarito will change how you view Mexican wine. This wine bar is a favorite for both locals and tourists who are looking to enjoy tapas and wine, while learning more about Mexican wine culture from La Vid's knowledgeable staff. After spending a day at the beach in Rosarito, winding down with a wine tasting at La Vid is the perfect way to end a day well spent in Mexico.
Guadalupe Valley: Complete Wine Route

Duration: 9.0 hour
3. Explore the art in Rosarito
Editor's Note: Photo taken from the establishment's official social account
Baja California is an artist's heaven. From street murals to art galleries to museums, this Mexican State has it all, so when planning a trip to Rosarito, exploring all of the city's different types of art is a must-do. From visiting the Baja Art Gallery to private studios like 213 Art Space and more – art is all around you in this Mexican City.
213 Art Studio

Address: Rosarito Beach Hotel, 21710 Rosarito, Mexico

Facebook: 213 Art Space
4. Go hiking at Cerro El Coronel
Hiking fanatics can enjoy Rosarito, too! Mountain enthusiasts can enjoy the view from the highest point in Rosarito, Cerro El Coronel, a mountain peak that overlooks the ocean, as well as the cities of Tijuana and San Diego. It's one of the best places to visit in Rosarito, so if you're prepared for a five-hour-long trek, the views from the top will make it worth the journey.
5. Visit Tacos El Yaqui
Editor's Note: Photo taken from the establishment's official social account
Although a humble taco stand, Tacos El Yaqui is Rosarito's secret Mexican-food gem. The small taco-shack has earned quite the reputation with tourists and locals alike, and it's no wonder why. With their hand-made corn tortillas, juicy meats and fresh veggies and salsas – all of Rosarito knows that this is the place to go for a quick and delicious bite.
Tacos El Yaqui

Address: Av. Mar del Norte 115, Col. Centro, 22710 Rosarito, Baja California, Mexico

Website: Tacos El Yaqui
6. Visit Christ of the Sacred Heart
Standing 75 feet (23 meters) tall with his arms open, overlooking the clear blue beaches of the Pacific, is Christ of the Sacred Heart, a large statue of Jesus Christ, an iconic landmark, and a top Rosarito attraction. This immense sculpture can be seen from miles away, but to get the best view of it by driving, exit the toll road at Rosarito, continue south on the free road toward Ensenada, and head inland near the town of El Morro at kilometer 44.
7. Stroll along Benito Juarez Boulevard
This main shopping and dining street in Rosarito has plenty to offer those visiting, looking for souvenirs, a bite to eat, or simply to people watch. From thrift shops and flea markets to surf stores and taco stands, exploring this pedestrian-friendly shopping area is a great way to pass the day while in Rosarito.
Benito Juarez Boulevard

Website: Benito Juarez Boulevard
A group of four islands located off the Northwest coast of the Mexican State of Baja California, Islas Coronado or the Coronado Islands are an ideal trip from Rosarito. Due to being largely uninhabited, these islands are the perfect place to go for a calm and relaxing day without the tourists of the mainland. Along with being a serene place to go for surf and sun, the islands are also a wildlife refuge, and are home to numerous species of amphibians, whales, birds and more! Best way to get to the islands? Take a ferry from a local tour company, like the one below.
Islas Coranado Tour

Book a tour:
Rosarito to The Coronado Islands Marine Life Boat Tour

Duration: 5 hours
9. Go offshore Scuba Diving
Discover Rosarito from an angle to which few can ever witness; underneath offshore waters! This is your chance to dive alongside experienced guides, where for an entirely affordable rate, you're allowed the exclusive opportunity to check out all that exists underneath calm ocean waves. It is undoubtedly one of the best activities in Rosarito. Whether you're in the mood to familiarize yourself with species that exist naturally under the waters, or you're simply interested in learning more about the art of scuba diving, the activity itself is definitely the thrill of a lifetime.
With so many licensed scuba diving programs in a close proximity in Rosarito, Mexico, you'll have no trouble locating the program most conducive to your skill level, price range, and previous diving experience. Given that you're going to be diving with knowledgeable scuba divers, you're thus free to enjoy everything that exists below the waters, while the experts attend to all of the details.
In addition, you'll be able to rightly claim the commitment to a new and exciting skill! Scuba diving is a practice which immediately lends itself to oceanic excitement, and opens the doors for so many new and thrilling adventure opportunities. Make this useful skill your own today, together with unprecedented views of vibrant underwater life, with the help of a scuba program!
Like many other destinations in Mexico, Rosarito offers gorgeous beaches and a laid-back beach attitude that can cure any and all stresses. While Playas de Rosarito was initially a deserted sandy beach used to film Hollywood movies, the city and its beaches are finally developing a reputation as a premier beach destination in Mexico. Here, travelers, retirees and Mexican locals can enjoy gorgeous ocean-views and sea breezes all day long. Unlike many other beaches in Mexico, Rosarito is less about the party and more about the relaxed vibes and the sunshine. So pack a book, some sunscreen and a pair of sunglasses and lay out by the ocean all day long.
If you are staying in San Diego, why not go for a day tour to Rosarito. Embark on a dark trip that will have you passing across the Mexican border with stops in Tijuana, Puerto Nuevo and Rosarito Beach.
If you are looking for local tours, check out Playas de Rosarito
Playas de Rosarito

Website: Rosarito Activities
Baja Grand Tour, Tijuana Coastal Day Trip from San Diego

Duration: 9 hours
11. Bond with your family at Parque Metropolitano
Editor's Note: There's no photo available at the time of writing
Away from the ocean waves of the beach, Parque Metropolitano is a scenic spot ideal for spending some quality family time. This place to visit in Rosarito has plenty of trails for hiking and playgrounds for kids to enjoy. It's a great spot for picnics as well, as there are plenty of tables, and the scenery is truly breathtaking. The views of Rosarito - especially from the top of the hill - call out, begging to be explored.
Parque Metropolitano

Address: Rosarito, Baja California, Mexico
Rosarito Beach is one of the best surf spots in Baja Mexico. But this unique experience will let you enjoy Rosarito Beach in another way. Lasting about four hours, explore the sand dunes, mountains, sandy beaches, and ocean views of Rosarito by riding an ATV or motorbike – alongside friendly and knowledgeable guides. Stop in Puerto Nuevo and explore the nearby shops, or dip into a restaurant to try the succulent local lobster or drink from a pineapple. They will even pick you up at your hotel so you can get right to the action.
Private Mountain Motorcycle Tour and Lunch in Puerto Nuevo

Duration: 4 hours
13. Enjoy beer and good music by the beach at Papas & Beer
Papas & Beer is one of the best eateries in Rosarito, Baja California, Mexico. Located right on the beach with beautiful ocean views, this restaurant has plenty of places to sit and lounge while you watch the sunset over the Pacific Ocean with a cool drink in your hand. The music and vibes are always exceptional, and you can't beat relaxing steps away from the water. An assortment of fresh nachos, delicious tacos, mouth-watering lobster, and other items on their extensive food menu will also have you coming back – and they even serve breakfast as well.
Papas & Beer

Address: Coronado 400, Playas Rosarito, 22710 Rosarito, B.C., Mexico

Website: Papas & Beer

Opening hours: 12pm - 12am (daily)
14. Check out Rosarito Ocean Sports and go on a diving tour
Editor's Note: Photo taken from the establishment's official social account
Have the ultimate ocean experience and go on a diving tour. Rosarito Ocean Sports offers several kinds of tours that are sure to give you the best experience of this wonderful oceanside town. However, one tour you should definitely not miss is their underwater adventure experiences. Whether you'd like to see Uribe 121, a sunken ship site, or go on an exploration of a giant kelp diving site, you're sure to experience something new with Rosarito Ocean Sports. "Dive out" of your comfort zone and discover the deep ocean waters of Rosarito. It'll definitely be one of your most memorable vacations.
Rosarito Ocean Sports

Address: Blvd. Benito Juárez #890-7, Centro Carretera, 22710 Rosarito, B.C., Mexico

Website: Rosarito Ocean Sports

Opening hours: 8am - 8pm (daily)
Perfect for those looking to experience some of the best must-eats of Rosarito, this food-crawl showcases not only the freshest seafood but also the most authentic dishes of the area. If you're a foodie, this is something you should definitely do when in Rosarito. Have a local tour guide show around the most popular restaurants, pubs, bars, and cafes. Not only will you feel satisfied, but you'll also learn a thing or two about this charming locality. Go with a friend, a loved one, or just solo - your tummy will definitely thank you.
Guadalupe Valley

Duration: 7 to 8 hours
Beach days in Baja
Though it's not Puerto Vallarta or Los Cabos, Rosarito should not be overlooked as a Mexican beach destination, especially for those on the West Coast of the United States looking for a getaway that is driving distance from Southern California. From food to surf, these fun things to do in Rosarito, Mexico, will keep you entertained for days. This destination is also just minutes away from Tijuana and San Diego. Are you planning your trip yet? Book your Airbnb now and come through!
Frequently asked questions about the best things to do in Rosarito, Mexico
1. What are the best attractions to visit in Rosarito?
Some of the best attractions in Rosarito are Cerro El Coronel, Christ of the Sacred Heart, Parque Metropolitano, and Boulevard Benito Juarez. Make sure you don't miss any of these when in Rosarito.
2. What are the best outdoor activities in Rosarito?
Enjoy some of the best outdoor activities in Rosarito like horseback riding on the beach, offshore scuba diving, motorbiking, and exploring the beachside of Rosarito on ATVs.
3. What are the most popular things to do in Rosarito with kids and family?
Have a blast in Rosarito with the kids and the whole family - hang out at Parque Metropolitano or go horseback riding on the beach. You can also explore Boulevard Benito Juarez.
Disclosure: Trip101 selects the listings in our articles independently. Some of the listings in this article contain affiliate links.
Get Trip101 in your inbox
Unsubscribe in one click. See our Privacy Policy for more information on how we use your data