Olbia has a lot to offer for sure! The entire city is filled with beautiful historic places and museums, boutiques, bars, and pizzerias! It is located close to the famous Costa Smeralda tourist area and is one of the economic centers of the island. Well, so you have finally landed in this beautiful city, What next? Read ahead and find out the best things to do in Olbia.
1. Romanesque Former Cathedral Of San Simplicio
The Basilica Of San Simplicio is a famous Basilica in Olbia. Built in the 11th century on the outskirts of the city on a small hill, The Basilica Of San Simplicio is a spectacular landmark of the city. It is used since the Carthaginian times as a cemetery area. Located near a Roman temple in the year 594 and 611 was a Palaeo-Christian church nearby the Basilica.
The facade of the church is divided into three parts with a central triple mullioned window. There is also a small bell tower in a Spanish style on the right side of the Basilica. The apse of this monument is decorated with small corbels, which in turn is surmounted by a large pediment. The interior is completely made of granite. There are two ruined frescoes running in the middle of the apse. Under the altar are relics of Simplicius.
Cathedral Of San Simplicio

Address: Via Salvatore Fera, 07026 Olbia

Website: San Simplicio
2. Church of St. Paul Apostle
The Church of St. Paul Apostle was built in the middle of the 15th century. It is located in the historic center near old decumanus. There was worship of pagan deities Melkart Hercules around this church based on the excavations and the findings in this area suggested. The oratory of the confraternity of Holy Cross was broken in the 40s but was later restores in 90s. The dome of this church is very beautiful which is covered with colorful ceramic tiles. The entire wooden pulpit inside the church is quite impressive. There is a great workmanship by an unknown Sardinian craftsman in regards to work of sandals and silver halo around Assunta inside the church.
St. Paul Apostle

Address: P.zza Civitas, 4, Olbia 07026
3. National Archaeology Museum
The National Archaeological museum is designed by famous architect Vanni Macciocoo. It is located near Isola Bianca and historical center on 'Isolotto di Peddone'. The very unique grand central patio is a distinct characteristic of this museum. There were Roman ships and a lot of functional places, library, auditorium and congress center were discovered because of it. The event of Vandals sinking ships is reproduced on the upper floor with advanced technology.
The National Archaeological museum is a multi-purpose structure and is a sole dedication to Olbiese architecture right from the Neolithic period to Judicial age. The museum has free entrance but is closed on Mondays and Tuesdays.
National Archaeology Museum

Address: 07026 Olbia, Province of Olbia-Tempio

Website: National Archaeology Museum
4. Enjoy dinner at La Lanterna
La Lanterna Restaurant is a great gourmet spot for fish and meat lovers, but pizza is their speciality. It is located near the sea of Golfo Aranci. It has large options of fresh fish as well as grilled specialities. Their wine selection is quite huge. La Lanterna is an ideal place for people who admire simple and tranquil surroundings. There are a lot of options for seating at the restaurant. There is a veranda and seating near the sea as well as garden seating. Aside from pizza, the restaurant is also known for its seafood, Sardinian cuisine, pecorino and grilled meat.
La Lanterna

Address: La Via Mossa 8, Golfo Aranci (Ot).

Website: La Lanterna (in Italian)
5. Late night party at Caffe Cosimino
Olbia has a lot of options for cafes and restaurants. One of the best cafes in the city is Caffe Cosimino. Located in Piazza Margherita 3, the Caffe Cosimino offers outdoor seating, in the heart of the town. It is a perfect place for morning coffee and croissants. If you plan to party late into the night, then this is also a great place to enjoy beer and cocktails. The Caffe Cosimino offers a range of continental foods, including frappes, gelato, and super tasty coffee. There are numerous hotels, shopping centres and restaurants nearby.
Caffe Cosimino

Address: Piazza Regina Margherita 307026 Olbia, Italy
The Tavolara Island is a gigantic mountain, which is located in the Gulf Of Olbia. The highest peak of the Tavolara island is Punta Cannone. From this peak, you can see Monte Limbara, Monte Nieddu, Montalbo, Strait of Bonifacio and Corsica. Hiking can easily be done at Tavolara Island. For the easiest hike, the trail starts at the beach of Spalmatore Di Terra, which is in the western part of the island. The trails then take you to Punta La Mandria, through the valley called Mouth of the Cannon, which allows hikers to indulge in the breathtaking views of the area. After this, hikers can ascend a ridge of white limestones cliffs to the island's peak, Punta Cannone. From here, the beautiful views can be enjoyed, next to the statue of Madonna, 'La Madonnina di Tavolara'.
Hiking at Tavolara

Website:
7. Museo Archeologico
This is a magnificent and superb museum near the port. There is local history in the form of artefacts such as Roman amulets and pottery, to Nuraghic finds.There have also been Roman vessels found near the place. The museum is located on the small Peddone Island, near the port and is a vital element of the urban port system. The museum is also close to the harbour, which brings in a huge number of visitors from Sardinia. This museum is the best place to indulge in and take a peek at the ancient history of Olbia.
Museo Archeologico

Website: Museo Archeologico *in Italian
8. Sa Testa sacred well
Located right near the Olbia airport is this fascinating sacred well of Sa Testa. This is a work of great imagination. There are many wells in the Mediterranean area, but none exhibit the uniqueness that this well does. The reason for the design of this well is still a mystery for archaeologists. According to folklore, this well represents the female sexual organs and highlights the entrance and exit to the afterlife.
Sa Testa sacred well

Address: Località Sa Testa, 07026 Olbia

Website: Sa Testa sacred well
9. Make your way to the top of Monte Altura Fortress
If you're into historical structures and long-time landmarks when traveling, there's definitely much to discover when you make your way to Monte Altura Fortress. Mt. Altura Fortress has been around since the 19th century and served as a defensive system built to surround the isle of La Maddalena to protect the Tyrrhenian Sea from the French fleets. This impeccable fortress has 171 steps and is dubbed one of the most beautiful forts in the whole of Europe. Travelers who are keen to see more of this attraction are welcome to book local tours as they are the only ones permitted to operate and visit the structure which is open daily from 10:15 am to 7:15 pm.
Monte Altura Fortress

Address: . Monte Altura, 07020 Palau OT, Italy

Opening hours: 10:15 am to 7:15 pm, Sundays to Mondays

Duration: 45 minutes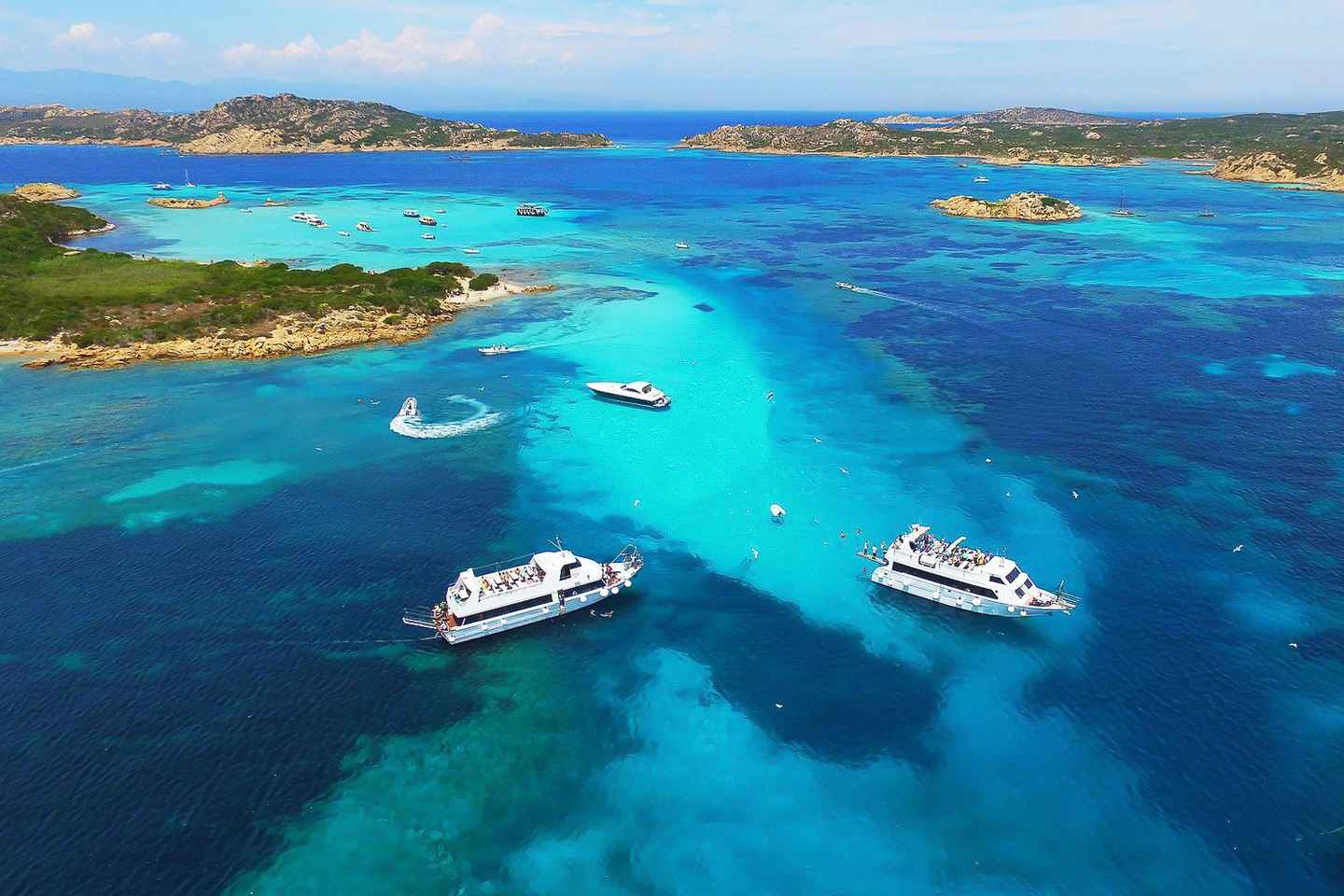 The island of La Maddalena is home to just a small estimated population of 10,000 people. La Maddalena is actually a newly discovered tourist attraction that was initially explored by tourists themselves. This beautiful part of Italy holds a ton of character and is filled with vibrant character in its cobbled streets, piazzas, and palatable dishes in their local dining establishments. La Maddalena is surrounded by many interesting places where tourists can do some shopping, visit art exhibits, and have some amazing cocktails at local bars. Indeed, La Maddalena is a completely new place to add to your travel bucket list with a little bit of something for every kind of traveler.
La Maddalena

Address: La Maddalena, Sardinia, Italy

Website: La Maddalena
Duration: 6.0 hour
Enjoy your vacation in Olbia
What are you waiting for? Plan your next vacation to Olbia today and visit all the remarkable spots that it has to offer!
Disclosure: Trip101 selects the listings in our articles independently. Some of the listings in this article contain affiliate links.
Get Trip101 in your inbox
Unsubscribe in one click. See our Privacy Policy for more information on how we use your data