Known by many as the starting point for adventurers looking to conquer Everest, Kathmandu is the capital and largest city of Nepal. The most iconic landmark in the area is without a doubt the Himalayan mountain range, which also includes the world's highest mountain peak. The lively, bustling city in the heart of Nepal is much more than that though, as it boasts a rich culture, a fascinating history, and some of the most breathtaking views you'll ever see in your life. Kathmandu is home to Hindu temples, buzzing bazaars that will tickle your senses, and Bhaktapur, a UNESCO World Heritage Site. Read on as we explore some of the most unusual things to do in Kathmandu, Nepal.
There's no better way to experience Nepal's culture, history, and the spectacular landscape all at once. This one-day tour will take you on a leisurely hiking adventure that will unravel Nepal's scenery and culture. Travelers will get to watch the sunrise over the distant Himalayas, pass through several local villages, and reach the Changu Narayan Temple, a UNESCO World Heritage Site. Travelers can also stop for breakfast and lunch, and enjoy the authentic Tibetan cuisine.
Nagarkot Sunrise View and Day Hiking from Kathmandu

Duration: 9 hours
If you prefer taking the road less traveled, you're going to love this tour. A guide will take you on a hiking adventure on the trail from Sanga to Panauti, which passes through villages unseen by tourists so far. The hike is easy to moderate, so it's suitable for most travelers. The mountain and hill views along the way are worth every step of the way.
Day Hike - Sanga to Panauti

Duration: 8 hours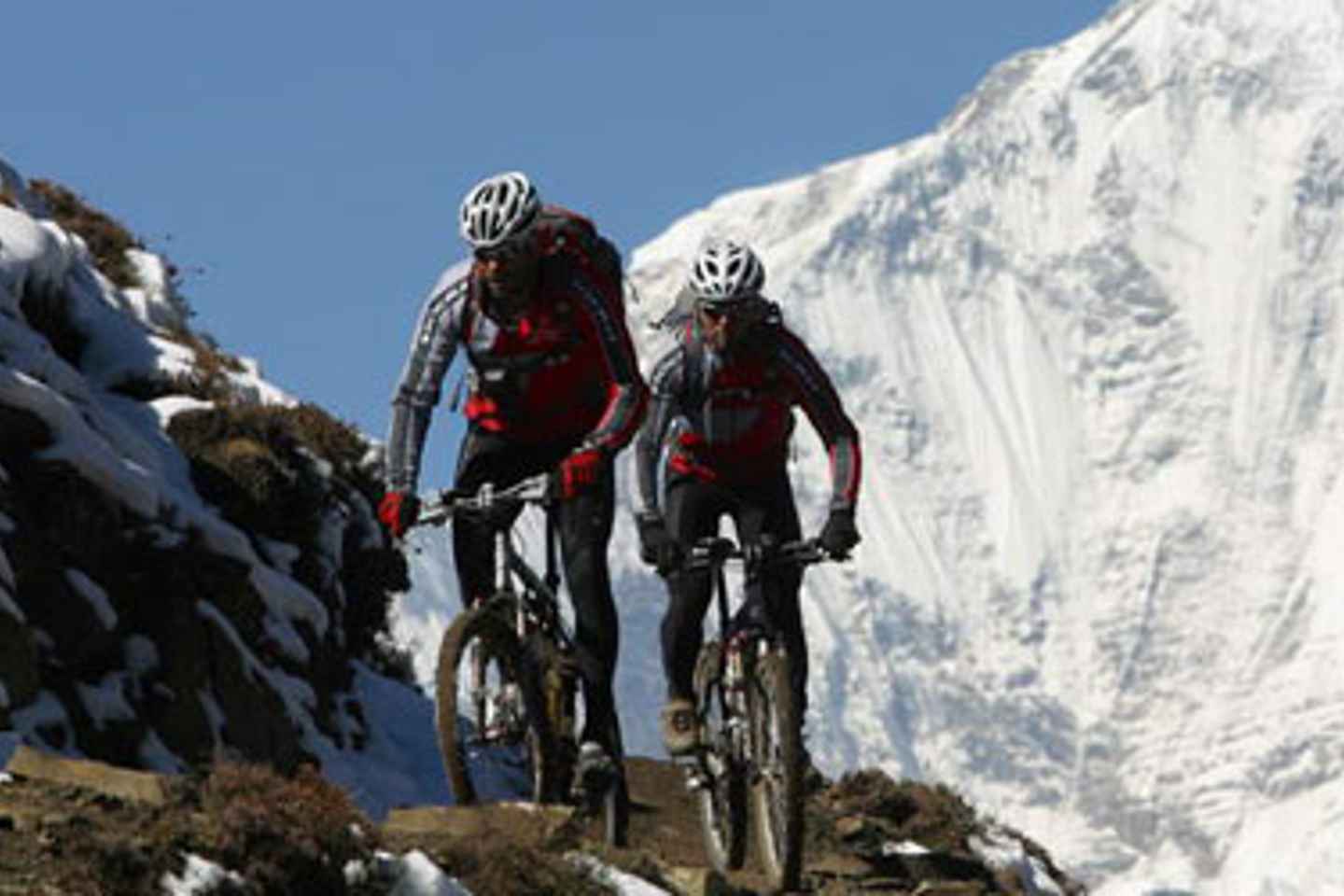 Another way to explore the Himalayas' beauty, but while on the ground, is through this full-day mountain biking tour. Travelers will get to cycle through the ridge-top trails, explore quiet roads, local villages, and the area's wilderness. Travelers looking to join the group can choose a route to suit their technical level, and then enjoy riding the trails of the Kathmandu Valley while absorbing the panoramic views of the mountains and also meet the villagers of Newar and Tamang.
Kathmandu: Full-Day Mountain Biking Tour

Duration: 1.0 day
Nepal has a spectacular culture and art is a part of it. If we take Thangka, for example, an art that is centuries old, we can get a better sense of the Tibetan history, the Buddhist religion, and the life of Buddha. Thangka is a Tibetan painting skill that consists of depicting Buddhist deities and mandalas on pieces of cotton or silk, which are usually kept unframed. Travelers looking to try this experience and learn how to paint a basic Thangka can opt for a class with a professional instructor that has mastered the art for decades. All the materials are included, so no need to prepare beforehand.
Kathmandu: Traditional Thangka Painting Class
Mount Everest is undoubtedly spectacular, up close and from afar. While climbing, it requires months if not years of training and practice, its peak can much easily be seen in all its glory from up above. With this tour, travelers can enjoy a one-hour flight over the world's highest mountain peaks, with surreal views of the valley's flora and fauna.
Mount Everest 1-Hour Scenic Flight

Duration: Wheelchair accessible
Nepalese cuisine is an experience in itself, one that's full of flavor. Foodies looking to soak in the taste of Nepal at home should try this cooking class. They will go on a flavorful journey. Not only will they learn how to cook an authentic Nepalese meal, but also learn to use some of the region's traditional spices.
Traditional Nepalese Cooking Class
There's more to Kathmandu than just mountains, and this tour is proof. Adrenaline seekers and water enthusiasts can go on a full-day adventure on the Trishuli River. They will get to see Nepal but also experience the adrenaline of white water rafting, at the foot of the Himalayan Mountains. The tour includes lunch, a river permit, a safety kayak, all the necessary equipment, and a first aid kit box.
1 Day White Water Trisuli River Rafting from Kathmandu
Another outdoor experience many don't know of but can try in Nepal is paragliding. Pokhara is among the top five and most popular commercial paragliding locations in the world. It has perfect landing and take-off zones and spectacular mountain views along the way. The experience takes approximately 30 to 45 minutes and includes insurance during the flight and transportation to the starting point.
Paragliding in Pokhara Nepal
Khukuri knives are an unusual type of knives, a traditional in both Nepal and India. What differentiates them is the inwardly curved blade that makes them useful as a tool or a weapon. Travelers interested to see how these knives are made can try to make one by themselves by joining this class. A local blacksmith will teach them how to craft their own khukuri knife with spring steel. Participants can carry their make back home and learn more about the history of this traditional object.
Khukuri-Making Workshop with a Nepalese Blacksmith
Nepalese people have practiced lots of healing rituals since ancient times. This one-hour tour will take its participants on a healing journey through Singing Bowls Meditation, an ancient Nepalese practice that's known to heal pain, depression, and stress disorders. The tones emitted by the bowls will prepare participants for meditation, creative thinking, and sync with their brain waves. Bottled water, coffee, tea, and light refreshments are also included in the price.
Singing Bowls for Brain Entertainment Therapy

Duration: 1 hour
Exploring Kathmandu, beyond Mount Everest and the Himalayas
Surely Mount Everest is the first thing that comes to mind when thinking of Kathmandu, but it's definitely not the only reason to visit. You don't have to be a professional climber to make the most of your trip to Nepal. There are lots of new adventures and experiences you can try, both indoors and outdoors. You'll be able to try anything from cooking and meditation classes to adrenaline-rising alternatives like paragliding and white river rafting. Make sure you check out our top choices for unusual things to do in Kathmandu, Nepal.
Disclosure: Trip101 selects the listings in our articles independently. Some of the listings in this article contain affiliate links.
Get Trip101 in your inbox
Unsubscribe in one click. See our Privacy Policy for more information on how we use your data