Kerala is a paradise and famous tourist spot in South India. According to The National Geographic Traveler, Kerala is a must-visit destination. This state offers an amazing summer experience in its famed beaches with palm trees. Visitors can try the ancient Ayurvedic treatment, visit temple festivals, and experience other traditions. Of course, nothing completes a trip to Kerala more than a taste of its rich cuisine that features world-famous spices and teas. Last but not least, do not miss out on the backwater trip in small ferries or paddle boats and breathtaking waterfalls! Read on to find out the best waterfalls in Kerala, India.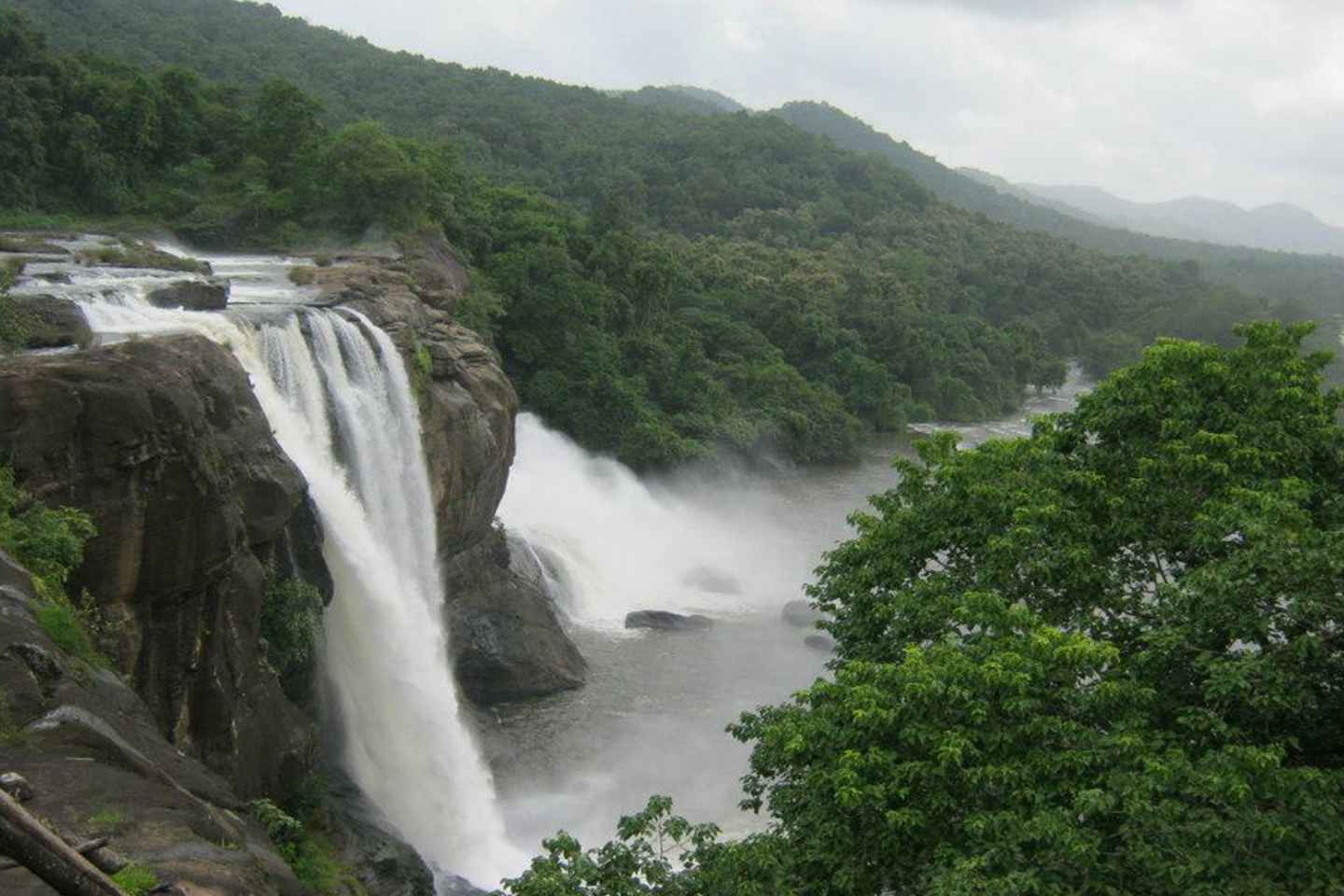 Athirappilly Falls is the largest waterfalls in Kerala, India's version of Niagara Falls. This famous attraction is 24.38 meters (80 feet) high. It is part of the Chalakudy River, which comes from the upper reaches of the Sholayar ranges in the Western Ghats. If you are lucky, you can even witness a rainbow up close. When you walk on top of the waterfalls, you will be amazed by the staggering views. Trekking back down takes about 10 to 15 minutes. The falls are home to different exotic and preserved wildlife. You can take up the challenge by going river rafting, trekking, fishing, and many more. You can visit other places near Athirappilly Falls, such as Vazhachal Waterfalls, Charpa Waterfalls, and Silver Storm Water Theme Park.
From Cochin: Athirappilly Waterfall Excursion with Lunch

Duration: 8.0 hour
2. Vazhachal Falls
The sound of the strong current of Vazhachal Falls reverberates around the forest. Visitors can enjoy the peace and beauty of nature. The waterfall is steep, so there are railings to keep visitors from going near. But guests can enjoy the view and serenity of their surroundings. Families and other guests can have a picnic in the park nearby. A tour in the Sholayar Forest will excite kids. They will get to see different wild animals there. Other waterfalls, such as Athirappilly Falls, are within reach.
Vazhachal Falls

Address: Athirapilly road, Pariyaram, Kerala 680724, India

Opening hours: 8am - 5pm (daily)

Price: Free
3. Thommankuthu Waterfalls
Thommankuthu Waterfalls is an ecological tourist spot. It is a series of waterfalls located in the forest of Idukki. A day trip in this waterfall includes facilities for boating and rock climbing. Nature lovers can enjoy a relaxing walk in the area while listening to the stream and birds chirping and viewing other animals. Guests can take a dip in the pools of the seven-step waterfall. Adventurous guests have access to a rocky and long trekking trail. Trekkers will pass by caves, huge trees, and low branches. Entry to the waterfalls requires a fee, inclusive of other activities available in the area. Trekking and strolling in the last waterfall requires special permission from the forest department.
Thommankuthu Waterfalls

Address: Thodupuzha, Idukki, Kerala, 685581, India

Opening hours: 8am - 6pm (daily)

Price: 0.14 USD
4. Meenmutty Falls
Located deep inside the forest, Meenmutty Falls features a breathtaking series of waterfall tiers with a rock-strewn stream. From the main entrance of the falls, visitors can reach the first tier of the falls by foot. The major tiers of the waterfalls have different heights. The lower tier is a small one that turns into a pool safe for swimming. Visitors can enjoy trekking by traveling from the other level of the waterfalls. Some trails are slippery, and reaching the third tier requires the use of ropes. The highest point of the falls displays views of the nearby Banasura Sagar Dam and captivating landscape.
Meenmutty Falls

Address: Kallar Meenmutty Falls Road, Kallar, Kerala 695551, India

Opening hours: 9am - 5pm (daily)

Price: 7.7 USD
5. Aruvikuzhy Waterfalls
Picnics are enjoyable the most when surrounded by the beauty of nature. Aruvikuzhy Waterfalls is a great place to have a picnic while marveling at the wonderful landscape and feeling the refreshing breeze. Locals frequent this location, and movies are filmed there. The water flow of Aruvikuzhy becomes intense during the monsoon season, which attracts visitors more. Visitors are discouraged from taking a dip in the waterfall's pool when the water flow becomes strong. Adventure lovers can explore the trekking trails with some rubber plantations along the way. This location is ideal for one-day trips.
Aruvikuzhy Waterfalls

Address: Pampady, Pampady Kooroppada Road, Aruvikkuzhy, Pallickathodu, Kerala 686502, India

Opening hours: 6am - 10pm (daily)

Price: 0.14 USD
6. Valara Waterfalls
Accessible along the Kochi-Dhanushkodi Highway (NH 85), Valara Waterfalls is a scenic beauty. With a total height of 1,000 meters (3280.84 feet), Valara is composed of layers of cascading waterfalls. Its waters fall on the rocky platform. The surroundings of these waterfalls are lush forests that are home to different exotic and rare birds and other animals. Guests can access the spacious parking lot and take a short walk to Valara Waterfalls. You can splash around in the pool at the bottom of the falls. Sightseeing and picture-taking are possible from the road. The waterfalls are an alluring view. You can get refreshments from shops nearby. Tourists should be careful not to pass through the protective fence because the rocks are slippery.
Valara Waterfalls

Address: NH 49, Chillithodu, Kerala 685561, India

Opening hours: 24 hours (daily)

Price: 0.34 USD
7. Perunthenaruvi Waterfalls
Perunthenaruvi Waterfalls, which is located on the lap of the majestic Western Ghats, attracts visitors because of its unique form and strong currents. Guests can enjoy the breathtaking landscape and take some good shots. The waterfall is a stream with boulders and stands at a 100-meter (328.08-foot) height. The water reaches the Pamba River. You can visit nearby attractions, such as Sabarimala Sri Dharmasastha Temple. Visitors can enjoy the best views of Perunthenaruvi where the currents are extreme.
Perunthenaruvi Waterfalls

Address: Perumthenaruvi Hilltop Rd, Vechoochira, Kerala 686511, India

Opening hours: 24 hours (daily)

Price: 0.41 USD
8. Thusharagiri Falls
Thusharagiri Falls has calm flowing water surrounded by rare flora and fauna. The name of these waterfalls means "snow-capped mountain". The river forms into three waterfalls, which causes a snowy spray, hence, its name. Tourists can bask in the refreshing environment and gawk at the magnificent body of water. Adventure-seeking guests can engage in trekking and rock-climbing. Nature enthusiasts can explore the forests and catch a glimpse of some exotic and rare animals that live there.
Thusharagiri Falls

Address: Thusharigiri Falls, Kozhikode, Kerala 673001, India

Opening hours: 6am - 6pm (daily)

Price: 7.7 USD
9. Palaruvi Falls
The name "Palaruvi" means "stream of milk." Palaruvi Falls was a source of ancient Ayurvedic healing properties. Visitors will be stunned by the beauty and grandiosity of this waterfall, which stands at 91 meters (300 feet) tall. The waterfall is another great picnic spot where guests can relish their food while taking pleasure in their company and the amazing views. Bathing downstream is the most popular activity in Palaruvi. The female bathing area features a stunning view of the falls. However, the male bathing area is inaccessible because of a rockfall.
Palaruvi Falls

Address: Road to Palaruvi Waterfalls, Kollam, Kerala, India

Website: Palaruvi Falls

Opening hours: 8am - 4pm (daily)

Price: 0.34 USD
10. Kumbhavurutty Waterfalls
Kumbhavurutty Waterfall is near the Konni Forest and is a famous spot for families and large groups of visitors. The water flows through rocks, becoming a bubbling stream. Guests of all ages can enjoy swimming in the falls. They can also enjoy the views and sounds of nature coming from the thick forest. Kids can play in the tree houses near the area while the adults do some trekking. Steps, which are cut into rocks, as well as railings help visitors reach the waterfalls. Manalar Waterfall and Palaruvi Falls are attractions near Kumbhavurutty Waterfall.
Kumbhavurutty Waterfall

Address: Aruvappulam, Kerala 689699, India

Opening hours: 8am - 4pm (daily)

Price: 0.34 USD
A natural beauty and rich culture
Locals call Kerala, India, God's Own Country because of its natural beauty: lush greenery, beaches, and staggering waterfalls. Visit the best waterfalls in Kerala and experience a bright and diverse culture!
Disclosure: Trip101 selects the listings in our articles independently. Some of the listings in this article contain affiliate links.
Get Trip101 in your inbox
Unsubscribe in one click. See our Privacy Policy for more information on how we use your data