In point of fact, Denpasar is a bustling business center dotted with modern buildings and scenes rather than a tourist destination. However, the outer fringes of Bali's capital can't be underrated. You will find them more soothing and tranquil, good for refreshing the mind or meditation. There are some worthwhile natural to cultural attractions you need to include in your itinerary when the your holiday comes.
Here are the 11 best things to do in Denpasar you should never miss:
If you are in Bali and hoping to get some luscious-smelling bath products for your family and friends, why not surprise them with a gift of your very own hand-carved soap? Join this two-hour workshop to learn the delicate art of soap carving from our local expert. Let loose of your creativity and sculpt your own soap with whatever design you so wish from a simple carving of names or to a more elaborate bouquet. The expert will make it so easy for you, guiding you throughout the entire process. This is a surely relaxing activity that adults and kids can both enjoy.
Soap Carving Workshop

Price: 20 USD

Duration: 1.5 hours
2. Drop in to Sakenan Temple
Are you curious to see how Denpasar looked in the past? Pura Sakenan or Sakenan Temple built by an influential figure named Mpu Kuturan will bring you back in time. Situated in Serangan village, the ancient temple with uniquely sculpted stone architecture is home to a number of festivals you need to engage in such as Galungan, Pujawali, and Piodalan.
Sakenan Temple

Address: northwest part of Serangan Village, south Denpasar Bali

Opening Hours: 24 hours
3. Learn the history of Bali at the Bali Museum
Are you a Balinese history fanatic? Be sure to make a visit to the Museum Negeri Propinsi Bali or simply called, Bali Museum. The oldest and largest spot storing historical objects from the entire island, where you can enjoy a dazzling display of stone carvings, Karangasem paintings and sculptures, and traditional fabric from the past.
Bali Museum

Address: Jl. Mayor Wisnu No.1, Dangin Puri, Denpasar Timur, Kota Denpasar, Bali

Opening Hours: 7:30 am to 3:30 pm
You might be interested in these Airbnbs!
4. Visit Bajra Sandhi Monument
The Bajra Sandhi Monument draws people's attention due to its mind-blowing Balinese exteriors. The Denpasar's pride hosts a well-presented diorama gallery, exhibiting all of the history of Bali from the ancient age to the period of independence from Dutch and Japanese imperialists. This iconic landmark is good for your Facebook profile backdrop.
Bajra Sandhi Monument

Address: Jalan Raya Puputan No. 142, Panjer, Denpasar Selatan, Kota Denpasar, Bali

Opening Hours: 10 am to 4:30 pm
5. Be amazed by Jagatnatha Temple
Jagatnatha Temple is poor to be missed especially for temple lovers. The largest place to worship in the entire capital highlights Padmasana (a main structure epitomizing the God's seat) and Bale Paselang (a sacred space used for ritual ceremony and keeping various offerings). Additionally, several old remnants describing the epic Ramayana story can be spotted.
Jagatnatha Temple

Address: Jalan Mayor Wisnu, Denpasar

Opening Hours: 7 am to 6 pm
6. Enjoy a cultural parade at Wedhi Budaya Arts Center
Photo is only for illustrative purposes
To all culture enthusiasts, you have to attend the spectacular annual Bali art festival held in Taman Wedhi Budaya (around July to August). You will be captivated by a vast array of art exhibitions, live cultural performances, and parades – the local men playing traditional musical instruments and beautiful Balinese ladies with their regal costumes are the focal points.
Wedhi Budaya Arts Center

Address: Jalan Nusa Indah, East Denpasar, Bali

Opening Hours: 8 am to 2 pm (weekdays), 8 am to 12 pm (weekends)
7. Be like a local at the cultural village of Kertalangu
Photo is only for illustrative purposes
One of the most wonderful ways to discover Denpasar is by doing what the locals do in Kertalangu village, situated in the eastern outskirts of the capital. Create your own activities with the friendly villagers like carving wood, growing paddy plants, fishing, dancing and other things. Don't forget to get to the iconic world peace monument – a green spot famous for its gigantic gong.
Kertalangu Village

Address: Jalan Bypass Ngurah Rai No. 88X, Kesiman, Denpasar

Opening Hours: 8 am to 10 pm
8. Spend a couple of hours at Finger Printing Museum
Editor's Note: There's no photo available at the time of writing
Finger Printing Museum boasts a contemporary-style gallery, showcasing numerous private collections of remarkable oil paintings by the famed Balinese artist, I Gusti Ngurah Gede Pemecutan. What makes them so unique is the painting method, using the power of fingers – you would never imagine the exquisite scenery of Balinese villages on the pieces of canvas are just finger print dots!
Museum Lukisan Sidik Jari

Address: Jalan Hayam Wuruk, Panjer, Denpasar

Website: 8 am to 4 pm
9. Escape to Bali Mangrove Forest
Planning to explore nature in Denpasar? Just drive to Bali Mangrove Forest where you can take a breath of fresh air emitted by the lush mangrove trees and watch tiny shore creatures. The cooling surrounding nature sounds definitely make your day laid-back.
Bali Mangrove Forest

Address: Jalan Bypass Ngurah Rai, South Denpasar

Admission Fee: 10,000 IDR (0.75 USD)
10. See turtles in Serangan Island
Photo is only for illustrative purposes
Want to see how cute the baby turtles are? Take a fun trip in Serangan Island, 10 minutes away from South Denpasar. The breeding ground has an aim to save the endangered species from extinction, as well as educate children about the significance of protecting the wild creatures. Go between April and September when hatching season begins and join the babies being released!
Turtle Conservation and Education Centre (TCEC)

Address: Jalan Tukad Punggawa, Serangan Island

Website: TCEC Serangan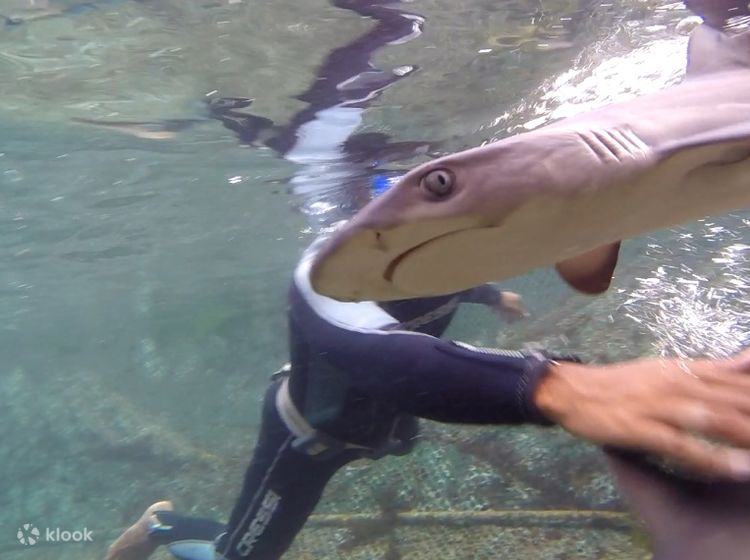 Who says sharks are scary? You can come close to the sea carnivore inhabiting Bali Sharks, just off the island of Serangan. The conservation site, founded by Paul Friese, allows you to see the creatures kept in a nursery and released back into the wild. To interact with them, you need to get an arranged tour – ensure to bring the snorkel and gear for your safety.
Bali Sharks

Address: Jl. Tukad Punggawa No.25, Serangan, Denpasar Sel., Kota Denpasar, Bali

Website: Bali Sharks
Swimming with Sharks in Bali
Denpasar is where nature meets culture
It might be true that Denpasar is just a frenetic city for trade and industry. Yet, these ten attractions from cool spot to see sharks and historical temples with cultural performances, to mangrove forests for beautiful nature, have proven that the capital deserves a visit.
Disclosure: Trip101 selects the listings in our articles independently. Some of the listings in this article contain affiliate links.
Get Trip101 in your inbox
Unsubscribe in one click. See our Privacy Policy for more information on how we use your data